Heading into the 2022-23 season, there were legitimate doubts as to whether or not the Boston Bruins would make the playoffs. After all, they had an aging core and were heading into the year without both Brad Marchand and Charlie McAvoy who were recovering from surgery. Factor that in with an aging team and there was some serious concern that this team's window may have closed for good.
Related: 4 Reasons Why the New York Rangers Will Win the Stanley Cup
Fast forward to where we are now, and any thoughts of the Bruins' demise look absolutely foolish. Not only do they sit first in the NHL standings, but they are having one of the greatest regular seasons of all time, having lost just 11 times in regulation over 70 outings. All of a sudden, a team that was being heavily questioned is now the unequivocal Stanley Cup favorite, and there are a number of reasons why they will indeed win their first championship since 2011.
Last Dance With Current Core
Several members of this Bruins' core in Marchand, Patrice Bergeron and David Krejci have been playing together for a very long time. It appeared to have ended when Krejci chose to return home and play in Czechia for the 2021-22 season, though after some convincing decided to rejoin the Bruins in 2022-23 on a one-year contract. While it can't be said for sure, many believe that this will be his final season in the NHL, if not as a professional hockey player entirely.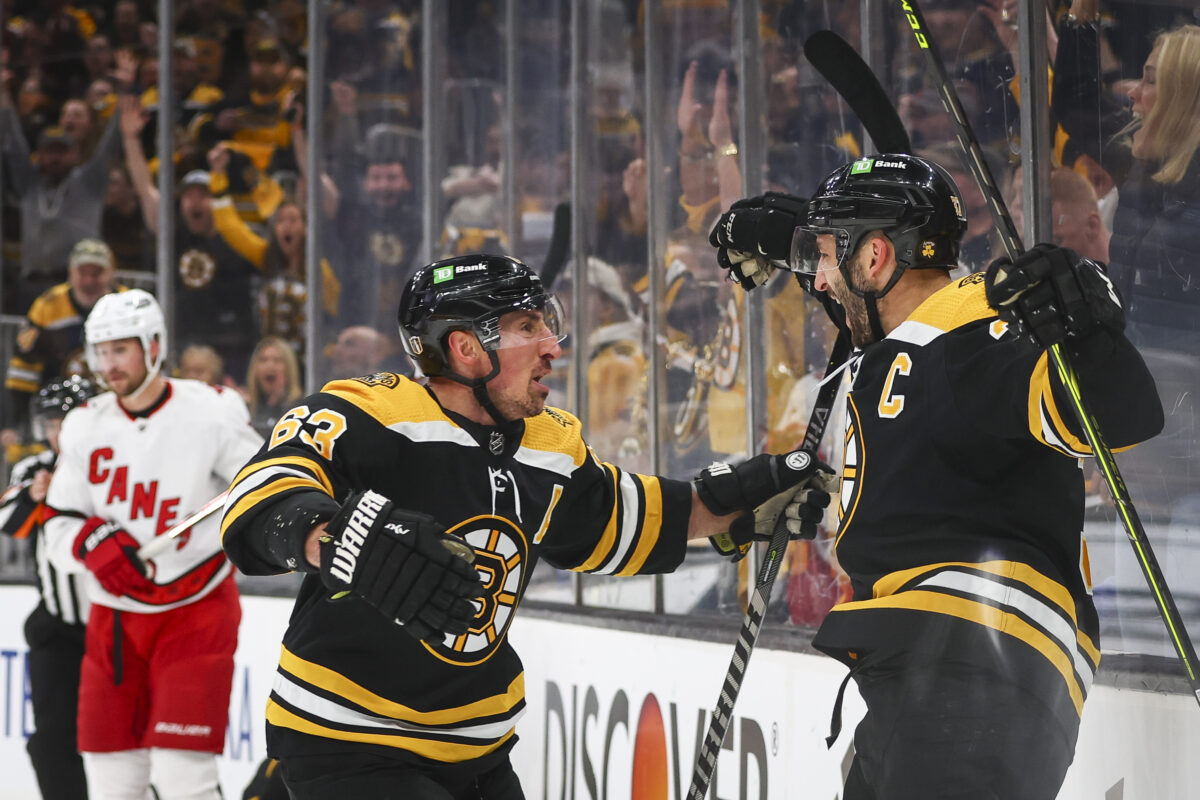 Also on a one-year deal is Bergeron, who was rumored to be heavily considering retirement this past offseason. Perhaps after talking with Krejci, the Bruins' captain came to realize this could be the final shot with this group, one who in all likelihood deserved more than just one Stanley Cup together.
Though not in the same position as the two mentioned above, Marchand is entering the twilight of his career at 34 years old, and this season may very well represent his last opportunity at a Stanley Cup. You can bet that is plenty of motivation for him, while everyone else on this Bruins roster will have a ton of motivation to win it for these three who have battled so hard since 2011 for another shot at victory. That paired with the overall talent on this roster makes them a downright frightening team for others to match up against.
Best League-Wide Goaltending Duo in Ages
While goaltending duos are becoming more and more prevalent in today's NHL, it's hard to remember the last time we have seen one as impressive as the one formed between Linus Ullmark and Jeremy Swayman. Not only do the two share a close friendship, but they also happen to be two of the best goalies on the planet.
This season, Ullmark has really made a name for himself, as he has posted a ridiculous 1.95 goals-against average (GAA) along with a .937 save percentage (SV%). Did I mention he also scored a goal recently? Suffice it to say, it has been a fantastic season for the Swedish netminder, who is undoubtedly the Vezina Trophy favorite heading into the final stretch of the 2022-23 campaign.
---
Latest News & Highlights
---
While Ullmark has been the better of the two, that isn't meant to diminish what Swayman has accomplished this season. The 24-year-old has continued to impress in 2022-23, as he has a 2.20 GAA and a .920 SV% in 30 appearances. Together, the two Bruins netminders have allowed just 148 goals this season, which is currently 29 fewer than the league's second-best team in that regard, the Carolina Hurricanes.
What has to have Bruins fans so confident heading into the playoffs is that either goaltender is completely capable of leading the way to a Stanley Cup. While Ullmark will be in net for Game 1 of the opening round, Swayman is perfectly capable of stepping in and taking over starting duties should he be needed to do so. What a luxury.
Pastrnak Playing at MVP Level
Connor McDavid is the league's undisputed MVP this season. That is simply unarguable, regardless of who you root for. With that said, Pastrnak is having a season that in any other year may very well be good enough to be awarded the Hart Trophy.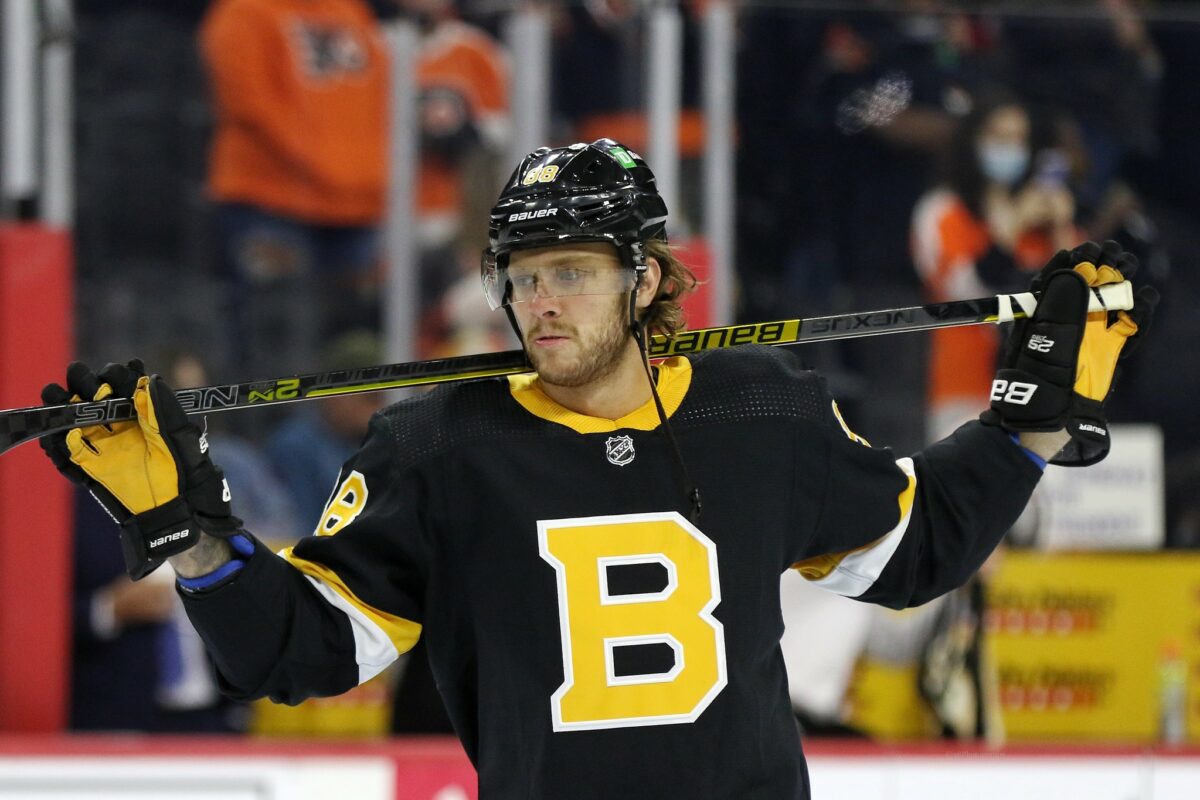 Through 70 games, Pastrnak has tied his career high in goals with 48 and is just two points back of the 95 he recorded in 2019-20. That goal total is 22 more than the Bruins' second-place skater in Bergeron with 26, while his point total is 31 higher than second-place Marchand.
What makes Pastrnak's performance this season even more exciting is the fact that he always seems to be at his best in the playoffs. In 70 career postseason games, he has 30 goals and 74 points, and could very well improve on those point-per-game totals based on how well he has played throughout the 2022-23 campaign.
Bruins Love Playing for Montgomery
Nearing the end of Bruce Cassidy's tenure in Boston, there were plenty of stories about how a number of players on the Bruins roster had soured on him. In fact, there have been whispers that Krejci chose to return home for the 2021-22 season because he simply could not withstand another year of Cassidy as his head coach. Based on what we have seen from this team this season, it seems like it truly was time for a change behind the bench.
Since Montgomery has come in, almost nothing has gone wrong for this Bruins team. Players have repeatedly mentioned how much they love playing for their new bench boss, saying he gives them the freedom to do what they want on the ice, and is rarely ever hard on guys. Being a player's coach in today's world is very important, and it seems as though Montgomery has that down to a tee.
With all that said, the one possible concern in regard to coaching is that the Bruins haven't had to go through any rough stretches just yet. It will be interesting to see how Montgomery reacts if his team faces any sort of adversity in the postseason, though based on what we saw from him during his time behind the bench with the Dallas Stars, he is capable of making adjustments when needed.
Breaking Presidents' Trophy Curse
One potential concern if you are a Bruins fan is the fact that not many Presidents' Trophy winners go on to win the Cup. In fact, since it was created back in 1985-86, just seven have gone the distance.
With that said, this team feels much different than the majority of past Presidents' Trophy winners. They are stacked from top to bottom, with what seems to be no holes in their lineup. They can win games in a number of ways, and have plenty on their roster who have played in high-stakes games before. Assuming they can continue to play the way they have throughout the entire season, there is no reason to doubt that this Bruins team will be hoisting the Stanley Cup by the end of the playoffs.