As the Chicago Blackhawks get closer to opening night, now's the perfect time to begin making some predictions for the upcoming season. While a small acquisition or two can't be ruled out, general manager Kyle Davidson appears to have most of his offseason work done, meaning we have a clear picture of what this season's team will look like.
It could be another tough season for the Blackhawks, but there will undoubtedly be some surprises. Who would've predicted Taylor Raddysh and Andreas Athanasiou would lead last year's team in goals (20 apiece) or the overwhelmingly positive impact Alex Stalock had both on and off the ice? That unpredictability is what can make any given season so intriguing. In that vein, here are five bold predictions for the Blackhawks entering the 2023-24 season.
Bedard Records 80-Plus Points & Wins Calder Trophy
There's no reason to think Connor Bedard won't thrive in his first NHL season. The 18-year-old has dominated the Western Hockey League (WHL) for the last three seasons and will undoubtedly be the Blackhawks' next face of the franchise. Given his calm and cool demeanor off the ice, he's clearly prepared for the heightened expectations that come with playing in the Chicago market.
Just 21 players have hit the 80-point plateau in their rookie seasons, including four who are still active: Alex Ovechkin (2005-06), Sidney Crosby (2005-06), Evgeni Malkin (2006-07), and Mathew Barzal (2017-18). During Connor McDavid's rookie campaign (2015-16), he recorded 48 points in 45 games, missing nearly half the season due to a collarbone injury. Had he stayed fully healthy, he would've joined that category.
Related: Blackhawks Will Need to Wisely Build Around Connor Bedard
Barring injuries or prolonged slumps, Bedard is a great candidate to become the 22nd member of that group. Scoring has increased across the league over the last decade; in McDavid's rookie season, just five players hit 80 points, compared to 31 in 2022-23. Granted, McDavid is in a category of his own, and Bedard may never reach his level of dominance. Nonetheless, he's a special player and has drawn comparisons to the likes of Patrick Kane, Auston Matthews, and David Pastrnak. I predict he'll end his rookie season with 36 goals and 45 assists for 81 points, falling just one point shy of a point-per-game pace over a full 82-game slate.
While Bedard winning the Calder may not seem so bold, you have to consider how great this year's rookie class should be, likely including Logan Cooley, Adam Fantilli, and Matthew Knies, among others. However, Bedard is in a tier of his own and will not only meet but exceed expectations. He'll be the first No. 1 overall pick from the previous year's draft to win the award since Matthews in 2016-17. 
Korchinski Makes the NHL Team Full-Time
Not including Bedard, Kevin Korchinski is arguably Chicago's top prospect and could become a top-pairing, All-Star-caliber defenseman. The 2022 seventh overall pick grew phenomenally with the WHL's Seattle Thunderbirds last season, playing a major role in their Memorial Cup run. His growth has created an interesting dilemma for Davidson: send him back to the Western Hockey League (WHL) while perhaps giving him a nine-game NHL tryout, or burn year one of his entry-level contract (ELC)?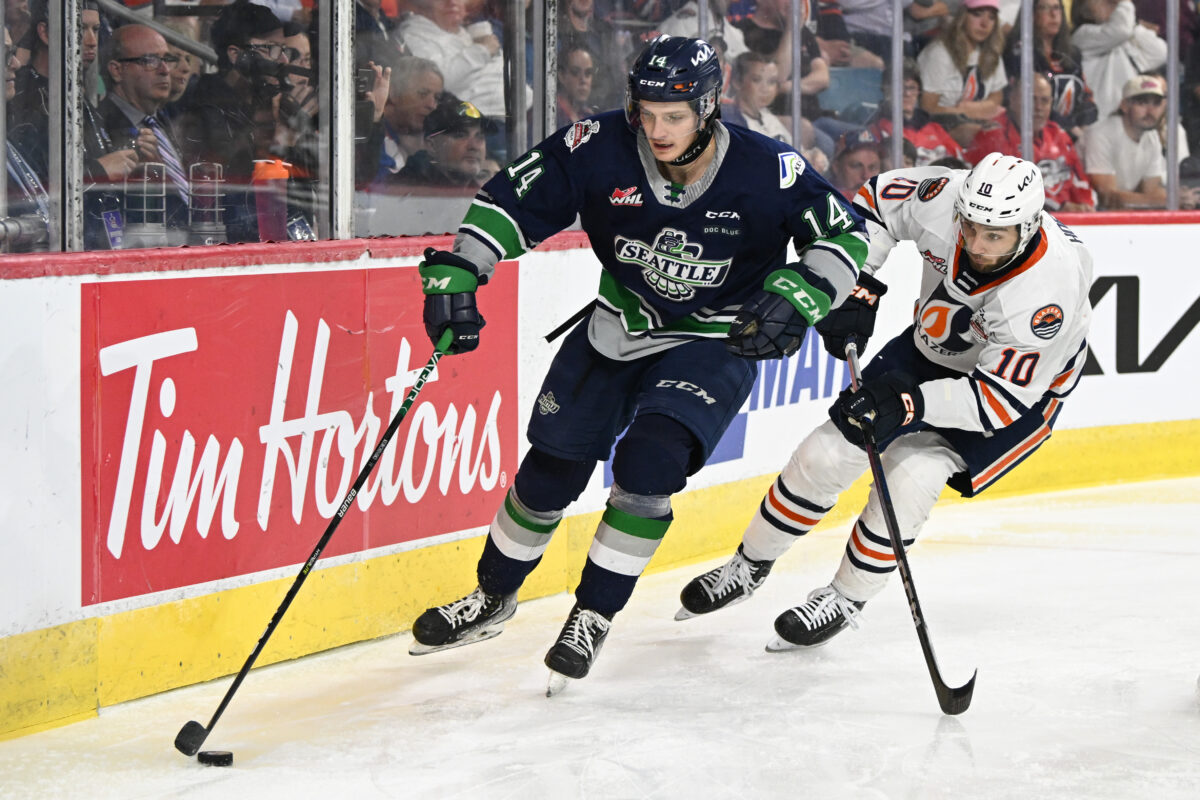 If there's something we've learned about the Blackhawks' management and scouting staff, it's that they haven't been hesitant to oversaturate their prospects and allow room for extra development. A great example came last season when the team started Lukas Reichel in the American Hockey League (AHL), when many thought he'd head to the NHL. This contrasts with how the last regime handled things, as they failed to develop the likes of Adam Boqvist, Henri Jokiharju, and Kirby Dach by rushing them to the NHL when they weren't 100% ready.
Korchinski may be an exception. He'll almost certainly face an adjustment period regardless of when he comes up, but he appears mostly ready. Plus, the Blackhawks haven't addressed their defense this summer. Aside from Jarred Tinordi, they lack a veteran on their left side, meaning they may view Korchinski as NHL-ready, along with Alex Vlasic, Wyatt Kaiser, and/or Isaak Phillips.
Impressed by his abilities and growth, the Blackhawks will burn the first season of Korchinski's ELC, placing him on their first pairing with Seth Jones for much of the season. Their second pairing will be Alex Vlasic and Connor Murphy, the two of whom played together toward the end of 2022-23.
Söderblom Emerges as the No. 1 Starter
The Blackhawks haven't added a veteran goalie this summer, signaling they view Arvid Söderblom as NHL-ready. After three NHL appearances in 2021-22, he got a longer look last season, filling in for Alex Stalock and Petr Mrázek amid injuries. He went 2-10-2 with a .894 save percentage (SV%) and a 3.45 goals-against average (GAA), which may not look great, but much of that was a byproduct of playing on a bad-by-design team.
While Mrázek is capable of being a solid, short-term placeholder, Söderblom will be the one to watch in net. It'll be interesting to see how he grows with a relatively better group around him compared to last season. This is especially true with Mrázek being an injury-prone goaltender. Just last season, he sustained three groin injuries, allowing for both Söderblom and Jaxson Stauber to fill in.
Related: Lessons the Blackhawks Can Learn From Previous Rebuilds
---
Latest News & Highlights
---
Even if Mrázek stays healthy, the Blackhawks have far more incentive to play Söderblom consistently. While the team should be more competitive, they're still not in a rush to win, so why not see what the 23-year-old can do? This is far from a shot at Mrázek, who's capable of holding down the fort. But Söderblom is in a position to become Chicago's future No. 1, along with Drew Commesso and possibly 2023 second-round pick Adam Gajan.
In his first full NHL season, Söderblom will modestly improve from last year's stint and meet expectations, posting a GAA of just below 3.00 and a SV% of around .910. It'll be enough for the team to phase him into the starting role toward the end of the season and possibly 2024-25.
Dickinson & Raddysh Get Traded
Last season's trade deadline was one of the craziest for the Blackhawks in franchise history. The team not only parted ways with Kane but also with Max Domi, Jake McCabe, Sam Lafferty, and Jack Johnson. While this season's deadline should be quieter, a few moves can't be ruled out. With the Blackhawks still rebuilding, the team will say goodbye to forwards Jason Dickinson and Raddysh, which'll be their two biggest moves come deadline week.
Dickinson is entering the final season of his $2.65 million contract and is set to become an unrestricted free agent (UFA) next summer. The 28-year-old posted a career-high 30 points (nine goals, 21 assists) in 78 games, bouncing back after posting just 11 points in 62 games for the Vancouver Canucks in 2021-22. Even if he regresses this season, his versatility and leadership will make him an appealing rental for many contenders as a depth forward.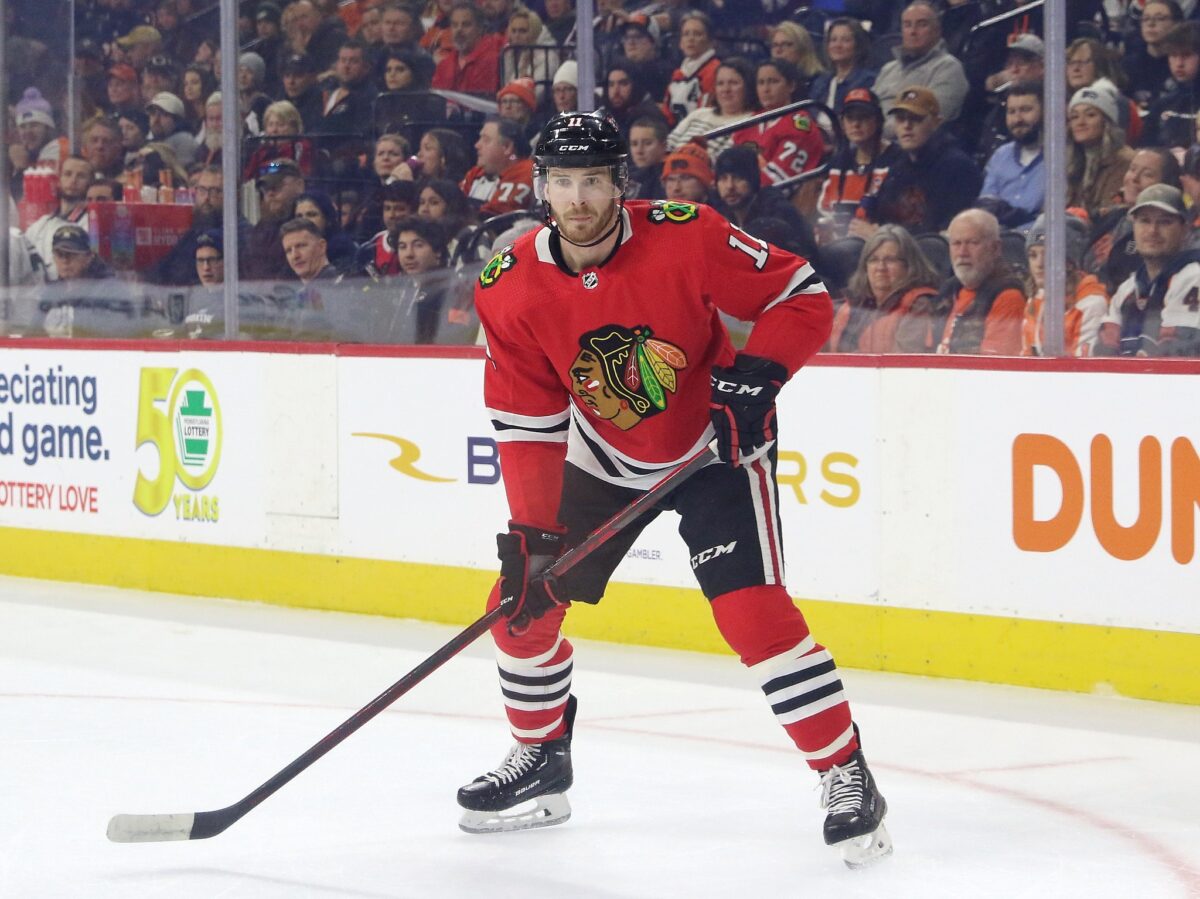 Raddysh is a little more interesting. He's 25, so he theoretically could have a role on the next competitive Blackhawks' team, but he may face increased competition for a spot long-term with more prospects entering the picture. He had a breakout campaign last season with 37 points, including 20 goals, and is entering the final season of his current contract before becoming a restricted free agent in 2024. While it may be a tougher call, Davidson will receive an offer for Raddysh that he can't pass up on.
Blackhawks Awarded 2025 Winter Classic
It's also fun to discuss what may come off the ice when making predictions. Despite being an Original Six team and one of the NHL's flagship franchises, the Blackhawks haven't participated in an outdoor game since Jan. 1, 2019, when they hosted the Boston Bruins at Notre Dame Stadium in that year's Winter Classic. That ended a stretch of five outdoor games in six seasons for Chicago (three Winter Classics, two Stadium Series). Including the 2009 Winter Classic at Wrigley Field, they've had six in franchise history.
This wouldn't have been bold, say five years ago, but the Blackhawks' recent on- and off-ice failures have made them less attractive for the league. However, with Bedard's presence and a promising rebuild underway, that may be slowly changing, much like when the team began its "One Goal" era in the late 2000s. Playing in the U.S.' third-largest market, the Blackhawks are a revenue driver for the league. It's why they got so many outdoor games during their dynasty run.
Shortly after the Seattle Kraken hosts the 2024 NHL Winter Classic, the league will announce the 2025 event. The Blackhawks will face Kirill Kaprizov and the Minnesota Wild at historic Lambeau Field in Green Bay, Wisconsin, on Jan. 1, 2025, home of the NFL's Green Bay Packers. Building on the success of last October's preseason game between the teams in Milwaukee, they'll head outside this time, with Green Bay nearly equidistant between the two markets (Minneapolis-St. Paul and Chicago).

Whether any of these happen is anyone's guess. Regardless, there'll be some surprises in what should be a more entertaining season for the Blackhawks with Bedard front and center. These five scenarios would all be intriguing in one way or another.