The Detroit Red Wings ended the Stanley Cup dreams of the Chicago Black Hawks last night. The Red Wings scored a thrilling come-from-behind victory over the Black Hawks with a 3-2 win at the Olympia in Detroit.
Prentice the Hero
Dean Prentice, a late-season acquisition from the Boston Bruins, made Detroit general manager-coach Sid Abel look like a genius. Prentice scored two third-period goals to erase a 2-1 Chicago lead and provide the Wings' margin of victory.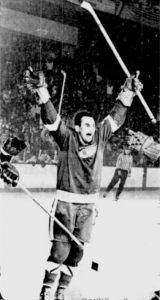 Prentice's scores came in the last four minutes of the third period, giving fans one of the most dramatic series finishes in a long time.
Not to be forgotten on the Detroit honour roll is goaltender Roger Crozier. The little left-handed netminder was solid throughout the series, but saved his best magic for the closing moments of the game.
The Black Hawks, desperately trying to avoid elimination, threw everything they had at the Wings and Crozier in the final couple of minutes. His best saves were on Ken Wharram, Bobby Hull and Pat Stapleton. He had made an earlier crucial save on Stan Mikita, who cut around the Detroit defense and broke in alone just before Prentice's game-winner.
Bathgate Opens Scoring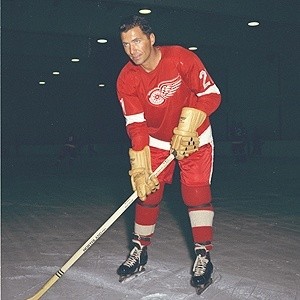 The Red Wings opened the scoring just before the three-minute mark of the initial frame. Andy Bathgate scored his fifth goal of the playoffs from a scramble in front of Chicago goalie Glenn Hall. Bathgate now leads all playoff scorers in goals.
The second period belonged to Chicago. Phil Esposito and Stapleton scored the session's only two markers and might have had more had it not been for Crozier's work between the pipes for the Wings.
The final 20 minutes were tense and close-checking, with Chicago determined to not let this one get away. And it looked for most of the third that was going to be the case. Glenn Hall was brilliant in the Chicago goal and the Hawks' rearguards were hitting everything that wore red.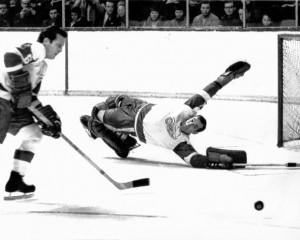 Then, at 16:25, and just after Crozier had thwarted Hawks' Eric Nesterenko with a spectacular stop,  Prentice converted an Alex Delvecchio pass out from the corner and suddenly the game was tied at 2-2. The Detroit fans went into a frenzy, sensing a comeback and a possible series win. They littered the ice with programs and other debris, delaying the game for five minutes.
Crowd Delay Helped Wings
The recess in play enabled Abel to leave the Prentice-Delvecchio-Howe line out for an extra shift and the strategy paid off. Just over a minute later, Delvecchio sent Prentice in alone and he beat Hall from close in with a perfect shot.
Another of Abel's deals during the season paid off as well last night. Rearguard Leo Boivin, who came from Boston along with Prentice as a replacement for injured Doug Barkley, was at his bodychecking best. He nailed several Chicago forwards as they executed forays into the Detroit zone. His first-period hits on Stan Mikita and Doug Mohns certainly caused the Hawks to exercise considerable caution when they advanced on the Detroit goal.
Prentice was overjoyed after the game. For him to be with a contender after years outside the playoffs with Boston and New York is a real shot in the arm. Add to that a comeback from a serious back injury and it adds up to one very happy hockey player:
"I was lucky. The back healed perfectly and then the Bruins traded me here. This team is the greatest and those two guys I play with (Howe and Delvecchio) are the greatest. I hope I can repay them (the Wings) some more in the next series.
"But no matter what I did, the little guy (goalie Crozier) saved us."
Watson Effective Shadowing Hull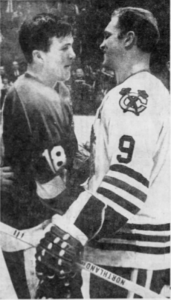 Bryan Watson, the Wings' super-pest who all but nullified the efforts of Chicago superstar Bobby Hull in the series, was the recipient of congratulatory hugs from his team mates. Watson and Hull conversed briefly during the traditional post-game handshake queue. Watson recounted their exchange:
"I told him 'Bobby, you're the greatest. Sorry I had to check you so close'. He replied 'Good luck.' What else could he say? I had a job to do."
A weary Hull was glad that the long grind of the hockey season was finally over:
"Boy, I'm glad it's all over. Now I can get around to doing something for myself. The boys (Hull has three sons) have been after me for two months to go home."
Home for Hull is his farm at Pointe Anne, Ontario.
Reay: Wing Used 'Rotten' Tactics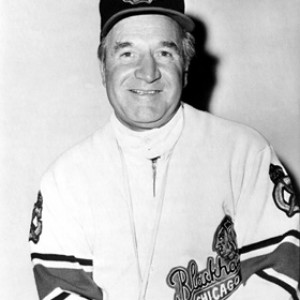 Chicago coach Billy Reay was not shy about his thoughts on Watson's shadowing job on Hull:
"You can't object to a player skating with Hull and bodying him. That's just good defensive hockey. But what this guy did was rotten. He used his stick on Bobby and grabbed him every time they came close together.
"He did everything. Interference, holding, cross checking. You can't sell that kind of stuff to the public. The NHL won't put anybody in their seats with that type of thing.
"Before tonight's game I warned Bobby not to retaliate, not to do anything that would get him penalized. And he didn't. But the referee kept throwing them off together, which suited Detroit just fine. Watson and Hull gone, that was a good deal for them."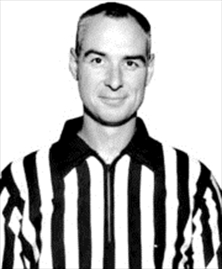 Referee John Ashley sent the pair off together three times.
Abel felt that Reay's complaints were just so much hogwash:
"He (Watson) did a good job. That complicated matters for them. But I don't know what Chicago expected us to do – leave Hull alone?
"Why be angry at Watson, he only did what he was told. And if he did it illegally, why didn't he get more penalties?"
The Red Wings will now get a much-needed rest. They begin the Stanley Cup final series Sunday afternoon in Montreal against the Canadiens. Detroit was a decided underdog going into this series and will occupy the same position against Canadiens. Montreal is listed as an early 3-1 favourite against the Detroiters.
Leafs Retain Imlach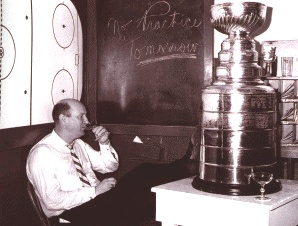 You can forget about those rumours claiming that Punch Imlach would leave his coach-general manager post with the Toronto Maple Leafs. Imlach yesterday signed a new contract with the Leafs that will keep him in Toronto for another four years.
Reports had been circulating that Imlach was all but signed, sealed and delivered to the new Los Angeles expansion franchise owned by former Torontonian Jack Kent Cooke. Yesterday's signing put an end to that.
For his part, Cooke has denied ever meeting or in any way talking about a job with Imlach. Punch usually fielded questions on the subject with a cryptic "no comment."
Imlach Heads West, But Not For a New Job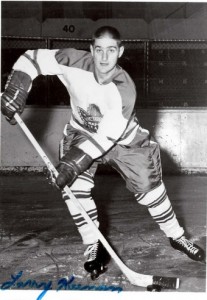 Imlach, 48, has been the Leaf coach-manager for eight years. His teams have never missed the playoffs and he has won the Stanley Cup three times. He  commented to Red Burnett of the Toronto Star on his immediate plans:
"I signed as general manager-coach on very satisfactory terms. This should put an end to the wild tales that I was (a) leaving town and (b) that I was retiring to the front office and someone else was taking over as coach.
"Now that my personal future is settled I can get on with the business of planning for next season. I am leaving for Tulsa  today to watch our team there play Oklahoma in the Central Hockey League finals and from there I'll go to San Francisco to see our Victoria Team in the Western Hockey League playoffs. How long I stay on the coast depends on how well our teams do.
"I'll also be looking at players on other teams with an eye to the draft and possible trades. You never know, I might be able to snare a player who will help us next season."
Retired police detective, involved in hockey at all levels for over 50 years. Member of Society for International Hockey Research and presently a video analyst for the leader in advanced hockey analytics (we work exclusively for 2 NHL clubs, and provide advice on an ad hoc basis to many other clients). Currently the Assistant General Manager for the Pelham Pirates of the Greater Ontario Junior Hockey League. Previously owned the Faceoff computer hockey simulation and also provided all player ratings for the EA Sports series of NHL computer games from the late 90's into the mid 2000's.