We've reached the halfway mark in the countdown of the 90 greatest Detroit Red Wings players of all-time.
In this countdown, The Hockey Writers details the careers of the 90 best Red Wings, Falcons, and Cougars to suit up in Hockeytown. These rankings are based on contributions to the organization, rather than NHL career totals.
For example, Andy Bathgate, Johnny Bucyk, and Marian Hossa will not make the list, considering their short tenures in Detroit. Though less skilled, former Red Wings Joey Kocur, Dale McCourt, and Mathieu Dandenault made the cut.
After counting down #51-60 last week, this week's edition of the Red Wings' Top 90 in 90 focuses on #41-50.
#41-50 Greatest Red Wings
50. Larry Murphy | D

Red Wings Career: 312 GP – 35 G – 136 A – 171 PTS
Awards: Stanley Cup (1997, 1998)
After the Red Wings acquired Larry Murphy from Toronto, the veteran defenseman quickly became an ally of Nicklas Lidstrom. Upon arriving in Detroit, Murphy took Lidstrom under his wing and helped him develop into a top tier defenseman.
In his five seasons in Detroit, Murphy was part of a veteran defensive corps that led the Red Wings to two Stanley Cups victories. His best season came during the 1997-98 campaign, when he scored 52 points in the regular season and added 15 more in the playoffs.
49. Shawn Burr | RW

Red Wings Career: 659 GP – 148 G – 214 A – 362 PTS
Awards: N/A
A long-time, heart-and-soul player for the Red Wings, Shawn Burr was a physical winger who thrived in the early-90s under then-coach Bryan Murray. Burr was Detroit's first selection in the 1984 draft and became a full-time Red Wing during the 1986-87 season.
Once Scotty Bowman arrived in Detroit, Burr was on the back-nine of his career and became more of a checking forward. After his retirement, Burr was diagnosed with and beat leukemia. He passed away two years later due to brain trauma sustained from a fall at home.
48. Bruce MacGregor | C

Red Wings Career: 673 GP – 151 G – 184 A – 335 PTS
Awards: N/A
During the 1960s, Bruce MacGregor was a solid, consistent scorer for the Red Wings. His best season came during the 1966-67 season when scored 28 goals and 47 points. He was also a contributing member of Detroit's 1961, 1963, 1964, and 1966 Stanley Cup runner-up teams.
As luck would have it, MacGregor would make up for those Stanley Cup losses. As the Edmonton Oilers' assistant general manager, MacGregor was a part of Edmonton's five Stanley Cup teams. His only success with the Red Wings came in the form of great regular season finishes.
47. Dino Ciccarelli | RW

Red Wings Career: 254 GP – 107 G – 133 A – 240 PTS
Awards: N/A
For those who are too young to remember, Dino Ciccarelli was Tomas Holmstrom before Tomas Holmstrom became Tomas Holmstrom. As the original "Demolition Man", Ciccarelli parked himself in front of the net during Red Wings power plays and effectively screened the opposing goalies.
"Effective" is an understatement. Ciccarelli frequently got under the skin of opposing defensemen and goalies, drawing even more penalties. Additionally, the Red Wings had one of the NHL's deadliest power plays during his stay in Hockeytown. Ciccarelli was a huge part of their special teams success.
46. Martin Lapointe | RW

Red Wings Career: 552 GP – 108 G – 122 A – 230 PTS
Awards: Stanley Cup (1997, 1998)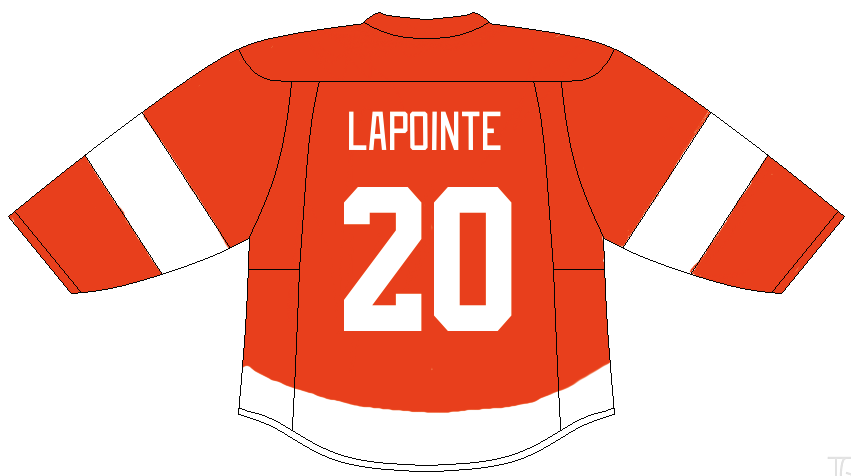 Before Detroit drafted Anthony Mantha in 2013, Martin Lapointe was the highest player the Red Wings had selected in the NHL Entry Draft in last 25 years. It took a few seasons for Lapointe to develop, but he eventually became a physical force with a nice offensive touch.
Lapointe scored the game-winning goal in Game 4 of the 1998 Finals against Washington and soon became a dependable top-six forward in Detroit. He scored 15 points that postseason—a personal best in any playoff season with the Red Wings.
45. Brett Hull | RW

Red Wings Career: 245 GP – 92 G – 115 A – 207 PTS
Awards: Stanley Cup (2002)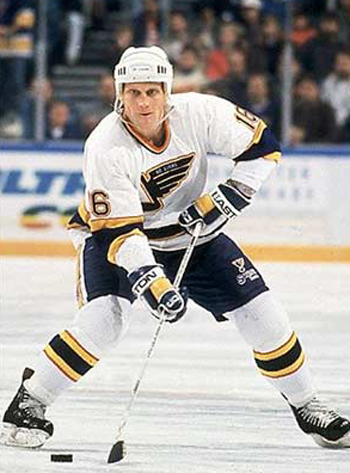 Another veteran mentor to join the Red Wings, Brett Hull's three seasons were quite impactful. It's fair to say that he helped Pavel Datsyuk and Henrik Zetterberg develop into the clutch, goal-scoring players that they became. Hull played alongside rookie Datsyuk during the Red Wings run to the Stanley Cup in 2002 and welcomed Zetterberg to their line the following season.
In each of his three seasons in Detroit, Hull finished third or better in team scoring. His 18 points during the 2002 playoffs were good enough to rank 4th on the team as well.
Hull's uncle, Dennis Hull also played for the Red Wings during the 1977-78 season.
44. Chris Chelios | D

Red Wings Career: 578 GP – 21 G – 131 A – 152 PTS
Awards: Stanley Cup (2002, 2008)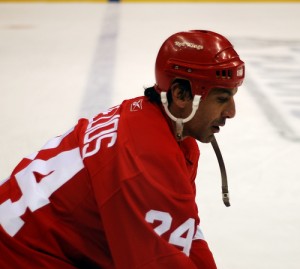 It's hard to believe that Chris Chelios was already 37 years old by the time he arrived in Detroit. It's even more shocking to know that he played in more seasons in Hockeytown than he did in Chicago or Montreal, being in the latter stages of his career.
Chelios' defensive prowess helped the Red Wings capture the 2002 and 2008 Stanley Cups. He also set the record for most playoff appearances during the 2008 playoffs and still holds the record (266).
43. Roger Crozier | G

Red Wings Career: 313 GP – 131 W – 121 L – 41 T – 20 SO
Awards: Calder Trophy (1965), Conn Smythe Trophy (1966)
After taking over for an aging Terry Sawchuk, Roger Crozier had a spectacular first two seasons as Detroit's starting goalie. He won the Calder Trophy as top rookie in 1965, then captured the Conn Smythe Trophy in a losing effort following the 1966 Stanley Cup Finals.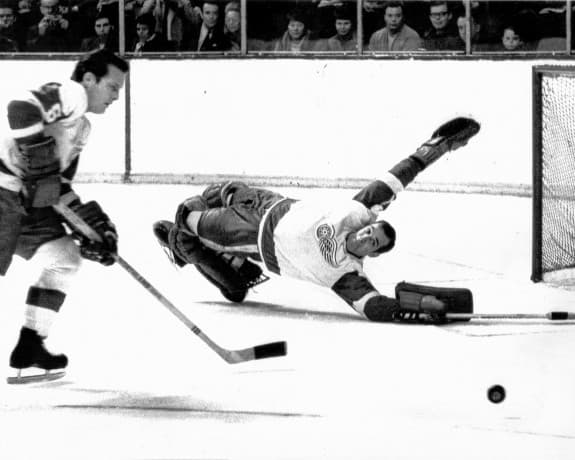 If it weren't for recurring pancreatitis and fading Red Wings teams, Crozier could have retired as one of the best goalies the NHL ever saw. In recognition of his stellar play, the NHL briefly awarded the Roger Crozier Saving Grace Award to the goaltender with the top save percentage during the regular season.
42. Marty Pavelich | LW

Red Wings Career: 634 GP – 93 G – 159 A – 252 PTS
Awards: Stanley Cup (1950, 1952, 1954, 1955)
During the glorious 1950s, Marty Pavelich was a key cog in the Motor City lineup. Like Gordie Howe and Ted Lindsay, Pavelich won four Stanley Cups with the Red Wings.
Pavelich achieved a rare feat during his time in Detroit: Jack Adams didn't trade him. Not even once. Lindsay, Terry Sawchuk, and Glenn Hall couldn't avoid a trade in their Red Wings careers. Pavelich retired following the 1956-57 campaign as a lifetime Red Wing.
41. Nick Libett | LW

Red Wings Career: 861 GP – 217 G – 250 A – 467 PTS
Awards: N/A
Apart from Reed Larson, Nick Libett was perhaps the best player during the "Dead Wings" years. Libett was selected to be Detroit's representative at the 1977 NHL All-Star Game and helped Detroit's young team reach the playoffs the following year.
It's hard to point to a specific season of Libett's that stood out compared to the rest. He consistently scored 40-50 points per season throughout the 1970s.
Which most recent Detroit Red Wings player—Chris Chelios, Brett Hull, Martin Lapointe, or Larry Murphy—had the greatest impact on the team? Comment below with your thoughts.