One year ago, the Canucks' rebuild was less exciting than it is now. In the summer of 2016, one of the most intriguing players in the organisation was Anton Rodin. At the beginning of this season, however, Rodin is stuck on the farm and has been unable to get in a game when called up by the big club. Previously dubbed an X- Factor player, now the Swedish winger is a forgotten man. 
A Roundabout Path 
It had already been a long road for Rodin by October 2016. Vancouver drafted the 26-year-old winger 53rd overall in 2009. He spent his entire youth career at Brynäs IF in his native Sweden before crossing the Atlantic to play in the AHL. He failed to make an impact in that league and never graduated from the Canucks' affiliate The Chicago Wolves.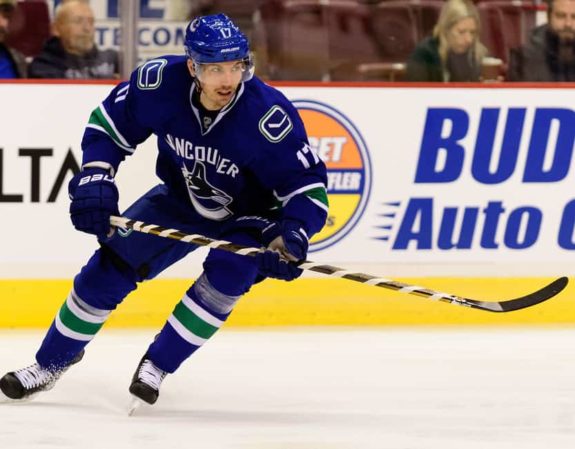 Rodin returned to Sweden after two years, where he dominated. He won SHL MVP with Brynäs in 2016, scoring 37 points in 33 games. This gave him his second look in British Columbia, leading to a two-way contract in time for 2016-17. After a strong preseason, Rodin was expected to contribute at a decent clip for the Canucks throughout the year.
Unfortunately, he suffered an injury setback due to a longstanding knee problem and missed the majority of the season, playing only six professional games across the AHL and NHL. In three games with Vancouver, he registered one assist.
Vancouver's Bottom-Six Logjam
Rodin isn't in a bad place now due to his lack of games last season. The sample size isn't big enough to be a good judge of his talent, and I doubt he would be frozen out on these performances alone. Rather, Rodin is on a team with massive competition for entry-level positions and playing minutes among the Canucks' forward corps which is due to two main factors. 
First, head coach Travis Green is rolling a decent scoring line of Sam Gagner, Alex Burmistrov, and Thomas Vanek among the bottom-six. The group hasn't dominated the NHL but all were acquired at a significant cost in the off-season. Management will be reluctant to scratch these players due to the weight of their contracts and acquiring them showed a lack of confidence in Rodin, to begin with. 
Canucks Anton Rodin clears waivers. Off to Utica. pic.twitter.com/O3yBQD7wqx

— TSN Radio Vancouver (@TSN1040) October 1, 2017
Second, Rodin will face great competition from his teammates in Utica. The Comets are saturated with forwards, many of whom are vying for top-team minutes. This includes younger prospects like Nikolai Goldobin and Reid Boucher and veterans Jason Megna and Michael Chaput.
In this competition, Rodin is the odd one out. He cannot bring the versatile package that Megna and Chaput offer. Meanwhile, the Canucks will prefer to give younger prospects with a higher ceiling the sheltered NHL minutes that Rodin currently needs. Not to mention the Swede has hardly excelled this season – scoring only two points in five games with the Comets. It would be hard to justify giving him a lengthy stint over a dominant AHL player like Nikolai Goldobin. 
Uncertain Future for Rodin
Rodin doesn't have the toolkit to be a second line player but he probably has the potential to plug into an NHL bottom-six. Due to his limited experience, however, he is a difficult piece to trade. Therefore, it is unlikely that he will move from Vancouver before his contract expires. Once free from the Canucks, a PTO would be Rodin's best fit. 
Having failed to make an impression in Vancouver however, it's difficult to see where Rodin would get an opportunity. Teams without good prospect depth could be interested but Rodin would not break into the senior squads of the top teams in the NHL. Amongst rebuilding teams, the Canucks arguably have the weakest set of forwards, barring the Colorado Avalanche, Florida Panthers and Vegas Golden Knights. It's troubling that Rodin has been frozen out here. His best bet is to find a team in the AHL through free agency where he can flourish and make a case for promotion.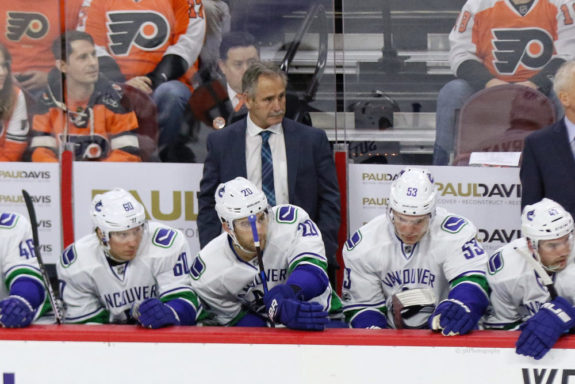 Many commentators have said that Rodin's treatment is unfair. It's unfortunate he couldn't get a look last season. But it's worse that this hasn't changed whilst he has been fit in this year. However, the glimpse of talent seen in the 2016 preseason is hardly a guarantee of success. Rodin deserved a chance, but he hasn't made good on it. Once viewed as a surprise package, Rodin needs a change soon to avoid obscurity.
Matthew lives in Brighton, UK and covers European Hockey leagues and the Vancouver Canucks. He is a big Canucks fan, and often sets an early alarm to tune into their matches.