No matter how adamantly Flyers GM Ron Hextall denies the ongoing trade rumors in Philadelphia, they simply won't go away. Is the first-year GM the victim of restless chatter? Or are the Flyers shopping for a deal that would not only bolster their blue line, but maintain Hextall's long-term vision as well?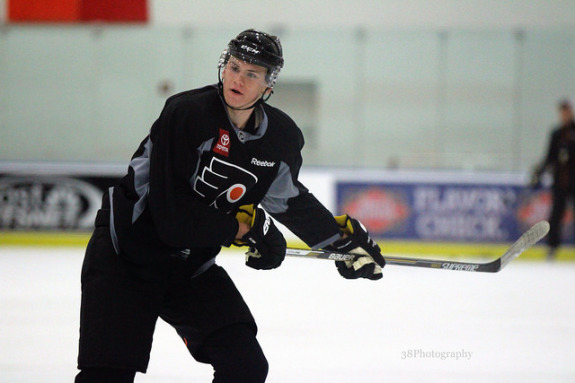 Refuted Reports
Six days before opening night, reports of a trade involving an unnamed Flyers defenseman cluttered the rumor mill. With prospect Sam Morin still on the roster, many believed this rumor to hold some sort of credibility. After all, the 19-year-old defenseman impressed his teammates, as well as Flyers coach Craig Berube with his preseason play this year.
"I was impressed in preseason with him, very impressed," said Berube. "Sometimes you look at a guy in developmental camp and … say, 'Ah, he's not ready.'
"But when you get him into the game itself, even in some of the practices itself, I was wondering if he was ready, but when you got him in the game itself, he plays — he can play."
It made sense, right? Even with Chris Pronger and Kimmo Timonen on LTIR, the Flyers were able to sneak under the salary cap limit, holding only $1.480 million of space. Philadelphia would be able to shave more salary off of their books, while unleashing their 6-7 man child to see just how truly he is ready for the NHL. And if TSN's Bob McKenzie is reporting it, certainly there has to be some legitimacy, right? No.
https://twitter.com/DStrehleTFP/status/515309827556651008
It didn't take but a day for this logic and/or idea to be dismembered. When asked about the rumor, Hextall didn't waver, asserting his principle in developing prospects at their own pace.
"I believe in what I believe in," repeated Hextall. "My philosophy won't change in terms of rushing a young player. We're not going to keep a kid that's going to be here 15 years because we think, 'Wow, it's nice to have a young kid in the lineup.' So, any decision that we make on young players is going to be what's best for the player, because in turn, that's what's best for the franchise."
Never mind the fact that Morin's contract status prohibits him from skating in the AHL this season, making him eligible for only the QMJHL or the NHL. And while the anticipation of seeing Morin in orange and black continues to build, Hextall and the Flyers would much rather save the first year of his entry-level contract, which would count this season if Morin were to exceed nine games.
Sam Morin did have a strong preseason. But you have to respect Ron Hextall for sticking with his word on not rushing the kids, right?

— Sarah Baicker (@sbbaicker) October 3, 2014
As it turned out, Hextall's dismissal of this rumor held the most credibility. After all, what good does it do the franchise to burn a year of Morin's contract when the organization has another option that's just as good, if not better, in Shayne Gostisbehere?
Frank Seravalli of philly.com had this to say:
It is clear that Gostisbehere is the more NHL-ready prospect. For now, it seems like the Flyers have hung on to Morin simply because the more time he trains around NHL players is better for his development than playing in Rimouski, largely unmonitored and out of the Flyers' control.
With the Morin rumor shot down, it was back to the slightly modified game plan. Even with the early season injury to Braydon Coburn, the Flyers utilized their signed depth in Nick Schultz to fill the gap. But that didn't extinguish the hearsay surrounding the Flyers' defensive unit.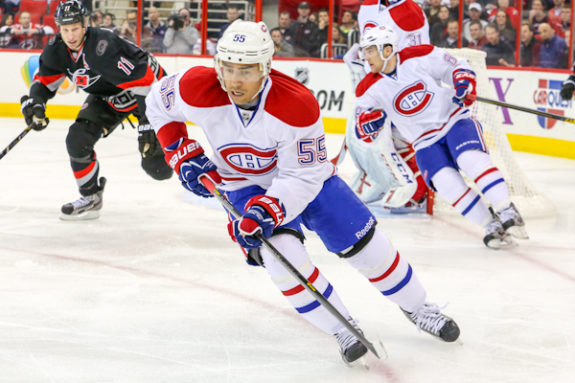 Another Offer?
Shortly after veteran defenseman Francis Bouillon was released from his professional tryout with the Montreal Canadiens, it was reported that the Flyers extended a contract offer to the 39-year-old defenseman. While the dollar figure went unmentioned, it was noted that the bid was a two-way offer that most likely would've landed the 14-year NHL veteran in the AHL.
After rejecting Hextall's offer, Bouillon signed with HC Ambri-Piotta of the Swiss Hockey League. And whether or not Bouillon found the money amount to be insufficient, the New York City native clearly didn't want to start the season in the AHL, where he last appeared in the 2002-03 season.
So where there was smoke with the Sam Morin rumors, there was fire with Francis Bouillon. On one hand, Hextall was good on his word, sending Morin back to his junior hockey club. On the other, a contract was offered to a veteran defenseman, despite it being turned down. And whether the Flyers are still in the market for a blue liner or not, they were irrefutably looking for one when the offer was made.
Thank you Francis Bouillon for rejecting the #Flyers contract offer. That would of been a mistake by Hextall.

— Tim M. (@Flyersguru) October 14, 2014
But why Bouillon? The long-time Hab never scored more than five goals in a season, while scoring only 149 points in 776 NHL games. Clearly, Hextall wasn't looking for a dark horse Norris Trophy candidate. Still, Bouillon struggled in Montreal – even when paired with their star defenseman, P.K. Subban.
Travis Hughes of Broad Street Hockey initially pondered the "why," stating the team had enough defensive depth. He further elaborated the apparent mismatch of Bouillon and the Flyers by stating this:
Not even P.K. Subban was good enough to pretty-up Bouillon's numbers, and the Flyers do not have a P.K. Subban-caliber defenseman on their roster today, so it's kinda scary to think what might've happened with him here. Boullion would have been a weird addition for the Flyers, to be sure.
Apparently, the Flyers are lacking the assurance in their current crop of defenseman as a unit – and for good reason. Heading into their Oct. 18th matchup in Dallas, Philadelphia owns a goal differential of minus-five, being outscored in their first four games by a 16-11 margin. Mark Streit, Michael Del Zotto, Andrew MacDonald, Nick Schultz, and Luke Schenn are a combined minus-17.
The only Flyers defensemen with a positive plus-minus rating are Braydon Coburn (plus-one), who's played in one of Philly's first four games, and Nicklas Grossmann (plus-one). That's a sobering thought for anyone with aspirations for another trip to the playoffs, which could explain the pitch for Bouillon in the first place.
Not to worry, though. The rumor mill doesn't end there.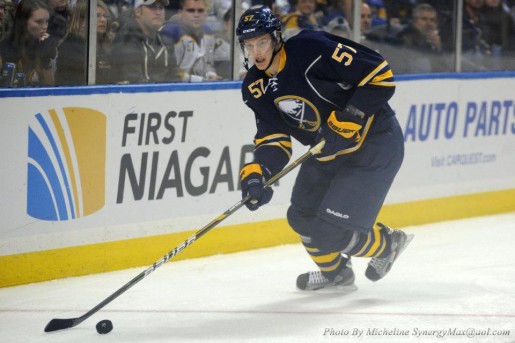 Are the Flyers Shopping for Tyler Myers?
Before reading too far into anything based on seeing Tyler Myers' name above, know that rumors are rumors. Sometimes they turn into reality, and other times they don't. But interestingly enough, The Fourth Period reported the Flyers as one of five teams to show interest in the 24-year-old veteran (yes, veteran).
While it comes as no surprise that there's an anxious market for the 6-8, 219-pound defenseman, it may be a bit of a shock to see that curiosity coming from Philadelphia – post-Homgren era, that is.
According to The Fourth Period:
Myers, who is in the third-year of a seven-year, $38.5 million contract, told the Buffalo News in early-September he was happy he wasn't dealt in the off-season, but that hasn't stopped teams from calling.

The Red Wings aren't the only team interested in Myers, though, as the Anaheim Ducks, Philadelphia Flyers, Carolina Hurricanes and Colorado Avalanche have also called the Sabres.
For the Flyers, that $38.5 million contract is quite the pill to swallow. Especially when it comes to the $5.5 million cap hit, which runs through the 2018-19 season. Buffalo's reported asking price, however, is nothing short of a king's ransom. It's apparently what's driving Detroit away, as they are unwilling to part with prized forward Anthony Mantha.
But even if the Red Wings are still members of the Tyler Myers sweepstakes, it's been expressed that they'll take their time, assessing their situation and options as the season progresses.
Schenn x2 for Tyler Myers. Do It #Flyers #Sabres

— toolboa (@toolboa) October 12, 2014
The Flyers, however, can ruin those plans by pulling the trigger sooner and landing the former first-round draft pick. But in order to that, Hextall would have to find a way to send $4.02 million worth of yearly salary cap Buffalo's way – and that's just to stay cap compliant themselves. Realistically speaking, the Sabres aren't interested in Nicklas Grossmann, nor are they targeting Andrew MacDonald.
Furthermore, if the Sabres are asking Detroit for Anthony Mantha, the prospects that Hextall so highly cherishes in his own organization certainly wouldn't be exempt. Because of Philadelphia's limited cap space, Buffalo has enough of the bargaining chip lead to even demand an impact player on their current roster to boot.
Lyle Richardson of The Hockey News explains:
To acquire one, however, will almost certainly cost them a good young forward like Jakub Voracek, Wayne Simmonds or Sean Couturier. Brayden Schenn could be a candidate, but he's off to a slow start (only two points in four games) and struggled during a brief sojourn last week on the Flyers' top line, which doesn't improve his trade value.
This would be a simple transaction if the Sabres wanted Vinny Lecavalier, of course, but let's not forget that Buffalo is in the business of winning games too, even if they aren't winning too many of them now. Myers, a defenseman, even scored a shootout goal in his rookie season (below).
As it stands, it appears that Myers is out of Philadelphia's reach. His cap hit would require a great amount of finagling, and his asking price would resemble a rebuilding process. Hardly what the Flyers need, even if they're currently struggling to get each and every point in the standings.
If the Flyers were to find a way to acquire Myers, however, his presence alone would spell the relief they've been so desperate for since the injury to Chris Pronger. The 2009-10 Calder Memorial Trophy winner may not have been the 37, or even 27-point blue liner from his first two seasons in the league. But his decline in production matches Buffalo's tailspin in the standings.
Just like everything else pertaining to this season for the Flyers, we're left to wait and see what happens. Until something does happen, though, we'll be left with nothing but armchair GM'ing and rumors. Yes, those lovely rumors.
Andy is a contributor for The Hockey Writers, covering the Philadelphia Flyers. He holds a Bachelor's Degree in Communications from Walsh University. He enjoys spending time with his family, golfing, and reading. He is married with a daughter. You can follow Andy on Twitter @ADudones.