The Avalanche are looking to the playoffs – and a Stanley Cup victory for a second straight year – but they're going to have to do it without one of the core players on their roster. The club announced on Thursday that captain Gabriel Landeskog will miss the entirety of the 2023 Stanley Cup Playoffs, courtesy of the knee injury that has plagued him for the entire season.

The 30-year-old forward was originally expected to miss 12 weeks following arthroscopic knee surgery before the season began, but his return was continuously delayed until the club sent out the latest report, releasing a short and to-the-point article on the evening of April 13, which stated he would not return for the playoffs.
Before the Latest Landeskog Announcement
Last month, in the last update the press heard about Landeskog, head coach Jared Bednar noted that the captain's knee was a cause for concern. "Am I a little bit concerned? Yeah. He hasn't played all year," Bednar told the media. "Do I think he could easily come out of this and be fine? Yeah. He's putting in the work. Only time will tell" (from 'Avalanche's Gabriel Landeskog is 'putting in the work,' but when will he return?,' The Athletic, 03/08/2023).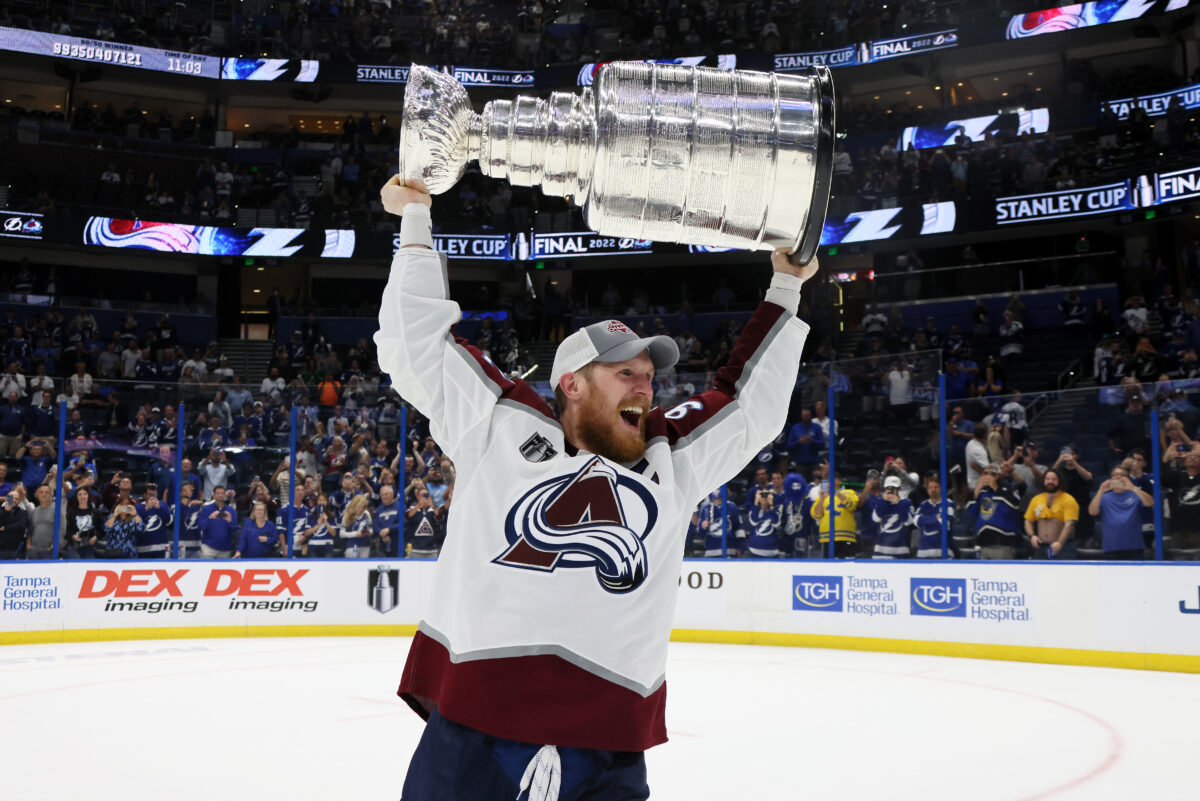 "It's a slow moving process for him, so we've just got to take it day by day," Bednar continued. "He continues to do the work to push to try to get back and help our team." General manager Chris MacFarland said, "He's doing everything he can to get back, and we're very hopeful that he will at some point."
Related Post: Avalanche's Potential First-Round Playoff Matchups Analyzed
---
Latest News & Highlights
---
Landeskog has not played a regular season game since March 10, 2022. "There's no player we can add to our lineup that can match what he brings," MacFarland said. "He's a fantastic hockey player, he's our leader both on and off the ice. He's a power forward that contributes in every facet of our game."
The Playoff Consequences of Landeskog's Absence
Of course, Landeskog's year-long absence allowed the team to get used to playing without him, but the depth on the roster will really need to step up in his place in the postseason. In addition to Nathan MacKinnon, Mikko Rantanen and Cale Makar, the club will need big playoff efforts from players like Artturi Lehkonen, Val Nichushkin, and J.T. Compher, among others, if they're going to seriously chase back-to-back victories. Lehknonen himself just returned from injury, and Nichushkin missed a significant part of the season battling an injury, but both have since returned and slotted back into key offensive roles in the lineup.
The captain's game is unique in that he's a strong net-front presence who is capable of scoring big goals and making flashy, finesse plays when necessary, but he also brings a grit and physicality to the ice that exudes leadership, standing up for his team and making him difficult to play against.
Without a doubt, losing Landeskog for the entire season and the playoffs is a huge blow to the team, and gives them a massive obstacle to overcome if they're going to chase a repeat. It seems odd that getting used to playing without him works in the Avalanche's favor but, somehow, it does. He's a huge part of the team both on and off the ice, but they have succeeded without him thus far. The playoffs are an entirely different animal, of course, and his commanding presence in every game will be heavily missed.