No one skates up to Hilary Knight, Connor McDavid, or Marie-Philip Poulin, grabs them by the scruff of their jerseys, checks the label and says, "what size jersey you got on?". It doesn't matter – small, medium, large, extra-large, or anything else – they're hockey players. No matter what size your own frame might be, you're a hockey player. Or if you're not, you at least love or care for someone who is. You recognize them as a hockey player first and foremost. Size is arbitrary – a hockey player, is a hockey player, is a hockey player.
Life ought to be the same way. You don't deem a person to be kind or pleasant because they are 6-foot-5 and 220 pounds. The size of a person's character can oftentimes be nowhere near in proportion to the size of their frame. Having a big heart is a far cry away from a big boot size.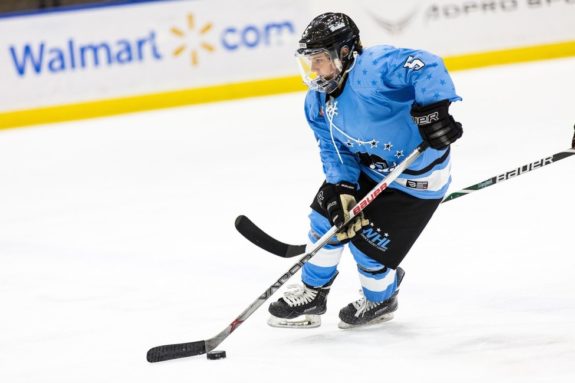 But let's stick with hockey. There is a perception that smaller hockey players are at a disadvantage. They are not strong enough, they are not big enough. Well, we are here to tell you that those notions are a bunch of baloney. Smaller hockey players can be just as advantageous as larger players to have on your roster, and can even be more so.
Case in point, Buffalo Beauts forward Sarah Shureb. One of the most diminutive players in the NWHL, Shureb competes right in the thick of the action whenever she is on the ice. Sticks to the face area, elbows, big bodies, and no matter what obstacles are thrown her way, she plays hockey fearlessly.
If you are a smaller player, we advise you take a page out of Shureb's book.
"I Was Always Fearless"
The roster size for Shureb on the NWHL's website is incorrect. It lists her as being 5-foot-2, but those are a few inches more than what she really is.
"I am actually 4-foot-11 and three-quarters, despite what my roster sizes have always said," she told THW.
No matter what her actual size is, Shureb has never shied away from the more physical aspects of the game. Furthermore, from a very young age she did not hesitate in sacrificing her body to make a play or from venturing forth into battling situations.
It's okay to not be okay #DIFD @BuffaloBeauts @NWHL pic.twitter.com/0HbWihTcIn

— Sarah Shureb (@S_Shureb5) February 15, 2018
"Growing up, I'd say I was always fearless," Shureb said. "I never let the height of another player keep me from going into the corners or playing the body on them, even though nine times out of 10 I was the one that ended up falling. But, if I was scared, I wouldn't have been out there!"
Throughout the course of the 2017-18 NWHL season, Shureb demonstrated that she was the exact opposite of scared. Of the Beauts' 16 regular season games, she played in eight of them and helped lead her team to the second best record in the league at 12-4-0. Only two of Shureb's eight games ended up being losses, so she was definitely a difference maker.
Accustomed to Being One of the Smaller Players
Shureb is one of only two players to play in the third season of the NWHL that were under 5-feet tall, the other being the Metropolitan Riveters' Erika Lawler. At the opposite end of the spectrum, there were plenty of players in the league who were right around the 6-foot mark give or take, including Riveters Ashley Johnston, Hillary Crowe, and Tatiana Rafter, and of course the Boston Pride's blueliner Paige Harrington.
Going up with players who were a foot taller than her has been something that Shureb consciously reminds herself of not hesitating against. She explained to THW:
"I just try and tell myself to play big and be fearless, and don't shy away from any battles. I tell myself I can be just as fast, just a strong and just as good as anyone out there if I just believe."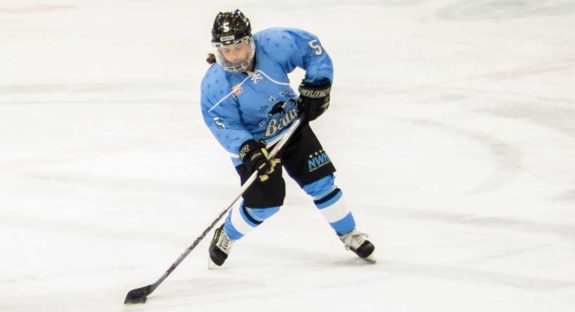 This could not be more of a truthful statement. And for any of you youngsters out there reading this – namely our preteens and teenagers – who are still having doubts about your own size, Shureb knows exactly where you are coming from. Believing in herself was not always easy, and she too had doubts when she was younger. But if you listen to what she has to say about this, you will feel not only more comfortable in your own skin but you will realize that it is mind over matter. Believing in yourself makes all the difference.
"As I was growing up and always the smallest player, I always thought I was at a disadvantage," Shureb recalled. "I always thought I could never beat anyone in a race because they have a longer stride, or never beat someone wide because they have a longer reach, or beat someone in a battle because they are bigger and stronger than me. But then as I grew up, I was thinking to myself how I am just making up excuses. I can be faster and I can be stronger. I just had to work extra hard on my speed and agility, and build my strength up even more so I can compete with the bigger players.That's when I stopped doubting myself."
You can do it too. Look at Shureb – she is now a professional hockey player and is living a dream. Don't make excuse – be confident!
Being Smaller Has Its Advantages Too
Being a smaller hockey player is not an entirely uphill battle either. Having a smaller stature opens other opportunities that are not necessarily afforded to a larger player. One of the most enjoyable aspects to witness when Shureb plays is observing her sense of focus on the ice. She pinpoints opportunities, and then pounces on them. During the 2017-18 season, there were more than a few breakaways or two-on-ones that Shureb took part in or generated herself. Some of those opportunities she attributes to her size.
"Some advantages I found being a smaller player, and maybe this one sounds silly, but I feel like I can be more sneaky," Shureb explained. "I have the ability to just get lost easily and sneak back door, and hopefully turn it into a scoring opportunity. Also, being shorter, I have a lower center of gravity, so even though I joke about getting knocked down a lot it can be an advantage when going into the corners and battling for the puck along the boards."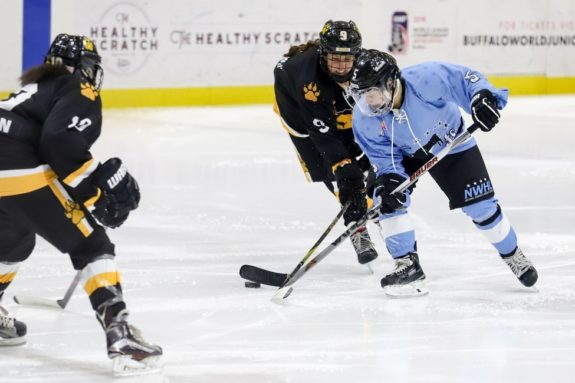 Shureb went on to say, "the biggest thing is don't get intimidated going up against a taller player like that. Just use your lower center of gravity to your advantage."
Shureb has a very solid build, and that is something she has developed and built over time. This comes down to sheer commitment on her behalf. But that lower center of gravity has paid dividends for her too. Shureb scored her first NWHL goal on Oct. 28, 2017 against the Connecticut Whale. She also generated 13 shots on goal in her eight games, and finished the season as a plus-player at plus-one.
The Best Advice She Ever Received
Hockey players are just like everyone else. In most instances, hockey players are the most down to earth athletes you will meet, and oftentimes the most caring. They are compassionate and genuine, and grew up with many of the same insecurities and fears that we all do.
Life is a learning process. You may look at Sarah Shureb and think, "Gosh, well it's easier for her – she's in the NWHL. She's a really good player." But like anyone else, Shureb did not just land where she is today. While there are too numerous factors to name in what has made her a successful athlete, we asked her about a couple of things that helped get her to where she is today.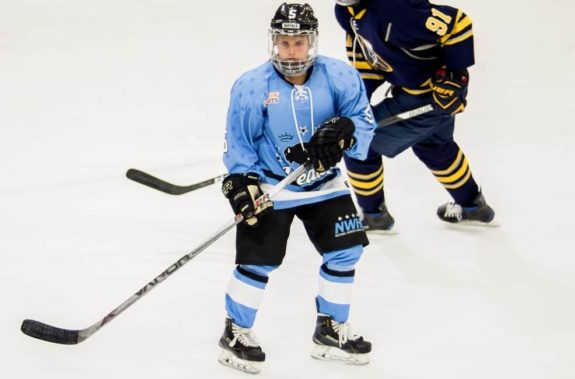 Like most professional athletes, Shureb had some really good coaching. When we asked her what the best piece of advice she ever received about being a hockey player was, she provided an answer that is perfectly suited for smaller players.
"'It's not the size of the dog in the fight, it's the size of the fight in the dog'  – Mark Twain," Shureb said matter-of-factly. "A college coach once told me that quote from Mark Twain at a prospect camp I was at back in high school, and it really stuck with me the rest of my playing career. It truly doesn't matter your size, as long as you play with heart and work hard you can do anything you set your mind to."
Notes to a Younger Self
But it wasn't always that easy for Shureb either. As a kid, she felt and experienced what maybe many of you might be feeling presently. Take heart – it does get better. You learn more, you gain more experience, and you become more comfortable in your own body and your life as a hockey player. Shureb reflected back to her 12-year-old self, and considered what advice she would have for that young lady today.
"I wish I didn't doubt myself and make excuses of why I wasn't fast or why I always got knocked down," she expressed. "I always said it was because I was short. But it was basically after I heard that quote in high school when I realized I could be just as good as anyone else as long as I just work hard and focus on specific workouts to help improve my play specific to my needs. That means a lot of speed and agility and weights off the ice."
#TBT to blue Cooper pants, slicked back hair, and starting the best sport in the world 🏒 #WGIHW @BuffaloBeauts @NWHL pic.twitter.com/1xdIjIMDr1

— Sarah Shureb (@S_Shureb5) October 5, 2017
No matter what your size, you can be just as good as anyone else. Learn your body as Shureb has hers, work hard and know that it comes down to heart. And that's whether you are 4-foot-11, 5-foot-11, 6-foot-11 or anything else. You be you, and put the effort into it. Just like Sarah Shureb has and continues to do so. She is one in a million – all 4-foot-11 and three-quarters of her.
If you liked this article, please check out our other articles with advice for kids from NWHL players:
Beauts' Sarah Edney Talks Defense for Youngsters
Whale's Faber Talks About the Forward Position for Kids