It would be an understatement to say Montreal Canadiens general manager Marc Bergevin has his work cut out for him. He has to re-sign several free agents this summer (Alex Galchenyuk and Andrei Markov, among others) and ideally add offense to a team that scored just 11 goals in 6 playoff games. That's on top of hopefully bringing back Alexander Radulov.
As proof that he's capable of the Herculean task of accomplishing it all, Bergevin negotiated four of the five the deals on this list of the top Canadiens contracts that have provided great bang for his buck.
For the sake simplicity, only players with contracts for next season were taken into consideration here. Credit to Bergevin though, there was still a great deal from which to choose:
5. Brendan Gallagher ($3.75 million cap hit)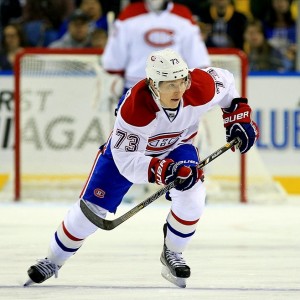 Brendan Gallagher no doubt took a step back from a production standpoint this past season, scoring just 10 goals and 29 points when he's usually good for at least 40. In 2015-16, he scored exactly that much in just 53 games, with a broken hand limiting him from action. So, expectations were high entering this season. And then the same hand got broken again.
On a positive note, the injury isn't so much at risk of recurring again as it was a freak coincidence, with Gallagher ill advisedly having gotten in front of a Shea Weber slapshot. So, there should nonetheless be cause for concern. After all, a key part of Gallagher's game involves staying in front of opponents' nets.
The main worry is, because of the hand injuries, that his scoring touch is forever compromised. If so, his six-year, $22.5 million deal, which pays him until he's still an in-his-prime 29 years old, still doesn't look so bad, because of that innate ability of his to go to the dirty areas and create scoring chances for the team as a whole the way so few others can.
That's a worst-case scenario, which makes the contract one of the best on the team.
4. Carey Price ($6.5 million cap hit)
As it stands, Carey Price's current six-year, $39 million contract has turned out to be one of the best bargains in the league. It was arguably a different story when he signed it back in 2012 and had yet to find his footing as a No. 1. Despite having been in the league five years, he had won just a single playoff round.
Since 2014, he's quadrupled that figure and has won some serious hardware: a gold medal in Sochi that cemented his status as an elite goalie (2014) and the Vezina and Hart Memorial trophies (2015) that made an argument that he is the best of the bunch in the world.
He's undeniably Montreal's most valuable player. So, his cap hit being tied for 44th-highest in the league (meaning lower than 30, affording one spot per team) and just the fifth-most among goalies gives an indication of the actual value of the contract.
His value is so much higher and his next contract, which will be negotiated sooner rather than later, will reflect that. In other words, general manager Marc Bergevin should soak in the luxury of having a top player under contract for relatively little and take advantage while he still can.
As mentioned on RDS, plan is for Price's agent Gerry Johansson and Habs GM Marc Bergevin to chat next week. https://t.co/fyZk7lmYGw

— Pierre LeBrun (@PierreVLeBrun) May 25, 2017
3.  Phillip Danault ($912,500 cap hit)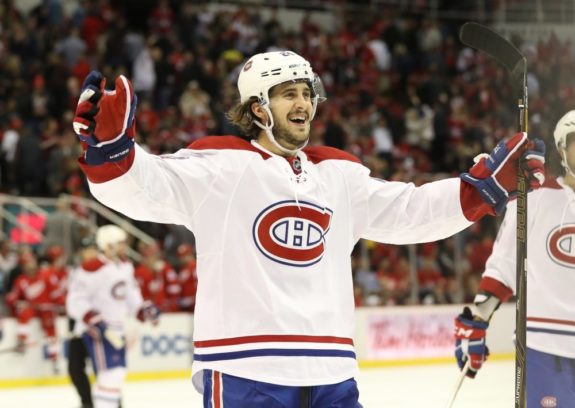 Few could have predicted Phillip Danault's breakout season. Chicago Blackhawks general manager Stan Bowman didn't when he sent him and a second-round pick to the Habs for Dale Weise and Tomas Fleischmann before last year's trade deadline.
One year later, Fleischmann's out of the league and Weise is coming off a 15-point season with the Philadelphia Flyers. Danault had 40, all the while making less than a third of his salary ($2.75 million, with a $2.35 million hit). That places Danault 34th on the list of the league's players with the lowest cost per point ($22,812), the highest among Habs.
Of note though, 27 players above him are on cheap entry-level deals. Danault was awarded his (the second of his career) based purely on the lack of offensive flair to his game he had demonstrated up to that point in Chicago.
He of course benefitted from Montreal's lack of depth at center, and, if that's an issue that's addressed by Bergevin this summer, his ice time and totals should see a sharp decrease. Even if that's the case, his contract is still more than worth it because of his defensive awareness, which is top-notch as well.
2. Paul Byron ($1.166,667 million cap hit)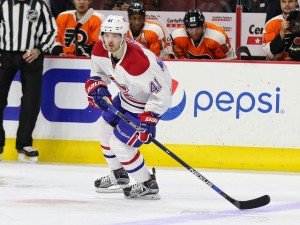 Paul Byron ranks just slightly lower than Danault on the lowest-cost-per-point list ($27,273). However, unlike Danault, who becomes a restricted free agent in 2018, Byron is under contract for two more seasons. His contract will only pay him $1 million at that point, when he will be turning 30.
That's not too shabby for a guy who turned out to be the Canadiens' second-leading goal scorer with a career-high 22 (43 total points). Of course, Byron took advantage of beneficial deployment as well, getting over 160 minutes on lines with Alex Galchenyuk earlier in the season. However, his versatility, which led him to lead all forwards in shorthanded ice time per game (1:58), is how he really makes his bones.
He may have only potted one shorty this past season, but he is a constant threat on the penalty kill. For example, in 2015-16, he had three shorthanded goals and two assists. It's his production that season (11 goals, 18 points) that led to his current contract. So, even though he didn't exactly come out of nowhere and his 22.9% shooting percentage is clearly unsustainable, Byron proved to be quite the bargain, especially as a waiver-wire pick-up once upon a time. Hopefully the Habs continue reaping the rewards forever after.
1. Max Pacioretty ($4.5 million)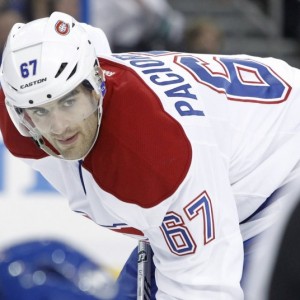 Fun fact: Byron had six game-winning goals this past season, second to only captain Max Pacioretty (seven). Since Pacioretty first broke out in 2011-12, no one in the league has more (39) other than Alex Ovechkin (43).
So, for all the grief that Pacioretty gets for screwing the pooch and failing to score in the first round, he has been pretty clutch over his career. He's been very good in general, in actuality.
He also places fourth in total goals over that timeframe (Ovechkin, Steven Stamkos, Joe Pavelski). All the while, he's earned an average of just $4.5 million per season. Pavelski's cap hit is currently $6 million, Stamkos' is $8.5 million and Ovechkin's is $9.538 million. Needless to say, one of these things is not like the other.
Sure, they are all captains of their teams, and Pacioretty didn't produce this past spring when it mattered most. That's on him, but the notion that he isn't worth every cent of his contract and then some is a gross misrepresentation of the situation… emphasis on "gross."
He unfortunately just hit a cold streak at the wrong time, but still managed to generate scoring chances on a red-hot Henrik Lundqvist. And it's not like this is a trend of his, with him having potted 10 goals in his previous two playoffs prior to this one (28 games). That's well in line with his career average of around 30 per 82-game season.
So, does Pacioretty choke during the playoffs? You can maybe make a good case that he did this past first round, but so did most everyone else on the team, and, on that team, his contract is, bar none, the best of the best. You may not like him as captain, but you should as one of the best bargains in the league.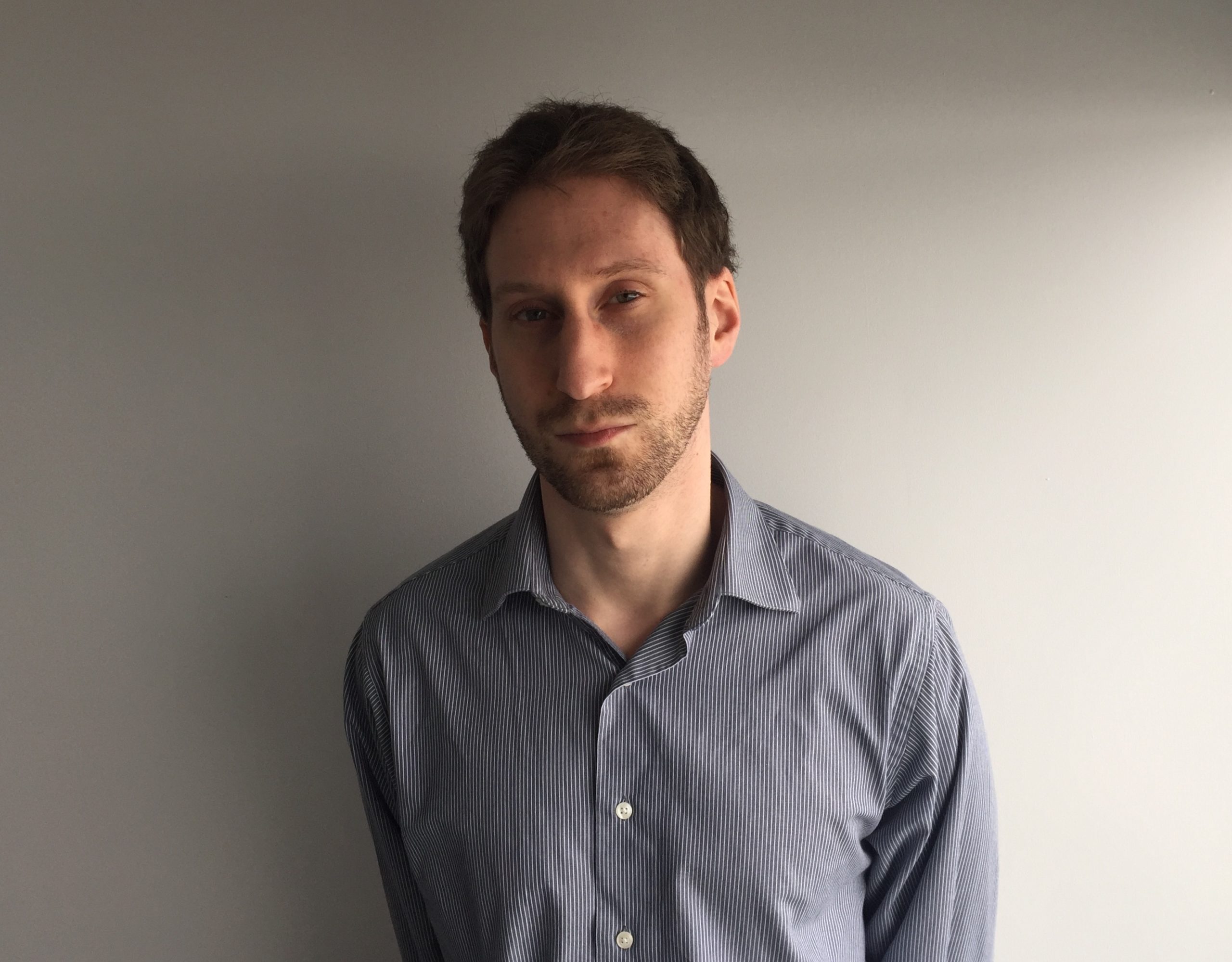 After 10 years of writing hockey, Ryan decided it was as good a time as any to actually join The Hockey Writers for the 2014-15 season. Having appeared as a guest on such programs as CBC Radio One's Daybreak, Ryan has also written for the Montreal Gazette and Bleacher Report and worked for the NHL itself and his hometown Montreal Canadiens. He currently writes about all things Habs for THW, with it being a career highlight for him to have covered the 2021 Stanley Cup Final as a credentialed member of the press.