The Tampa Bay Lightning will be without goaltender Ben Bishop for three to four weeks because of a lower-body injury, the team announced on Wednesday.
Bishop made a kick save on Detroit Red Wings defenseman Nick Jensen's slap shot and was slow to get up before leaving the ice on his own accord during the first period of the Lightning's 4-1 victory on Tuesday.
Bishop was relieved by Andrei Vasilevskiy who made 22 saves and yielded one goal to earn his seventh win of the season.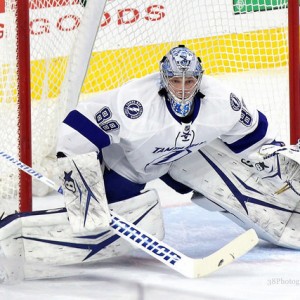 After a summer rife with speculation about Bishop's future with the Lightning, the 30-year-old netminder has started 21 of the team's first 33 games and posted a 9-10-2 record. His 2.79 goals-against average and .907 save percentage are below average for the two-time Vezina Trophy finalist and indicative of the team's struggles during the early part of the season..
The Lightning have won three of their past 12 games and are 16-14-3 as they've battled inconsistency and injuries to many key players. On Nov. 17, the team lost captain Steven Stamkos for approximately four months after he underwent a procedure to repair a torn lateral meniscus in his right knee.
During Tuesday's game, they were without Ryan Callahan (lower-body injury), Nikita Kucherov (lower-body) and Ondrej Palat (undisclosed) — three of the team's top-nine forwards. Jonathan Drouin and Anton Stralman were also lost for a handful of games earlier in the season but have since returned to the lineup.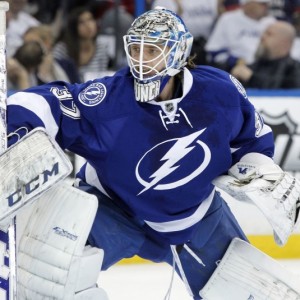 With Bishop out of the lineup, Vasilevskiy will now handle the starting role for the Lightning. The 22-year-old Russian goaltender has seen action in 14 games (including 12 starts) and is 7-4-1 with a 2.41 goals-against average and a .923 save percentage.
Vasilevskiy started the last six games of the 2016 Eastern Conference Final after Bishop went down with a leg injury that ended his postseason prematurely in Game 1.
The Lightning have recalled goaltender Kristers Gudlevskis from their American Hockey League affiliate, the Syracuse Crunch to backup Vasilevskiy while Bishop is out.
Gudlevskis has has posted five wins in 14 games with the Crunch in 2016-17.
Markov Expected to Miss Two Games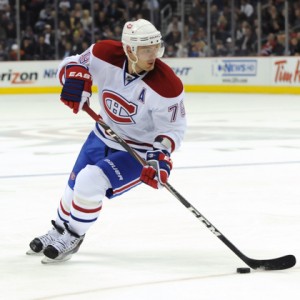 Montreal Canadiens defenseman Andrei Markov will miss the team's game against the Minnesota Wild on Tuesday and head coach Michel Therrien would be "surprised" to see him in the lineup against the Columbus Blue Jackets on Saturday.
The 38-year-old blueliner was held out of the team's 5-1 win over the Anaheim Ducks with a lower-body injury on Tuesday — the first game he's missed in 2016-17. His 21 points in 31 games this season leads all Habs defensemen and is fourth among all players. He's averaging nearly 22 minutes of ice time per game and his eight power play points are tied with Alex Galchenyuk for second on the team.
The Canadiens have three wins in their past five games and lead the Atlantic Division with a 21-7-4 record.
Red Wings Place Howard on IR
The Detroit Red Wings placed goaltender Jimmy Howard on injured reserve, the team announced on Wednesday. In a corresponding move, they recalled Jared Coreau the AHL's Grand Rapids Griffins.
UPDATE: The Detroit #RedWings today recalled goaltender Jared Coreau and placed goaltender Jimmy Howard on seven-day injured reserve. pic.twitter.com/aJDJufyMJa

— Detroit Red Wings (@DetroitRedWings) December 21, 2016
He was injured during the second period of the team's game against the Lightning on Tuesday and writhed in pain after a collision in the Red Wings' crease involving Jensen, Lightning forward Erik Condra and Howard.
Petr Mrazek will handle the starting role for the Red Wings in Howard's absence. He's split goaltending duties with Howard this season and has compiled a 9-7-3 record with a 3.06 goals-against average and a .899 save percentage.
Coreau, 25, has one game of NHL experience — which came earlier this season in a 5-3 loss to the Pittsburgh Penguins on Dec. 3. He's played 17 games with the Griffins and his 11 wins are tied for third in the AHL.
Cunningham and Doctors Hold Press Conference
Tucson Roadrunners captain Craig Cunningham made his first public appearance since Nov. 19 during a press conference held Wednesday morning.
Cunningham was joined by his mother and the doctors from Banner-University Medical Center Tucson that helped save his life after he collapsed on the ice before a game on Nov. 19.
Cunningham: "I wouldn't be here today" without these doctors, our trainers, and the fire fighters who were at the arena that night. pic.twitter.com/rlPhinYgZ2

— Tucson Roadrunners (@RoadrunnersAHL) December 21, 2016
In a press release on Tuesday, the public got their first look into the heroic efforts made by first responders and the doctors and medical staff that treated him that day.
During the minutes that ensued after Cunningham was taken off the ice, doctors performed Extracorporeal Membrane Oxygenation (ECMO). It's a life-saving therapy that's highly specialized and utilized only when someone is in such critical condition that there's no other adequate means of support for their heart and lungs.
Here's the full video of the press conference:
Odds and Ends
— Cleveland Monsters defenseman Jaime Sifers lost a skate blade during a shift in the team's 4-2 win over the Charlotte Checkers on Tuesday night and the Monsters had some fun with it on their Twitter account on Wednesday.
From the "Something You Don't See Everyday Dept.": Sifers lost a skate blade earlier & needed a LOT of help getting to the bench. #Teamwork😜 pic.twitter.com/gvStPeOOfn

— Cleveland Monsters (@monstershockey) December 21, 2016