The month of March has been a rollercoaster for the Chicago Blackhawks. Between the emotional trade deadline, new players making an early statement, and the current seven-game losing streak, every player has an interesting story from the last four weeks. Defenseman Seth Jones is one player whose game has spoken volumes as of late. It's his second season in Chicago, and although the team struggled last season, he put up encouraging numbers, and Jones admitted he could be even better. Now, the alternate captain has settled in, and the "newbie" persona has faded. Although he is in the midst of another trying season, he has shown the improvements he wanted to make and a different side to his game that has made him effective.
Jones' Numbers With Blackhawks Continue to Improve
It's hard to overlook Jones' performance, especially within the last three weeks. He started the season slow, with only four points in his first 12 games, but this month, he has found more consistency. He has four goals in March, which happens to be the most he has scored in a single month since joining the Blackhawks, and his offensive production has led to some tremendous overall numbers for the season, and he is one of the team leaders in every category.
10 goals (fourth-best)
33 points (second-best)
23 assists (first)
161 shots (first)
45 takeaways (third-best) – the highest number since 2018-19 (59)
24:34 minutes Ice Time (first)
116 Blocks (second-best)
The 2017-18 season for Jones, when he was a member of the Columbus Blue Jackets, was significant because the numbers he saw in three categories were similar to this year. The 10 goals he has scored this season is the most he has had since 2017-18 when he had 16. He also carries a 6.2 shooting percentage (S%), and March saw him bring a three-game goal streak, which is the second time this has happened in his career. He hasn't seen numbers that high and a three-game goal streak since that year, so this season with the Blackhawks has been a revelation for him. He is a minus-33, which can be perceived the wrong way, but the team itself has a minus-88 goal differential, which is third-worst in the NHL, and he logs the most minutes, so you have to take that with a grain of salt. Nevertheless, it's an improvement from last year's minus-37 rating, with an even more depleted roster.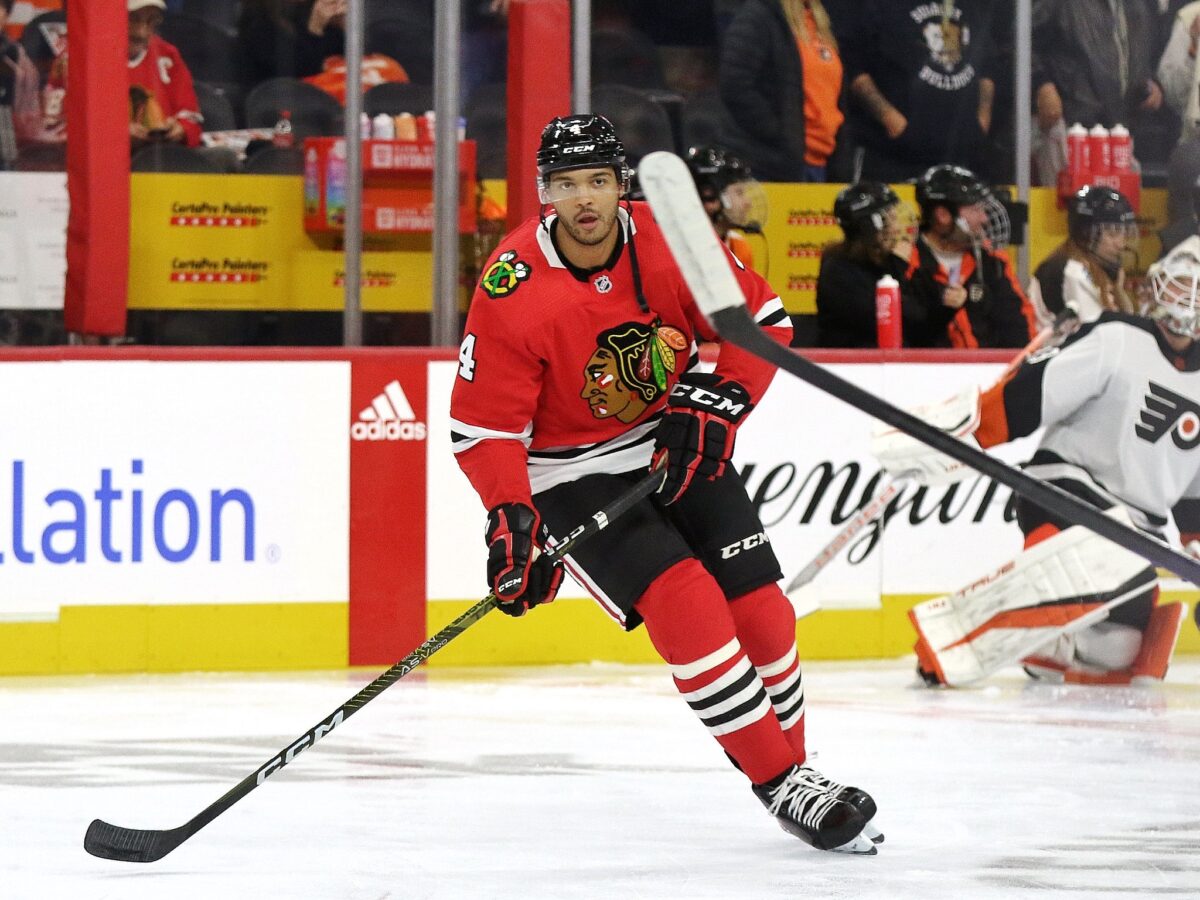 Currently, Jones has 33 points in 65 games and is on pace to finish with 37 points. It's not as much as last season when he recorded 51 points in 78 games, but there is a lot to be encouraged by because he has been able to produce well even while losing his top defensive partner Jake McCabe to the Toronto Maple Leafs. He also mentioned that he was working on shooting more and being more selfish with the puck, which shows.
What Is Motivating Jones?
Jones is in an odd predicament with the Blackhawks. He was traded from Columbus and signed an eight-year, $76 million contract extension in July 2021 that officially kicked in this season. He initially joined a team of superstars, and now, most (except Jonathan Toews) have moved on, and Jones now has the longest contract on the team, with many becoming free agents this summer. Even more change is expected from when he first arrived, and he doesn't fit the mold of most players on a rebuilding team. He is not fighting for a contract or a job like many of the Blackhawks players are, as his role is set for years to come. He doesn't have anything to prove, per se. He is an 11-year NHL veteran, and most know what to expect from him, solidifying his role as a number one defenseman on the team. He would be the perfect candidate to become complacent this season.
So, what exactly is pushing Jones to perform up to standard on a last-place team? Two things stand out.
Related: Blackhawks Have a Great Option for Next Captain in Seth Jones
---
Latest News & Highlights
---
What drives Jones is that even though he isn't fighting for a job, he knows there is always something to prove. He recently stated, "We all have something to play for here. We're all trying to get better as individuals and as a team moving forward and build something, so we're not going to get better out of thin air, just come back next year and hope for the best. So it starts now and starts with the way we play the game every night, the way we approach it."
Although the Blackhawks have struggled this season, one thing that hasn't been an issue is effort. With the team full of young and hungry players trying to find their way, they need the veterans to lead. The rookies won't feel the need to perform well if the veterans take shifts off or become apathetic. Jones is one of the leaders on the team, and seeing how he strives for improvement sets a good example for them. Furthermore, being a mentor for the rookies is an excellent motivator for him to make the club even better next year.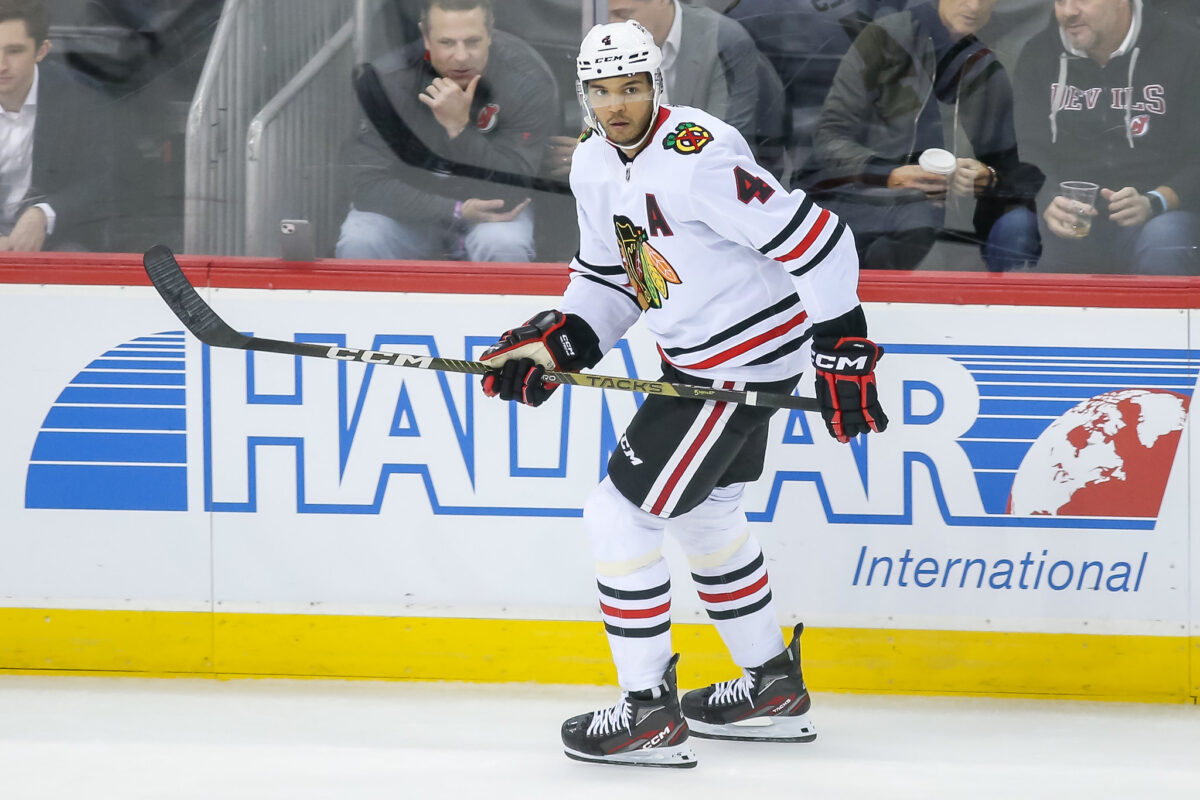 Another thing that motivates Jones is anger. He has always been refreshingly honest in his game assessments to the team and has been open about his frustrations. Last season, he had five goals and mentioned his lack of offense was "frustrating the hell out of [him]." After that interview, he had eight points in 10 games and scored a goal two games later. In a recent interview with the Daily Herald, he stated, "I'm just as miserable this year as last year. I just want to win." And yet, March has been his best month offensively. Frustration in athletes can be detrimental, especially in hockey. But in many cases, it boldens them, which seems to be the case for him. When the team falters, he takes it personally and wants to fix it.
Related: Blackhawks News & Rumors: Toews, Jones, Guttman, Injury Update
In summary, Jones is just like everyone else on the Blackhawks. He wants to win the Stanley Cup, and that alone is the greatest motivator for him and everyone else to show up every night. His game has not been perfect. But he has done everything the Blackhawks have asked of him. He recognizes the pressure and microscope he is under. He even admitted in December that he felt he wasn't meeting expectations, but he adjusted accordingly. At 28 years old, he is still providing career-high stats, and there is a possibility he will finish the season as Chicago's leading scorer. That is exciting for the future because when the Hawks compete again, he will be there leading the charge.
Note to the league: continue to make Jones angry; that will only make him stronger, and the team will continue to benefit from it.
---
---