The Chicago Blackhawks are a franchise that has done a great job at maneuvering the salary cap under Stan Bowman. With the monumental contracts given to both Jonathan Toews and Patrick Kane worth $10.5 Million per season, the importance of finding complimentary pieces on entry-level contracts is more important than ever. That factor makes the rumors of the Blackhawks being interested in Penguins' center Evgeni Malkin questionable, confusing, and just unrealistic.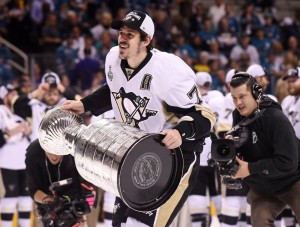 The Blackhawks only have $6.3 Million worth of cap space, according to General Fanager, not accounting for pending free-agent Andrew Shaw who is still awaiting a new contract. While there are rumors of Bowman actively shopping Marcus Kruger floating around, there is potential for the 'Hawks to clear up enough cap space to sign other important pieces.
Signing Shaw and filling out their roster with solid complimentary pieces, and maybe even former-Blackhawk Brian Campbell who is set to become an unrestricted free agent on July 1 seems more important than trading for the 29-year-old Russian. It realistically doesn't make sense to expect Chicago to swing a trade for a player with a $9.5 Million cap hit each season over the next six seasons. Additionally, Malkin's contract includes a total of $10 Million in signing bonuses due in his final two seasons.
What We Know About Malkin
Only one player was drafted ahead of Malkin in the 2004 NHL Entry Draft, and his name is Alexander Ovechkin. Often overshadowed by his teammate Sidney Crosby, Malkin has had an absolutely phenomenal career which includes two Stanley Cup wins.
In addition to his championship pedigree, the Russian forward won the Calder Trophy in his first year in the League during the 2006-07 season. During the 2008-09 season, he won his first Cup while also winning the Art Ross Trophy and the Conn Smythe.
Malkin's best season arguably came during the 2011-12 season, however. Malkin won the Art Ross Trophy, the Hart Memorial Trophy, and the Ted Lindsay Award that year. What's even more impressive is the fact that Malkin achieved all of that prior to his 30th birthday.
Malkin has been one of the League's best scorers throughout his entire career, reaching the 100 point mark three times, 80 point mark once, and 60 point mark three times. In seasons where he played in at least 50 games, Malkin has scored over 20 goals nine times, 30 goals three times, 40 goals once, and 50 goals once.
That type of scoring is at a premium in the NHL where scoring has infamously been on the decline for years. The Blackhawks aren't exactly a goal-starved team, however, as they finished in seventh in the NHL in scoring last year with 2.84 Goals-For Per Game with 234 total goals.
The Concern of Injuries
Despite being 6-foot-3 and 195 pounds, Malkin's sturdy frame hasn't provided him immunity from injuries. The only two times that Malkin played in all 82 games in a season came during his second and third seasons in the League in 2007-08 and 2008-09. While #71 may have avoided elbow surgery following the 2016 Stanley Cup victory, his 2015-16 season was limited to just 57 games due to an upper-body injury that kept him out for a large portion of the year.
In the salary-cap era, paying a forward $9.5 Million per season until the 2022 season seems excessive, especially when that player simply cannot stay healthy. The Blackhawks already have their top centerman in captain Jonathan Toews, and they finally acquired a legitimate second-line center in Artem Anisimov last season as a part of the trade that sent Brandon Saad to Columbus. There would be no room for Malkin in the Blackhawks lineup unless Bowman makes a trade involving one of them. Toews is not going anywhere any time soon, and it seems unlikely that he moves Anisimov either.
How Would the Blackhawks Afford Malkin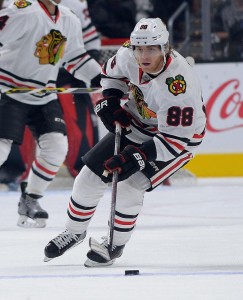 To put it simply, the Blackhawks cannot afford Evgeni Malkin. Trading away Kruger alone won't free up enough cap space to fit Malkin into the lineup. Ultimately, it might take the trade of a contract such as Marian Hossa's to afford him. The Penguins probably won't take on the contract and term of Hossa, and he wouldn't be enough to pry #71 from them anyway.
The most obvious salaries that could be moved to free up space for Malkin would be either Kane's or Toews' and it just doesn't seem feasible to move either of those two players given what they both mean to the team.
Toews is as good a player as it gets in the NHL, and Kane just routed the Hart Memorial Trophy voting and is coming off of an Art Ross Trophy-winning year. Brent Seabrook recently re-upped with the Blackhawks, and the Penguins are certainly in need of defensive improvements. With that being said, the Blackhawks likely don't want to trade away Seabrook without an immediate replacement candidate on their roster. Trevor van Riemsdyk could potentially step up next season, but it would be an unneccessary gamble.
Final Verdict
Malkin is one of the best players in the League, but he is not what the Chicago Blackhawks are looking for to make another run at the Stanley Cup during their current Championship window. To make matters even more complicated, Malkin has a no-movement clause which would make a trade even more difficult. To hypothetically trade Toews, Kane, Seabrook, Anisimov, or Hossa, the same applies as they all have no-movement clauses too.
All in all it seems like these Malkin-to-Chicago rumors are nothing more than that — rumors. The likeliness of Malkin being traded to the Blackhawks is slim to none, and it wouldn't benefit Chicago regardless. To summarize, the Blackhawks can use $9.5 Million in a better way than to spend it on a soon-to-be 30-year-old center with a career filled with injury concerns.