When NHL Deputy Commissioner Bill Daly flipped the card revealing the Chicago Blackhawks' logo at the Draft Lottery last May, confirming the team had secured the right to take consensus number one pick Connor Bedard, Chicago fans felt a sense of euphoria. After a 2022-23 season where the team finished near the bottom of the standings and said goodbye to two all-time franchise greats in Patrick Kane and Jonathan Toews, knowing that Bedard would soon be in Chicago meant good times could be on the way.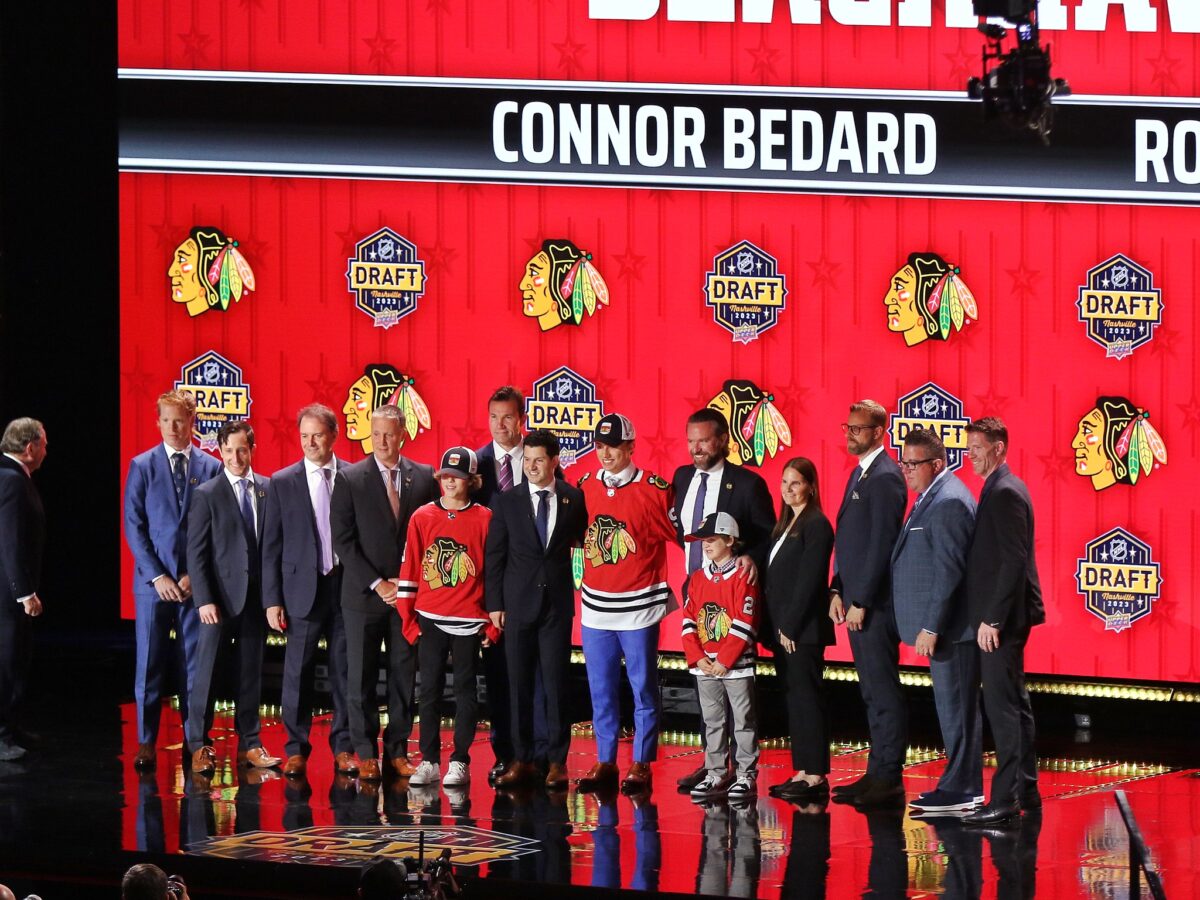 I could spill an ocean's worth of digital ink talking about how good Bedard is, how living on the East Coast meant staying up late to watch him effortlessly produce points with the WHL's Regina Pats, and how his goals would make you laugh out loud the way your favorite bit from your favorite comedian does. He's a special talent, and I still don't think Chicago fans appreciate how lucky they are to have him.
But let's save that for some other time. Talent needs talent in order to flourish. So when general manager Kyle Davidson traded for Taylor Hall just two days before the draft, it sent a clear message to Bedard that he would be surrounded by NHL-caliber players in his rookie season.
Hall Knows the Pressure of Being a First-Overall Pick
Even though he's only 31, it feels like Hall has been in the league forever. In 2010, he was the first of three consecutive first-overall picks taken by the Edmonton Oilers (Ryan Nugent-Hopkins in 2011 and Nail Yakupov in 2012). His first five seasons in the league were highly productive. He had 106 goals and 263 points in 299 games, resulting in a 0.88 points-per-game (PPG).
No offense to Nugent-Hopkins, but he wasn't talented enough to help center an elite winger like Hall (at least not yet). If Hall was able to record 80 points in 2013-14, 15 points clear of second-place Jordan Eberle –– in five fewer games –– imagine what he could do with an elite center?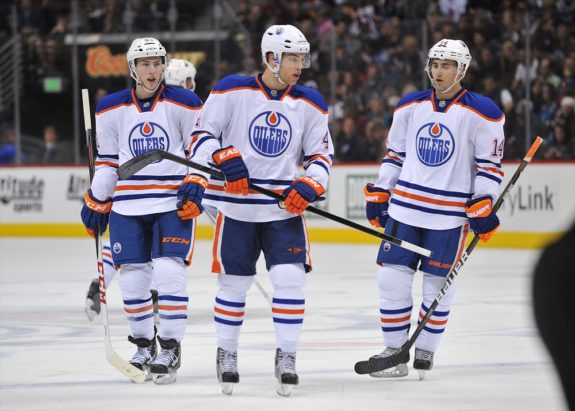 After another dismal season in 2014-15, somehow, the Oilers were again awarded the first-overall pick. This time, they selected generational phenom Connor McDavid. Head coach Todd McLennan put Hall and McDavid together for the first 13 games of the season and the duo delivered, combining for 11 goals and 30 points before an injury sidelined McDavid for three months (from 'Oilers lose Connor McDavid for 'months' with broken clavicle,' Edmonton Journal, Nov. 5, 2015).
Related: Meet the New Blackhawks: Taylor Hall
---
Latest News & Highlights
---
It felt like Hall finally had a linemate who matched his talent. McDavid arrived right in time for Hall's prime. Surely this would jettison the success of the Oilers and Hall's place in Edmonton lore!
Hall Traded to New Jersey, Proceeds to Win Hart Trophy
After the 2015-16 season, the Oilers felt like they had to prioritize defense over offense, trading Hall to the New Jersey Devils for Adam Larsson. During Hall's six seasons with Edmonton, the team never won more than 32 games. Hall's reputation took a nosedive, some seeing him as a leader not able to "get the job done," and that perhaps he wasn't worth the first overall pick the Oilers used on him.
His first season in New Jersey was largely forgettable, scoring 20 goals and tying Kyle Palmieri for the team lead in points with 53. The Devils went 28-40-14, finishing last in the Eastern Conference. New Jersey ended up winning the Draft Lottery, proceeding to draft Nico Hischier first overall in the 2017 NHL Entry Draft.
Hyperbole is something we see all too often in sports, but what happened next was what I can only as "unbelievable." As in, I couldn't believe it was happening and still can't believe it happened.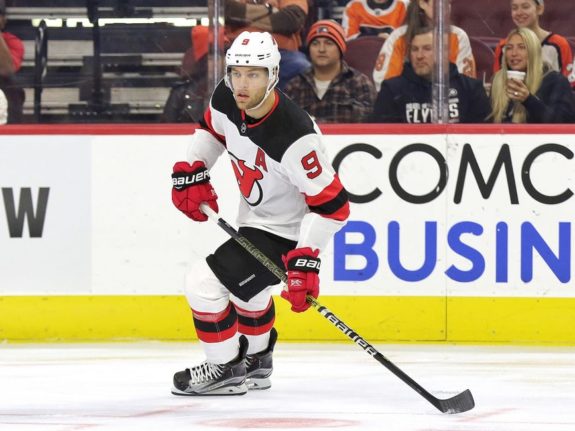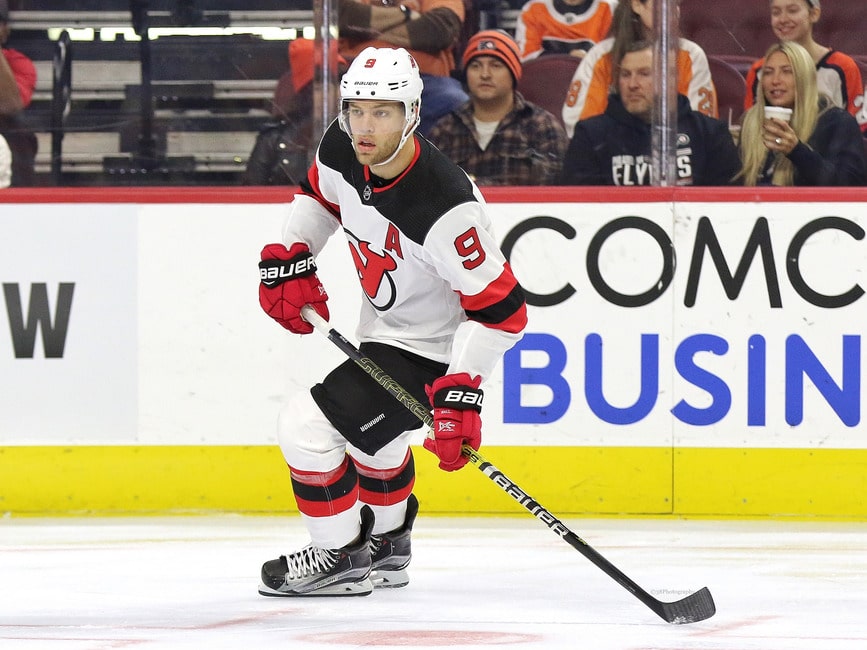 Put on a line with 18-year-old Hischier, Hall produced career highs in goals (39), assists (54), and points (93), which was 41 points –– I repeat, 41 points –– ahead of second-place Hischier in team scoring. From Jan. 2 to March 6, Hall went on a 26-game point streak, scoring 18 goals in 38 points, singlehandedly earning the Devils their first playoff birth since 2012.
Related – One for the Ages: Taylor Hall's 2017-18 MVP Season
Hall would go on to win the 2018 Hart Trophy as the most valuable player. Not only did Hall prove to the league that he was worth the hype, but he went above and beyond, taking a bottom-feeder franchise to the postseason and giving hockey fans one of the best individual seasons in modern history.
Pit Stops in Arizona, Buffalo & Boston
Since then, Hall's career has been plagued with injuries and inconsistency. Only playing 33 games in 2018-19, then struggling the following season in what was the final year of a seven-year contract signed in Edmonton, Hall was traded to the Arizona Coyotes for picks and prospects. He regained some of that magic from New Jersey, scoring 27 points in 35 games and helping the Coyotes make the playoffs. The team, however, did not re-sign him.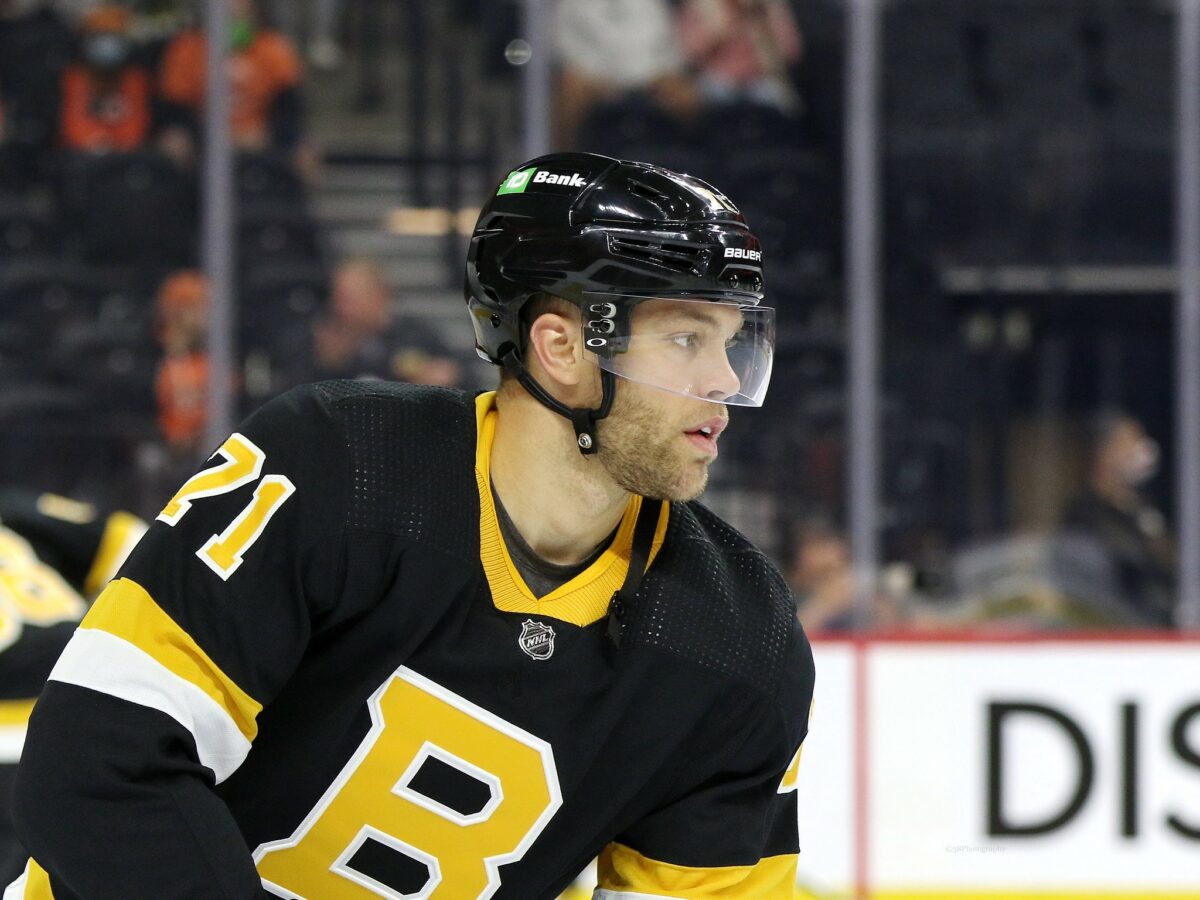 With few options, Hall signed a one-year, $8 million contract with the Buffalo Sabres. However, he only played 37 games for Buffalo in what was the worst stretch of his career, scoring only two goals. He was traded to the Boston Bruins, finishing the season strong with eight goals and 14 points in 16 games. This earned him a four-year, $24 million deal with the Bruins. His role with the team decreased in the last few years, getting third-line minutes and little power play time.
What Can Chicago Expect Out of Hall?
This brings us to this summer, with Boston trading Hall to the Blackhawks, along with Nick Foligno, in exchange for Ian Mitchell and Alec Regula.
Last season, Hall finished 10th in Bruins scoring with 36 points and a 0.59 PPG, the lowest of his career. Some of that can be assigned to playing a smaller role with a stacked Bruins lineup, and with Chicago, he'll get a bump in both even strength and power play minutes. He's arguably the most talented winger on the team –– no offense to Andreas Athanasiou –– and will provide the all-too-valuable "veteran experience" that teams so desperately crave.
But what he brings to the Blackhawks is more than the cliches of "leadership" and "been there done that": Hall is a former Hart Trophy winner with size, speed, and elite talent. Right away, you can pencil him beside Bedard and show your generational talent what it's like to play on a line with an all-star caliber player. From the start of training camp through the entire season, the 2010 and 2023 first-overall picks will get to perform every night, trying to recreate even just a shade of what Hall did with another rookie first-overall pick in 2018.
Now that's must-watch television.
---

---