The Columbus Blue Jackets made two key acquisitions in the last few months in order to boost their playoff power and add experience. Those two names? Left-winger Artemi Panarin, acquired by trade in the offseason from the Chicago Blackhawks, was brought in add skill and improve the offense. More recently, the Blue Jackets picked up Ian Cole from the defending Stanley Cup Champion Pittsburgh Penguins to bolster the blue line and to tap into his postseason prowess.
Let's take a look at how the two are fitting in and making a difference for the Blue Jackets.
Artemi Panarin Posting Plenty of Points
The two acquisitions have turned it up a notch recently, helping a team in the thick of the Eastern Conference playoff push. They put on a show on Tuesday night against the top-scoring Vegas Golden Knights, in a commanding 4-1 Blue Jackets victory.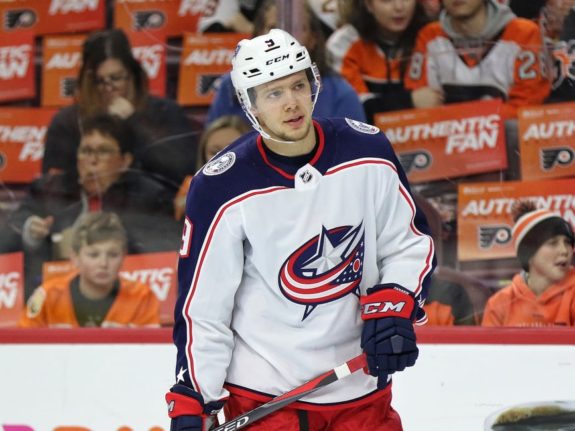 Panarin recorded his fifth 3+ point game (goal, two assists) this season in the win and now has 12 points in his last nine games. He has recorded at least one point in 11 of the last 14 contests and leads the Blue Jackets with 12 multi-point games this season. There isn't a better time for him to have a hot hand and there isn't a more grateful person for that than his rookie linemate, 19-year-old Pierre-Luc Dubois. The two have had chemistry all season, but it has picked up lately.
"Getting to know [Panarin] and everything, he knows where to put the puck," Dubois said after Tuesday's win. "I just have to skate in and get it. I never know 100-percent that he's going to make those plays but I kind of expect it from him now. He's so good and so smart. [On my goal Tuesday night], I knew where he was going to put it and all I had to do was skate to it."
Blue Jackets head coach John Tortorella said that Panarin has encouraged healthy habits with the young Dubois and the two are a formidable duo.
"[Panarin] went to Luc (Dubois) during the break, one of the breaks we had in January. He told him 'make sure you get in the weight room; make sure you keep working,'" Tortorella said. "That's how he thinks. That's why he's one of the top players in this league."
Look: Blue Jackets' top line embraces PB&J nickname https://t.co/E9XrS8vjoL pic.twitter.com/rT2D8vKLdg

— theScore NHL (@theScoreNHL) December 12, 2017
Tortorella also showered more praise on his top winger and acknowledged he thought Panarin fell off his game a handful of games ago.
"I thought [Panarin's] game dipped a little bit six or seven games ago, but he's begun to come alive here," Tortorella said. "He's so strong on the puck. He's a competitor… he competes. He's a game-breaker. That's important for us here as we're trying to get some wins. I've relied on him for big minutes in all situations. And, he's a buck-seventy. He's not a big man. He plays big and he plays in the areas all the time. I'm surprised he hasn't had more [points]."
Every Panarin point matters from here and everyone in the organization is hoping he can keep it rolling into the postseason where they can also rely on his playoff experience.
Ian Cole Adjusting to New Role
Much like newly acquired forwards Mark Letestu and Thomas Vanek, Cole stepped into a lineup that plays a different style than he was used to in Pittsburgh. Tortorella encourages defensemen to play aggressive and join the rush and they're expected to score.
"It's actually great," Cole said on Tuesday. "When we can get out of our end as well as we have in the past handful of games, it certainly helps out on the offensive side of things. We can get out quick, our [defensemen] can join up, and our forwards are great at making plays underneath that weak-side 'D' so they expect you to be there. That's not my utmost priority but that's what we're asked to do. That's certainly something I'm capable of doing. Fitting in is going well, so I'm trying to grow and continue that."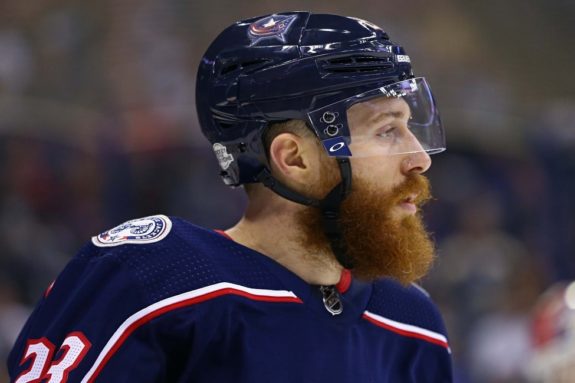 Cole was rewarded with a goal for his efforts and has quickly developed chemistry with his partner David Savard. The two are often referred to as "The Lumberjackets" on Twitter because of their burly beards but their similarities go beyond that. Together, they play against other teams' top lines and are utilized in a variety of situations.
Tortorella appreciates their flexibility.
"The key to [our defensive] pairings is Savard and Cole," Tortorella said. "I think they have been very good together. I give [defense coach Brad] Shaw a bit more opportunity to play other pairs against top lines and allow Z (Zach Werenski) and Jones to play against some other people. I think that's one thing that I think has affected Z's game this year. He's playing against different people this year.
Jack [Johnson] and Savvy (Savard) were dead on last year. They played a lot of minutes against top lines. Z and Jones have played a lot against top lines this year I think because of the struggles of Jack and Savvy. A lot of things change from year-to-year but I think we now have three solid pairs that Shaw can use against top pairs and not just slot Jones and Z into it."
Additionally, the Blue Jackets have tapped into Cole's playoff history to help propel the team toward the postseason. Cole said that games heat up this time of year and he and his teammates have to match their competition's intensity.
"As the season goes, the intensity always picks up, especially during this home stretch here," Cole said. "Teams are desperately trying to make the playoffs. Teams who are in the playoffs, undoubtedly, are still trying to make a statement and rev their games up for playoffs too. All these games, they are only going to get harder as the season goes, as the playoffs go."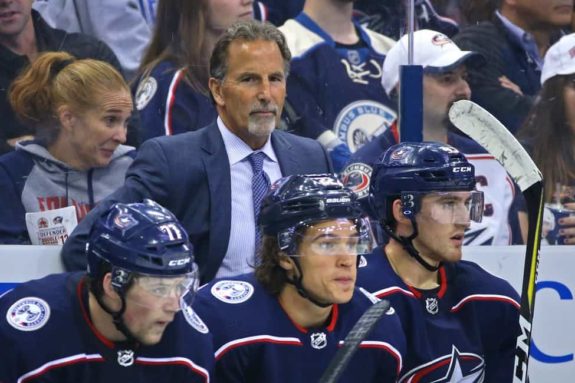 Cole added that while the Blue Jackets made a statement with their commanding 4-1 win over the Golden Knights on Tuesday, it's the hard-fought wins that ultimately provide the best playoff-type experience and boost confidence.
"Yeah, it's great to get blowout wins," Cole said. "Those feel good for a time, but what really builds confidence are these battles… these grind-it-out wins where guys are diving in front of shots and battling pucks out on the penalty kill, all those little things. I think that almost builds more confidence than when guys get a ton of points. Sometimes, that can lead to overconfidence, and that's certainly not something we want to do either."
Though Cole added a goal to his total against the Knights, it is far from his -and his team's- focus. "Goals are great, but wins are what really matter if we want to get to the playoffs and make a run," he said. "As long as we're thinking about that, the points will come because we will play a good team game and score goals."