When the Columbus Blue Jackets traded a fourth-round pick for forward Mathieu Olivier last June, it seemed like a move that wouldn't make much of a difference. He had been a fringe player who hadn't played more than 30 games in a season for the Nashville Predators and overall seemed like a one-dimensional enforcer. While he isn't an offensive juggernaut, he has chipped in occasionally on the scoreboard with 12 points through 52 games at the time of writing. 
Strong Addition to the Fourth Line
The biggest part of Olivier's game is undoubtedly his toughness. So far this season, he's thrown 137 hits and has had nine fights, most recently against Nick Ritchie of the Arizona Coyotes. He has brought a level of grit that the Blue Jackets organization has been missing for a few years at this point, dating back to the Brandon Dubinsky and Jared Boll days. With Olivier in the lineup, it guarantees that whoever plays the Blue Jackets will wake up sore the next morning; which couldn't have been said about the 2021-22 team.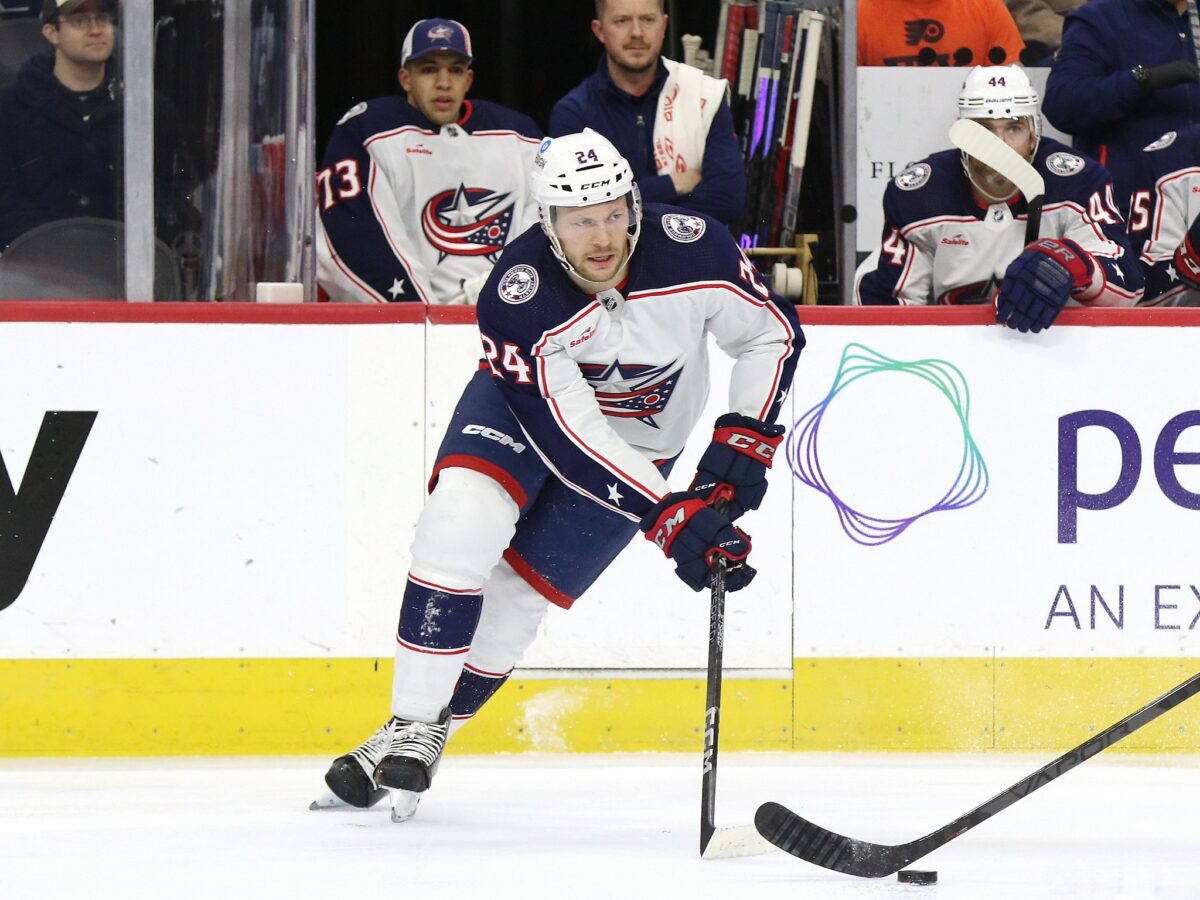 While it hasn't been the most notable part of his game, Olivier has been a solid defensive player in his limited time on ice as well. He's blocking shots and keeping pressure in his own zone, for a fourth-line enforcer you can't ask for much more. He's fairly consistently played with Eric Robinson and Sean Kuraly on the bottom line which has been one of the only consistent trios this season. As a result, sometimes unwisely, head coach Brad Larsen has occasionally put a lot of faith in that group in high-pressure situations. At the same time, there have also been games where they find themselves benched going into the third period. His highest time on ice this season was earlier this month when he played 18:41 against the Dallas Stars in his best offensive performance to date.
Related: Blue Jackets Will Have Third-Line Center of the Future in Voronkov
---
Latest News & Highlights
---
It should be noted that Olivier will never consistently have games like he did against the Stars. In fact, his three-point night was his first multi-point game of the season. If he can do that once in a while though, it will certainly be an entertaining change of pace from his usual performance. Olivier and his linemates are essentially an energy line, combining Robinson's speed and moderate physicality, Kuraly's defense and occasional offensive skill, and of course Olivier's toughness. As a result, they've become a line that may not score on most shifts, but you can't help but be interested in what they'll do when they're on the ice. While a strong fourth line may not be the most important aspect of building an NHL team, it certainly doesn't hurt having one. They're helping establish an identity for the organization, which is something that the current core of players had been unable to do over the past few seasons. 
Olivier's Contract Status
Olivier's contract is set to expire at the end of the current season, and considering how much time he has spent at the NHL level, he's likely going to be in the market for a pay raise of some sort. Considering his role though, there's not a very heavy market that will raise his salary dramatically. He currently carries an average annual value of $750,000, which is as it stands the league minimum. The fact that he'll also be a restricted free agent puts the ball heavily in the Blue Jackets' court. His next contract should be around the $1-$1.5 million a season mark; however, if he has a strong end to the season, that will likely go up a bit but not by much.
Olivier has been a phenomenal acquisition for the Blue Jackets considering they only gave up a fourth-round pick for him. He's certainly been worth that value, and his league minimum salary cap hit has increased the amount of flexibility the organization has had. The acquisition of Johnny Gaudreau is undoubtedly the best move that management made in the offseason, but Olivier has shown that he was a good move as well in a very different way.