On Tuesday morning, the St. Louis Blues officially named Brayden Schenn the 24th captain in franchise history. The selection comes after former captain Ryan O'Reilly was traded to the Toronto Maple Leafs on Feb. 17, 2023, leaving the club without an official captain for the rest of the season. The team also announced that along with Schenn, Colton Parayko, Justin Faulk, and Robert Thomas will serve as alternate captains.
Related: 3 Blues Candidates for Team Captain
---
Latest News & Highlights
---
Heading into 2023-24, St. Louis was one of eight teams without a captain. If the Blues had decided to move forward without officially naming a captain, it would have been the first time since the 1996-97 season that the club did not have anyone wearing the "C".
Blues and Schenn Ready For Next Chapter in Franchise
Before making their decision, Blues general manager Doug Armstrong stated that he reached out to other individuals to gather input and opinions regarding the current members of the roster in the process to find their next team captain. While he did not wish to list specific names, Armstrong did state that the individuals he reached out to were former members of the organization and former team captains, in regard to the important decision.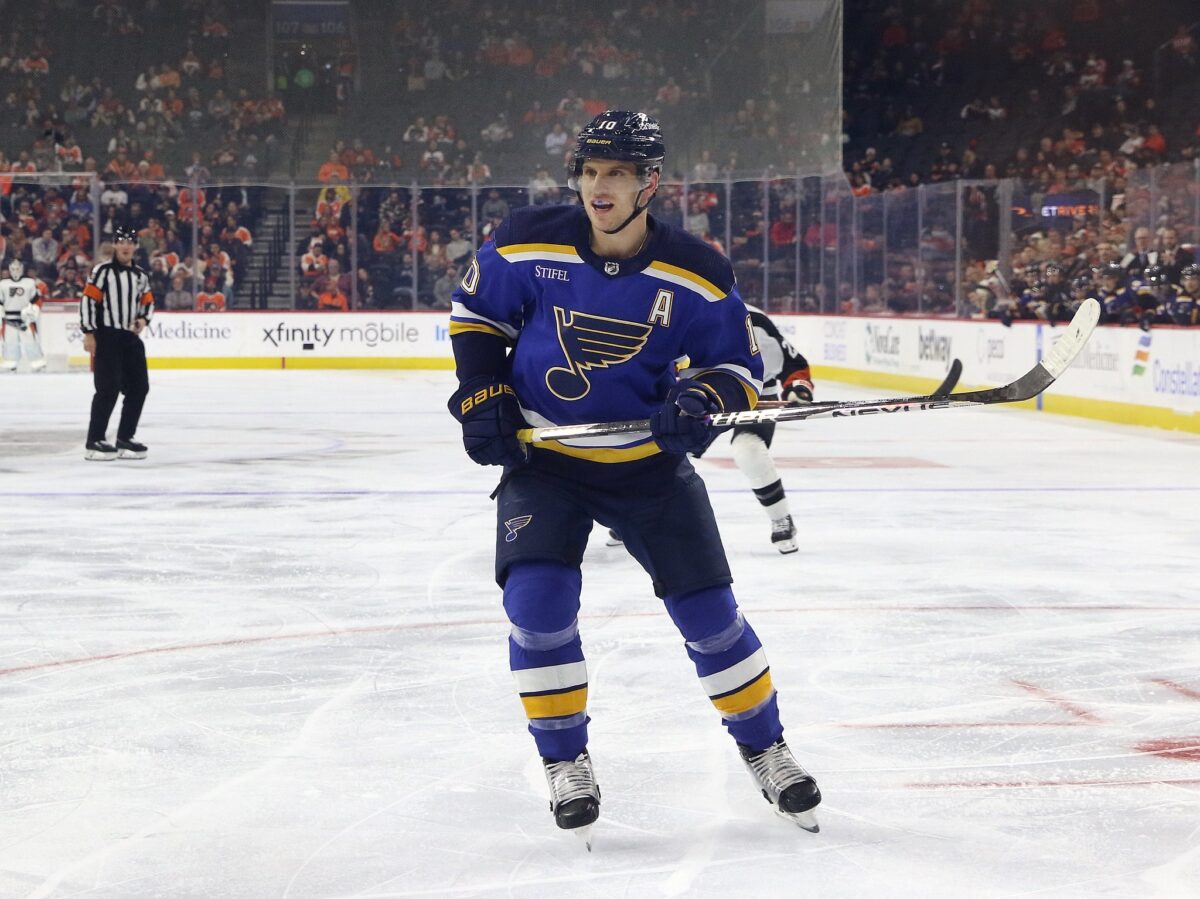 During the press conference, Schenn said he was told of the decision last week. Schenn credited previous members of the Blues leadership in the past for helping him along from the time that he came to St. Louis to where he is today. He specifically mentioned and praised his experiences with former Blues forward Alexander Steen and his leadership on and off the ice as someone he wanted to model and continue to learn from today.
"Honestly, your first initial reaction is how big of an honor it is," Schenn told the Blues website. "I've always said, St. Louis has been the best thing for me. Getting the opportunity to come here and play, winning the Stanley Cup and now [being named captain], it's an opportunity for us to work together and get back to where we feel we should be as an organization. I'm looking forward to the challenge and the opportunity to lead this team."
Schenn Has Been a Long-Time Leader
The veteran forward was long considered a favorite to become the next team captain after becoming the unofficial leader in the clubhouse after the departure of former captain, O'Reilly, whether he intended to or not. Schenn (32) has spent six years with the Blues organization, scoring 341 points (131 goals, 210 assists) over 425 regular-season games. He has also been an alternate captain for three of those years.
Schenn has long been the player who steps up for his teammates and answers the call, willing to stand up for any player on his team. Some months ago, when he was asked what makes a good team captain, head coach Craig Berube said:
"You have to be an extremely hard worker, and you've got to be a highly competitive person to be a captain because you cannot be a captain if you can't lead by example. Those are the two biggest qualities" (from "Blues to name 24th captain in team history on Tuesday morning", St. Louis Post-Dispatch, Sept. 18, 2023).
During the press conference, Berube said of Schenn: "Schenn is a leader. He's an experienced player, he's done a lot of really good things in St. Louis and he's been part of a winning team. He shows leadership on and off the ice on a daily basis and he's worked hard since Day 1 when he got here."
Looking Ahead to Schenn's Captaincy
With 858 regular-season games played, 75 playoff games under his belt, and a Stanley Cup championship title, the Blues have opted to further invest into their veteran leadership by naming a natural choice like Schenn as their team captain. He and his leadership group will work to help shepherd the team moving forward from their rebuilding stage and into a Stanley Cup contender once more over the coming seasons. After signing an eight-year, $52 million contract extension on Oct. 4, 2019, the Blues continue to show their faith in Schenn based on his performances on and off the ice.
Schenn has become the embodiment of Blues hockey giving his all not only on the ice but off the ice as well. His charity program, 'Schenn's Friends' provides an opportunity to give back to the community by donating tickets and suites to children and families associated with charitable organizations in the St. Louis area. His willingness to stand up for his teammates and provide for his community has helped set him apart and cement himself as a staple leader in the organization.
---

---