No matter what team you cheer for, there will be moments that you remember forever that are completely unrelated to an actual game taking place. This can be the announcement of a trade, the retiring of a player, or even a general manager (GM) stepping down from their role after years with a franchise.
For the Tampa Bay Lightning, one such moment happened before the 2015 trade deadline. After weeks of speculation, then GM Steve Yzerman pulled the trigger on a big deal to add veteran defenseman Braydon Coburn to his young team… at 2:59 A.M.
Related: Braydon Coburn Trade Revisited
While you can argue about who won this late-night deal with the Philadelphia Flyers, one thing became immediately clear for Tampa Bay with the acquisition of Coburn. After years of being a franchise in limbo, the Lightning were ready to take center stage.
Coburn Trade Represented the Start of Lightning Dominance
After Tampa Bay won their first Stanley Cup back in 2004, the franchise struggled to maintain a competitive team. Sure, they made runs to the playoffs, but this was often a one-off event bookended by miserable seasons.
Heading into the 2015 trade deadline, the Lightning were on pace to make the playoffs in back-to-back seasons for the first time in eight years. However, as a franchise that had been swept out of the first round of the 2014 playoffs, there were questions about how ready the team was for postseason hockey.
Related: Lightning Remain Committed to the Power of the Bridge Deal
This, along with an underwhelming defensive corps, prompted Yzerman to go for a big trade with Coburn. Sure, he wasn't the flashiest player available, but he was a reliable defender who played in 72 postseason games with Philadelphia, which was more experience than most Lightning players had in their combined careers.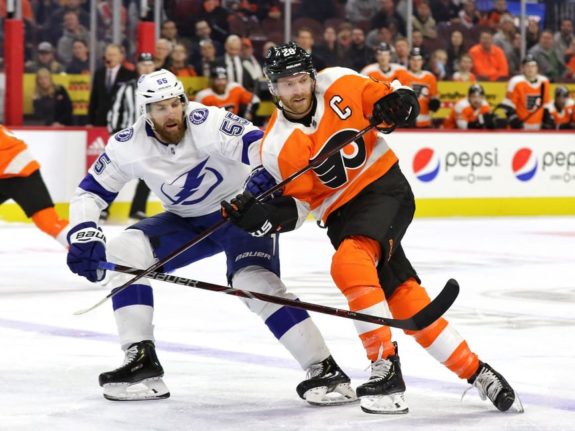 While the acquisition of Coburn was just a piece of the puzzle for Tampa Bay's success, it was one that paid off immediately. He rounded out the Lightning's top-four, giving a strong defensive presence that helped the franchise reach the 2015 Stanley Cup Final.
In fact, his first goal with Tampa Bay was probably his best, as it was the Game 7 winner against the Detroit Red Wings. In many ways, it was fitting that he scored this goal, as Yzerman's big deadline acquisition put the Lightning over his former team and the rest of the NHL on notice.
Coburn Set Trend of Lightning Not Renting Players
While Coburn's play on the ice was his most important achievement for the team, he also represented a trend for Tampa Bay at the trade deadline. Instead of acquiring a player on an expiring contract as a rental, the Lightning found someone who still had time left on their contract and gave up more to get them.
Since Coburn's trade in 2015, this has been Tampa Bay's approach at the deadline, bringing in impact players like Ryan McDonagh, Blake Coleman, and Barclay Goodrow who had one year left on their contract.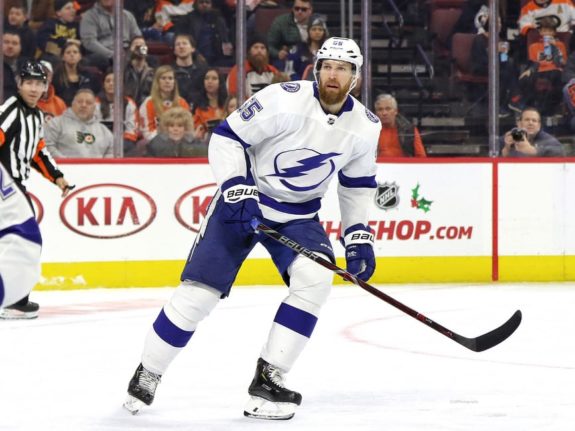 Also, Coburn was re-signed by the Lightning twice, taking a discount both times to stay with the franchise. This allowed Tampa Bay to get the most out of their deadline splurge, as he stuck around for four seasons after his initial contract ended.
Lightning Fans Should Remember the Good With Coburn
As Coburn aged, his impact on the Lightning diminished. While he was still a solid defenseman, he was outpaced by new, younger players who took over his role in the top-four and even on the bottom pairing, pushing his ice-time under 17 minutes a night when he started.
While he was never an offensive defenseman, this made his statistics look rather underwhelming. In 350 games with Tampa Bay, he posted 12 goals and 66 points, while averaging just above 16 minutes on the ice each night.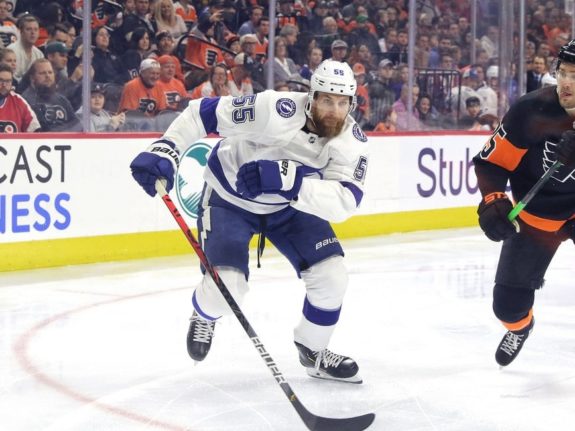 By an injury-filled 2019-20 season, Coburn was playing just a fraction of the game that he once was capable of. With a team as fast as the Lightning around him, he looked a bit slow and out of place even when he was healthy.
This isn't how Lightning fans should remember his time with the franchise, however. Coburn represented Tampa Bay's coming out party in 2015, and he did his part to help bring the team to prominence.
Related: Lightning Trade Paquette & Coburn to Senators for Gaborik & Nilsson
In this way, it is fitting that he still got to raise the Stanley Cup with Tampa Bay, etching his name into history with the franchise that took a big swing on him more than five years prior. Sure, he only contributed a small amount to that run, but he was still there in the bubble, providing leadership and helping the team in any way he could.
---
---