When Brad Richards was acquired by the New York Rangers, his performance was expected to inspire.  His duty was that of a savior. Settling in New York, Richards has adjusted to his new city despite being a normal guy who just so happens to be a top NHL star.
Back in July of 2011, Richards was quoted by New York Post's Steve Serby:
Q: …you don't want to be perceived as a quote unquote savior.
A: No, I don't. Be great if we won a Cup, then you can call me whatever you want.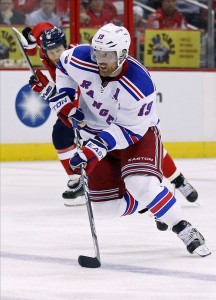 Brad Richards kept busy this summer, and if you were a fan following his tweets, you know he loves Instagram. Posting his photo shoots with Henrik Lundqvist, to learning the guitar or spending time in his hometown of Murray Harbour, PEI it's how Richards spent his summer vacation. Richards arrived back in New York from holiday just in time for the CBA talks and the waiting game. Richards is glad to be back on the ice and will likely not play in Europe during the lockout.
With the lockout lingering, his second season has been delayed. Fans eagerly waited for the possibility of a Richards-Rick Nash line and they may eventually get their wish. Coach John Tortorella sees the potential:
"It's pretty obvious we'll try him with Brad. I'm not sure who the other winger is going to be, and I do not like to divulge too much information right now, but we're definitely going to try and work Brad and Nash together, especially with having Gabby hurt and out early in the year. I think it'll work. I'm really anxious to see them play together."
Richards landed in the most media frenzied cities. Promoting in New York is just business as usual, so why not celebrate his great season and community support with a spread in ESPN?  Maybe he's just showing off what power the Rangers will bring next season.
At 195 pounds and just 6 feet, he was chosen as the featured hockey player for this year's edition.
"When people ask what playing hockey is like, I tell them to imagine a 40- or 50-second sprint but with people hitting you and you having to hit people back. Over 82 games of the season, it's draining."
Acquired in a stunning nine-year, $60 million deal, the forward was crucial to the success of the Rangers this past season, accruing 66 points. Richards' bare all is just one aspect of the forward. Before he found an apartment in Manhattan, he stepped out in a Blueshirt jersey at a skating party for underprivileged children held by the Garden of Dreams Foundation. Founder of the Brad Richards Foundation, a charitable organization focused on helping children with life-threatening illnesses such as pediatric cancer, the foundations also provides aid for the families in need.
In his hometown on Prince Edward Island, he has donated half a million dollars to the Queen Elizabeth Hospital benefiting the hospital's pediatric unit. The hospital has been able to afford newer, state-of-the-art medical equipment and provide better care for the children. He also hosts an annual Brad Richards PEI Celebrity Golf Classic to raise money for the foundation and the PEI chapter of the Children's Wish Foundation and the Autism Society of Prince Edward Island.
Richards is known for his accomplishments in his NHL career, but his charitable causes support the advancement of youth and amateur sports. Exposing yourself to New York and its fans shows he has a sense of humor, plus it's a great way to expose his commitment to helping others. What a nice guy!