The Boston Bruins are going through a changing of the guard on their defense this season. After spending his first nine years with the Bruins after signing as an undrafted free agent out of Michigan State in 2011, Torey Krug left during free agency in October to join the St. Louis Blues.
Captain Zdeno Chara is still an unrestricted free agent, but there is a thought that he is waiting to see what a 2020-21 NHL season will look like before he decides if he's returning for a 15th season with Boston or a 23rd with another team. Regardless of whether or not Chara returns, the Bruins will still have a younger look on their defense when the season starts.
With that said, let's take a look at the defensive depth chart for the upcoming season. This is put together based on players currently under contract. 
Charlie McAvoy
Entering his fourth full season in the league after being the No. 14 selection in the 2016 Entry Draft, Charlie McAvoy is quickly becoming one of the Bruins' top defensemen. The Boston University product has worked his way up to a top pairing and should solidify that spot in training camp.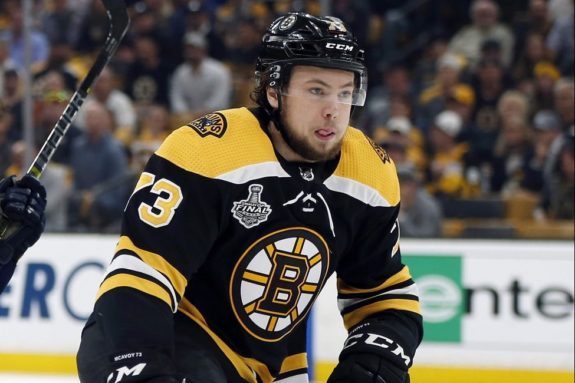 He has played in 184 regular-season games with 19 goals and 73 assists. In each of his previous three seasons, the 22-year-old has seen a steady increase in his average ice time creep up from 22:09 a night to 23:10 last season. In the playoffs this past season, he averaged just over 25 minutes a night.
At 6-foot and 208 pounds, McAvoy is not afraid to throw his weight around and has become one of the more physical defensemen. His role this season will take on an added increase of ice time and possible time on the top power-play unit, something valuable the Bruins lost when Krug departed.
Matt Grzelcyk
Facing the possibility of an arbitration hearing in October, Matt Grzelcyk and the Bruins avoided it when both sides agreed to a four-year, $14.75 contract to keep the Boston native on the blue line. The 26-year-old will begin his fourth full season with the Bruins and is in position to slide up to the top paring with McAvoy.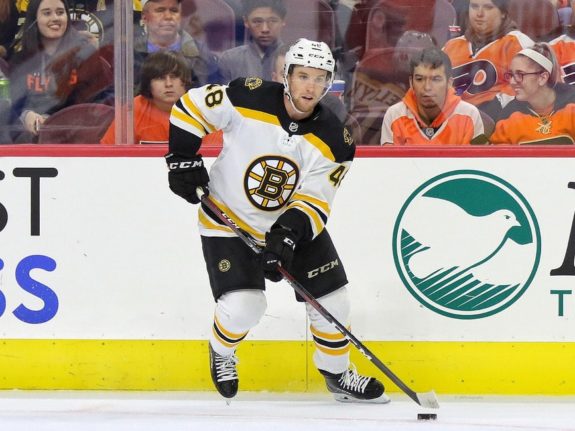 Another Boston University product, Grzelcyk has averaged 65 games a season in his first three seasons in the NHL with 10 goals and 44 assists. Thirteen of those assists have come with the Bruins' second power-play unit and he is one of the choices along with McAvoy to replace Krug on the Bruins' second-ranked power play from last season. Drafted 85th in the third round of the 2012 Entry Draft, Grzelcyk averaged 18:04 of ice time last season, which is expected to increase this season.
Brandon Carlo
Entering his fifth season with the Bruins, Brandon Carlo is their biggest and most physical defenseman at 6-foot-5 and 212 pounds. Paired with Chara earlier in his career, Carlo has the ability to take over for him as a shutdown defenseman with his long reach that can frustrate opponents. He has a plus-57 in the regular season for the Bruins.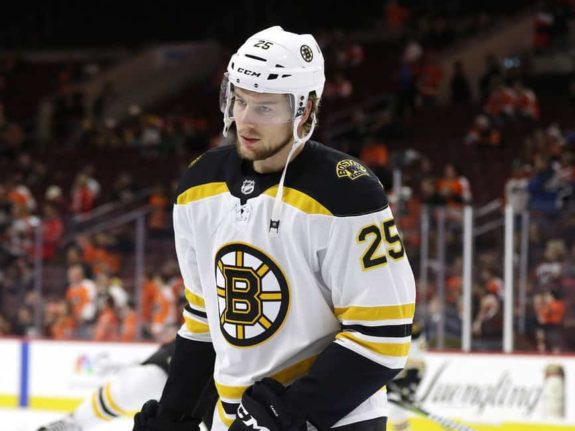 Despite being physical and throwing his body around, Carlo has been dependable. He has missed just 19 total games in the regular season over four seasons and averages 21 minutes a night. The 24-year-old is not going to produce many points, but he is going to be that physical presence that will disrupt what the other team wants to do in the offensive end. 
If general manager Don Sweeney needs to add to the blue line during the season with a player that is under contract for a while, Carlo is the best NHL-ready trade chip the Bruins have on defense. That's worth keeping an eye on.
Jeremy Lauzon
This is where things start to get interesting for Sweeney and the Bruins. After the top three, there are questions surrounding how head coach Bruce Cassidy will fill out the defense, especially if Chara doesn't return. Jeremy Lauzon has shown flashes the last two seasons in Boston and will most likely make the roster regardless if Chara returns or not.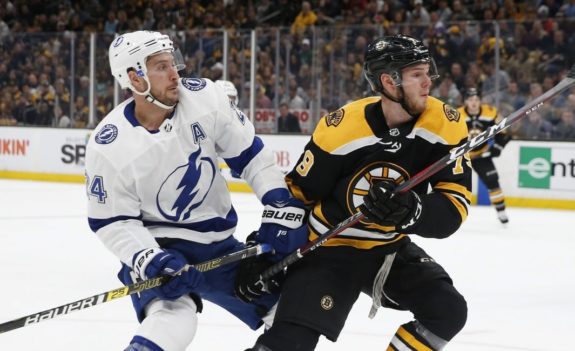 In 35 regular-season games, the 23-year-old is not afraid to throw his 6-foot-1, 204-pound frame around or drop the gloves. He has totaled 47 hits and 38 blocked shots. Like Carlo, Lauzon will not add much offense to the scoresheet as he has just two goals and an assist, but he brings the physical presence to the blue line that the Bruins will need to get back to this season to be successful.
Connor Clifton
Injured in late December with an upper-body injury, Connor Clifton missed over two months before coming back right before the season was paused on March 12 because of the coronavirus pandemic. He played well in eight games in the Toronto playoff bubble with a goal and two assists while averaging 15:40 of ice time.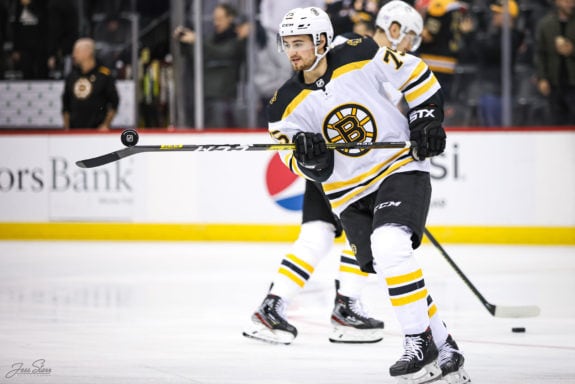 At 25 years old, Clifton, who signed a three-year contract extension prior to the 2019-20 season for a total of $3 million, has played well in Providence and would have been a full-time player in Boston last season before being shut down with his injury. He will be in a battle for a spot on defense in 2020-21, but if he continues his solid play from the playoffs, he is a nice option for Cassidy on either the second or third pairings.
Kevan Miller
Kevan Miller sustained a knee injury in April 2019, which caused him to miss the remainder of the playoffs and all of the 2019-20 season. That did not stop Sweeney and the Bruins front office from re-signing the 33-year-old to a one-year deal in October.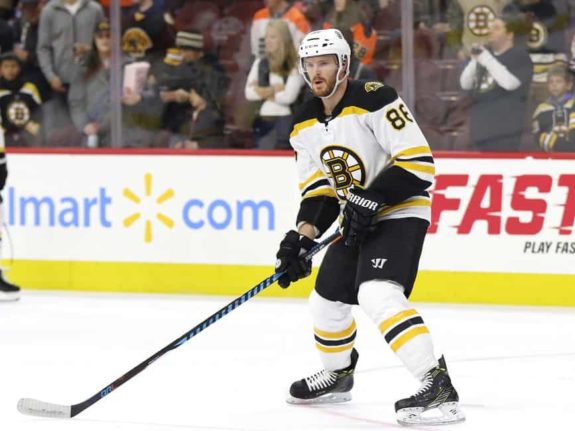 In his six seasons with the Bruins, Miller has played in 324 games, but injuries and inconsistent play have been some issues the last couple of seasons. He has 12 goals and 55 assists with Boston, but considering all the time he has missed, he has still managed a plus-80. Re-signing Miller seems like a move by Sweeney to add veteran depth on defense without the expectation of him contributing much in 2020-21.
John Moore
On July 1, 2018, the Bruins signed John Moore to a five-year, $13.75 million contract, which could be considered one of the worst signings by Sweeney in his tenure as general manager. The 30-year-old Moore was hampered by illness and injuries in 2019-20 that allowed him to only play in 24 games.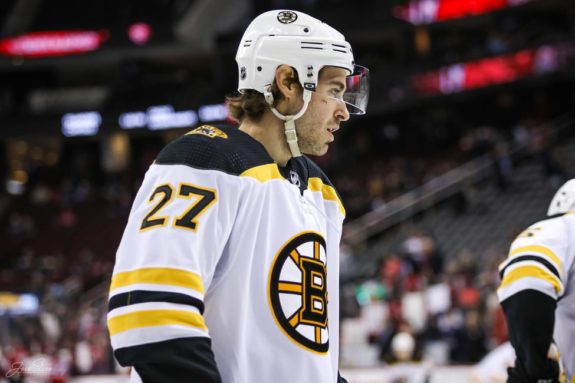 The 6-foot-2 and 210-pound Moore has recorded 113 hits and 103 blocked shots in 85 games with the Bruins. If healthy, he can be a bottom-third defenseman, but if Sweeney has the chance to move on from him and his contract in a trade, chances are he would.
Urho Vaakanainen
Urho Vaakanainen is the Bruins' top prospect on defense and has the best opportunity to surprise and crack the bottom third out of training camp. The 18th pick in the first round of the 2017 Entry Draft, he had five goals and nine assists in 54 games in the American Hockey League for the Providence Bruins last season.
He played in five games with Boston because of injuries in 2019-20 and looked very much like he belongs and can be a nightly NHL defenseman. Sweeney might have a tough decision down the line as Vaakanainen is a prospect that other teams would like to have. At 21 years old, he could be used in a trade to bring an experienced blueliner to Boston, but if he stays and has a strong training camp with the Bruins, it wouldn't surprise anyone if makes the opening night roster.
Bruins Will Be Young on Defense
Regardless of whether or not Chara returns to the Bruins, one thing is for sure — they are getting younger on the blue line. Sweeney has invested money into Grzelcyk, and McAvoy is on the verge of being a top 10 defenseman. This season will be a translation year on defense, but it has the possibility to set up the Bruins defense for years to come.
---
---