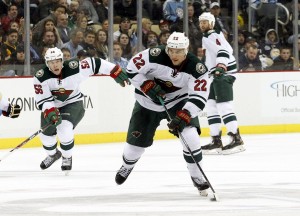 Minnesota Wild fans will not only remember game seven of the 2014 NHL playoffs, they will remember Nino Niederreiter. Nino brought us back to game seven of the Wild's 2003 playoff series against Colorado in Colorado. It was Andrew Brunette who scored the game winner for the Wild in OT that year.
Fast forward to 2014 and game seven at the Pepsi Center in Colorado. My friends, Déjà vu is all I can say. Nino was Brunoesque as he became another OT hero of the hockey team from the State of Hockey.
To say that justice was served in Thursday night's victory is an understatement if there ever was one (see great resolve below). This is one of the greatest Minnesota Wild hockey games that I've ever seen. It ranks as one of the greatest NHL games that I've ever seen. Am I a homer? You Betcha I am. You Betcha!
Unlikely Heroes & Redemption
Game seven not only showed Wild fans that this team has a bunch of hard working players who were the unlikely heroes last night but it also showed us that redemption was possible for a couple of our players.
Kyle Brodziak coughed up the puck in game one. It was a terrible mistake that allowed Colorado to draw within a goal, in the third period. Kyle redeemed himself last night as he played a huge role in the Wild's victory, both late in the third period and in OT. Kyle Brodziak set-up Srurgeon's game tying goal and also assisted on Nino's overtime (OT) winner.
Then there's Dany Heatley who had been benched by Mike Yeo. Heatley not only scored the Wild's second goal to tie the game but helped set-up the winner in OT. Do you see a pattern yet?
Oh yeah, there is Jared Spurgeon who also coughed up the puck, late in game one that allowed the Avalanche to send the game into OT.
It was great to see these guys step up to the plate and deliver the Wild one of the biggest victories in franchise history. This game was a beauty. It was awesome to watch. It was a classic.
No player was a greater hero than Nino Niederreiter who scored two goals, including the biggest of them all, the OT winner.
Nino Niederreiter's the man and the unlikeliest of heroes. Avalanche fans talk about their young stars and how they will demolish the Wild in years to come but it's our young stars that showed the NHL world which team's players have grit and determination
The Wild Showed Great Resolve in Game Seven and the Series
The Wild dropped their first two games of the series to Colorado at the Pepsi center. Game one was a complete disaster as the wild coughed up a two goal lead late in the game. They also coughed up the puck twice and that allowed the Colorado Avalanche to tie the game and then win in overtime (OT).
Minnesota stormed back by winning two thrilling games at home and the series was sent back to Colorado all tied up at two games apiece.
Game five was brutal. The Wild had the game won when they were up by a goal with just over a minute to play and while were going for an empty net goal. Charlie Coyle was mugged on the play. It was an obvious penalty to take away an empty net goal. NHL rules allow NHL officials to award an automatic goal in these types of plays. The officials didn't even call a penalty.
What ensued after that was a complete embarrassment for the NHL. Because of the non-call, Colorado had a n odd man rush heading into Minnesota's defensive zone. They would score the equalizer but instant replay showed that Statsny was offside on the play.
Minnesota didn't allow the atrocious officiating to get into their heads. Led by head coach Mike Yeo, this team got back to business and they won game six at the Excel Energy Center in St. Paul.
The Wild could have thrown in the towel after the Avalanche took an early 1-0 lead. The goal was a result of one of the worst non-calls in the history of hockey. Let's just say that an Avalanche player dived into Darcy Kuemper and held him down while his teammate scored an empty net goal. The goal was allowed to stand. Bogus and brutal don't even come close to describing how terrible a call that was.
Then in game seven, the Wild were down four times in the game. Count them…four times. The Wild were down late with just over two minutes to play when Jared Spurgeon made a great play, showing amazing patience as he waited for Colorado forward, Nathan MacKinnon to fall down. Nino patiently waited for Semyon Varlamov to be frozen in his net and then Spurgeon uncorked a rocket into the net for the equalizer.
Then the unthinkable happened. The unimaginable happened. The greatest moment in the Wild's history happened…
Did Our Hearts Stop Racing?
I mentioned in my last article about how the stress had been cranked up after Minnesota's game six victory but I wasn't prepared for the emotional roller coaster of game seven. Let's just say that after the game, this Minnesota Wild fanatic couldn't go to sleep. It took me about 1 ½ hours to regain some sort of composure (that was 1:00 AM here in Minnesota).
The cause of my stress was Nino Niederreiter OT and series winner at the 14:00 minute of the extra frame. My head was spinning. My heart was racing. I must have had an out of body experience, because time stopped briefly, just briefly. I can't even remember the ceremonial handshakes that I was looking forward to after the game winning goal had been scored.
Don't you think that Nino has one of the best names in the NHL. His name is so catchy. I rolls off your tongue like…OT game winner.
There's not much more to say. I think I've said it all and left my emotions on this page. I look forward to the Chicago series. I hope the Wild will play with as much heart, grit and determination as they did against Colorado.
I will leave you with the video below, which is perhaps one of the greatest moments in the Minnesota Wild's history. Compare Nino's goal with Andrew's. Déjà vu.