The Calgary Flames have reached the halfway point of the 2017-18 season with just as many negatives as positives. Inconsistency has been the name of the game for them so far this season as they haven't been able to string together a long enough win streak to climb the standings. After 41 games, they sit one point out of a playoff spot.
The midway-point report card for the Flames equals out to a C+ average, which mirrors their position in the standings. Below, you'll find the letter grade for each individual player based on their performance through half the season.
Forwards
Sean Monahan: A+
He's currently on pace to set a new career-high in points with 37 points (19 goals, 18 assists) in 41 games, and has been one of the main offensive contributors on the team for the majority of the season. He's been almost as good as he can be.
Johnny Gaudreau: A+
Much like his counterpart above, Gaudreau can do no wrong this season. With 46 points (13 goals, 33 assists) in 41 games, he's on pace to smash his career-best in points. He's an early candidate for Flames MVP.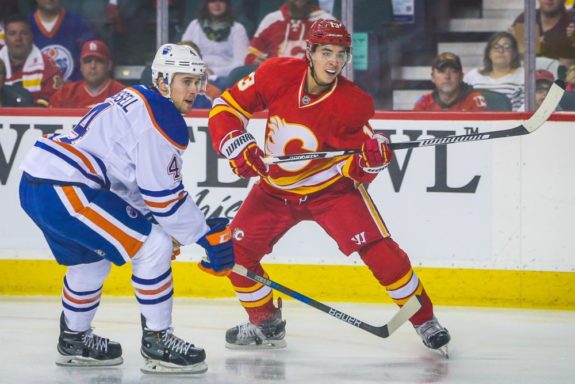 Troy Brouwer: D
For a player making $4.5 million this season, playing on the fourth line for much of the season, and only tallying 10 points (three goals, seven assists) in 41 games is not good. His minus-6 rating isn't optimal either. There's no question the Brouwer signing has been a disappointment, and this season reinforces that9i8u.
Michael Frolik: C+
It's been an average season for Frolik. Prior to his injury, his offensive production was down compared to the past two seasons, with just 15 points (seven goals, eight assists) in 37 games, but he has remained an effective penalty killer.
Mikael Backlund: B
With 25 points (eight goals, 17 assists) in 41 games, Backlund remains a reliable offensive contributor to Flames roster. But his play on the defensive side of the ice has dropped off slightly compared to past seasons.
Matt Stajan: C-
It's hard to ignore Stajan's lone point in 31 games this season. Yes, he's playing far less minutes than he used to, but one point is simply not good. Luckily, he's not relied upon to produce at a high rate offensively and has made up for the lack of scoring by being one of the Flames most reliable face-off men.
Sam Bennett: B-
If Bennett had played the first quarter of the season the way he played the second quarter, he'd have an A-grade. Since being moved to the wing and playing alongside Mark Jankowski, Bennett and the entire third line have been nearly unstoppable. He sits with 16 points (five goals, 11 assists) in 41 games, all of which came in the last 26 games.
Kris Versteeg: C
Prior to going down with an injury, Versteeg was having a rough start to the season, other than on the power play. He totalled just eight points (three goals, five assists) in 22 games, to go along with a minus-8 rating. However, he was highly effective on the power play, opening up ice for Monahan and Gaudreau to go to work.
Michael Ferland: A-
Other than a few games, Ferland has spent the season feeding off playing with Gaudreau and Monahan on both the top line and top power play unit. Much like his line mates, he's on pace to smash his career-high in points with 24 points (17 goals, seven assists) in 40 games. Keep it coming.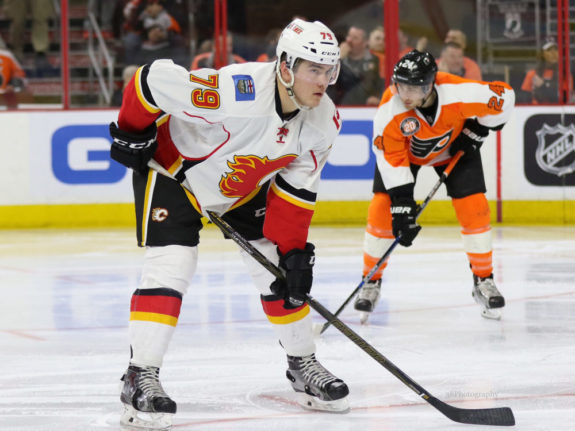 Jaromir Jagr: F
It's safe to say the Jagr signing was a failure. Sure, he brought wisdom to many of the young Flames players, but his lack of production on the ice and inability to stay healthy are more important. He's played in just 22 games this season, recording only seven points (one goals, six assists). According to Sportsnet's Elliotte Friedman, Jagr and the Flames are working on a mutual separation.
Curtis Lazar: D
There was plenty of hope for Lazar to take a big leap forward this season, but it just hasn't happened. His four assists in 27 games and minus-6 rating are only part of the problem. He just doesn't appear to be ready to play at the NHL-level full-time.
Matthew Tkachuk: A
What's not to like about this kid? Not only does he have 26 points (10 goals, 16 assists) in 39 games, he's tied for the league-lead in penalties drawn. He continues to mature game-by-game, making him all the more dangerous.
Mark Jankowski: B+
When Jankowski finally received the long-anticipated call-up to the big club, Flames fans rejoiced. Although his 13 points (seven goals, six assists) in 33 games are lower than many were hoping, keep in mind he's playing on the third line. Overall, he's been solid on both ends of the ice, as well as at the face-off dot.
Andrew Mangiapane: A-
Although the sample size of three games is small, Mangiapane has looked fantastic since being called up. He's brought a whole new spark to the fourth line, helping them generate much more scoring chances. He has yet to record a point, but you can certainly notice when he's on the ice. The future looks bright.
Garnet Hathaway: B+
Since being recalled by the Flames and being reunited with Jankowski after their success with the Stockton Heat, Hathaway has looked like a completely different player from past stints with the big club. As part of the Hathaway/Jankowski/Bennett line, he's tallied seven points (two goals, five assists) in 18 games, and has played a big part in the line's success.
Tanner Glass: D-
Now in the minors, Glass was not what the Flames were hoping he'd be when they added him in the off-season. He played in just seven games, totalling zero points and a minus-2 rating, and just didn't appear to be a fit anywhere on the roster.
Freddie Hamilton: D+
Although he's no longer a member of the Flames after being waived and picked up by the Arizona Coyotes, Hamilton did appear in eight games, but he didn't do much else except appear. With the success of Hathaway since being called up, someone had to go.
Defensemen
Mark Giordano: B
Solid is the best way to describe Giordano's play this season. Although it's a slight down year offensively with just 19 points (8 goals, 11 assists) in 41 games, he's been solid on the back end, with a few misplays. Other than the missing offense, it's hard to find much to dislike in his game.
Dougie Hamilton: B-
While also enduring a down year offensively, Hamilton struggled early in the season defensively too. He was giving the puck away far too often and being caught out of position, but has since improved in a big way. As long as he remains solid defensively, his 17 points (5 goals, 12 assists) in 41 games are sufficient.
TJ Brodie: C
It's been an off-year for Brodie. His offensive numbers, 18 points (2 goals, 16 assists) in 41 games are on pace with the last couple seasons, but his defensive play is the concern. He's second on the team in giveaways, and holds a minus-7 rating, which simply needs to improve.
Travis Hamonic: D
Hamonic was the big off-season acquisition that was supposed to leave the Flames with the best defensive corps in the NHL. Well, so far, Hamonic simply hasn't been good enough. His five points in 37 games certainly aren't great, but he's never been known as an offensive defenseman. He's been better over the past couple weeks, but needs to find more consistency.
Michael Stone: B
Stone has done pretty much everything Glen Gulutzan has asked of him. He's been a rock on the penalty kill and, other than some streaky play early in the season, has been reliable overall.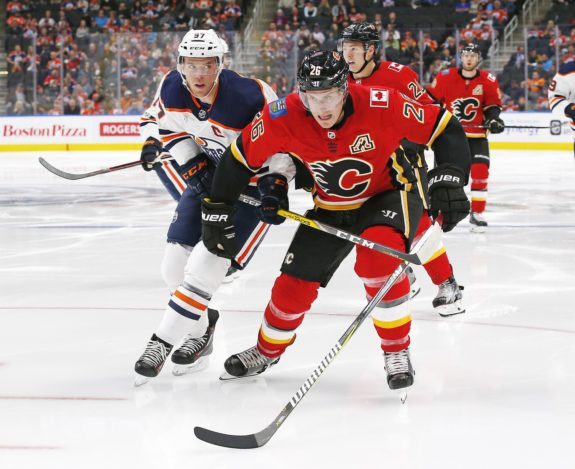 Brett Kulak: B
There's no question Kulak has won the battle for the sixth defenseman spot over Matt Bartkowski. Although he's totalled just four points in 31 games, he's not on the ice to put up points. He's done the jobs he's been asked to do, and continually makes smart decisions with the puck.
Matt Bartkowski: D
It was a battle between he and Kulak for the final defenseman spot, and he lost. When in the lineup, he appears too slow for the NHL and is constantly caught out of position.
Goaltenders
Mike Smith: A
Goaltending is the one area the Flames have no worries with. Smith has been everything they hoped he would be, and more. He boasts a 2.56 goals against average (GAA) and a .920 save percentage (SV%) in 35 appearances, which also includes stealing multiple games with timely stops. There's nothing to not like about Smith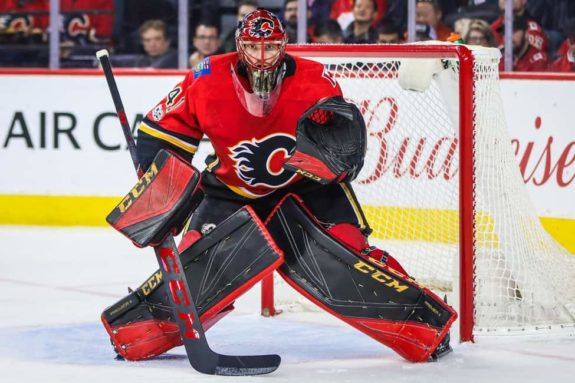 David Rittich: A
Enter a reliable backup goaltender. Rittich began the year in the AHL, but was called up to be Smith's backup after the struggles of Eddie Lack. With his 2.04 GAA and .924 SV%, Rittich appears to have locked down the backup role. Much deserved.
Eddie Lack: F
Lack's time with the Flames was short and bitter. In his four appearances with the Flames, he posted 5.29 GAA and a .813 SV%. He was brought in to provide a reliable option behind Smith, but the experiment failed miserably.