Canada and the USA will renew their historic rivalry in Halifax. The Americans will face off against host nation Canada in the most anticipated semifinal of the day. As it has all tournament long, the roaring Halifax crowd will be one of Canada's best weapons. Let's look at the matchup, the keys to victory, and what to expect.
Canada vs USA – Rivalry Renewed 
The USA finished first in Pool B and Canada second in Pool A. This makes the USA the "home team" on paper only, as they will get the advantage of last change and can plan for line matching. The only loss the Americans suffered was to Slovakia, who played a highly physical game backstopped by a brilliant performance by Adam Gajan. They enter the semifinal after decimating the German team 11-1 in their quarterfinals matchup.  
The USA finished third in goals scored with 19. They have five players who have scored at a point-per-game pace or better, led by center Logan Cooley who has five goals and 11 points. That places him second in scoring for the tournament, behind only Connor Bedard, granted it's a full 10 points behind him. However, this does mean that the Americans have a dangerous offense.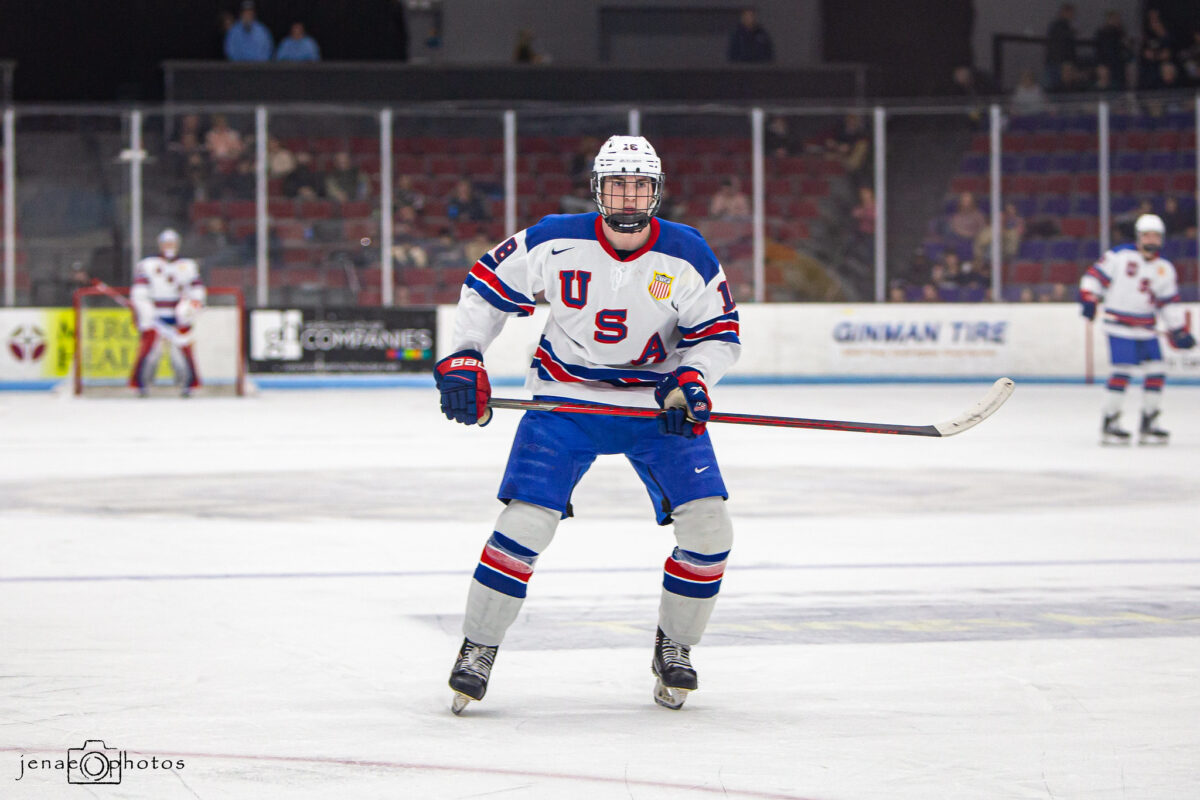 Defensively, they have the third-worst defense of any quarterfinals qualifiers with 11 goals against. However, six of those came in their loss to Slovakia. Their defense is structured to be highly mobile and focused on the transition game but it does so at the sacrifice of some size and grit.
Related: The WJC Should be Held in Junior Hockey Cities 
---
Latest News & Highlights
---
Canada finished first in goals for the tournament at 29 and has six players scoring at a point per game or more, led by 17-year-old phenom, Connor Bedard who leads the tournament with eight goals and 21 points. Bedard has been on fire, setting all-time Canadian points and goals records. The quarterfinal game that led Canada to this stage was a nail-biter. A hard-fought overtime ended with Bedard, the tournament's leading scorer by a substantial margin, scoring the game-winning goal on a spectacular individual effort that allowed them to barely edge a hungry Team Slovakia with a 4-3 overtime win thanks to his heroics.
Defensively, Canada has the third-best defense, in that they've allowed only eight goals in all of the tournament. They will rely heavily on the team's time-on-ice leaders in Olen Zellweger and Ethan Del Mastro to play in all situations. Their mobility and puck-moving abilities will be instrumental as part of Canada's overall offensive strategy.  
Keys to Victory – USA 
Above all else, shut down Bedard. The plan will be to keep him to the outside and take away any time or space for him to create offensively. That job will likely fall to Luke Hughes, the top American defenseman. At 6-foot-2, 189 pounds, he has the size to be able to play Bedard physically as well.
Trey Augustine to continue his .939 save percentage-level performances. Canada ran into a hot goaltender in the quarterfinal matchup, and it nearly cost them the win. If the US can have Augustine replicate that type of performance, then they will be that much closer to victory.
Make Canada pay for undisciplined play. Any time Canada goes into the penalty box, the power play (PP) will need to strike. If Canada fears the US PP, that will open up time and space as the Canadians will need to dial back their physical game.
Keys to Victory – Canada 
Spread out the offense. The US defenders will be keyed in on Bedard, and the Canadian overreliance on him could be a major issue moving forward. That being said, his line is still the main weapon for Canada as both Josua Roy and Logan Stankoven are capable of creating offense independently from Bedard. More will be expected from Shane Wright in this game as the Americans will have a much harder night if they have to try and shut down two offensive lines. 
Improve the possession game. Canada's overall game plan rests on puck possession. Teams can't score on them if Canada has the puck, as they usually score off of long possessions that wear down defenses. It will start with faceoffs, as the quarterfinal game against Slovakia saw Canada with a woeful 43% success rate, and starting without the puck so often puts the team at a disadvantage as they are not built to chase the play.
Control the emotions. Undisciplined play will be their downfall as the US has a potent PP. More importantly, Canada will need to keep their emotions in check to play their game without concern. In the quarterfinals, the coaching staff identified it as an issue.
It was a game filled with emotion. At the World Juniors, that could be said for all the games. Today, it showed as they looked nervous when the game was 3-2 (for Canada). We looked stressed with the puck and made mistakes under that stress.

– Stephane Julien (Assistant Coach, Canada)  
Canada is on a mission to defend their gold medal and go for a back-to-back championship for the first time since they had won five straight from 2005 to 2009. The United States will be looking to take this game to have a chance to recapture the title as gold medal champions that they last held in 2021. The fans in Halifax will be loud and ready to go, hoping to see another exciting game where the home team comes away victorious.
---
---