Now that the players have cleaned out their lockers and exit interviews have been conducted, the Montreal Canadiens are officially in offseason mode after finishing the 2022-23 campaign with the fifth-best odds to come away with the first-overall pick at the NHL Draft Lottery on May 8.
Beyond the 11 picks at their disposal, including two first-round selections, during June's NHL Entry Draft in Nashville, the Habs are poised to have another eventful summer as general manager Kent Hughes and executive vice president Jeff Gorton continue their transformation of the roster. Given the number of assets they can utilize and the avenues they can explore, there is potential for important changes over the next few months. Here's what to watch for until the puck drops again in October.
Caufield's Contract Extension
The announcement of Cole Caufield's new contract is easily the most anticipated news of the offseason amongst Montreal fans. It's as if they won't be able to enjoy what else is on the horizon until they know the popular forward is locked up long-term.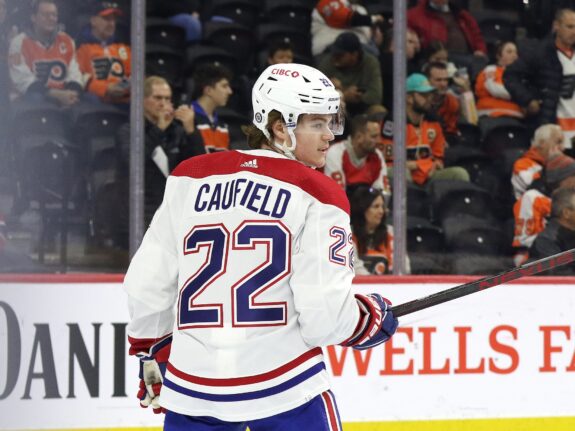 While there's no doubt that a deal will be struck sooner rather than later, the final details of the contract, both term and dollars, will be fascinating. Will it be a seven or eight-year deal similar to his linemate Nick Suzuki or will he bet on himself and opt for a shorter-term deal so he can break the bank as an unrestricted free agent? Caufield has made it clear that he wants to be Hab for a long time, and the Canadiens feel the same way so it seems to be trending in the first direction.
Hughes will surely want to get this order of business checked off his to-do list as soon as possible as it will dictate how much cap space he ultimately has to work with this summer.
Utilizing Their Cap Space
Speaking of cap space, assuming that Paul Byron, Jonathan Drouin, and Sean Monahan come off the books and Denis Gurianov doesn't return, the Habs will suddenly have some valuable room to work with as they look to improve the roster. Even with Caufield's new contract added, there will still be some cap space for Hughes to weaponize, especially if he can move a few more veteran contracts.
Related: 4 Reasons the Canadiens' Rebuild Is Succeeding
The general manager wants to spend to the cap and there are several ways he can accomplish that to benefit his team. Like the Monahan trade, he can acquire a bad contract and get a pick or prospect for his services. He can also explore the free agent market come July 1 for a player who will help them next season and beyond or look to deal for a restricted free agent from a team looking to clear cap space who would fit nicely into what the Canadiens are trying to build just like Kirby Dach this year.
Addition by Subtraction
Despite the newfound cap space, there are a few more veteran contracts that Hughes would like to move to create even more flexibility and to make room for the next generation of players who have earned a full-time NHL role and increased minutes like Rafaël Harvey-Pinard and Jesse Ylönen. The two most likely candidates to be traded are Joel Edmundson and Mike Hoffman who are both one year away from unrestricted free agency.
---
Latest News & Highlights
---
The left side of Montreal's defence is getting crowded with Kaiden Guhle, Mike Matheson, Jordan Harris, and Arber Xhekaj establishing themselves. That doesn't leave much room for the elder statesman on the blue line. While moving Edmundson won't generate the same type of significant return as originally anticipated, the Habs can still make a one-for-one deal and get back a useful player who can solidify a position of need. As for Hoffman, his continued presence in the lineup next season blocks someone younger from getting a bigger role which goes against what management is trying to do. There's no doubt that his $4.5 million salary will be a challenge to move, but perhaps they could make something work by retaining 50 percent or adding a pick in a trade as an incentive. Hughes didn't discount the possibility of using a buyout and Hoffman would be the top candidate if the general manager were to go that route. He could also be sent to the minors, but that seems like a last resort as the priority is to protect the youth on the Laval Rocket.
More Hughes Magic?
If Hughes and Gorton intend to get the Canadiens closer to playoff contention in 2023-24, the general manager is going to need a repeat performance of last offseason when he pulled off impressive trades for Dach and Mike Matheson who have quickly become key pieces. He was also able to get out from under the weight of Shea Weber's contract.
How aggressive will he be as he attempts to accelerate the rebuild? He's going to have to be if he wants his team to take a big step. Naturally, the first player that comes to mind in this scenario is Pierre-Luc Dubois. He will once again be a hot topic in Montreal as he moves one step closer to free agency. If Hughes can bring the star centre home this summer in a trade with the Winnipeg Jets that instantly alters expectations and signals a new phase of this roster build.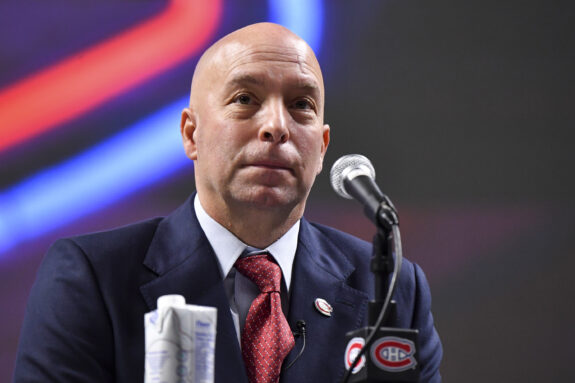 There's a strong likelihood he deals the Habs' second first-round pick from the Florida Panthers for a player he covets such as a top-pairing defenceman who can play big minutes on the right side and who can quarterback the power play alongside Matheson while also filling a roster hole that has existed for some time.
Regardless of how the Canadiens approach this crucial transition period, all the ingredients are there for an exciting summer that Hughes and Gorton hope will lead to a more promising present and a brighter future for the franchise.