Like Patrick Maroon in Edmonton, the Vancouver Canucks are working to re-sign Erik Gudbranson.
Failing that, the burly blueliner — and pending unrestricted free agent — will almost certainly be traded by the Feb. 26 deadline.
Listed at 6-foot-5 and 220 pounds, Gudbranson is a mountain of a man who just turned 26 years old in January and should have some prime years left in him. He's not an analytics darling, but Gudbranson can clear the crease with the best of them and plays within his limitations to remain effective.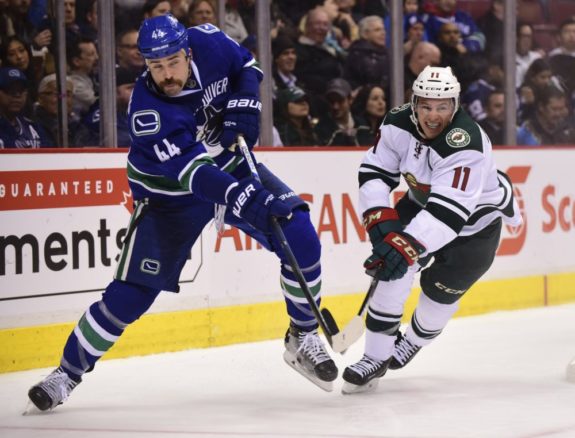 If Vancouver can't get Gudbranson extended over the next couple weeks, there will be a market for someone his size and age, and the fact he's a right-hand shot. Even as a rental, teams will want Gudbranson for his physicality come playoffs when the games get that much harder and tighter-checking.
The Canucks are sellers again this year, with Thomas Vanek their other big trade chip, so should they start taking offers on Gudbranson, here are three potential suitors.
1) Toronto Maple Leafs
From Ontario, this would be a homecoming of sorts for Gudbranson and he'd be an upgrade on Roman Polak for the third pairing. Heck, Gudbranson might also be an upgrade on Ron Hainsey for the top pairing or a top-four role. They could at least share in those minutes to ease Hainsey's workload to some degree.
Playing in his home province, Toronto would presumably have a good chance of re-signing Gudbranson in the offseason if this trial run were to go well. So it could be a short- and long-term move for the Maple Leafs.
Jim Benning and the Canucks genuinely like Gudbranson and covet his skill-set, so don't be surprised if the asking price seems high. Toronto would have to talk Vancouver down from a first-round pick.
GM Benning confirms he'll try to re-sign Erik Gudbranson rather than trade him.
"As long as a player can play in today's game, you're always going to need a defencemen who can play physical, especially in our division. There's always going to be room for a guy like that."

— Iain MacIntyre (@imacSportsnet) January 31, 2018
Reports suggest the Columbus Blue Jackets have already been offered a late first for Jack Johnson and Gudbranson should have similar value. They do have a couple things in common, both are UFAs following this season and both were third overall picks in their respective draft years — Gubranson in 2010 and Johnson in 2005. Yes, Gudbranson is five years younger, so any team hoping to invest in him beyond a playoff run this spring may be willing to pay more for Gudbranson than Johnson.
Toronto could be that team, but Lou Lamoriello has enough prospects to pull off this deal without sacrificing the Leafs' first-rounder in 2018. Toronto has two second-round picks, including San Jose's, so one of those and a defence prospect like Andrew Nielsen, J.D. Greenway and Eemeli Rasanen might be enough.
Not to worry Leaf Nation, unlike with Mike Green, the Canucks wouldn't be demanding Travis Dermott or Timothy Liljegren in return. Two totally different defencemen, Green and Gudbranson, but the latter could be a bargain by comparison and maybe fill more of a need for Toronto.
2) Philadelphia Flyers
Gudbranson would fit the bill as a Broad Street Bully and the Flyers could use another hard-nosed defender. Radko Gudas is the resident bully in Philly right now and Sam Morin will be a tough customer when he makes it to the big league, but Gudbranson would be a solid addition for the time being.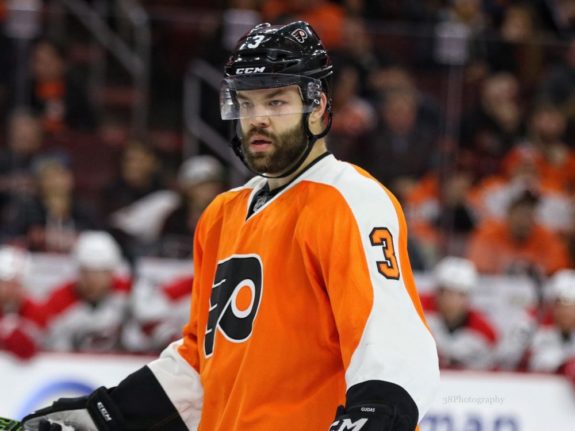 Ron Hextall would probably like his team to play a bit tougher at times and Gudbranson could make the rest of the Flyers feel a bit bigger on the ice too. Be it Shayne Gostisbehere and Ivan Provorov or Nolan Patrick and Travis Konecny. Intimidation could be a factor if the Battle of Pennsylvania becomes a first-round playoff matchup.
Fortunately for the Canucks, the Flyers have two first-round picks for 2018 — their own and the St. Louis Blues from the Brayden Schenn trade at last year's draft. However, Hextall has been big on the draft-and-develop model and Gudbranson might not be enough of a ringer for him to part with a first-rounder.
Philadelphia has a total of 10 picks in this year's draft, including its own second- and third-rounders, plus two fifths and two sevenths. Morin and Travis Sanheim likely aren't available, so Vancouver would have to accept a package of lesser picks or perhaps a quality prospect like Oskar Lindblom or Wade Allison.
Benning has been targeting prospects lately and he overachieved in landing Jonathan Dahlen for Alex Burrows at last year's deadline, so Vancouver could look to do the same in dealing Gudbranson.
3) New York Islanders
Here's another team with two first-rounders for 2018 — their own and Calgary's — and a general manager who might be more trigger-happy as a buyer. That would be Garth Snow, who may need a goaltender more than anything, but desperately needs to make the playoffs this spring in hopes of generating enough optimism for the future to re-sign John Tavares and Josh Bailey (both UFAs).
Gudbranson is a defence-first type that should help keep the goals-against down — whether it's eliminating traffic in front or disposing of rebounds on the doorstep, he has the ability to outmuscle opposition forwards.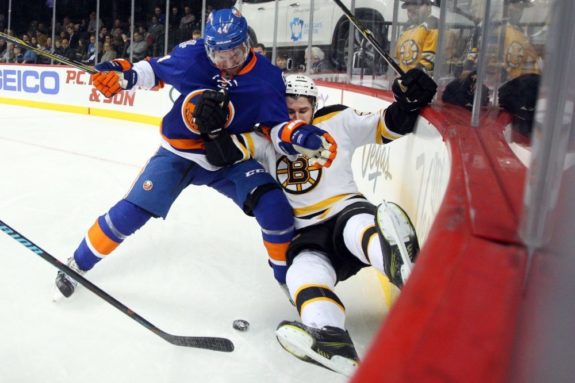 Johnny Boychuk is the only defenceman on the Islanders' roster who does those things consistently. Dennis Seidenberg is well past his prime, Adam Pelech isn't there yet, Thomas Hickey is too small to push anybody around, and Calvin de Haan has been lost for the season due to injury. The others are valuable in their own right, but with more of an emphasis on offence from the blue line via Nick Leddy, Ryan Pulock and the lesser-known Sebastian Aho. Scott Mayfield is also hurt at the moment, expected to miss at least a month, so Gudbranson could replace his presence as well as de Haan's.
The Canucks would gladly take either first-round pick off Snow's hands, but Benning might also have interest in Aho — the Swedish defender, not the Finnish forward from Carolina — or prospects like Robin Salo, David Quenneville, Mitch Vande Sompel and Parker Wotherspoon. Vancouver could ask for Michael Dal Colle, Josh Ho-Sang or Devon Toews too.
If Snow sets his sights on Gudbranson, the Islanders have what it takes to be the highest bidder.
---
So much talk of about the future of impending UFA Erik Gudbranson . So we put it you guys. sign him or trade him ? Simple. Your call. let us know !

— Sportsnet 650 (@Sportsnet650) January 31, 2018
Well, what do you think — where will Gudbranson be going if he doesn't get signed to stay in Vancouver? Toronto, Philadelphia, Brooklyn (home of the Islanders, for now) or somewhere else?
Larry Fisher is a senior writer and head scout for The Hockey Writers, having been an at-large contributor for THW since August 2014. Fisher covers both the NHL and the WHL, specializing in prospects and NHL draft content, including his annual mock drafts that date back to 2012. Fisher has also been a beat writer for the WHL's Kelowna Rockets since 2008, formerly working as a sports reporter/editor for The Daily Courier in Kelowna, British Columbia, Canada from 2008-2019. Follow him on Twitter: @LarryFisher_KDC.