With every passing day that the Oilers don't announce an extension for Patrick Maroon, it would appear his days are numbered in Edmonton.
That may be stating the obvious, with the Feb. 26 trade deadline looming less than two weeks away, but Edmonton general manager Peter Chiarelli is reportedly negotiating a new contract with the pending unrestricted free agent who really shone as Connor McDavid's wingman last season.
That emergence was something of a surprise for the power forward who came to Edmonton from Anaheim in a seemingly minor trade at the 2016 deadline, with the Ducks retaining some salary to ditch Maroon.
Flash forward two years, and with the 2018 deadline fast approaching, Maroon is set to cash in — be it any day now or come July 1 when he hits the open market. That's what happens when a player scores 27 goals, even if that total was inflated by McDavid's generational talents.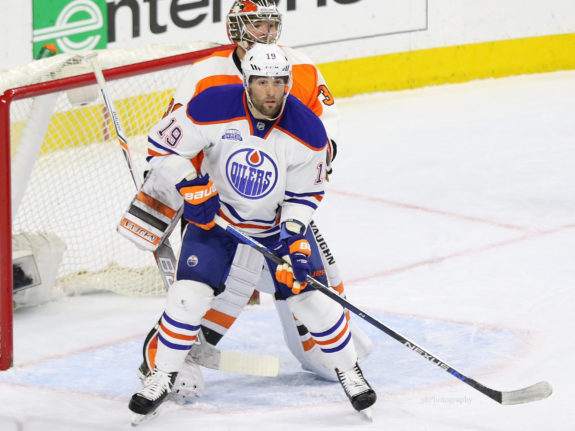 Maroon hasn't flanked McDavid as much this season but has managed to stay productive with 14 goals and 29 points through 53 games — prorated to 22 goals and 45 points over 82 games. The latter would be a career high, exceeding last season's 42 points in 81 games.
Reunited with McDavid as of late, Maroon enjoyed a two-point performance in Monday's 7-5 loss to Florida. That included a nice goal that showed off his soft hands around the net — one of the main reasons that other teams have been inquiring about Maroon's availability.
Maroon boosted his trade stock with that effort — by tucking that rebound in front of several scouts from around the league, watching him and fellow UFA rental Mark Letestu — but the Oilers haven't yet admitted to shopping Maroon or intending to move him.
Nevertheless, if and when Chiarelli starts fielding offers, here are three potential suitors for Maroon.
1) Tampa Bay Lightning
The connection here is Jon Cooper, who coached Maroon back in junior with the North American Hockey League's St. Louis Bandits in 2006-07. Maroon led the team in scoring with 40 goals and 95 points in just 57 games before making the jump to the OHL's London Knights and carving out a respectable pro career to date.
Cooper presumably had a big impact on Maroon during that developmental season and could also speak to his character if Steve Yzerman is planning to pursue Maroon, who has become a fan favourite in Edmonton as an all-around good guy.
#Oilers forward Patrick Maroon shares U.S. junior hockey ties with #TBLightning coach Jon Cooper https://t.co/Pxt53AFNw9 @NHLbyMatty #NHL pic.twitter.com/UI3K2tqMx8

— Edmonton Journal (@EJ_Oilers) December 17, 2016
The Lightning already have a few forwards cut from a similar cloth — Alex Killorn, Chris Kunitz and Ryan Callahan — so it's tough to tell where Maroon might slot into Tampa's lineup. But if that speculated interest exists, Cooper could surely find a short-term fit for their playoff run — though it's unlikely that the Lightning would see Maroon as a long-term option.
That scenario would leave the door open for a return to Edmonton in the summer, but it's also unlikely that Maroon's asking price would come down if he enjoys success in Tampa or wherever he ends up for the rest of this season.
It does sound like at least a few teams are kicking tires on Maroon, so the return could be decent for the Oilers. Tampa Bay could offer any of its picks in this year's draft — a first-round selection seems high, but who knows — or a plethora of promising prospects, including forwards Anthony Cirelli, Mitchell Stephens, Taylor Raddysh, Brett Howden, Boris Katchouk, Mathieu Joseph, Dennis Yan, Alexander Volkov, Alexey Lipanov or recent call-ups Matthew Peca and Adam Erne.
That's almost a dozen options that are better than most of Edmonton's pipeline. And that's not to mention defence prospects like Cal Foote, Libor Hájek, Erik Cernak or 2012 first-rounder Slater Koekkoek, whose name has been making the rounds in the rumour mill.
Yes, the Lightning are well stocked to be buyers and the Oilers should probably take whatever they could get from that impressive pool if they can't come to terms with Maroon.
2) Boston Bruins
Some connected members of the Boston media, including Joe Haggerty of NBC Sports, believe the Bruins have put in a call on Maroon. That would mean Don Sweeney reaching out to Chiarelli, his predecessor as Boston's architect. There had been a bit of bad blood between them, stemming from Dougie Hamilton's trade to Calgary rather than Edmonton at the 2015 draft, but perhaps those hard feelings have faded.
Per sources, there's Bruins interest in Edmonton Oilers power forward/trade rental/Bruins killer Patrick Maroon with the deadline a couple of weeks away https://t.co/eryXsBPn1d

— Joe Haggerty (@HackswithHaggs) February 11, 2018
Sweeney also could have contacted Keith Gretzky, instead of Chiarelli. Gretzky was Boston's director of amateur scouting under both Chiarelli and Sweeney before leaving to become Edmonton's assistant general manager in August 2016.
Gretzky, and to a lesser degree Chiarelli, would be familiar with the majority of Boston's prospects — especially those playing for the Baby Bruins at AHL Providence. So the Oilers wouldn't have to do as much scouting or homework in targeting the likes of forwards Frank Vatrano, Austin Czarnik, Alexander Khokhlachev, Anders Bjork, Peter Cehlarik, Ryan Donato, Zach Senyshyn, Jakob Forsbacka-Karlsson, Jesse Gabrielle, Trent Frederic and Oskar Steen. Another deep system with lots of enticing options, including defence prospects Jakub Zboril, Jérémy Lauzon, Ryan Lindgren and Rob O'Gara.
The Bruins also have their first- through fourth-round picks for 2018, so Sweeney could possibly outbid Yzerman if Boston covets Maroon more than the other available wingers — such as Rick Nash, Evander Kane, Thomas Vanek and Michael Grabner. The market is a bit saturated, so Maroon may not command all that much.
As was the case with Tampa, it's a guessing game as to where Boston coach Bruce Cassidy would envision Maroon in his lineup — perhaps alongside another big body in David Backes?
3) St. Louis Blues
This is Maroon's hometown team and he's passionate about hockey in St. Louis, so he'd definitely give it his all in front of family and friends there. The Blues may be Maroon's preferred landing spot, but it's uncertain if the feeling is mutual for Doug Armstrong.
Unlike Tampa Bay and Boston, who have been linked to Maroon by multiple sources and insiders, St. Louis hasn't been mentioned as much in the media — at least not recently. The Blues are comfortably in a playoff spot — the third seed in the Central and seven points ahead of Los Angeles and Anaheim for the second wild-card berth — so St. Louis should be a buyer, but nobody seems to know the names on Armstrong's shopping list.
A scoring winger with size does look to be a need for the Blues, so don't rule out Maroon. A right-winger like Vanek might be more of a priority — with Jaden Schwartz and Alex Steen already patrolling the left side in St. Louis' top six — but Maroon would look good with Vladimir Sobotka and/or Patrik Berglund on the third line. That could be a highly effective duo or trio.
St. Louis is another team that has had a lot of success at the draft in recent years, so Edmonton could get a quality return here too. One player that hasn't panned out for the Blues is Dmitrij Jaskin — a second-rounder from 2011, taken nine picks after Ty Rattie — and they may try to give him a change of scenery at the deadline.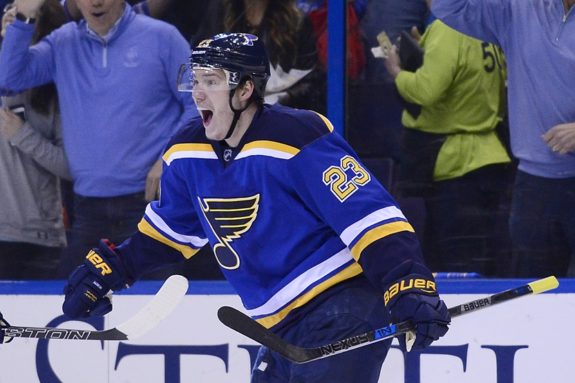 Jaskin will need a new contract following this season, but he'll be a restricted free agent and is making a modest $1 million right now without much leverage for a raise, having only netted five goals and 13 points through 53 games thus far. Jaskin, who turns 25 next month, has totalled 24 goals and 57 points over 243 career NHL games.
If Jaskin is going back to the Oilers, it wouldn't be as a 1-for-1. The Blues would have to add a draft pick, perhaps as high as a second.
The other option for St. Louis would be to move a prospect or two for Maroon, which could possibly include Ivan Barbashev or Tage Thompson, who are both with the big club right now. It's doubtful Jordan Kyrou, Robert Thomas or Klim Kostin would be available in a package for Maroon, but Sammy Blais, Tanner Kaspick, Nolan Stevens and Conner Bleackley could be forwards to keep in mind, along with defenders Jordan Schmaltz and Jake Walman.
---
Well, what do you think — where will Maroon be going if a deal doesn't get done in Edmonton? Tampa Bay, Boston, St. Louis or somewhere else?
Larry Fisher is a senior writer and head scout for The Hockey Writers, having been an at-large contributor for THW since August 2014. Fisher covers both the NHL and the WHL, specializing in prospects and NHL draft content, including his annual mock drafts that date back to 2012. Fisher has also been a beat writer for the WHL's Kelowna Rockets since 2008, formerly working as a sports reporter/editor for The Daily Courier in Kelowna, British Columbia, Canada from 2008-2019. Follow him on Twitter: @LarryFisher_KDC.