The 2018 playoffs are a distant dream for the Chicago Blackhawks for the 2017-18 season, so it's best for the team to focus on how to improve for next season. One of the unlikely shining stars for the Hawks this season has been Nick Schmaltz, who has tallied 15 goals and 24 assists in 53 games. Alongside Vinnie Hinostroza and rookie Alex DeBrincat, Schmaltz has emerged as one of the Hawks' rising young stars.
There is one question that plagues every NHL player in the salary cap era: how long will they stay? Nick Schmaltz is no exception to that question, and it depends on the usual thing — his performance now and his future.
Schmaltz's Rookie Season
Schmaltz tallied six goals and 22 assists in 61 games with the Blackhawks in his rookie season. He showed promise early on, as Patrick Kane told Mark Lazerus of the Chicago Sun-Times, "You can see the skill is there," Kane said. "He's a great skater — almost undercover, where you didn't really know he had that much speed. And he's confident coming through the middle of the ice with the puck. There's a lot of good things. It's just kind of getting adjusted to playing at this level."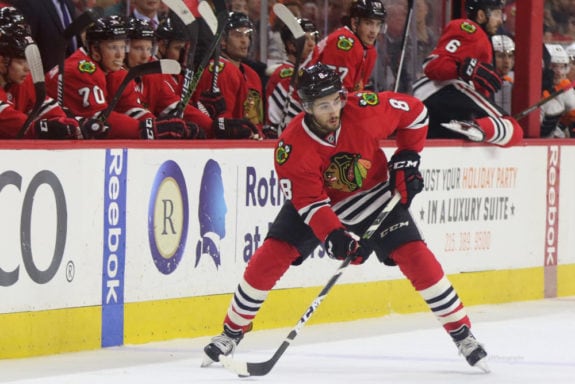 Schmaltz didn't have an outstanding rookie season, but it was good enough to earn praise from Coach Joel Quenneville,"He's been really good. [Tuesday] was the most we've ever seen him with the puck. I don't know how many times he evaded coverage, and all of a sudden he loses the guy on him and a play develops. That play against the grain to [Toews] was spectacular."
Schmaltz trained hard over the summer for the 2017-18 season and entered training camp ready to make an even bigger splash than he did in his rookie season.
Schmaltz's Sophomore Season
Being on the same line as Patrick Kane has helped Schmaltz immensely this season, so much so that it can be debated he is Kane's new right-hand man. His speed adds more depth to the line and has assisted on many of Kane's 21 goals.
''If he has speed, he can beat guys through that if a defenseman doesn't back up,'' Kane said. ''And if [the defenseman] does back up, then it gives me more space. It's kind of a win-win in my situation when I get the puck.'' With the absence of Artemi Panarin and speed becoming more important to the game every season, Schmaltz's chemistry with Kane is not something that goes unnoticed.
He earned even more praise from Quenneville: 'There's a lot of upsides, potentially, with him. And with young players, some guys make big steps. I thought he made a big step for a stretch of games last year after he came up from Rockford, and he showed that he could be a top player. This year is the year where he's showing us he wants to get to that next level. Being consistent in that area would be a great boost for our team.''
Schmaltz has definitely lived up to the team's expectations this year and continues to shine through the Hawks' slump.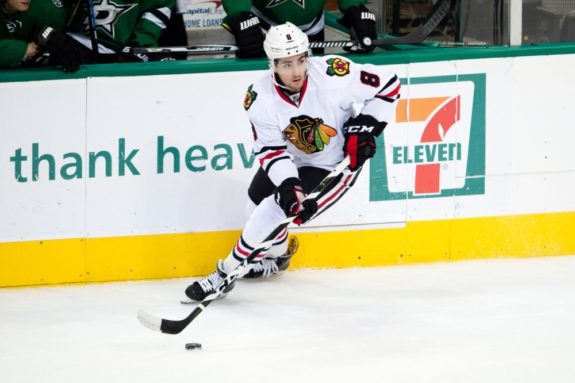 Other teammates have piped up for Schmaltz too, including Tommy Wingels who told Mark Lazerus,''There are very few players in the league who can carry the puck at the speed he does. He pushes the pace through the middle as well as I've seen in this league. Maybe [Oilers star] Connor McDavid does it better, but [Schmaltz] creates so much with that speed through the middle. It opens up wide lanes."
With so much love coming from teammates and the coaching staff, it's no secret that Schmaltz has become essential to the Hawks and has grown immensely since his rookie season.
The Future
Schmaltz is currently playing well, which is a good sign for his future with the Hawks. His past performance doesn't hurt either, but if he keeps it up and delivering more pucks to the net, he can easily earn himself a spot on the roster after his contract expires at the end of the 2018-19 season. The only issue is the salary cap. It would be a shame to see a player as good as Schmaltz go due to cap issues, but only time will tell when it comes to his future with the Hawks.
Illinois State University graduate and lifelong Chicago Blackhawks fan. I also write for The Odyssey at Illinois State and Fans Talk Sports. Other than hockey, I love to write historical fiction and nonfiction.