If the Vancouver Canucks are not able to re-sign Jacob Markstrom to a reasonable contract in the coming weeks, they will be looking for a veteran backup to pair with Thatcher Demko. Now that Henrik Lundqvist has been bought out by the New York Rangers after 15 seasons of brilliance, I think he should be one of the prime targets in free agency to take over that role.
Lundqvist Would Be the Perfect Mentor for Demko
If the Canucks want a veteran to mentor Demko, I don't think you can go wrong with a goaltender of Lundqvist's caliber. Of all the potentially affordable veteran options that will be available to them on the open market, he is probably the best of them all. Despite his struggles in the last couple of seasons, he is still capable of providing 30-40 quality starts as a backup.
Related: Henrik Lundqvist: By the Numbers for No. 30
Lundqvist also knows what it's like to be a young starting goaltender in the NHL. At 24-years-old and in his second season in the NHL, he took over for veteran netminder Kevin Weekes and played a staggering 70 games. He posted stellar numbers finishing with a 2.34 goals against average (GAA) and a .917 save percentage (SV%) to go along with five shutouts. He also finished third in voting for the Vezina Trophy.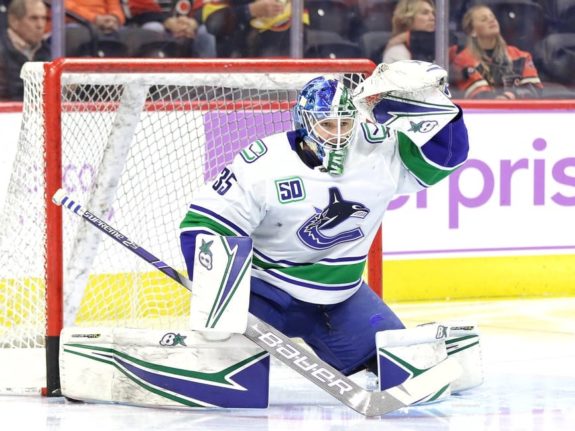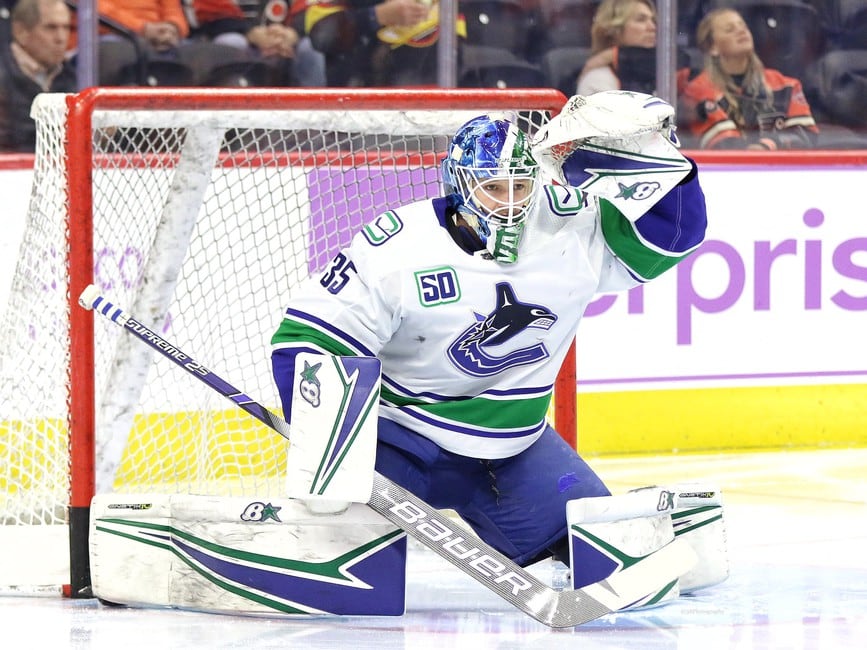 Demko is in a similar boat going into his second NHL season. He could be taking over for a veteran in Markstrom, so Lundqvist's experience going through the same thing could be invaluable as Demko prepares to embark on his maiden voyage of becoming an NHL starting goaltender.
Lundqvist's Legacy
Lundqvist's legacy goes beyond goaltending, that's why he would be a perfect fit in a locker room rooted in respect, professionalism, and work ethic. Throughout his time with the Rangers, he was always the most hard-working and professional person on and off the ice. In a city still feeling the effects of Henrik and Daniel Sedin's presence, his personality fits perfectly with the culture the Canucks have built. If you don't believe me, take it from some of the players who have shared the crease with him.
I got on the ice and I was like, 'Holy cow, this is times 10 what I expected his work ethic to be and I already expected it to be high…It was unreal.

Martin Biron
He [Lundqvist] was just different. When I was playing with him as a practice partner, I'd be keeping score on the drills we'd be doing so I could try to meet his level, and it was so difficult to ever get close to him.

Steve Valiquette on practicing with Lundqvist
In addition to his intense work ethic, Lundqvist is also a student of the game, which adds to the allure of him becoming Demko's mentor. The 24-year-old is also a cerebral goaltender with the same type of work ethic, so I'm sure he would soak up any knowledge Lundqvist throws his way.
He's also a philanthropist, which is something the Canucks have always gravitated towards when looking for new additions to their organization. Basically, the legacy he has built in the NHL makes him the perfect choice to add to the locker room and to the city of Vancouver.
Lundqvist Will Be More Affordable Than Markstrom
Lundqvist probably won't be demanding too much in free agency since the Rangers will still be paying some of his salary in 2020-21. He should be the most affordable veteran 1a on the market and his addition could leave room for the Canucks to sign Tyler Toffoli and possibly another high-priced free agent as well. By saving the $5-6 million they would be spending on a contract for Markstrom, they could upgrade their defence and have a formidable goaltending tandem at the same time.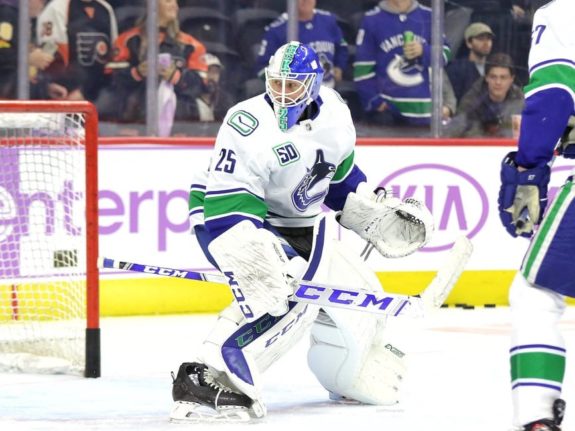 In the end, the Canucks need to find ways to reduce salary and if that means cutting ties with a high-priced starter in Markstrom, then so be it. Lundqvist likely won't provide the same MVP caliber goaltending at this point in his career, but he represents a solid option as a backup and more importantly, an affordable one. He won't command over $6 million on a long-term deal and he could surprise us as well. Don't forget, he is a five-time All-Star and former Vezina Trophy winner after all.
Will Lundqvist Want to Sign in Vancouver?
The Canucks may have interest in Lundqvist if Markstrom walks, but will he want to make the cross-country trek to Vancouver? After 15 years in the same city with the same travel, he might not want to change his routine at 38-years-old. He also has a wife and an 8-year-old daughter, so I'm not sure he would want to uproot his family for even a couple of seasons on the West Coast.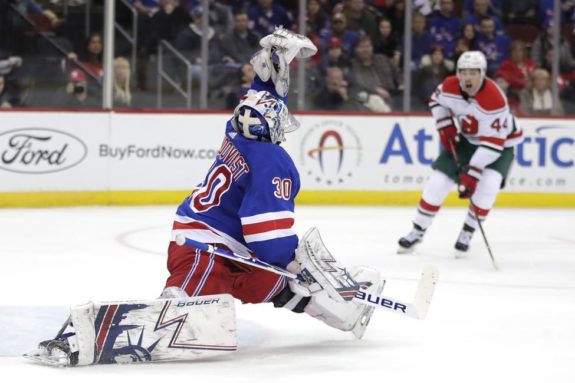 Lundqvist might want to play behind the young and exciting core led by countryman Elias Pettersson, but then again, that might not be enough to convince him to make such a big change in his life. 15 years is a long time to be in one place, so if anything, I see him signing with a team closer to home rather than all the way out West. If the Canucks were more of a Stanley Cup contender, then maybe he could be enticed, but they're probably three or four seasons away from that distinction.
Related: Vancouver Canucks 2020 Free Agency Targets
However, we have been surprised before by where players ultimately sign. The Canucks are a more favourable destination for free agents now that Pettersson and Quinn Hughes are leading the way, so Lundqvist might think his experience could help them win a Stanley Cup in the next couple of seasons. It is certainly possible given the fact that all of their young stars performed admirably during their first taste of the postseason.
Canucks Have Options if Markstrom Walks
If it's not Lundqvist, the Canucks will have plenty of other affordable options to choose from that could include Tomas Greiss of the New York Islanders, Craig Anderson of the Ottawa Senators, or even Ryan Miller of the Anaheim Ducks.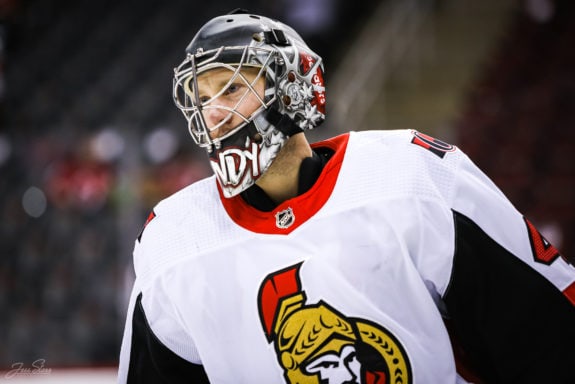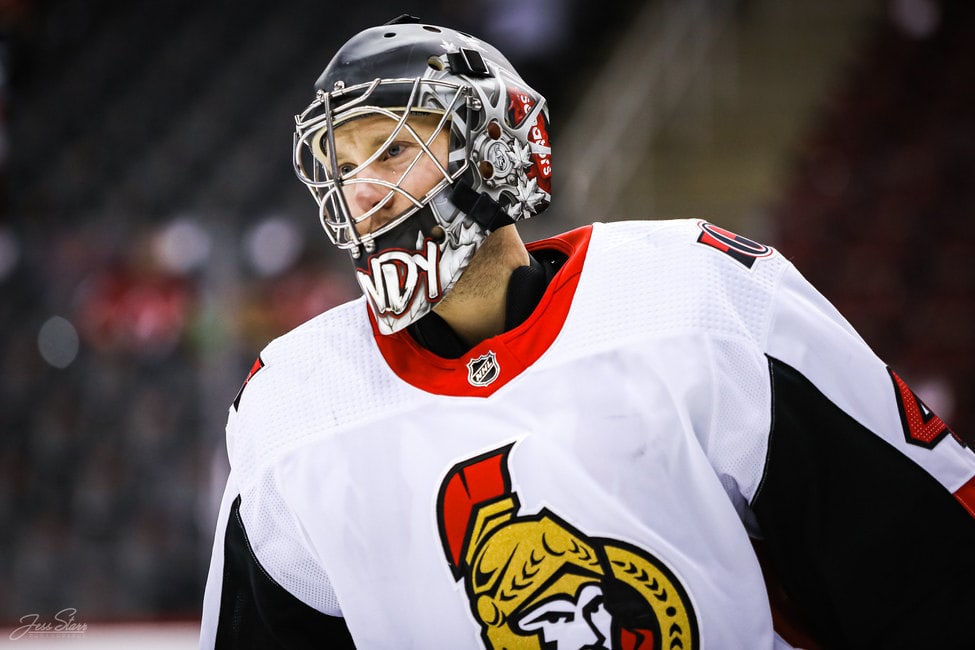 Demko should have a veteran backup to bounce ideas off of in his inaugural season as an NHL starter. It's not fair to make Mike DiPietro his backup and hope that he can handle 30-40 starts behind an inexperienced starting goaltender. It's never a good idea to throw all of your horses behind a young netminder without some veteran support behind him. There are plenty of experienced goaltenders in the free-agent market, so I'm sure the Canucks can find someone without resorting to a young tandem for the 2020-21 season.
---
---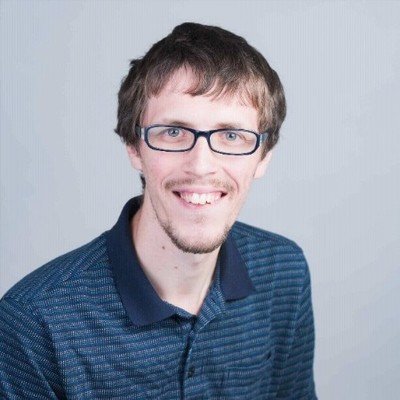 Matthew Zator is the assistant managing editor at THW and a writer who lives and breathes Vancouver Canucks hockey, the NHL Draft, and prospects in general. He loves talking about young players and their potential. Matthew is a must-read for Canucks fans and fans of the NHL Draft and its prospects. For interview requests or content information, you can follow Matthew through his social media accounts which are listed under his photo at the conclusion of articles like this one about Tyler Motte.
Matthew also hosts The Hockey Writers Prospect Corner on YouTube and is the co-host of The Hockey Writers Podcast & Western Centric Podcast.