The Vancouver Canucks finally have some prospects playing in North America as the NCAA and United States Hockey League (USHL) have both started their 2020-21 seasons. Jacob Truscott was front and center with the Michigan Wolverines this past week and Jackson Kunz is showing some intriguing potential early on with the Greenbay Gamblers as well.
The high-profile prospects in Vasili Podkolzin, Nils Hoglander, and Joni Jurmo also continued their seasons overseas, as NHL hockey and even the 2021 World Junior Championships (WJC) remain in jeopardy due to rising COVID-19 cases. Here's to hoping we get to see at least Podkolzin and Jurmo shine with their respective countries during the WJC in a few weeks' time.
With all that said, let's dive into another edition of the Canucks prospects report here at THW!
Truscott Shines With First Career NCAA Goal
The Canucks drafted the smooth-skating Truscott a little over a month ago and the 18-year-old freshman defenceman is already shining at the University of Michigan. He recorded his first two points, including his first goal this past week, and is playing a regular shift on the third-pairing and has seen time on the penalty kill as well. He is averaging just under 15 minutes a night on one of the biggest powerhouses in the NCAA surrounded by first-round picks and hopefuls Owen Power, Brendan Brisson, Matty Beniers, and Kent Johnson, so he's definitely getting a good education on and off the ice.
Truscott has the makings of an NHL defenceman, with his great skating abilities, accurate shot, and pin-point passing skills, but like all young defenders, still needs to work on his defensive game. However, it is encouraging to see him carrying the play, as evidenced by his 57.3 Corsi-for percentage (CF%) in six games this season.
Related: Wolverines Set To Dominate 2021 NHL Draft
Going back to his strengths, Truscott has completed 81 percent of his passes and has a shot on goal in every game. A lot of his skills are not elite, but solid, that's why he was selected all the way down in the fifth round rather than the first two. Right now he is on a two-game point streak and looks to be yet another potential late-round steal for the Canucks.
Kunz off To a Hot Start in the USHL
Another late-round pick for the Canucks in 2020 was winger Jackson Kunz. He wasn't given much fanfare when he was selected in the fourth round, but if his start to the 2020-21 season with the Gamblers is any indication, he should be a player to watch moving forward. He already has three goals and five points in six games and is well on his way to a full-time role in the USHL this year. Before this season, he only saw seven games with the Gamblers as he was shuttled back and forth between the USHL and his high school team for the past two campaigns.
Kunz has an impressive package of raw skills including a nose for the net and a heavy, accurate shot. Though his skating needs to be developed a bit more, as it is a definite weakness of his game right now. Unfortunately, that sort of deficiency may prevent him from making it to the NHL one day, as mobility has become one of the biggest predictors of success for prospects of his size.
In 2021-22, Kunz will join the University of North Dakota where Jake Sanderson calls home, and current NHLers Brock Boeser and Troy Stecher graduated just a few seasons ago. Brad Berry, who has coached the team for the past five seasons, should provide him with some solid direction as he transitions to college hockey next season.
Podkolzin World Junior Bound
As expected, Podkolzin was named to Team Russia's preliminary roster for the 2021 World Junior Championship, but the recurring theme of low ice time in the KHL has continued to dominate the headlines. Now he is out of the lineup with an "illness" that has not been confirmed or denied as being COVID-19 related. It sure has not been a good start to the 2020-21 season for the Canucks' top prospect so far.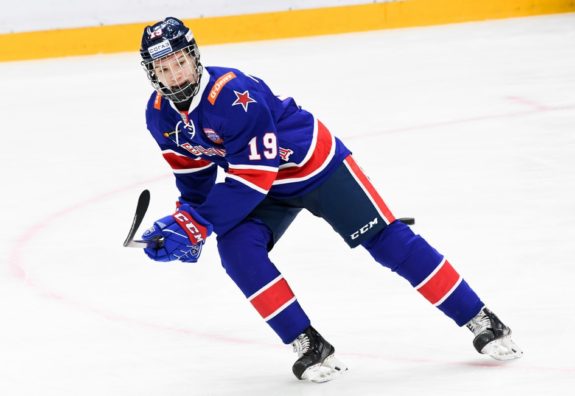 Hopefully, it's just good old fashioned paranoia, and the illness is just a common cold or flu. If all is well, Podkolzin should have a dominant performance at the WJC this year with Team Russia, as he will resume his duties as team captain and one of the top prospects in the tournament as a whole.
Related: 2021 World Junior Championship Team Russia Preview
Podkolzin gave us a glimpse of what he could do at the Karjala Cup with five points in three games, so if that's any indication, we should be in for quite a show in a few weeks' time. Barring the cancellation of the whole tournament due to the threat of COVID, that is.
Jurmo Needs To Seize the Opportunity
Ever since Alex Lintuniemi's contract was terminated by JYP, Jurmo has seen an uptick in ice time. He is now averaging just over 14 minutes a night, only at even strength. Even though he's not seeing any power play time, it's a significant improvement from the six or seven minutes he was getting earlier in the season.
Related: 2021 World Junior Championship Team Finland Preview
Jurmo is now playing a regular shift on the bottom pairing, so he should start seeing more opportunities for offence. He remains stuck on zero points and a minus-8 in the plus/minus column but judging from some of his rushes in recent games, that first point should be coming very soon. Like Podkolzin, he should be an important player for his nation in the upcoming WJC, so he could use a strong performance to springboard himself to some future success once he returns to JYP.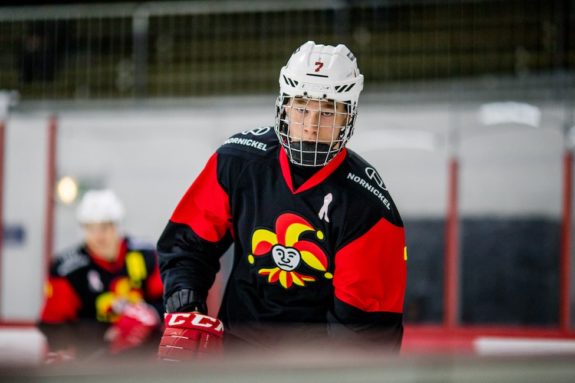 Jurmo was noticeable physically this past week, but not in a positive way, as he was given a major and game misconduct for head butting during his last game on Nov 27. Hopefully, that sort of questionable physicality does not seep into his game more as time moves on. It's okay to be physical, but that type of after the whistle stuff can't be something we see regularly when he gets to the NHL.
Other News & Notes: Hoglander, Karlsson, More
Here are some other news and notes as we approach the beginning of December and finally the end of the year 2020:
Despite testing negative for COVID-19, Hoglander's season with Rogle BK remains on hold for the foreseeable future. If the NHL's 2020-21 season turns out to be a go for Jan 1, he can join his Canucks teammates in training camp once his loan expires on Dec 13.
Linus Karlsson is on fire with 13 points in his past 10 games, including a four-point outing on Nov 18 and an eight-shot night on Nov 20. He continues to be one of the hottest Canucks prospects overseas right now.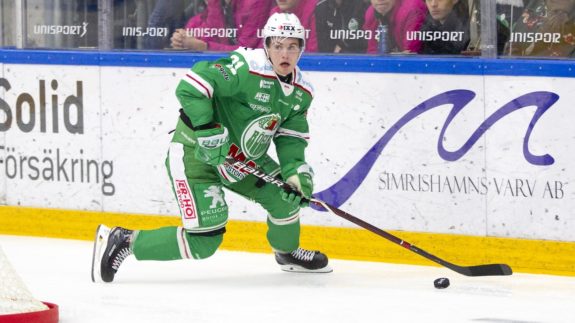 Dmitri Zlodeyev was not named to the preliminary roster for Team Russia, despite putting up impressive numbers in the MHL and VHL so far this season. It's unclear why he was not considered, but he remains a prospect to watch regardless.
Arvid Costmar and Viktor Persson are candidates for Team Sweden's roster, but won't be able to showcase their skills in the normal way by playing in the "Finnkampen" which is usually held at the beginning of November. They will have to continue to impress with their club teams with the hopes of being selected for the tournament in December.
That does it for another edition of the Canucks prospect report. Stay tuned for the next one, as we continue to follow their respective journeys to the NHL. It's definitely an exciting time to be following them, even though they are not all playing right now.
All stats provided by InStatHockey and Elite Prospects
---
---