With arbitration hearings looming, the New Jersey Devils were able to re-sign two key restricted free agents yesterday in Blake Coleman and Stefan Noesen. Coleman inked a three-year deal worth $1.8 million a season, while Noesen signed a one-year deal worth $1.725 million. Here's why the Devils are getting great value with both contracts.
Noesen's 2017-18 Breakthrough
Noesen proved to be one of the Devils' unsung heroes in 2017-18. He finished the year with a career-high 13 goals and 27 points in a bottom-six role. He was part of a dominant checking line — along with Travis Zajac and Coleman — that helped carry the Devils to their first playoff berth since 2011-12.
The Devils had some struggles at five-on-five, but that wasn't the case for Noesen. He finished the year with a 51.76% Corsi (CF%) and a 54.47% expected goals (xGF%) when on the ice. He also had a significant positive impact, finishing with a relative Corsi (Rel CF%) of 3.36% and a relative expected goals (Rel xGF%) of 4.51%. Both of those numbers were in the team's top five for players to play at least 100 minutes.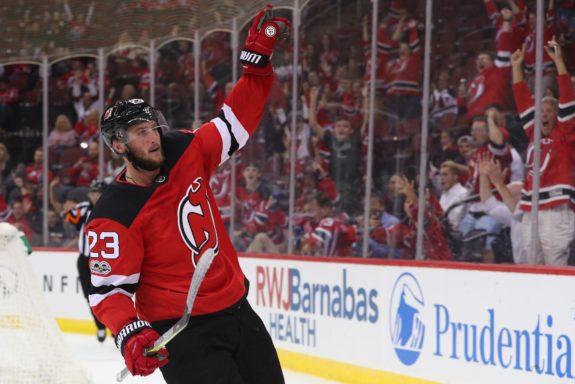 Noesen's value comes on defense, but that doesn't mean he wasn't able to chip in on offense. His 1.54 points per 60 minutes (P/60) at five-on-five was better than Kyle Palmieri, Pavel Zacha, and Travis Zajac's scoring rates in 2017-18. The Devils take pride in having strong two-way forwards, which is the perfect way to describe Noesen. If he's able to repeat his performance in 2018-19, he should get some term when he's a restricted free agent next summer.
Devils Get Coleman Locked Up Long-Term
Coleman, much like Noesen, proved to be a crucial role player for the Devils. He finished the season with 13 goals and 25 points in 79 games. At five-on-five, he had a 49.38 CF% and an xGF% of 54.07% when on the ice. He also had a significant positive impact, finishing with a Rel CF% of 1.33% and a Rel xGF% of 4.78%.
Coleman was one of the Devils' top defensive forwards at five-on-five, and it carried over to the penalty kill. He was one of the team's best shot suppressors and allowed the sixth-least scoring and high-danger chances per 60 minutes (min. 30 minutes played) while down a man (via Natural Stat Trick).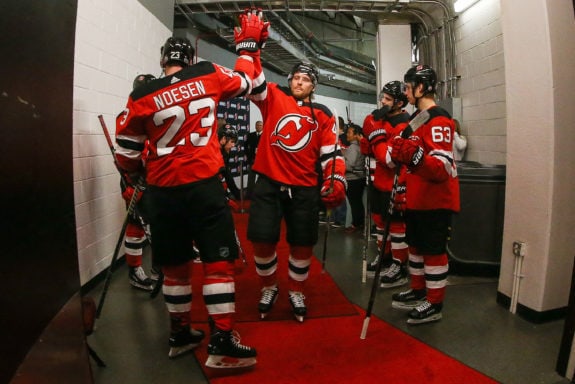 Coleman and Noesen totaled about the same amount of points, with Coleman scoring at a slightly worse rate (1.23 P/60) than Noesen at five-on-five. However, Coleman showed improvement, totaling seven goals in the team's final 16 games. If he can score on a consistent basis, he'll help give the Devils much-needed secondary scoring in their bottom-six.
Related: Devils' Underrated Rookie: Blake Coleman
Devils Banking on Depth from Within
Instead of signing third and fourth-liners to expensive contracts in free agency, the Devils are content to move forward with Coleman and Noesen. Giving term and dollar to depth players in unrestricted free agency can be costly, especially if the results don't warrant it.
There are two examples of that taking place this summer — the New York Islanders' signing of Leo Komarov and the Vancouver Canucks' signing of Jay Beagle. The most notable difference between them and Coleman and Noesen was their impact at five-on-five this past season, which the following table shows.
Player

 

Rel CF%
Rel xGF%
Length of Contract
Cap Hit
Blake Coleman
1.33%
4.78%
3 years
$1.8 million
Stefan Noesen
3.36%
4.54%
1 year
$1.725 million
Jay Beagle
-10.44%
-8.05%
4 years
$3 million
Leo Komarov
-5.87%
-5.8%
4 years
$3 million
Even though Komarov and Beagle's points totals (19 and 22) were not far off from Coleman and Noesen's, they had a severe negative impact on CF% and xGF%. The same can't be said of Coleman and Noesen, both of who had a positive influence. Komarov and Beagle each signed for four years, $3 million a season. There's good to reason to believe they won't live up to those contracts based off their results.
The Devils have to be pretty satisfied with how things turned out. Even though Noesen re-signed for just a year, he'll be an RFA next summer, so the Devils still control his rights. Coleman would have been an unrestricted free agent next summer so signing him for three years eats up two UFA years at a reasonable cap hit.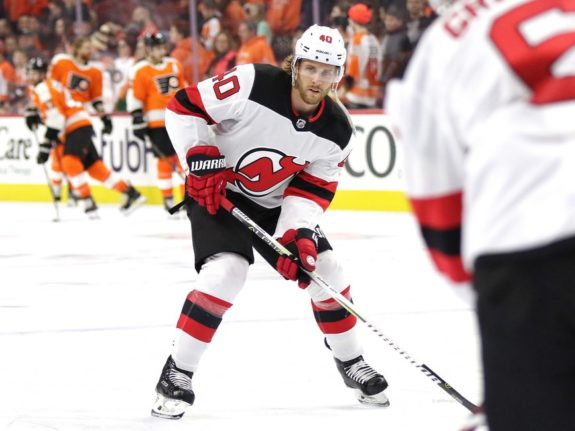 Devils head coach John Hynes and his staff should be optimistic about Coleman and Noesen moving forward. They're both steady players at five-on-five, can play tough defensive minutes, and have some offensive ability. Coleman even goes an extra step by being a staunch penalty killer. They're both signed to deals that won't hurt the team in the future. As long as they continue to deliver results, the Devils will have great value in each player.
*    *    *
Advanced stats from Corsica Hockey except where noted.