Here we are again looking at potential draft prospects that could be heading to the desert. The Arizona Coyotes have not one, but two first-round draft picks which gives them much more flexibility. Their second pick currently sits at 12th overall after the draft lottery on May 8 sorted everything out. While there are endless options regarding what the Coyotes could do with both selections, this article will go over forwards Brayden Yager and Calum Ritchie.
Related: 2023 NHL Draft Guide
---
Latest News & Highlights
---
Ritchie and Yager are both intriguing prospects, as they have lots to offer. Both have been ranked all over the place, but it's fair to say they have cemented themselves as first-round picks. Depending on who the Coyotes take with their first selection at six, they could take more of a swing at 12th overall with Ritchie or Yager.
Brayden Yager
Yager played this past year with the Moose Jaw Warriors of the Western Hockey League (WHL). He finished this season with 28 goals and 78 points in 67 games. Despite the success on the stat sheet, he didn't entirely live up to the hype surrounding him. In 2021-22 he scored 34 goals and showed off his lethal shot, but struggled to eclipse 30 this year.
With the sheer number of high-quality prospects in this year's draft, Yager hasn't gotten much attention. This has resulted in him getting moved around most draft boards and many scouts having different opinions on the Saskatchewan native. Nonetheless, he has a good skillset that could translate to the NHL in hopes of becoming a solid two-way center. He uses his shot effectively and knows when to get teammates involved. While his shot isn't the best in this year's class, it could be enough for him to be a 30-goal-scorer in the NHL someday.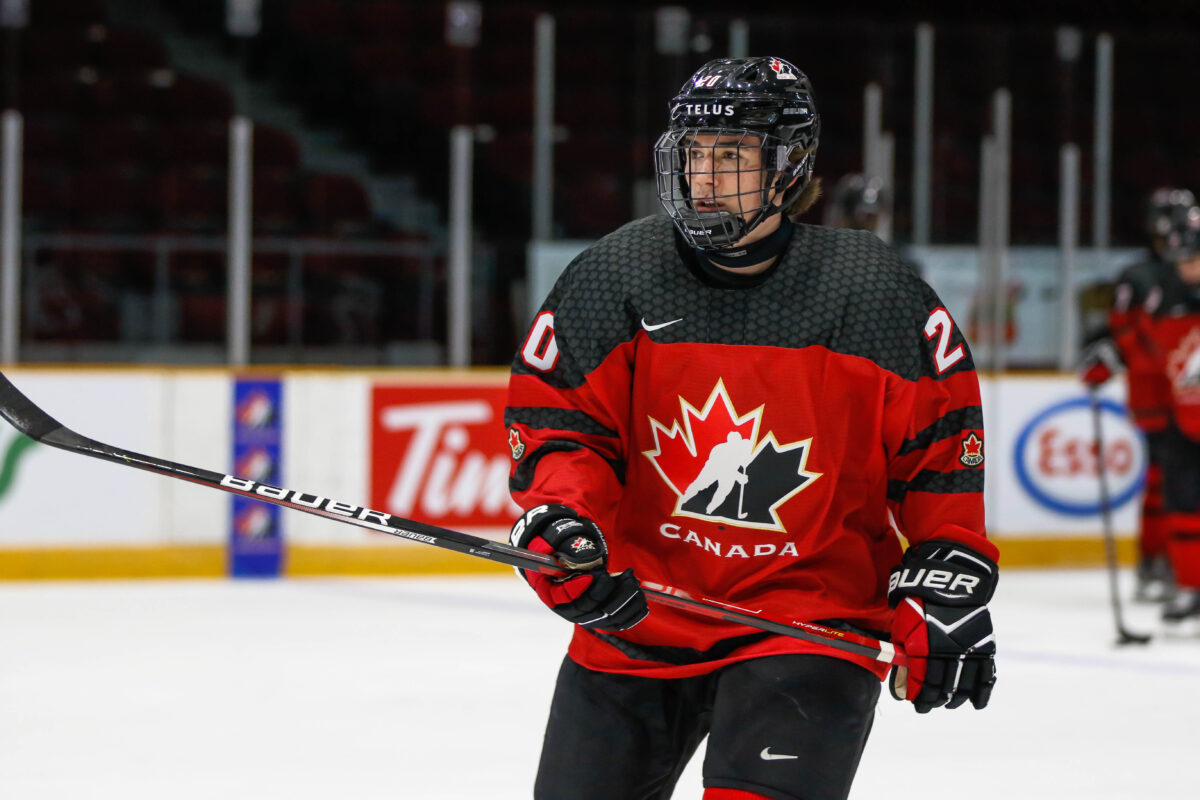 Yager presents himself as a high-risk high-reward type of player. There is a lot to like about his game. He knows how to use his shot, and has a great compete level. The Coyotes have been known to draft out of the WHL; in the past two drafts general manager Bill Armstrong has taken Conor Geekie and Dylan Guenther from the Winnipeg ICE and Edmonton Oil Kings respectively. While both of them are atop the Coyotes' prospect pool, they could look to Yager to add even more talent.
Quotables
Yager is a reliable puck mover. He doesn't always carry the puck out of his zone. Yager will opt to distribute if he is deep in his own zone. He does a great job of identifying teammates breaking out and hitting them in stride when he is under pressure deep in his own zone. In situations in which the pressure is a bit more relaxed and he's deep in his own zone, he will still opt to pass and look to get the puck into the hands of a winger further up in the zone. That has led to a lot of give and go transitional play as Yager will look to pass to his wingers along the boards and then skate into open ice in the neutral zone.

Josh Tessler, Smaht Scouting
---

---
The thing that jumps out at you about Yager's game is his shot and his willingness to use it. He's got a quick release and hits his target with deadly accuracy. He has 60 goals over his last two seasons in the Western Hockey League (WHL) and could probably have a lot more if he was asked to adopt a shoot-first mentality. His shot does not rival the best goal-scorers in the world, but it is dangerous enough that he could develop into a 30 goal-scorer in the NHL at his peak.

Devin Little, The Hockey Writers
Calum Ritchie
Ritchie has established himself as a first-round pick in this year's draft, but how high could he go? During this past season, he played with the Oshawa Generals of the Ontario Hockey League (OHL). He had a good year registering 24 goals and 59 points in 59 games. While he had a point-per-game season with the Generals, he's been projected to go anywhere from 12th to 32nd overall.
When watching Ritchie, the one thing you'll notice is his unselfishness. He tends to pass rather than take the shot himself, which is both good and bad. He can also be inconsistent in the offensive zone, resulting in missed opportunities. However, he possesses great playmaking abilities and has an incredibly high hockey IQ.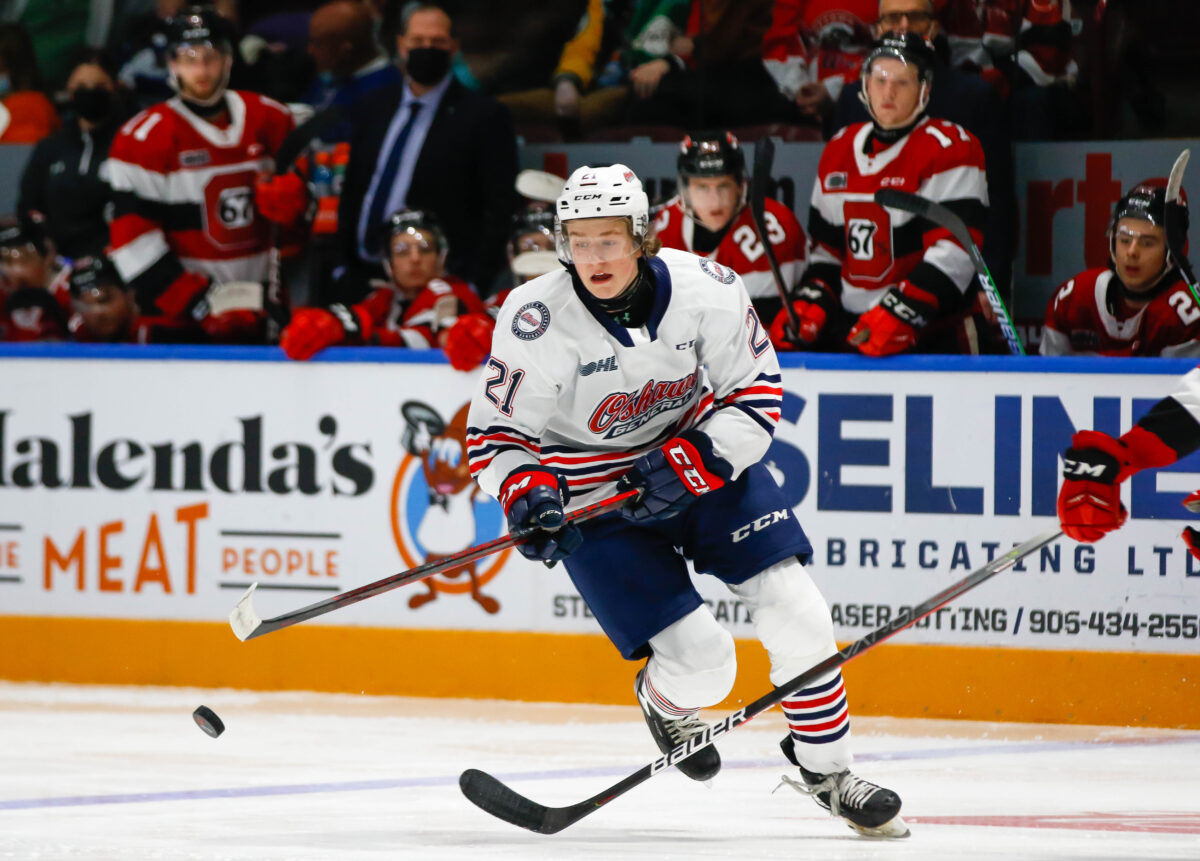 With the Coyotes' second first-round pick giving them more options, it allows them to explore the possibility of drafting a guy like Ritchie. He has good size as he currently stands at 6-foot-2 but he could add some more muscle this offseason to become even more dominant with his size. Regardless of who they pick, Ritchie and Yager will likely be on the board and could be good fits for the team.
Quotables
The Generals forward has picked up his offensive production lately, but he's struggled to stick around a point per game. Ritchie has shown evasive puck skill and a high-end shot in spurts, and his playmaking stems from intelligence, but he just hasn't been able to find the scoresheet as much as he'd like.

Tony Ferrari, The Hockey News
Ritchie is a skilled, offensive centerman with pro size and top-tier hockey IQ. When he is at his best, he'll dazzle fans and his opponents with silky-smooth stickwork, allowing him to maneuver through crowds and into the scoring areas of the ice. Once he is in those areas, he often looks to find the perfect way to finish the play, whether it's a heavy wrist shot or a pass to an open teammate. He is quite adept at surveying his options and executing based on the decisions he makes. He's the type of player that makes things happen almost every time he's on the ice, one way or another.

Devin Little, The Hockey Writers
The Verdict
The good thing about the Coyotes entering the 2023 NHL Draft is they have options. With that being said, between these two prospects, Yager would likely be the one selected. While he does have his pros and cons, there is tons of upside to his game. He could grow into a solid two-way centerman and play a big part in the everyday offense. With the draft rapidly approaching, these are two names to watch out for at 12th overall.
---
---