The Arizona Coyotes have slowly built one of the most prominent prospect pools in the NHL. With the likes of Logan Cooley, Dylan Guenther, and Josh Doan, there's no shying away from promising forward talent, but what about defense? After trading away Jakob Chychrun and Shayne Gostisbehere, there is an impending lack of talent on the blue line. That could lead to general manager (GM) Bill Armstrong relying on these defensive prospects in the near future.
Dmitri Simashev (2023, 6th overall)
When Associate Director of Amateur Scouting Ryan Jankowski walked to the microphone to announce the Coyotes' sixth overall selection, there was plenty of speculation on who they'd take. Ultimately, the Coyotes took defenseman Dmitri Simashev from Lokomotiv Yaroslavl. During the 2022-23 season, his numbers didn't pop by any means, as he recorded 0 points in 18 games in the Kontinental Hockey League (KHL) and 10 points in the MHL (Russia's top junior league).
Related: Sky Is the Limit for Coyotes Dmitri Simashev
---
Latest News & Highlights
---
So, what intrigued the Coyote's scouting department to take the Kostroma, Russia, native so high? One main factor was his skating, which is arguably some of the best from a defenseman in this draft. Pair that with his staggering 6-foot-4 frame and he could eventually make for a solid top-pairing defenseman. Simashev is under contract in the KHL for the next two seasons, which will help further his development, but when he arrives in Arizona, he'll look to establish himself as a premier defenseman in the league.
"Simashev is a physically dominant defenseman," Armstrong said. "We call him the unicorn of the draft. They're hard to find, guys that can move and skate like that for a big man. He gets up in the neutral zone and he hunts you down. His feet for a big man, I can honestly say this, I don't know that I've seen a skater of his size in the last 20 some odd years. He can close on guys quick."
Maksymilian Szuber (2022, 163rd overall)
Maksymilian Szuber has slowly become one of the better defensive prospects in the Coyotes system, despite being picked in the sixth round. During this past year, he played for the EHC Red Bull München of Germany's Deutsche Eishockey Liga (DHL), where he recorded three goals and 10 points in 46 games. Szuber also appeared in 13 international games for Germany, where he played 13 games, registering one goal.
Armstrong has a tendency to take players who have size and Szuber is no different as he has an excellent frame standing at 6-foot-3. Though his stats don't look amazing compared to other prospects his age, his performance at the World Championship was very impressive. If his development continues well in the DEL next season, he could be with the Coyotes sooner rather than later.
Jérémy Langlois (2022, 94th overall)
Similar to Szuber, the Coyotes very well could've gotten another steal with Jérémy Langlois. This past season, the 19-year-old split his time with the Cape Breton Eagles and the Quebec Remparts in the Quebec Major Junior Hockey League (QMJHL). Langlois finished the year with 11 goals and 50 points in 61 games. He also helped lead the Remparts to their third Memorial Cup, where he posted two goals and seven points in 18 games.

Langlois has a high-octane offensive skillset that played a big part in his success this year, along with his ability to drive the play. He is a solid passer and has great patience when returning on defense. Those attributes likely played a significant role in Armstrong trading up for the 6-foot-1 defender. While his journey to the NHL will take some time, he could find himself in a third-pairing role with the Coyotes down the road.
Artyom Duda (2022, 36th overall)
Arytom Duda is one of the most interesting prospects of the bunch. Last year, he played in the MHL, where he recorded three goals and 13 points in 14 games. Along with that, he also suited up in the KHL, tallying three assists in 14 games. The 19-year-old has a cannon of a shot, and while his production this past season isn't telling of what he is capable of doing, he's a modern-day offensive defenseman and knows how to get the puck through traffic. 
Now, this is where things get interesting. He was set to continue playing in the KHL or MHL for that matter, but he recently committed to the University of Maine, where he'll play under Ben Barr. With Russia's ongoing war in Ukraine and the disadvantage of watching games live, this is massive news for the team. He'll be much more accessible to watch in games and will be able to soak in playing in North America. If everything goes well and he can round out his defensive game, Duda could be a wild card to make the Coyotes roster in 2024-25.
Maveric Lamoureux (2022, 29th overall)
One of the most compelling prospects in the Coyotes pool, let alone in the entire NHL, is Maveric Lamoureux. The first thing you'll notice when watching Lamoureux is his height, as he stands 6-foot-7. While most suggested Armstrong and company reached for him at 29th overall in the 2022 NHL Draft, he's slowly developing into a solid prospect who could be up with the Coyotes soon.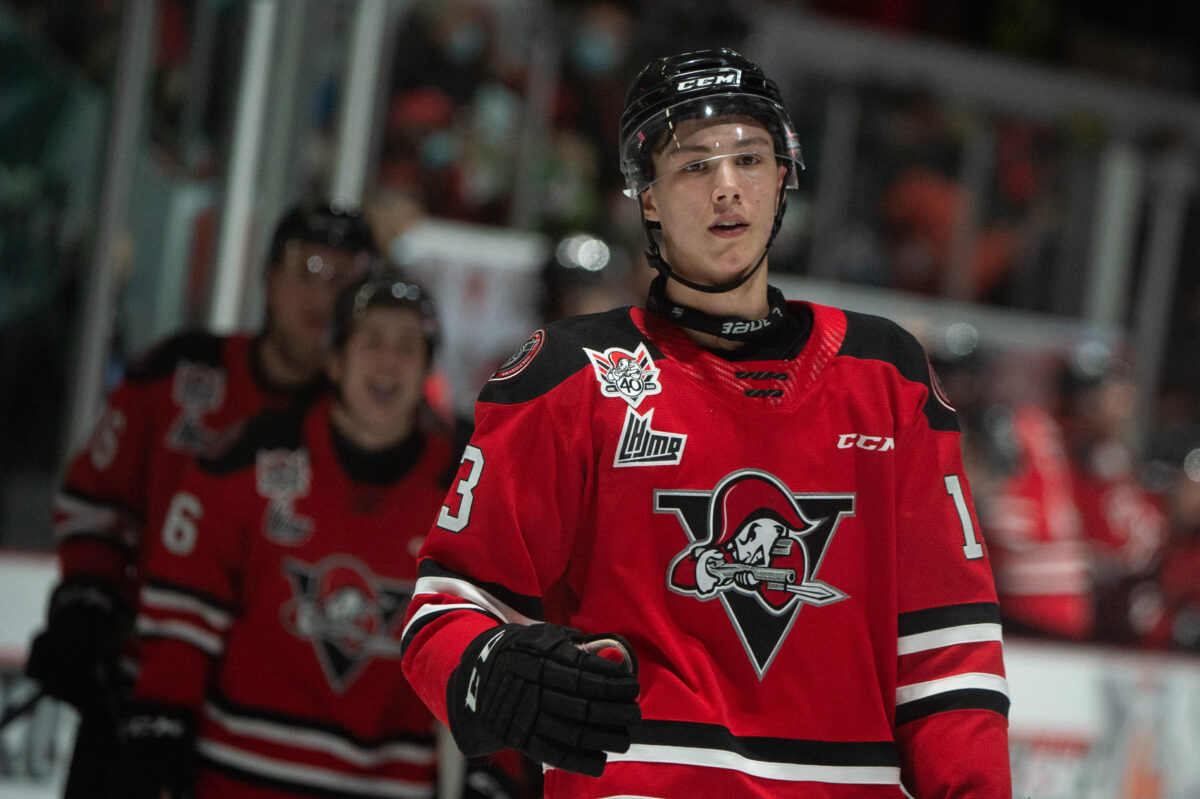 During this past season with the Drummondville Voltigeurs, he battled injuries but ultimately finished with five goals and 19 points in 35 games. He also chipped in six points in nine games while in the playoffs. "I'm going to take away the steps I need to improve in my game to get to play at the NHL level," Lamoureux said. "There are a lot of things I need to work on, and just being here today with all the coaches, I just need to take so much from them, and learn from that, and be even better when I come back." Lamoureux will look to have a breakout season, in hopes of being in the NHL sooner than later.
Coyotes Have Plenty of Depth
Compared to the depth they had at defense three years ago, it has dramatically changed. They have high-end talent in Simashev and perhaps projects in Lamoureux and Langlois. Nonetheless, they have an abundance of depth. Some honorable mentions include Vladislav Kolyachonok, Cameron Crotty, Terrell Goldsmith, and Cal Thomas. The future may never be brighter, and coupled with the team having 20 picks in the first three rounds up until 2026, the team is in a great spot to succeed.