Don't look now, but the Arizona Coyotes have wins in four straight, points in six straight, and have been one of the league's better teams since the calendar flipped to 2018.
Coyotes Go Undefeated
After picking up a point in a shootout loss to the Philadelphia Flyers back on Feb. 10, the Coyotes got back to work against the visiting Chicago Blackhawks on Monday night at Gila River Arena. As always, there was a large contingent of 'Hawks fans in the building, but the Coyotes made sure that they were a non-factor, as they jumped out to a 2-0 lead after the first period and led 4-1 after 40 minutes, leading the Chicago faithful to boo their team off the ice and head for the exits during the second intermission. Arizona added two more goals in the third period to cap off a 6-1 victory in what was arguably the team's most complete game of the season.
Following their triumph over the 'Evil Empire', the Coyotes headed to Northern California and took on the San Jose Sharks in the second half of a back-to-back on Tuesday night. After getting some offense from their defense, the 'Yotes and Scott Wedgewood held a 2-1 lead after 40 minutes. However, Wedgewood suffered an injury in the opening seconds of the third period, and Antti Raanta, who had made 37 saves against the Chicago Blackhawks a night earlier, came on in relief and stopped 12 more shots to lead the Coyotes to their first victory at the Shark Tank since Nov. 12, 2011.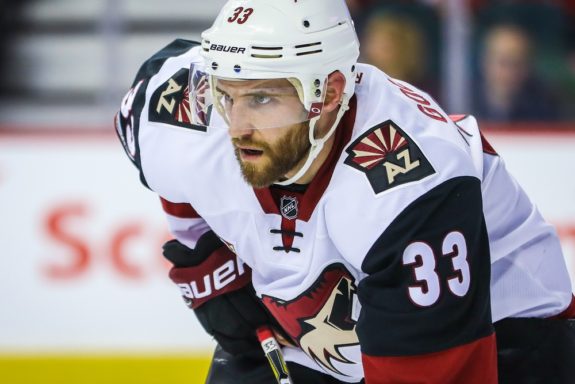 The Coyotes returned home on Thursday and welcomed Carey Price and the Montreal Canadiens to Gila River Arena in the opening contest of a seven-game homestand. Buoyed by two goals from Brendan Perlini in a span of 19 seconds, the Coyotes held a 3-0 lead after two periods and withstood a third-period Canadiens rally en route to a 5-2 victory.
Finishing the week with a matinee affair against Connor McDavid and the Edmonton Oilers, the Coyotes once again scored first, as Christian Dvorak tipped in an Oliver Ekman-Larsson point shot just 3:26 into the game. Dvo's goal would be all the support that Raanta needed, as he stopped all 40 Oilers shots he faced en route to his ninth career NHL shutout, and first as a member of the Coyotes.
Coyotes' Homestand Continues
Following their hard-fought victory over the Edmonton Oilers on Saturday afternoon, the Coyotes will have a few days off from game action before hosting the other Alberta-based team, the Calgary Flames, on Thursday. This will be only the second matchup of the season between the clubs, and the first in Glendale. Flames goaltender Mike Smith pitched a shutout against his former team back on Nov. 30, but there are doubts as to whether or not he'll make his much-anticipated return to Gila River Arena in this one, as he's dealing with a lower-body injury that's kept him out since Feb. 11. Puck drop is scheduled for 7 P.M. in Glendale.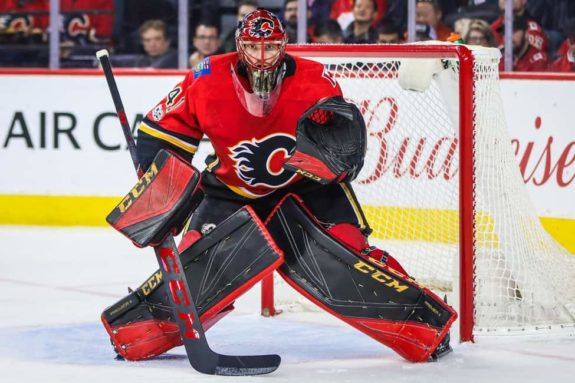 The Desert Dogs will once again be home on Saturday, when they'll host the Anaheim Ducks. The two teams have yet to meet in Glendale this season, but the Ducks won both previous matchups at the Pond, 5-4 in overtime on Opening Night, and 5-2 back on New Year's Eve. This one will get started at 6 P.M. at Gila River Arena.
The Vancouver Canucks will then come to town on Sunday in what will be Arizona's third home game in four days. It's been a rough year for the Canucks – they got off to a decent start, but injuries have completely derailed a once-promising season in British Columbia. Puck drop is scheduled for 7:30 P.M. in Glendale.
Pacific Division Roundup
The Vegas Golden Knights just keep winning – will anyone in the Pacific be able to catch them, or will they claim a division title in their first year of existence?
Anaheim Ducks (29-20-11, 69 points)
Last week: 2-1-0 (2-1 L at DET, 3-2 W at CHI, 3-2 SOW at MIN)
Analysis: The Ducks continued their ascent up the Western Conference standings with two more victories last week. They've now earned points in five of their last six (4-1-1) and are getting hot at the right time. A sixth consecutive Pacific Division title might not be in the cards, but home-ice advantage for the first round is well within reach.
Player of the week: John Gibson – 2-1-0 record, 92 saves on 98 shots (.939 SV%, 1.96 GAA), 9 saves on 11 shootout attempts
This week: Mon at VGK, Wed vs DAL, Sat at AZ, Sun vs EDM
Calgary Flames (30-21-8, 68 points)
Last week: 1-2-0 (5-2 L at BOS, 4-3 W at NSH, 6-3 L vs FLA)
Analysis: Mike Smith went down with an injury on Feb. 11, and the Flames are going to need him back in the lineup quick, as David Rittich allowed 11 goals in three games last week. That's not going to get the job done if the Flames wish to remain within reach of the playoffs.
Player of the week: Dougie Hamilton – 4 goals, assist
This week: Mon vs BOS, Wed at VGK, Thu at AZ, Sat vs COL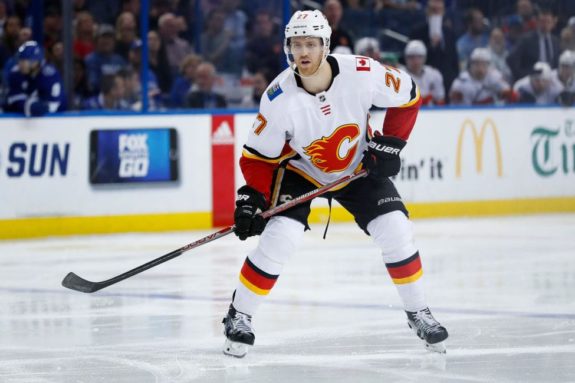 Edmonton Oilers (24-30-4, 52 points)
Last week: 1-3-0 (7-5 L vs FLA, 4-1 L at VGK, 1-0 L at AZ, 4-2 W at COL)
Analysis: Keep your heads up, Oilers fans! Your team might be eliminated from playoff contention in a year where they were a trendy Stanley Cup Final pick, and Taylor Hall might be in the midst of an 18-game point streak in New Jersey, but don't worry – the NHL surely will gift you yet another No. 1 overall selection in this year's draft. There's lots to be excited about!
Player of the week: Connor McDavid – 4 goals, assist, +2
This week: Tue vs BOS, Thu vs COL, Sat at LA, Sun at ANA
Related – Oilers Aren't Making the Playoffs
Los Angeles Kings (31-22-5, 67 points)
Last week: 1-2-0 (7-3 L at CAR, 3-1 L at PIT, 4-2 W at BUF)
Analysis: Despite their plus-22 goal differential – the fourth-best in the Western Conference and seventh-best in the league – the Kings find themselves out of playoff position with less than two months to go in the regular season. What's the problem? Simple – consistency. Since winning eight straight from Nov. 25 to Dec. 9, the Kings are a pedestrian 11-14-2. The impending return of Jeff Carter should help, but first-year general manager Rob Blake might need to make a move at the deadline in order for his Kings to return to the postseason.
Player of the week: Anze Kopitar – 3 goals, assist
This week: Mon at CHI, Tue at WPG, Thu vs DAL, Sat vs EDM
San Jose Sharks (32-19-8, 72 points)
Last week: 2-1-0 (2-1 L vs ARI, 4-1 W vs VAN, 5-2 W vs DAL)
Analysis: The Sharks stayed hot last week with two more victories, giving them four in their last five contests. A four-game road trip looms on the horizon, so if the Sharks wish to maintain their three-point lead for second place in the Pacific, they'll need to get the job done away from home.
Player of the week: Martin Jones – 2-1-0 record, 93 saves on 98 shots (.949 SV%, 1.69 GAA)
This week: Tue at STL, Thu at NSH, Fri at CHI, Sun at MIN
Vancouver Canucks (23-30-6, 52 points)
Last week: 1-2-0 (4-3 L vs FLA, 4-1 L at SJ, 6-1 W vs BOS)
Analysis: For the second consecutive week, the Canucks blew out one of the league's top teams, as they picked up a 6-1 win over the Boston Bruins on Saturday night at Rogers Arena to tie the freefalling Oilers in the standings.
Player of the week: Anders Nilsson – 1-1-0 record, 90 saves on 95 shots (.947 SV%, 1.88 GAA), 1 assist
This week: Tue vs COL, Fri at VGK, Sun at AZ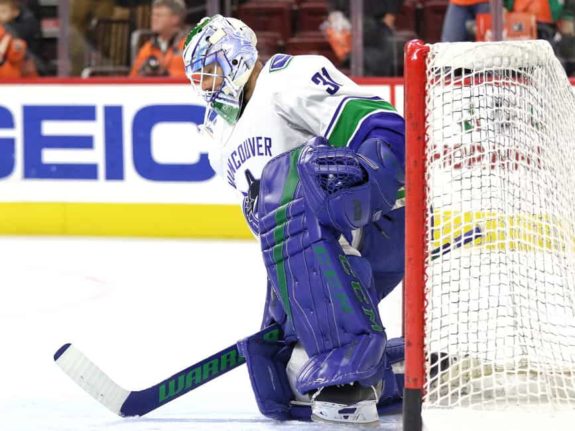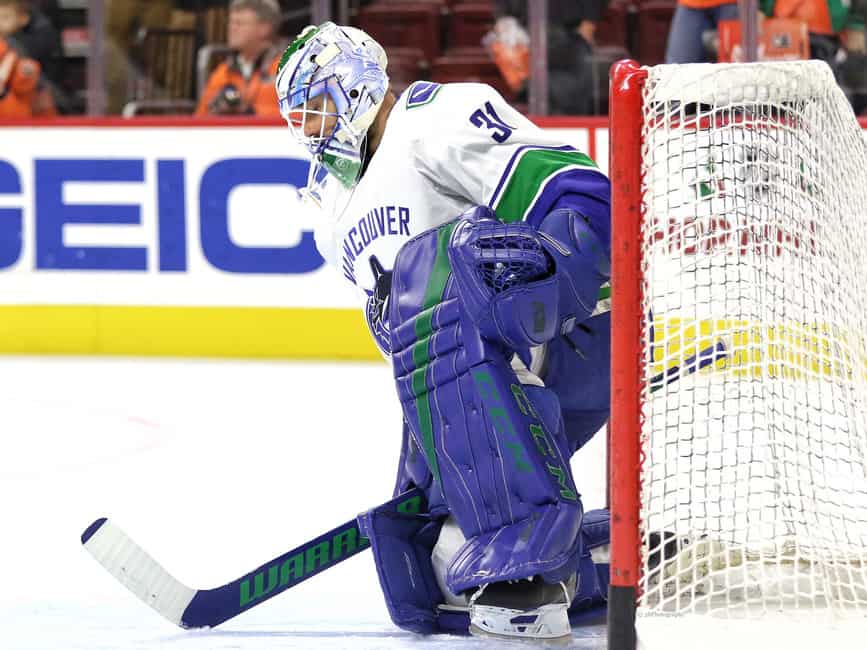 Vegas Golden Knights (39-15-4, 82 points)
Last week: 3-0-0 (5-2 W vs CHI, 4-1 W vs EDM, 6-3 W vs MTL)
Analysis: The league's best home team had three games at T-Mobile Arena last week, and, unsurprisingly, the Golden Knights won all three in blowout fashion, as they outscored the Blackhawks, Oilers, and Canadiens by a combined score of 15-6. Vegas once again is the leader of the pack in the race for the Presidents' Trophy – can they finish strong and clinch home-ice advantage for the entirety of the playoffs?
Player of the week: Marc-Andre Fleury – 3-0-0 record, 87 saves on 93 shots (.935 SV%, 2.00 GAA)
This week: Mon vs ANA, Wed vs CGY, Fri vs VAN
The Coyotes will continue their homestand this week with three more games – can they continue to play well and extend their winning streak to five straight for the first time since Oct. 26 to Nov. 5, 2013?