Two-thirds of Denver's top-line from the 2017-18 season are on the fast track to the NHL; Henrik Börgstrom is already a future keystone for Florida and Troy Terry is on the fringe between the AHL and NHL. Meanwhile, sniper Jarid Lukosevicius is returning to Denver for his senior year.
But with stats of 21 goals, 13 assists for 34 total points, and accolades like the Most Outstanding Player of 2017 Frozen Four and the title of National Champion, he too deserves a spot on a pro roster. Here are some potential spots where Lukosevicius has a chance of going after his senior season.
Vancouver Canucks
Lukosevicius is a native of Squamish, BC, a city just an hour north of Vancouver, so he's no stranger to the program. What's more is he was an invitee to the Canucks' 2018 development camp. And he performed well, showing off his moves, wheels and patience.
BC's own Jarid Lukosevicius shows some patience and puts the puck past Corbin Boes. #Canucks #CanucksSummerShowdown pic.twitter.com/ZBq88vb4PX

— CanucksArmy (@CanucksArmy) July 6, 2018
However, Lukosevicius would see more time in Utica than Vancouver right off the bat if he were to sign. As it is, Vancouver's lines are stacked with talent that has been marinating in the system for quite some time. It would be hard for Lukosevicius to crack the opening night roster over players like Jake Virtanen and Elias Petterson.
Montréal Canadiens
The Canadiens are the definition of a trainwreck with their questionable front office choices and inconsistent play. Lukosevicius can't solve that, but he can be a step in the right direction for the club.
Lukosevicius' grandparents are originally from Lithuania (hence the Lithuanian surname that means light or brightness) and immigrated to Québec. Hockey players are notorious for making choices based off family lines, so Montréal could be in Lukosevicius' future.
Unlike many other programs listed, he has a real chance of becoming the man for the program. Rumors are swirling that Max Pacioretty might be moved before the season. If Marc Bergevin follows through on trading his leading scorer of six years, there's going to be a big gap in the lineup. Lukosevicius could fight for that spot.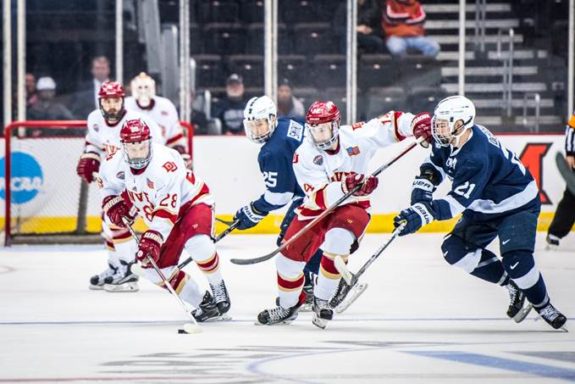 Place Lukosevicius right alongside last year's leading scorer Brendan Gallagher and that's an ideal situation to slip a number-one center, not named Alex Galchenyuk, into. This would be the one team in which this opportunity is present. No other players that have an upper-hand on Lukosevicius since the team has so heavily under-preformed in recent years.
However, the deterrent for Lukosevicius signing would be that Montréal is nowhere near being competitors. Since every other team on this list (as well as many others) are in better positions than Montréal when it comes to standings, he will be less likely to sign here.
Anaheim Ducks
The Ducks are getting older and slower and they have to start their own youth movement sooner rather than later if they want to avoid a rebuild. Lukosevicius can be a part of that movement alongside former DU linemate Troy Terry.
Some say Lukosevicius' success came from playing alongside the talent of USA Hockey hero Troy Terry, and if that winds up being true, what a great signing that would be for Lukosevicius and the Ducks since his success is guaranteed alongside Terry. And if it isn't true, which his senior season at DU will tell, playing alongside a college roommate and linemate in the NHL still won't have a downside.
"My game is just to shoot the puck and it shows," Lukosevicius said to LetsGoDU. "I know I can't go through everyone like [Borgstrom and Terry] can, but if they give it to me I'm going to shoot it. That's what my role is."
These two spry young wingers might just be what the Ducks' veterans need to get a little pep back in their step. It will also be an ideal situation for Lukosevicius if he can slowly transition from a supporting role to possibly a major role as the Ducks' stars age and their roles lessen.
Colorado Avalanche
Of all the teams, the Avalanche are the most likely of the bunch.
Compared to the star-studded line-up that was in existence a few years ago for the Avalanche, their current lineup seems dismal. They're a one-line offense lead by Nathan MacKinnon. MacKinnon had 54 more points than Alexander Kerfoot, who scored the most points of any Avalanche that wasn't on Mackinnon's line.
Lukosevicius could easily provide that secondary scoring. He can play any role so he could easily settle down in a second or third line role. While his linemates were some of the most elite in college hockey, they too serve middle-six roles at the NHL level, so the talent level of his DU linemates and Colorado linemates should be about equal.
WE'VE GOT A HAT TRICK!!!

Jarid Lukosevicius is living the dream right now… Denver now up 3-1 in the 2nd! #NationalChampionship pic.twitter.com/I9PEkBDdoD

— NCAA Ice Hockey (@NCAAIceHockey) April 9, 2017
Lukosevicius has lived in Denver for the past three years as a student at Denver University (and by the time it would be time to sign it will have been four years), so he's no stranger to the culture and the city, something that could greatly benefit the Avalanche.
"He [Denver's then head coach Jim Montgomery] asked me if I would like to come here," Lukosevicius told the Denver Post. "I pretty much said 'yes' right away. Colorado (Avalanche) is my favorite team and as soon as Monty asked me my heart kind of dropped. It was weird. As soon as they dropped me off, he phoned me. I didn't say yes right then and there, but I knew."
What's better than playing in the city you thrived in when in college? Oh yeah, playing for your favorite team. While he's not a hometown boy, he's the closest thing to one, and the Avalanche could greatly improve from his presence and ability to establish offense away from MacKinnon's wing.