After representing Team Russia at the 2016 U18 WJC, defenseman Dmitri Samorukov moved to the OHL.  He was drafted by the Guelph Storm in the CHL Import Draft and will be eligible for the 2017 NHL Draft. In this exclusive interview, the Russian defenseman talks about his first steps in hockey, his move overseas, and NHL aspirations.
First Steps in Hockey
The Hockey Writers: Hello Dmitri. Where were you born? When did you start playing hockey?
Dmitri Samorukov: I was born in Volgograd, Russia. When I was three years old, we moved to Moscow, and literally one year later my mom got me to a hockey school.
THW: Did you start playing for CSKA right away or did you start in another team?
DS: I was only four, I wasn't playing for CSKA when I started. I moved to CSKA slightly later.
THW: Did you always play as a defenseman?
DS: Yes, I wasn't the fastest guy out there, but I was a good backwards skater.
THW: Last year you played at the U18s WJC after the notorious events. Was it tough?
DS: It was difficult because I was called by the coaches like two days before and I was asked to get there immediately. It was hard, but of course, it was also a very good experience. And very interesting.
THW: Was it different, then, at the Ivan Hlinka Memorial?
DS: Yes, it was easier and we were less worried.
THW: Do you think you played better?
DS: Hard to say. It's always hard to play at the start of the season. You do get your best form when the season is up and running already.
#Storm name Dmitri Samorukov Player of the Week!
READ: https://t.co/rUJSrht5Lu#ANewDawn pic.twitter.com/Xkju4zyHVD

— Guelph Storm (@Storm_City) November 7, 2016
Move to Canada
THW: In the time lapsed during the two tournaments a huge thing happened: you moved to Canada.
DS: At the start of the season I wasn't thinking about Canada at all. I started thinking about it at the end of the season. I signed a new contract with CSKA Moscow, but after five days we mutually rescinded it. I need to thank the CSKA organization as they allowed me to move without giving me any problem. They gave me a chance to play here.
THW: Why did you choose to move overseas?
DS: I talked with scouts, agents, you know that the dream of any hockey player is to play in the NHL. I also understood that hockey here is on another level.
THW: Is the level really much higher in the Canadian Junior Leagues?
DS: It's another style of play, small ice, everything is faster and everyone is playing more physically. Yes, I think that hockey here is on a higher level than in Russia. And another thing is that I think you understand, that it's more pleasant to play in front of six thousand fans, rather than 500, and you know in person pretty much half of them.
THW: Maybe in Russia players are more technique-sound?
DS: Hard to say, but probably more yes than no. It's also that in Russia you have more space to play that way. In Canada, it's more like running behind the puck or play a possession game.
THW: Probably, also the practices are different.
DS: Yes, in Russia they are usually very tough, especially before the season. In Canada, you are more autonomous, you just hire a coach and work according to your program. In Russia, they get you for one month and they try to get the whole team ready for the season.
Life in the OHL
THW: What can you tell us about Guelph, Ontario?
DS: It's a small city, about 120,000 inhabitants, but I like it. People love hockey, and you can hang out with your teammates before the games, for example going to the movies or playing bowling, it's a pleasant atmosphere.
THW: In the OHL there are a lot of Russian players, but the other import on your team is Czech, Albert Michnac.
DS: (Smiles). True enough. Well, it's better for [learning the English] language, if I was with a Russian I'd talk a lot less English. And sometimes I teach him Russian, and he teaches me Czech.
THW: It looks like you've become friends. 
DS: We live together in the hotels when we play away, we organize our European room (laughs). But I spend more time with Canadian players. I'm in very good ties with a couple of them.
THW: Do you often meet other Russian players?
DS: Yes, often I meet players I got to know playing with the national team or other players which I've known since childhood.
THW: What do you think, who is the best Russian player in the OHL?
DS: Well, of course, [Mikhail] Sergachev is doing great.
THW: What about forwards? Not necessarily Russian players only.
DS: The Erie Otters have an excellent line with Raddysh, Strome and DeBrincat.
THW: The Otters have Gera Poddubnyi. Did you play against him?
DS: Of course.
THW: And did he score against your unit?
DS: Well, frankly speaking, we lost 9-1 the latest time we met, so, maybe he did (laughs).
THW: I cannot avoid mentioning it. The NHL draft will be soon.
DS: Yes, in June.
THW: Do you think you can get into the first round?
DS: No, why? Everything is changing all the time.
This is what we like to call a "Storm Sandwich" #BOOM #ANewDawn pic.twitter.com/1OPaRiqVHA

— Guelph Storm (@Storm_City) January 14, 2017
THW: Will you risk a prediction about the round you will be picked?
DS: I think we can have an attempt at it after the playoffs, now my task is to play and enjoy the game.
THW: Do you have plans for the next WJC? The oldest players will be born in 1998.
DS: Players always have WJC plans. I'll try to get there working as hard as possible.
THW: Kirill Kaprizov is two years older than you and already scored a hat trick with the Russian national senior team.
DS: He's definitely a huge talent.
THW: Did you already talk with NHL scouts?
DS: Yes, of course.
THW: Is it possible to know what teams or is it a secret?
DS: No, I don't think it's a secret. St. Louis, Toronto, Montreal, San Jose, Tampa Bay, Columbus, Ottawa, Minnesota, Calgary, New Jersey, Buffalo, Boston.
THW: It almost sounds as if half of the NHL is chasing you. Impressive.
DS: Well, I think it's normal. It's not like they're saying that they're going to draft me whatever it takes. They're just gathering information.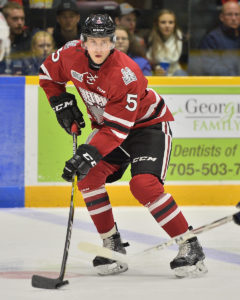 THW: But I still think it's a good sign.
DS: My task now is to play and enjoy the game. Of course, it's very interesting and motivates you further, but it still means nothing.
THW: Do OHL teams teach players how to give interviews?
DS: Generally speaking, they do.
THW: Maybe in Russian you feel you can talk with more freedom.
DS: Well, I can say that, of course, my vocabulary is bigger.
THW: Do you have an English language tutor?
DS: Yes, I do.
THW: Do you feel like the language barrier is now history?
DS: After seven months, I can say that it's pretty much like that.
THW: Did you find a girlfriend in Canada?
DS: What to say about this… I found a Russian girl. I play with her brother in the national team, but the first thing now is hockey.
THW: Do you miss your parents?
DS: I can't really say that I miss them or that I don't miss them. It's my life and I'm not a kid anymore. I understand that it's my career, and my parents understand that too.
A professional hockey writer and translator. Loves Russian culture, language, and hockey. Reachable on twitter @AlexSerenRosso