| | | | |
| --- | --- | --- | --- |
| Born: | Oct. 5, 1952 | Status: | Former Owner (Chicago Blackhawks) |
| Hometown: | Chicago, Illinois, USA | Known For: | Wirtz Corporation |
William Rockwell "Rocky" Wirtz (October 5, 1952 – July 25, 2023) was the principal owner and chairman of the NHL's Chicago Blackhawks. He was also president of the Blackhawks' parent company, the Wirtz Corporation, a diversified conglomerate headquartered in Chicago.
Wirtz oversaw Wirtz Corporation's commercial and residential real estate companies, wine and spirits distributor, formerly Wirtz Beverage Group, now Breakthru Beverage Group, an insurance company, and banks in Illinois and Florida. Wirtz was also half-owner of the Blackhawks' home arena, the United Center, along with Chicago Bulls owner Jerry Reinsdorf. He and Reinsdorf were co-chairmen of the arena's Executive Committee.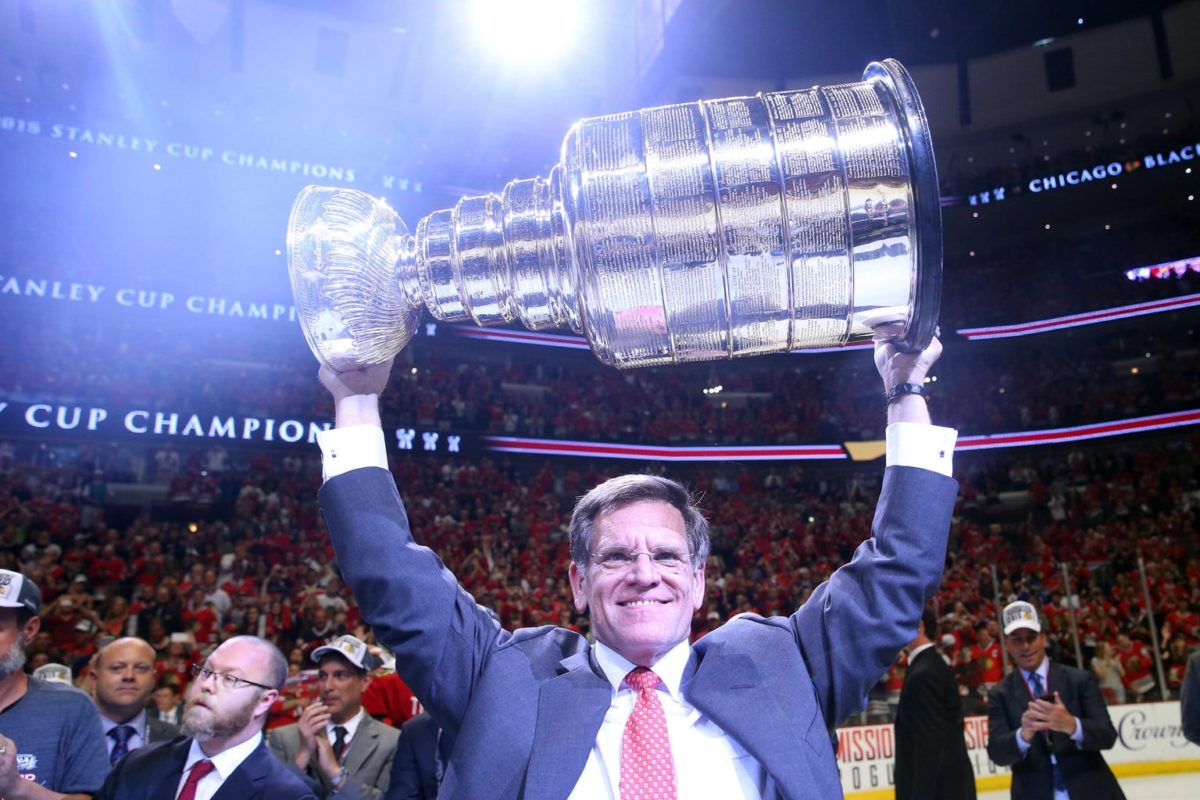 Blackhawks Under Ownership
Wirtz inherited the Blackhawks upon the death of his father, Bill Wirtz, in 2007, becoming only the fifth principal owner in the franchise's 81-year history. His grandfather, Arthur Wirtz, bought a stake in the Blackhawks in 1950, acquiring outright ownership in 1966 and selling a stake to Bill, who inherited full ownership upon Arthur's death in 1983.
Almost immediately after becoming the new owner, Wirtz altered many of his father's policies, which many fans saw as anachronistic. According to a source within the Hawks organization, Wirtz "believes in spending money to make money," in marked contrast to his father's frugal management style.
The Blackhawks did not take long to turn around under the younger Wirtz' stewardship. After missing the playoffs for six straight seasons (and seven of the last eight), the team enjoyed a resurgence in 2009. Having built the team around a core of Patrick Kane, Jonathan Toews, Duncan Keith, and Brent Seabrook, the Blackhawks recorded their first 100-point season in 16 years.
They defeated the Philadelphia Flyers in the 2010 Stanley Cup Final, the Boston Bruins in the 2013 Stanley Cup Final, and the Tampa Bay Lightning in the 2015 Stanley Cup Final.
Prior to the 2021–22 NHL season, former prospect Kyle Beach alleged he was sexually assaulted by a member of the Blackhawks' coaching staff in 2010. The Blackhawks conducted an internal investigation. Multiple executives and coaches on the team, including Stan Bowman, Joel Quenneville, and Al MacIsaac were aware of Beach's allegations in 2010, but failed to properly report the issue police. The report also states that Wirtz was not aware of the allegations at the time. The Blackhawks and Beach ultimately reached an out-of-court settlement. On February 2, 2022, Wirtz became agitated and responded harshly when asked about the incident during a town hall session with fans and reporters. He later apologized for his remarks.
Deeper Dive
Sources