Opened:
Feb. 19, 1999
Home Team:
Toronto Maple Leafs
Owner:
Maple Leaf Sports & Entertainment
Capacity:
18,800
Location:
40 Bay Street, Toronto, ON
Former Names:
Toronto Postal Delivery Building
Air Canada Centre 
(1999–2018)
Scotiabank Arena (French: Aréna Scotiabank), formerly known as Air Canada Centre (ACC), is a multi-purpose arena located on Bay Street in the South Core district of Downtown Toronto, Ontario, Canada. It is the home of the Toronto Raptors of the National Basketball Association (NBA) and the Toronto Maple Leafs of the National Hockey League (NHL).
In addition, the minor league Toronto Marlies of the American Hockey League (AHL) and the Raptors 905 of the NBA G League play occasional games at the arena. The arena was previously home to the Toronto Phantoms of the Arena Football League (AFL) and the Toronto Rock of the National Lacrosse League. Scotiabank Arena hosts other events, such as concerts, political conventions, and video game competitions.
The arena is 61,780.5 square meters (665,000 sq ft) in size. It is owned and operated by Maple Leaf Sports & Entertainment Ltd. (MLSE), which also owns the Leafs and the Raptors and their respective development teams.
The building was constructed in 1941 as the Toronto Postal Delivery Building for postal deliveries and was temporarily used by the Department of National Defence during World War II. After the war, the building was transferred to Canada Post in 1946, where it functioned as the primary postal terminal for Metropolitan Toronto until 1989 when Canada Post moved its services to the Eastern Avenue facility.
The Postal Building was sold to a consortium of developers. Still, it was reverted to Canada Post ownership in 1993 due to financial woes. Still, the new ownership of the soon-to-be Toronto Raptors basketball team acquired the building in December 1994 to construct the new arena. However, the Raptors were acquired by Maple Leaf Gardens Ltd., the owners of the Maple Leafs hockey team, in 1998 during construction that began a year before replacing their outdated Maple Leaf Gardens arena. The arena was opened on Feb. 19, 1999, at the cost of $288 million ($499 million as of 2022), with the Leafs playing the Montreal Canadiens the following night and the Raptors playing the Vancouver Grizzlies the next night.
In 2018, Scotiabank Arena was the 13th busiest arena in the world and the most active in Canada. It is also the most photographed location in Canada on Instagram, according to BuzzFeed. Scotiabank Arena is connected to Union Station's railway, subway, regional bus services, and the Path.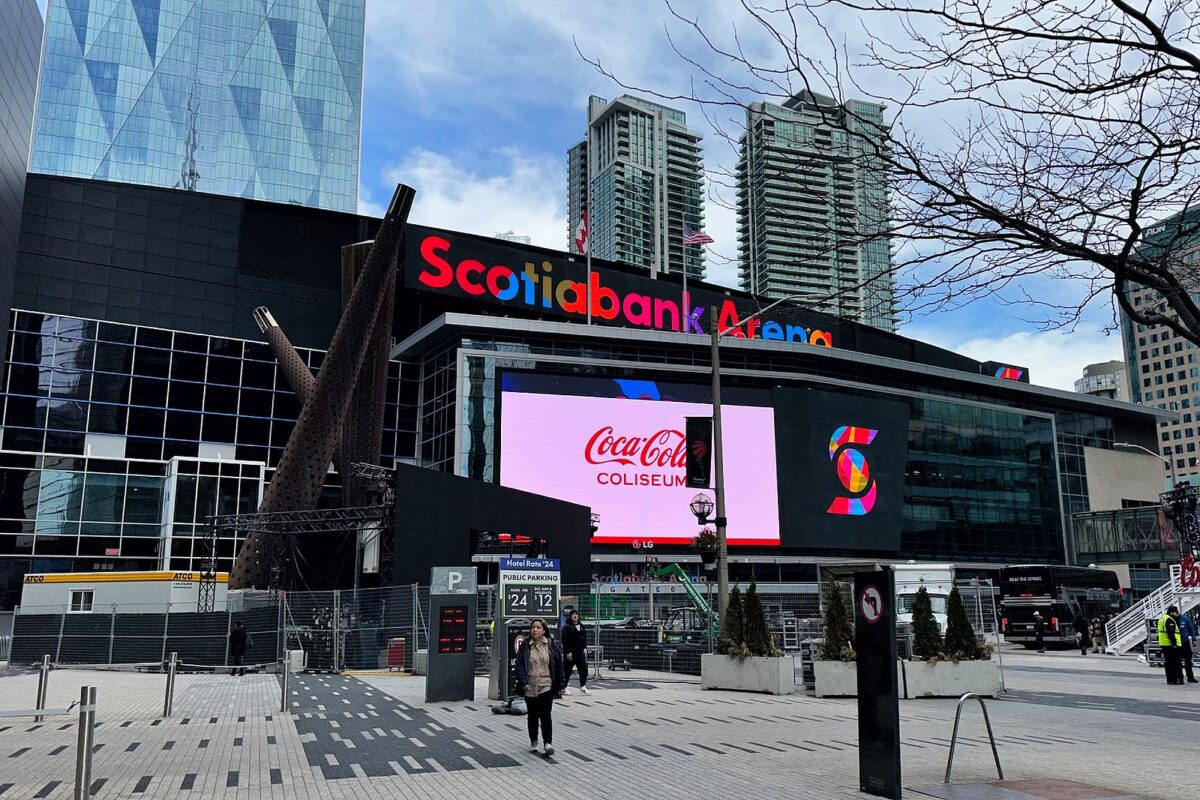 First Games
Feb. 20, 1999 – Maple Leafs vs. Montreal Canadiens (3-2 OT win)
Feb. 19, 1999 – Raptors vs. Vancouver Grizzles (102-87 win)
Notable Events
NBA Final – 2019
NBA All-Star Game – 2016
NHL All-Star Game – 2000
NHL Entry Draft – 2002
World Cup of Hockey – 2004, 2016
World Hockey Summit – 2010
World Junior Championships – 2015, 2017
World Figure Skating Championships – 2016
Stanley Cup Bubble Playoffs – 2020
UFC 140, UFC 152, UFC 165, UFC 206, UFC 231
Sources