The Hockey Writers' Dale Bochon recently mentioned that the Edmonton Oilers' offseason will be one of the most vital in the team's history. The club has two elite superstars, Connor McDavid and Leon Draisaitl, in the prime of their careers and they have a supporting cast of players like Ryan Nugent-Hopkins, Zach Hyman, and Evander Kane, that when healthy and firing on all fronts, can come together to form one of the league's best offensive juggernauts.

The Oilers were unfortunately ousted from the playoffs in the second round at the hands of this year's potential Stanley Cup winners, the Vegas Golden Knights, but the challenge now is to learn from that experience and add pieces, within their salary cap constraints, to fine-tune a true Stanley Cup contender. With that in mind, here are three predictions for the offseason ahead.
Kailer Yamamoto Gets Traded or Bought Out and Oilers Sign Connor Brown
One of the biggest topics heading into the offseason is whether the Oilers move on from forward Kailer Yamamoto and his $3.1 million cap hit. No one can ever question the 24-year-old's effort, but after another subpar playoff performance, there's a feeling that it's time to move on and replace him with another right-handed shot with more size. Given that, pending unrestricted free agent, Connor Brown, checks a lot of boxes for the team and his name has swirled in the Oilers' rumour mill as of late.
Related: 2 Oilers Forwards That Won't Return if Connor Brown is Signed
---
Latest News & Highlights
---
My prediction is that the Oilers offload Yamamoto, whether it be by trade or buyout, and as hockey insider Frank Seravalli mentioned, if the Oilers' forward is bought out, $433,334 would count against their salary cap next season, and $533,334 in 2024-25. Building on the prediction, Edmonton would then use the money they've saved from Yamamoto's salary and use it to sign Brown in the $2 million per season range.
There's a lot to like in Brown's game, although, it does come with a little bit of risk as he's coming off a right knee injury that ended his season with the Washington Capitals. He has four 35-plus point seasons with two 20-goal seasons under his belt, and he's exceptional defensively. Moreover, he's close with Hyman and he's very familiar with McDavid. The pair were teammates in junior and in the 2012-13 season, they played on a line together and Brown tallied 128 points to lead the Ontario Hockey League (OHL) in points.
There's an incentive for Brown to sign a cheaper deal with the Oilers this offseason. He's coming off an injury, so it's a gamble for any team to sign him, but why not sign with a team with a high-powered offence? He could potentially increase his value and capitalize on a more lucrative contract the following season.
Oilers Strike Out in Free Agency and Decide to Keep Cody Ceci
The Oilers got great value out of Cody Ceci during the 2021-22 campaign when he set a career-high 28 points in the regular season. He was steady into the postseason, where he made fewer mistakes on grade-A shots per game than any other Oilers' defenceman, and his rate of committing turnovers, bad pinches, and plays that led to breakaways was also the fewest on Edmonton's blue line (From "Ghostbuster! Strong Play of Edmonton Oilers D-Man Chasing Off Ghost Of Jeff Petry" Edmonton Journal, 9/22/22).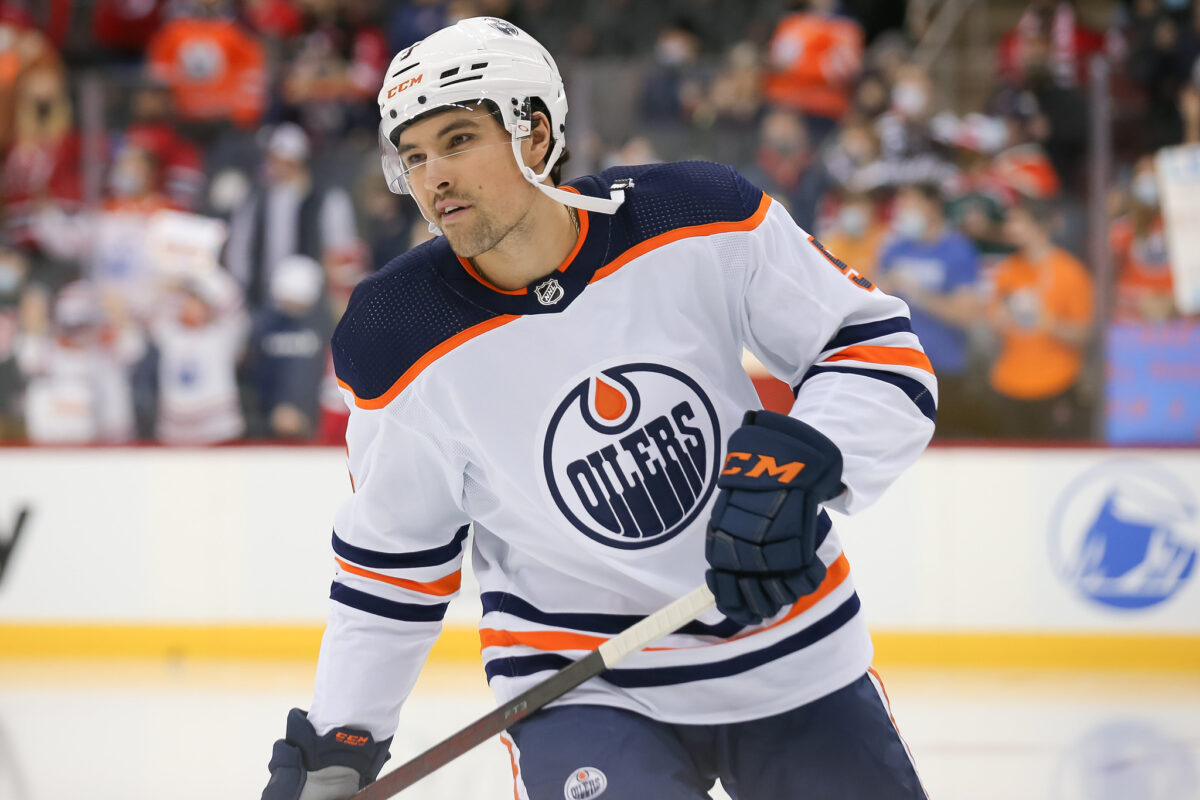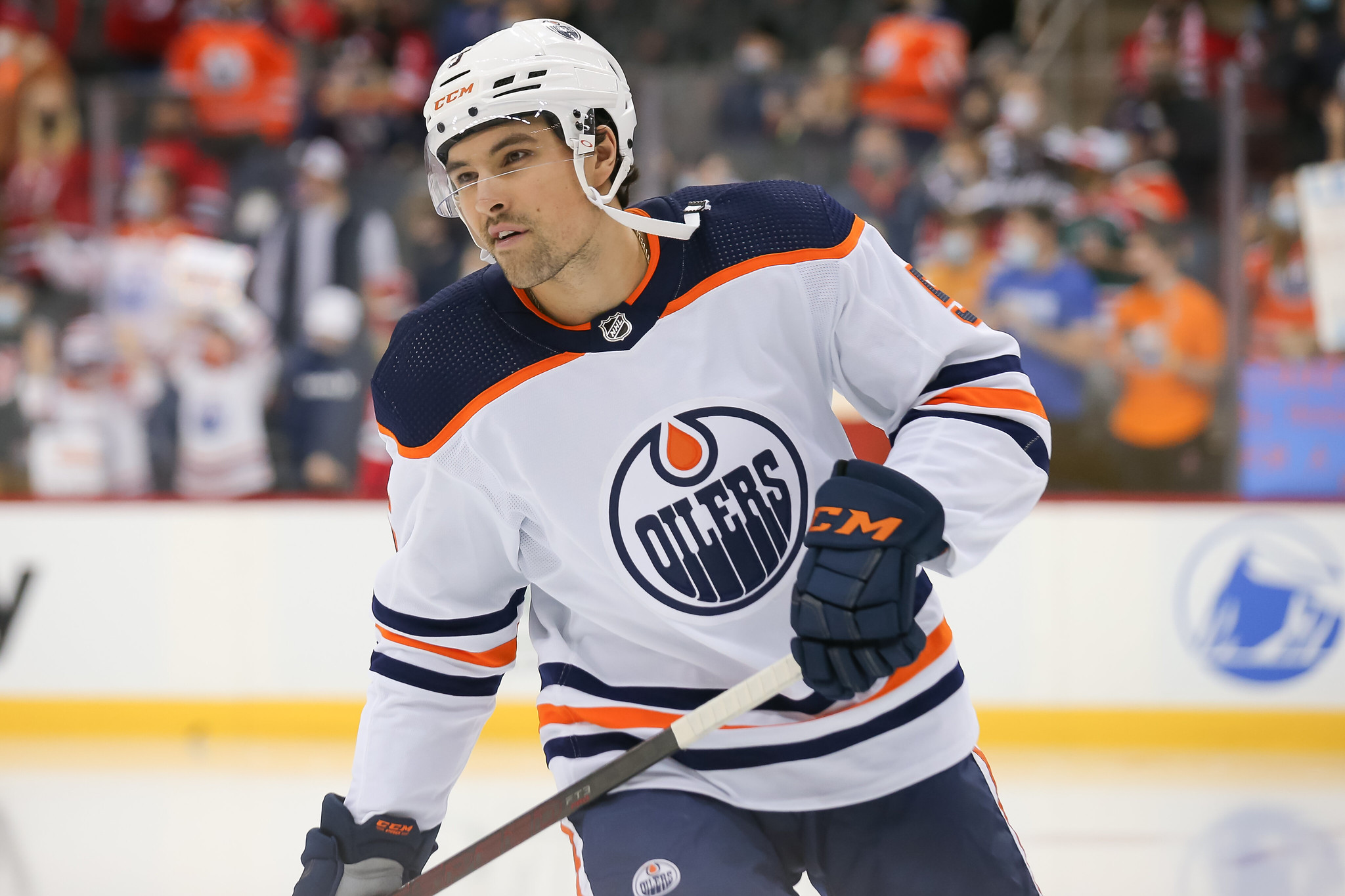 However, the right-shot blueliner struggled in 2022-23 and his troubles persisted into the playoffs. There were a few issues Edmonton had against the Golden Knights in the second round, but one area of concern was at 5-on-5 where they were outscored 18-9. Vegas forward Jack Eichel had a memorable series against Edmonton, where he tallied nine points in six games and the Oiler who played the most minutes against him was Ceci, who was on the ice for five of his line's eight goals. In addition, when Ceci and his partner Darnell Nurse were out against him, shot attempts were heavily in Vegas' favour (34-16), as well as scoring chances (17-7).
All things considered, the Oilers' top shutdown pairing struggled and since Nurse's contract is almost unmovable, Ceci's name is being tossed around in trade rumours to upgrade the right side of the blue line. However, my prediction for the offseason is that they strike out on signing a right-handed blueliner capable of playing in the top four and they decide to keep the 29-year-old Ceci.
There are notable right-handed defencemen who could be candidates to replace Ceci via free agency and one of them is Damon Severson, and Seravalli projects him to net a six-year deal worth $6.1 million per season. There's also the 6-foot-5 Scott Mayfield who recorded a career-high 24 points playing over 20 minutes a night, and projects to earn $3.75 million a season. Also, the 33-year-old Radko Gudas, who's having a stellar playoff run with the Florida Panthers, projects to command $3.3 million a season, and Matt Dumba would be priced at a $4.4 million cap hit.
These are purely projections; however, if Seravalli is in the ballpark with these figures, I can imagine general manager (GM) Ken Holland opting to stick with what he knows, Ceci, instead of what he doesn't know. According to PuckPedia, the Oilers have under $8 million in salary cap space next season with some key players like Evan Bouchard and Ryan McLeod in need of new contracts and they'll have little money to work with.
That said, Ceci, who has a $3.25 million cap hit, is noted to have struggled with a groin injury all season, with the Edmonton Journal's David Staples indicating that he was playing hurt all year (from 'You'll Probably Disagree, But the Edmonton Oilers Should Hold Onto This Able Player', Edmonton Journal, 5/22/23). If the Oilers' defenceman was truly dealing with a groin injury all season, it would've likely affected his mobility on the ice, and I wonder if the GM decides to see how his offseason recovery goes before making any rash decisions.
If the Ottawa, ON native can find his form from the 2021-22 season where he was the Oilers' most consistent blueliner, then they're getting good value out of his $3.25 million cap hit per year. If, however, he continues to struggle a couple of months into the 2023-24 campaign, then Holland should be on the lookout for an upgrade for a potential deadline deal. Yet, despite my prediction of the Oilers' deciding to keep Ceci to start next season, I do feel, even if he recovers from his injury, it's imperative they find an upgrade.  
Oilers Can't Afford Nick Bjugstad and Sign Jonathan Toews Instead
When the Oilers traded for Nick Bjugstad, at the time, I wrote that it would be viewed as an underrated move by GM Holland. The 6-foot-6 forward recorded six points in 19 regular season games, but he shone in the playoffs. He wasn't overly physical, but he used his big frame to lean on the opposition, scored three goals, and won an average of 51 percent of his faceoffs. All in all, he was a good fit for the team in a third-line center role, but because of that, the Oilers might be priced out and he'll likely command a hefty raise from his $900,000 salary.
Now, Jonathan Toews' name has been thrown around lately in the rumour mill and he also checks a lot of boxes for the Oilers if they're unable to re-sign Bjugstad. Toews was a target in the Oilers' plan earlier this year, and The Athletic's Daniel Nugent-Bowman says he will be again, but due to his health concerns and cap situation, they'll only consider a cheaper deal (From "What I'm Hearing About Oilers' Offseason Plans: Trade Candidates, Erik Karlsson Interest, More" the Athletic, 6/01/22). My prediction is that the Oilers will sign Toews to a one-year deal worth over just $1 million in the offseason.
Toews' health is a concern as he's been dealing with long-COVID and chronic immune response syndrome that forced him to miss the entire 2020-21 season. He also missed 29 games this season but still managed to put up 15 goals and win 63 percent of his faceoffs. He's only two years removed from a 60-point season, but at this stage in his career, he would be a great depth piece for the Oilers' bottom six and his leadership as a three-time Stanley Cup winner would be invaluable.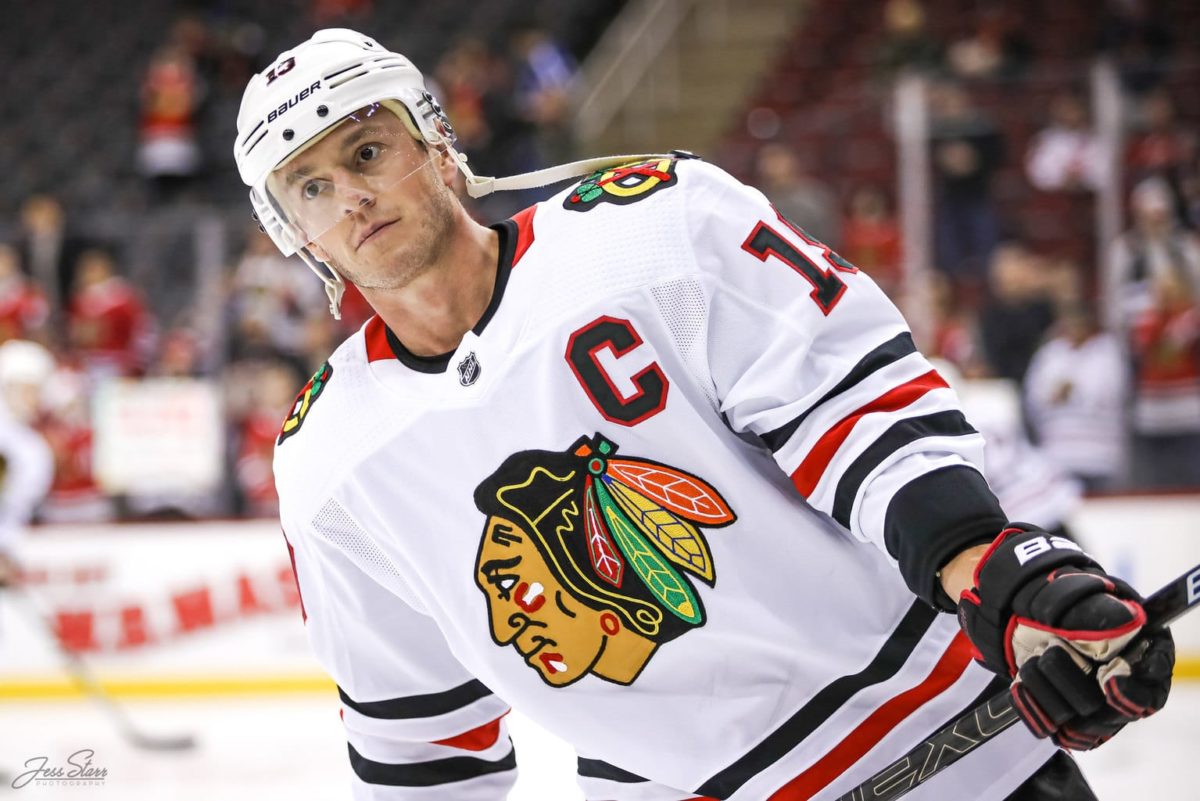 I remember in the 2013 Playoffs, Toews was just 25 years old at a time and he took three penalties in the second period in Game 4 against the Detroit Red Wings in the second round. He started to become unhinged in the penalty box and the now-retired Brent Seabrook skated over to calm down the Blackhawks' young captain. Chicago came from behind 3-1 in the series and defeated the Red Wings in seven games and went on to win the Stanley Cup that year, and I can't help but think of the wisdom the future Hall of Famer could provide for this budding Oilers team. In the opening round against the Los Angeles Kings this postseason, they were guilty of taking too many penalties and Toews' leadership could be that stabilizing voice — that was once provided to him — to calm things down on the Edmonton bench when the game is getting out of hand.
The Oilers don't have a lot of cap space to work with in the offseason so I don't foresee them making any big free-agent signings. Consequently, they'll have to make minor adjustments to position themselves as legitimate Cup contenders next season, and adding Brown and Toews could certainly do that.
What are your predictions for the Oilers' offseason? Have your say in the comments below!
---
---