With the 2023 NHL Entry Draft (June 28) and the opening of the 2023 free agent signing period (July 1) both less than a month away, the start of the NHL's annual silly season is within sight.
The Colorado Avalanche figure to be one of the biggest players this summer, with over 10 combined unrestricted (UFA) and restricted (RFA) free agents seeking new contracts for the 2023-24 season. Beyond maneuvering through that contract minefield, the Avalanche roster has several glaring holes which must be addressed if the team has any hopes of returning to Stanley Cup contention.
Although a number of injuries to key contributors wreaked havoc on the Avalanche lineup all season long, the discrepancy in production between the team's stars and depth forwards highlighted the need to bolster the forward group. Although a permanent solution at second-line center is arguably a greater priority, one of the league's top young wingers could be available at a cut-rate price this summer.
Related: Avalanche Offseason Trade Targets: Nylander, Schmaltz & More
NHL insider Elliotte Friedman reported that the Ottawa Senators were evaluating the trade market for 25-year-old sharpshooter Alex DeBrincat, whom the team acquired from the Chicago Blackhawks ahead of the 2022 Entry Draft last offseason. Unfortunately for the Avalanche, his appeal is likely to generate a bidding war, which could price the 2022 Stanley Cup champions out of the proceedings.
Still, any management group worth its salt should be ringing up the Senators for the chance to snag a premium asset. With that, let's dive into DeBrincat's current contract status, how he fits within the Avalanche's on-ice structure, and what it might take to pry him out of Ottawa.
DeBrincat's Contract Status Means Uncertain NHL Future
While the Senators would prefer to take the time to survey their options in regard to DeBrincat's future, his contract status likely expedites the process. The 5-foot-7 dynamo is scheduled to become an RFA (with arbitration rights) on July 1, with the qualifying offer (QO) sitting at $9 million for 2023-24.
Both the Senators and any prospective suitors must weigh the various factors accordingly. For DeBrincat, accepting the QO would represent sizeable compensation with the ability to hit the open market as a UFA during the 2024 offseason where he would be free to dictate his long-term future.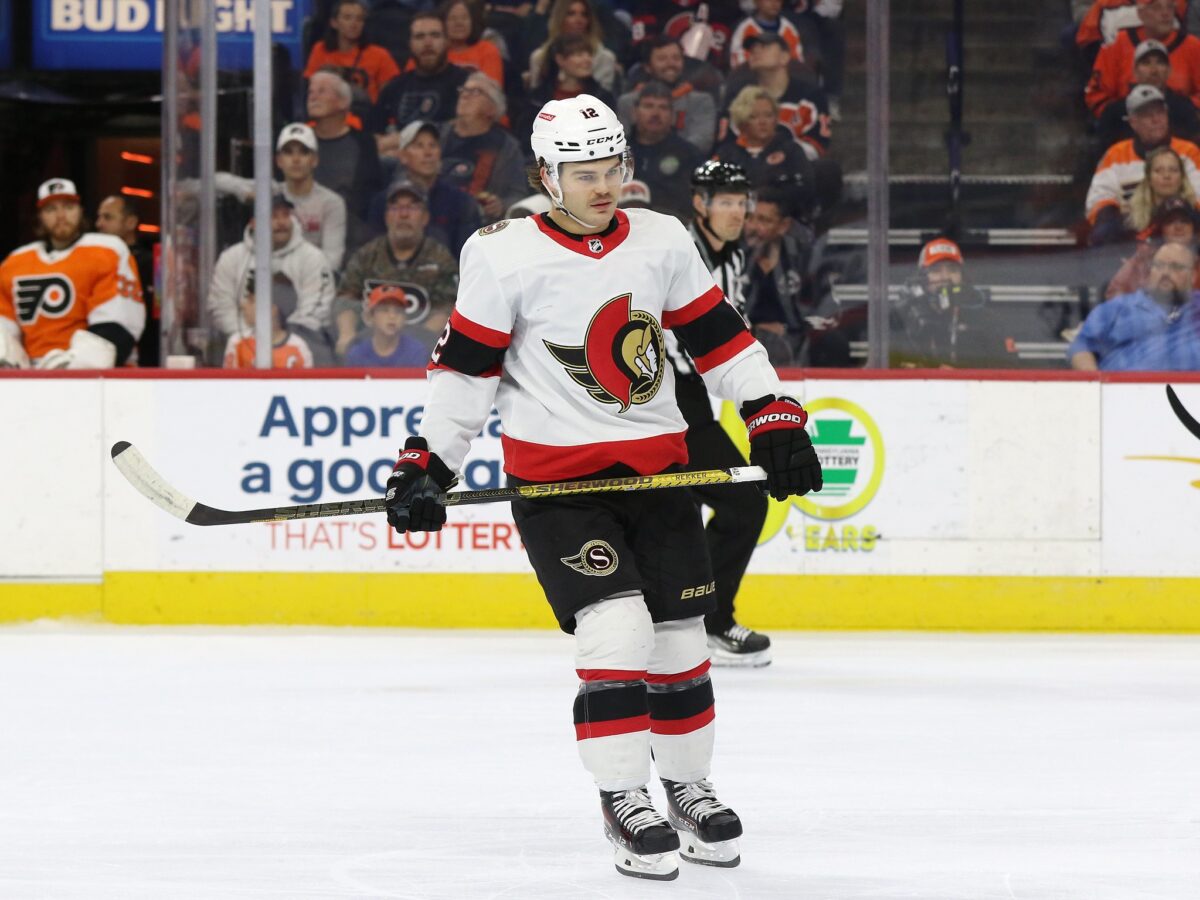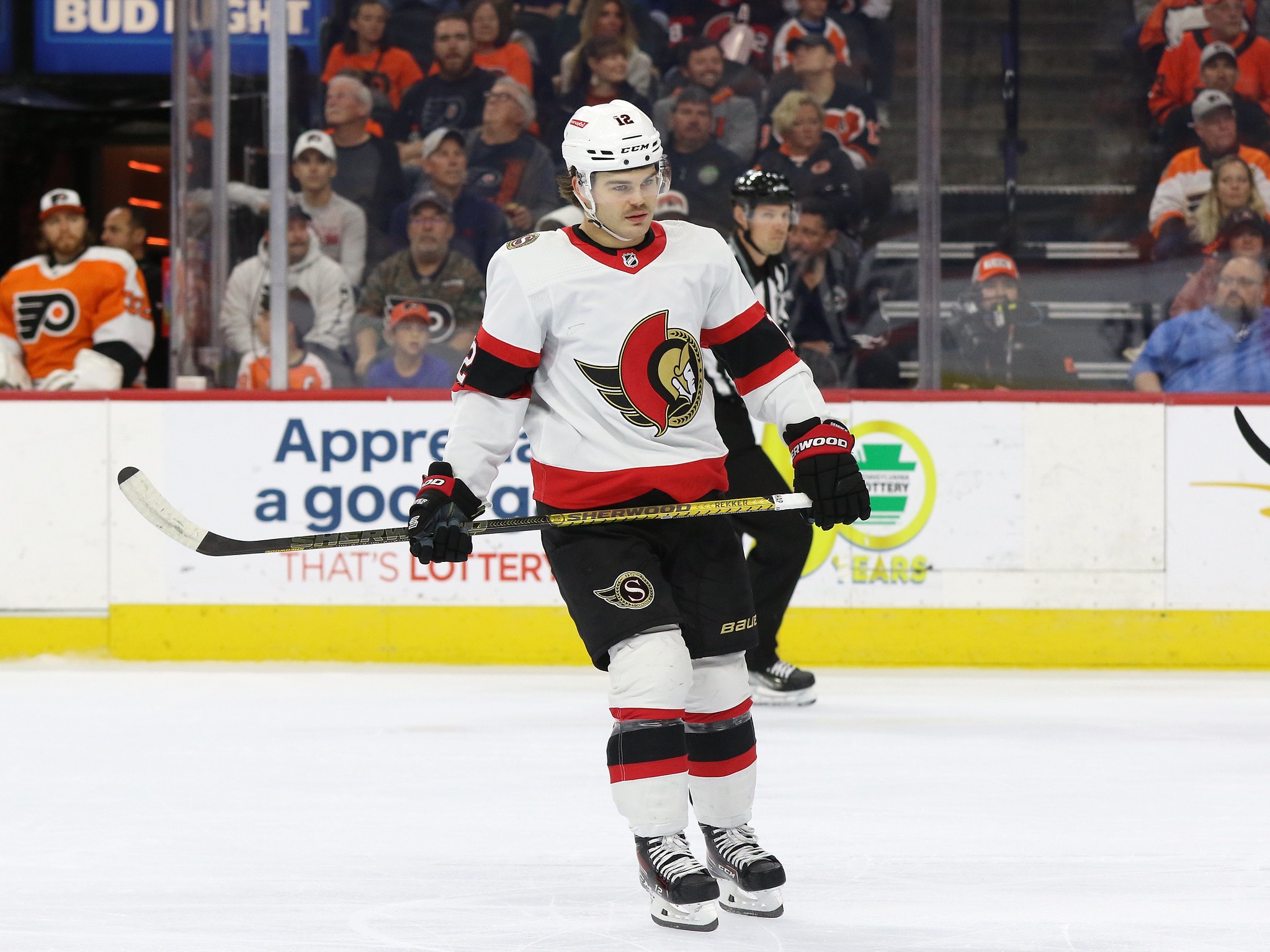 Going that route would not come without some risk. Risking injury or the potential for another disappointing season (his 27 goals in 2022-23 were his lowest since 2019-20) could threaten his UFA marketability at a time when he holds a great deal of leverage. Even so, it's hard to see teams being too scared off given that he's scored 32 goals or more in three of his six NHL seasons, all before turning 26.

Acquiring teams are likely to seek a long-term extension in the event of a trade to avoid being left empty-handed next summer, though they could replicate the Senators' decision from last offseason. Given his age and established goalscoring record, it's difficult to see DeBrincat receiving below an $8 million average annual value (AAV) on his next deal. It's a playing field fraught with potential landmines, but that's the cost of doing business in the NHL.
DeBrincat Fits Within Avalanche Gameplan
At the risk of being reductive, the Avalanche's first-round demise at the hands of the Seattle Kraken was the result of a notable divide in scoring talent across their forward group. After Mikko Rantanen (55 goals) and Nathan MacKinnon (42), the team's next-highest goalscorer was Artturi Lehkonen (21 in 64 games), a significant drop-off regardless of the team's injury woes.
The regular presence of Gabriel Landeskog (missed the entire 2022-23 season), Valeri Nichushkin (missed 29 games), and Cale Makar (missed 22 games) likely would have caused a jump in scoring across the board.
---
Latest News & Highlights
---
Still, the fact that the trend continued when the team was (relatively) healthy suggests infusing the lineup with more dynamic, game-breaking talent is a must, regardless of position. Rantanen and MacKinnon collectively scored 10 of the Avalanche's 19 goals against the Kraken, with Lehkonen (three) being the only other player to score more than once in the series.
When it comes to DeBrincat, it's easy to see the appeal. Only 13 other skaters have scored more goals (187) than he has since his rookie season (2017-18), and only 11 have scored more often over the past three seasons. He also sits within the top 16 of all skaters in both even-strength and powerplay goals over that time.
DeBrincat isn't just a one-trick pony either. According to Corey Sznajder's 2022-23 tracking data, he graded out as well above average in both individual scoring chances and scoring chance assists created per-60-minutes at 5-on-5. He has also shown the ability to initiate successful neutral zone play on his own, ranking fourth among Senators forwards this season in both zone entries per-60 and the rate at which they were completed with possession.
You May Also Like:
Those traits position DeBrincat as one of the league's top dual threats, with the ability to create offence at an above-average rate off the rush and the cycle. As he'd immediately slot into the Avalanche's top-six, he'd be surrounded by elite puck carriers who could free him up from transition duties to focus on leveraging his strengths.
As a team, the Avalanche ranked in the top third of the NHL in both rush and cycle offense, making them a versatile offensive group capable of adapting as needed. DeBrincat can fit into either structure which reduces the risk of him being stranded in attack or not collaborating effectively with the team's star forwards. If a team is ready to part with significant assets to acquire a player's services, they better be able to seamlessly adapt to the overarching strategy.
What Can the Avalanche Offer the Senators in a Trade?
There is no question that DeBrincat would thrive within Colorado's top-six in any kind of attacking configuration. The issue is whether the quantity and quality of assets required to acquire him would be better allocated elsewhere, like filling the aforementioned hole at second-line center.
Related: NHL Trade Bait List for 2023 Offseason
Due to a combination of late-round draft positioning, poor drafting, and recent trades of significance (Lehkonen, Josh Manson, etc.), the Avalanche don't necessarily possess an overwhelming amount of appetizing trade assets. The Hockey Writers' in-house rankings put the organization's prospect pool at 31st out of 32 teams, with no discernible star-in-the-making on the horizon. Most of their top prospects have professional experience via the American Hockey League (AHL), but none have set the league on fire as of yet.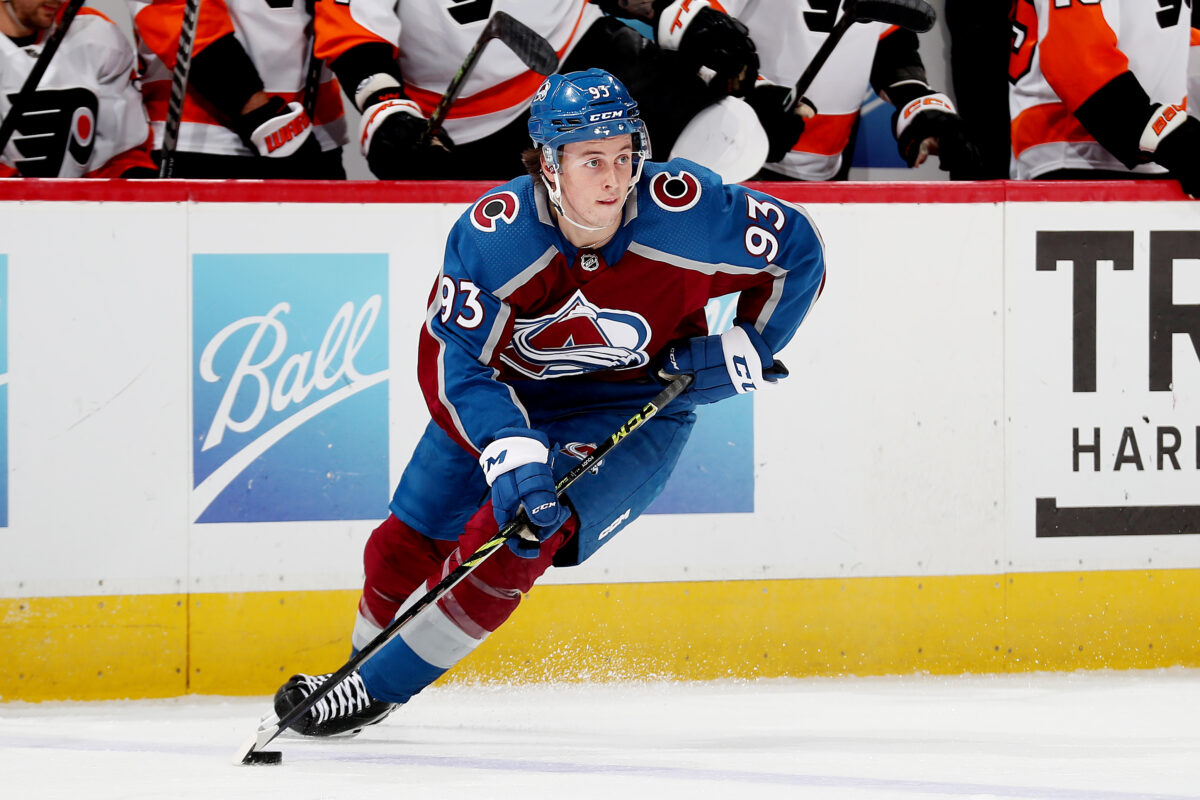 Any trade for DeBrincat would be one based on volume rather than quality as a result. Over the next three drafts, the Avalanche own their first-round picks, but only have a single third-round selection (2025) beyond that. That collection of assets doesn't resemble the most intriguing potential trade package, but DeBrincat's preferred destination and willingness to talk extension could dictate which team gains an advantage in trade talks.
DeBrincat Sweepstakes Likely to Be Heated
DeBrincat's favourable age profile and track record of offensive production would make him one of the most sought-after UFAs in a strong 2024 free-agent class if he reaches that point. Those traits make him more attractive to teams that consistently dominate the run of play but have a difficult time converting on their opportunities.
Off the top of my head, the Carolina Hurricanes and Los Angeles Kings are two organizations that fit the template of an ideal suitor for DeBrincat. Both have an attractive cache of prospects (they rank 15th and 14th respectively in THW's prospect pool rankings) to offer the rebuilding Senators, allowing them to outbid the competition.
The Avalanche may not be the favourites in any trade discussions nor would targeting a pure winger be the most prudent course of action given the needs of their roster, but that's beside the point. The league's best-run clubs have learned that you acquire elite talent by any means (at any position) first and build around them later.
It's a philosophy that the Avalanche themselves have followed and pioneered in their return to glory, and one that they shouldn't rebuke any time soon if they hope to win another Stanley Cup in the near future.
Data courtesy of the AllThreeZones, CapFriendly, and the NHL.