It's official — the Edmonton Oilers have clinched a playoff berth for the first time since 2006, in the process ending a decade of ineptitude.
It was perfect theater as the Oilers made good on an opportunity to clinch in front of the home crowd on fan appreciation night of all things. You can't make this stuff up. It's been a long, grueling decade of suffering for Oiler fans who deserve a pat on the back for sticking by their team, despite being a futile, basement-dweller. Edmonton fans became used to viewing the following draft's player rankings before the season had started.
Fans could've checked out, not shelled out their hard-earned money and waited for the tide to turn, but they sold out the old Rexall Place year after year, regardless of constantly being the last place team. That in itself should be commended.
Now with a playoff game on the horizon for the first time since June 19, 2006 — Oiler fans can breathe a sigh of relief knowing the decade of suffering is finally over.
---
Remembering a Decade of Failure
I think it's safe to say that half the general managers in the National Hockey League would trade their roster for our roster right now.

– Kevin Lowe, April 13, 2013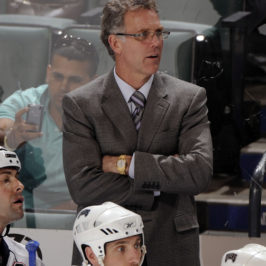 If you're looking for a quote that sums up all the suffering Oiler fans have been through over the last decade and how absent-minded the front office was during this time, that's the one.
Near the height of fan frustration, Kevin Lowe (then the team's president of hockey operations), tried to defend management's decision-making process after the seventh year of missing the playoffs.
The entire press conference didn't go as planned, and now it lives in infamy for how not to answer questions in front of a frustrated media and fan base. It's just the tip of the iceberg though. Edmonton went through four general managers and seven coaches since they last qualified for the post-season. This is a team that fired a coach over Skype, by a guy who was fired as coach four years prior, only to return to the organization as the general manager.
---
Inept, Ludicrous, Laughingstock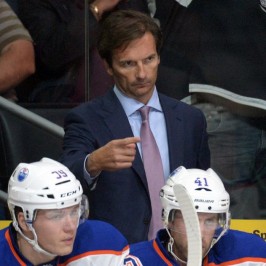 The Dustin Penner offer sheet was ludicrous, and the team almost sold the farm for a soon-to-be-declining Dany Heatley.
Edmonton even took a chance at Ilya Bryzgalov as a starter, signed Nikita Nikitin to an inflated two-year $9 million deal and even botched the Ryan Smyth trade in 2007.
Management once thought J-F Jacques could play on the first line at one point.
Not even three consecutive first overall picks from 2010-2012 could salvage the train wreck Edmonton had become. Fan frustration mounted as they began throwing jerseys on the ice and booing the home team after some notable effortless performances.
[irp]
OILERS HEAD COACHES 2007-PRESENT

SEASONS
GC
W
L
OT
W%
Craig MacTavish*
2000-09
246
111
113
22
0.496
Pat Quinn
2009-10
82
27
47
8
0.378
Tom Renney
2010-12
164
57
85
22
0.415
Ralph Krueger
2012-13
48
19
22
7
0.469
Dallas Eakins
2013-15
113
36
63
14
0.381
Todd Nelson
2014-15
51
17
25
9
0.420
Todd McLellan
2015-17
158
73
68
17
0.516
* MacTavish's statistics only reflect his record starting from 2006-07 and onwards.
The Oilers futility became so prevalent after having four first overall picks in six years that the NHL was rumored to be looking at an "Oiler" rule. The rule would prevent future teams from having consecutive first overall picks. Edmonton's part of the reason the NHL Draft has been restructured, so teams aren't guaranteed a lottery pick for finishing 30th overall anymore.
---
A Lesson in Humility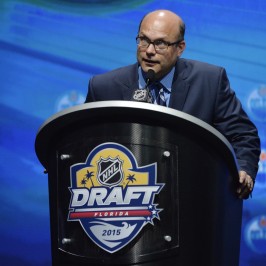 Sometimes the hardest thing is admitting there are smarter people out there than yourselves, and that's precisely the hard lesson "The Old Boys Club" (as fans referred to them) learned.
The continuous hiring and promotion of former Oilers alumni had to stop, and the team had to scour the hockey world for some other minds to right the ship. The Oilers would luck into a perfect storm with Bob Nicholson, Peter Chiarelli and Todd McLellan becoming available within a few seasons of each other.
[irp]
OILERS GM HISTORY SINCE 2007

SEASONS
GAMES
W
L
OT
W%
Kevin Lowe*
2000-08
164
73
78
13
0.485
Steve Tambellini
2008-2013
376
141
189
46
0.436
Craig MacTavish
2013-15
164
53
88
23
0.393
Peter Chiarelli
2015-17
158
73
68
17
0.516
*Lowe's statistics only reflect his record starting from 2006-07 and onwards.
When Chiarelli stepped to the podium at the 2015 NHL Draft, it gave the Oilers a chance to hit the reset button once again, but this time with a new vision. Chiarelli would draft Connor McDavid and acquire Cam Talbot within the draft weekend and the following summer would make hard choices, like dealing Taylor Hall for a top-four blueliner in Adam Larsson, and parting with Nail Yakupov.
The acquisitions of Milan Lucic, Patrick Maroon and even Kris Russell are all shrewd deals by Chiarelli and have paid dividends for Edmonton. These are all trades and decisions the previous regimes were unwilling to make, and that complacency cost the Oilers dearly. Edmonton's previous inability to draft successfully outside the first round also was a key factor in their failure to climb out of the NHL basement.
Now in Chiarelli's second year at the helm, the Oilers are finally a playoff team.
---
Where Do We Go Now?
Today the Oilers are a much more balanced hockey club and when it comes to the playoffs anything can happen. Edmonton could quite possibly be a dark horse contender as anything is possible with a hot goaltender and a generational talent like McDavid.
Gone are the days where the Oilers are a one-dimensional, small hockey club. They've morphed into a bigger, more diverse team that can beat you in more ways than one.
Making the playoffs is just one part of what could be a banner year for the Oilers with McDavid, Talbot, McLellan, Chiarelli and even Maroon all potentially bringing home some hardware. McDavid could be Edmonton's first Hart Trophy and Ted Lindsay Award winner since 1990 and the first Art Ross Trophy winner since 1987.
Talbot could be Edmonton's first Vezina winner since 1988, and is on pace to surpass Grant Fuhr's single-season record for most wins by an Oilers goaltender. McLellan could be Edmonton's first Jack Adams Award winner since 1986, and Chiarelli could be the franchise's first ever GM of the Year award winner.
With six games to go the Oilers could also break the 100-point plateau for the first time since 1987 as well. In fact, if they get just three more points, they'll have the franchise's highest point total in nearly 30 years. When it comes to the playoffs, Edmonton matches up very well with the three other teams in it's division that will likely qualify. The Oilers are 1-1-1 against the San Jose Sharks, 2-2-0 against the Anaheim Ducks and 4-0-0 against the Calgary Flames. That's a combined regular season record of 7-3-1.
When it's all set and done, this could be the biggest year in the last 30 years of the franchise. In the process, Edmonton can no longer be the butt of all jokes related to hockey. Don't count these Oilers out, they're the real deal now.
Edmonton Oilers regular contributor providing insight on all things Oilers including club history, prospect profiles, trade breakdowns, and everything else in between. Check back regularly for new and exciting content. Follow on Twitter @SanderTHW.