No, those were not Edmonton Oilers highlights from last season. You're forgiven if you mistook goaltender Mikko Koskinen's performance against the Calgary Flames on Monday night for video clips of the Oilers' 2017-18 No. 1 goalie Cam Talbot.
The Oilers gave up a goal on the first shot of the game 14 times in 2017-18, a ludicrous statistic. Team defense – or lack thereof – can shoulder some of the blame for bleeding first-shot goals, but it's generally on the goaltender to bear it and Talbot is still wearing it heading into this year.
Though many expect a bounce-back season from Talbot, Oilers general manager Peter Chiarelli is looking to Koskinen to step up if his starter struggles or, at least, to give Talbot the occasional night off if things go well for the former New York Ranger.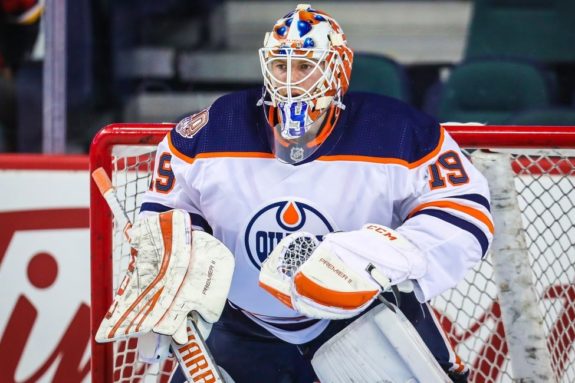 The fact that the 6-foot-7 Koskinen has an unproven NHL record and was lured from St. Petersburg of the Kontinental Hockey League (KHL) at the steep price of $2.5 million to serve as a backup this season put a target on his back.
Bad First Impression From Koskinen
It was important for the Finnish netminder to make a good first impression. So, when Koskinen took to the ice at the Scotiabank Saddledome for his first NHL action since 2010-11 and promptly allowed a goal on the first shot he faced less than a minute into the game, it left many unimpressed.
When he returned for the second period and again yielded a goal on the first shot of the period, you could almost hear the sound of thousands of simultaneous facepalms.
Despite the poor performance by the Islanders' 2009 second-round draft pick – three goals against on 19 shots over two periods of work – the preseason affair was an entertaining one. The Oilers won 7-4 thanks to a solid effort from their top line of Kailer Yamamoto, Ryan McLeod and Tyler Benson.
Koskinen did his best to put the shaky start behind him after the game but the glass-half-empty crowd was focused on how much confidence they should put in their newly-acquired netminder. But the Oilers shouldn't worry about Koskinen … yet. And here are three reasons why:
1. It Was a Preseason Game
Not only was this a preseason game, but it was Edmonton's first preseason game, and barely that. With much of the Flames' regular starting lineup in China for exhibition matchups against the Boston Bruins, the NHL waived rules that typically require each team to have at least eight veteran players in the game. Monday's game was basically an extension of the Battle of Alberta rookie matchups that recently took place in Calgary and Red Deer and most of the players on the ice will head to the American Hockey League (AHL) before training camp wraps up.
For Koskinen, it must be reassuring to know that the team that will play in front of him during the regular season will look nothing like the one in front of him during his preseason opener. Familiarity with some defenders may help but he's unlikely to spend much time with most members of the defense corps who suited up Monday night.
And while his teammates can't close his five-hole or make blocker saves for him, growing familiar with his new team by the end of the preseason will matter more than it does at the start of training camp.
2. NHL Ice vs. International Ice
Familiarity also matters when it comes to the size of the rinks Koskinen is now playing in. Coming over from the KHL – where he posted a 1.57 goals-against average and a .937 save percentage last year in 29 games – the 30-year-old must get used to the NHL's smaller ice surface that measures four metres less in width than what he is used to overseas.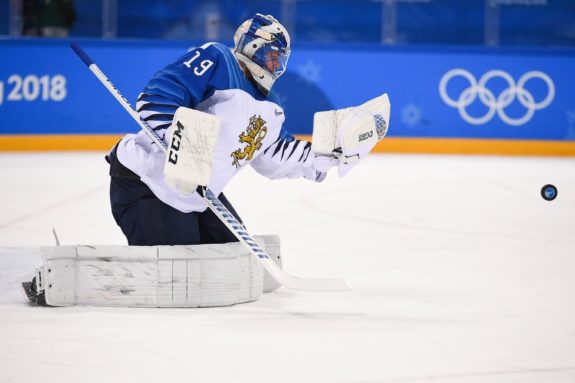 The smaller surface means more bodies will be crammed in front of him at times and pucks will ring around the boards faster. Those shots from the half-wall will also come at him a lot quicker than they did before.
3. It's Just One Game
This is not to make an excuse for Koskinen. He played poorly. Very poorly. He acknowledged as much after the game. But it is just one game and every goalie runs into a stinker from time to time.
"It's a long season with many games. You're going to let in bad goals and you're going to make great saves, you can't think about them, you have to move on," he told reporters during his post-game interview. "And you can't rely on one game."
Edmonton head coach Todd McLellan meanwhile, compared preseason goaltending to pitching during spring training.
"We all know that goaltending is like pitching, it comes around a little bit later in training camp," said McLellan. "He's adapting … he'll get better as time goes on."
Oilers nation hopes McLellan is right because no one in Edmonton wants a repeat of last season.
Ian Wilson is a life-long hockey fan who was initially drawn to the sport by the Edmonton Oiler dynasty of the 1980s. He brings decades of journalism to the table as a former editor and reporter with the Calgary Sun.