It's been an eventful few weeks for the Edmonton Oilers and this last week the team once again found themselves caught in NHL headlines. This week the Oilers introduced a new mascot that will honor some of the team's roots in the Edmonton-area. They've also been caught up in the Jacob Trouba sweepstakes after the 22-year-old Winnipeg Jets defenseman made his trade request public. Training camp is underway, and the Oilers have already started re-assigning players. Oilers head coach Todd McLellan is already trying out several line combinations which will resemble what the team will roll out on opening night.
Without further adieu here are your Oiler headlines, and some musings, to catch up with from the weekend that was.
---
Hunter the Lynx
Nearly every team in the NHL has a mascot, and the Oilers unveiled theirs on Monday; Hunter the Lynx. The backstory is supposed to honor the Oilers original owner "Wild" Bill Hunter who helped bring the franchise to Edmonton in 1972. Hunter will honorably wear the number 72 as part of his ensemble.
Why a lynx, though? Apparently, research done by the Edmonton Valley Zoo suggested that there are more lynx in Alberta than anywhere else in Canada, mainly residing in Edmonton's River Valley. Hunter will be naturally aimed towards the younger generation of Oiler fans, and they surveyed more than 2,200 Kindergarten to Grade Nine students. Lynx was the most popular choice among this focus group.
Related: Pass or Fail – Oilers New Nightmare Cat
Related: Oilers Unveil New Mascot
When Hunter the Lynx was officially unveiled, however, the rest of Oilers nation let out a collective groan. To be frank, the mascot looks like a kitten just dropped off at the shelter and better resembles "Smelly Cat" from Friends than the Oilers franchise.
At the end of the day, the mascot is a marketing tool used for community events and child engagement activities. It's assumed that dressing up a human being as an Oil Derrick was too cumbersome and probably didn't fit through most doorways. Oilersnation.com even suggested that the new Lynx mascot at the very least might remind Oiler fans to lock their doors at night. Greg Wyshynski of Yahoo Sports might've summed up the situation best when he called it a Nightmare Cat:
When an NHL team introduces a new mascot, it's truly a glorious occasion. While many go on to become beloved facets of the franchise – giving out free hugs at the arena and helping to sell thousands of plush effigies to young fans – others end up on the ever-growing pile of bad ideas this League has produced.

– Greg Wyshynski, Yahoo Sports
---
Jacob Trouba Rumors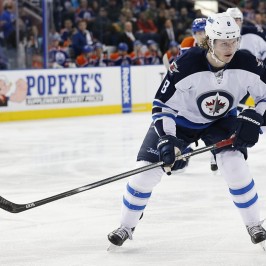 Trouba and his agent Kurt Overhardt publically requested a trade over the weekend, and he was subsequently hypothetically traded to the Oilers a several hundred times over on social media. That said, the 22-year-old Jets defenseman would be a solid addition to the Oilers top-four defense. Trouba is looking for a right side defense spot and the Oilers just so happen to be quite scarce regarding RD.
The Jets are rumored to be seeking a left side defenseman to bolster their group. Winnipeg GM Kevin Cheveldayoff knows his team is deep on RD with Dustin Byfuglien and Tyler Myers entrenched in their top-four. On LD the Jets have Tobias Enstrom and Mark Stuart, both of whom are starting to slow down.
Related: Trouba Trade? What Oilers Fans Need To Know
Related: Potential Landing Spots for Trouba
Whatever the offer is, should Oilers GM Peter Chiarelli enter talks with Cheveldayoff, the price will be steep. Chiarelli has already come under criticism for the Adam Larsson and Griffin Reinhart trades in the Edmonton market, but as he said; it was the cost of doing business in regards to the Larsson for Taylor Hall deal. Edmonton has $8.9 million in cap space right now and could sign the restricted free agent (RFA) Trouba, but they'll have several players up for renewal next summer namely; Leon Draisaitl and Nail Yakupov. Connor McDavid is also going to be entering his final year of his entry-level contract (ELC) next summer so the Oilers will want to make space for his extension as well.
Without significant salary going the other way, this deal might not work. The other option is the Oilers moving their 2017 first-round pick, but by moving that pick the team won't have a selection until the early or middle 2017 third round pick. The club lost their 2017 second round pick to the Boston Bruins as compensation for signing Chiarelli.
Arizona, Boston, Colorado, New Jersey, Ottawa, and Toronto are all also rumored as teams that would have a need for Trouba's services.
---
Camp Notes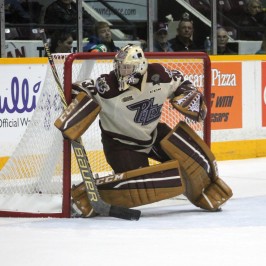 The Oilers trimmed their training camp roster down to 58 players after re-assigning Dylan Wells to the OHL Peterborough Petes and releasing Keven Bouchard. Wells, 18, was the Oilers 123rd overall selection in the 2016 NHL Draft, and his re-assignment doesn't come as much of a surprise. The Ontario-native posted a 4.59 GAA and 0.871 SV% in 27 OHL games last season. Wells did play two games for Canada at the U18 Ivan Hlinka tournament and projects as the OHL Petes starter this year after Matt Mancina was moved to the Mississauga Steelheads.
Bouchard, 20, was the Oilers 183rd selection in 2014 and didn't show to be much more than a QMJHL backup for several franchises. He'll return to the Moncton Wildcats this season and will look to showcase himself for an NHL contract. The Oilers never offered him an entry-level contract (ELC).
Related: Oilers Trim Camp Roster to 58
Related: Descheneau Making Up For Lost Time
Another camp hopeful is forward Jaedon Descheneau who had missed all but two WHL games last year thanks to a shoulder injury. Descheneau, 21, was a 124th overall pick in 2014 by the St. Louis Blues but is an undersized skill forward at a generous 5 foot 9 and 185 pounds. Through his last three full seasons in the WHL between 2012-2015, he put up 257 points in 209 games. With a nose for the net, Descheneau has been this year's camp version of Braden Christoffer who earned himself an ELC with the Oilers last year. Descheneau has already been signed to an AHL contract with the Bakersfield Condors. Everyone loves a comeback story, and Descheneau has shown well so far in camp.
That said, there is one Oiler prospect looking to erase an abysmal 2015-16; Anton Slepyshev. The 22-year-old Russian forward came from the KHL to the Oilers opening night top line playing with Connor McDavid. From there Slepyshev saw his ice time dwindle, and after 11 NHL games was re-assigned to the AHL Bakersfield Condors. Slepyshev's struggles continued until an injury took him out of the Condors lineup. Once healthy, Slepyshev came back to finish the year scoring 16 points in 29 games, thus reasserting himself in the Condors top six. Slepyshev likely won't crack the Oilers opening night roster last year, but a bounceback year will help him keep pace with several emerging Oiler prospects like Jujhar Khaira and Drake Caggiula.
Related: Oilers Slepyshev Looking For Bounceback Year
Related: Yakupov Could Start Year In Press Box
On defense Oilers head coach Todd McLellan is going forward with the highly anticipated Oscar Klefbom, Adam Larsson pairing. The two Swedes are projected to be the Oilers top defense pairing this season. Both will play together in the first few sets of pre-season games with hopes that they'll develop some chemistry. If the two pan out it'll give the Oilers a genuinely competitive top four, something they haven't had in years. The two have excellent puck-moving skills but have yet to break through offensively.
Klefbom missed much of last season with multiple injuries, and Larsson was paired with New Jersey Devils defenseman Andy Greene which was more of a shutdown pair. Still many expect Larsson to breakthrough offensively with the Oilers and quarterback one of the two powerplay units.
As per Bob Stauffer, the Oilers and McLellan will try several matchups through training camp. Of note, Darnell Nurse is playing with Brandon Davidson who could be the Oilers third-pairing this season. The Oilers will also go with other potential long term lineups like Matt Hendricks, Mark Letestu and Zack Kassian on a line and a possible third unit with Patrick Maroon, Anton Lander, and Nail Yakupov. It's expected the competition for the third-line RW position is between Yakupov and Kris Versteeg. If Versteeg impresses he could force Yakupov out of the Oilers lineup on opening night.