In September, the San Jose Sharks paid a large price to acquire the league's premier defenseman, Erik Karlsson. He has had, in the words of Sharks coach Peter DeBoer, "ups and downs" so far this season.
What is the issue here? Karlsson has been a fancy stats darling, but a plus-minus disaster — currently a team-worst minus-10 and third worst in the entire league. How does this happen? We'll take a closer look here.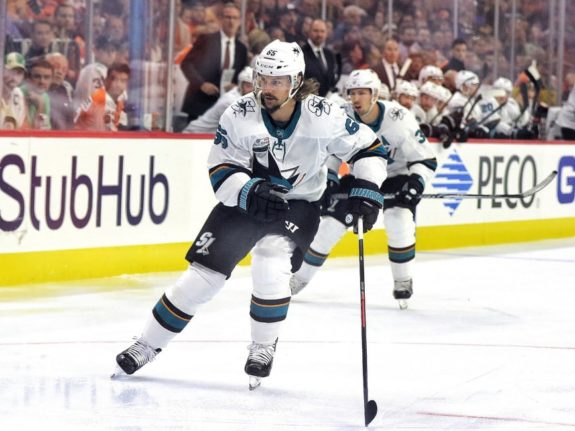 Karlsson's Past
With the Ottawa Senators, Karlsson needed to carry his team. The risk/reward equation required him to be the most aggressive player on the team, one of the few Senators capable of creating scoring opportunities. With Ottawa, this approach made sense and Karlsson was 'wired' to think this way.
Related – Karlsson Trade: What It Means for Both Teams
But Karlsson has changed teams and the dynamics are different. If a team has only a 40 percent chance of winning, a 50/50 situation represents upside, an opportunity to be aggressive. On a team with a 60 percent chance of winning, though, a 50/50 situation is downside, and time to be conservative. The Sharks don't need Karlsson to be as aggressive as he's been. They need him to play with the percentages. A good gamble with Ottawa can be a bad gamble with San Jose. It's different with his new team than with his old team and Karlsson needs to adjust his game.
Karlsson's Present
What does this mean in practice? I'll look at two goals against the Sharks where Karlsson looks for the aggressive play but the result is a goal for the opponent.
The first goal against, by Tyler Toffoli of the Los Angeles Kings, shows Karlsson (65 in white) heading up ice before the Sharks have clear possession. Karlsson is being aggressive when he doesn't need to be aggressive, especially since there is no odd-man rush opportunity for the Sharks. When the puck takes a Kings' bounce, the Kings get a high-quality quick-strike scoring chance. Because he was moving up the ice, Karlsson is unable to recover quickly enough to prevent it.

When Karlsson headed up the ice, he wasn't likely to create a high-quality scoring chance for the Sharks. But when the Sharks lose possession, the Kings got a high-quality scoring chance, and buried it. With his former team, maybe this risk/reward was the right choice. With his current team, it isn't.
On the second goal against, by Columbus Blue Jackets captain Nick Foligno, Karlsson chooses the aggressive play and the result is a breakaway goal. The play begins when a pass from Karlsson to his defensive partner, Marc-Edouard Vlasic, goes awry. It's not good, but the risk is low. Karlsson however, plays this aggressively.
Instead of skating directly toward the defensive zone and cutting off any risk of a breakaway (or odd man rush), Karlsson takes a fateful stride moving parallel to the blue line. Perhaps he's attempting to intercept the Blue Jackets' pass to Foligno (Karlsson appears on the left side of the screen at the 7 second mark). But that stride is all the space Foligno needs to get behind Karlsson. Karlsson's a great skater and this allows him to harass Foligno from behind, making it tougher for Foligno. But ultimately it isn't enough, as the goal puts the Blue Jackets up 3-1 and effectively ends the game.
For the Sharks to get where they need to go, Karlsson needs to adjust his game to his new reality. Dominating possession only gets you so far if the pucks are turned over and the results are very high quality scoring chances for the opponent. One can't have great fancy stats and a poor plus-minus if too many of the scoring chances allowed are of the true 'grade A' variety.
Karlsson's Future
There are many ways to create scoring chances in today's NHL; and fancy stats look at chances. But actual scoring is more weighted to short possessions with quick strikes. More and more, goals happen before a defense can get set up. Odd man rushes and defensive zone turnovers are among the primary ways goal occur. Only one of the four Blue Jackets' goals came off a set offense, two came off rushes up the ice and one came on an empty net goal off a turnover.
Related: Side Effects of the Karlsson Trade
The Sharks create plenty of scoring chances and have a potent power play. The team is in the top ten in both 'shots on goal taken' and 'shots on goal allowed'. The goals will come, they need to make sure they don't give up easy scores to opponents. A low-risk style suits this Sharks team, Karlsson included.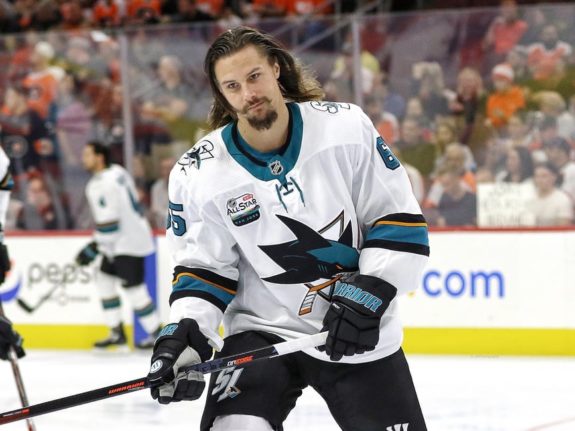 Karlsson needs to figure out he'll win more by avoiding some of the riskier chances he takes. Instead, he needs to make the percentage plays associated with a good team. When Karlsson figures out how to balance risks and rewards for his new team, the Sharks will be a better and Karlsson will be much more effective. This sooner this re-wiring process happens, the better for everyone in teal.
Zeke's Notes
• The Sharks penalty kill is near the top of the league at 87.0 percent, currently fifth best. But in reality, it's even better. The Sharks have scored four goals short-handed, while giving up only six. The overall minus-2 rating is good for third best in the league, behind only the Tampa Bay Lightning (minus-1) and the Arizona Coyotes. The Coyotes are a remarkable plus-3 on the penalty kill, allowing only three goals against while scoring six(!) short-handed goals in 11 games. Where the Sharks could use some improvement is in staying out of the penalty box. They've been short-handed 46 times so far this season; only six teams have been short-handed more than the Sharks. Last season, they were fourth best in the league in 'times short-handed'.
• 13 games into the season, the Sharks have used just 20 skaters, with 17 skaters playing all 13 games. Centers Joe Thornton (4 games), Rourke Chartier (8 games) and Dylan Gambrell (1 game) have combined for the other 13 games played.