Each Monday, we'll take a look at the past week in fantasy hockey. Specifically, we'll dive into which players are heating up, which players are cooling down, players to target on the waiver wire, and an update on fantasy-relevant injuries. From week to week, a lot can change in a player's fantasy outlook due to line combinations, injuries, or just a simple tweak in their game and we will have you covered.
Trending Up
Henrik Zetterberg – DET (LW/C)
Although he may have had his owners a little worried a couple weeks ago, Henrik Zetterberg has found his way back on track in a big way.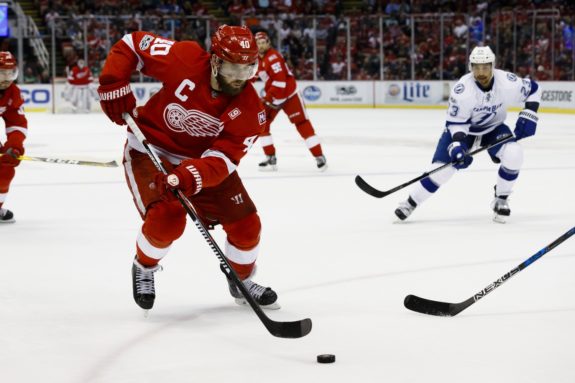 After tallying just a single assist in six games, he's bounced back with seven points (one goals, six assists) in his last five games. Zetterberg now sits with a solid 39 points (7 goals, 32 assists) in 54 games this season, and remains one of the focal points of the Detroit Red Wings offense. With his output so far this season, it's safe to say any slump he encounters will be short lived.
Yanni Gourde – TBL (C/LW)
In an NHL rookie scoring race highlighted by Mathew Barzal and Brock Boeser, Yanni Gourde has quietly emerged as the third highest scoring rookie this season. His run over the past few weeks has garnered plenty of fantasy hockey attention, as he's now had points in eight of his last nine games, good for a total of 11 points (six goals, five assists) in the run. Gourde is now up to 41 points (20 goals, 21 assists) in 55 games this season, and has seen a 15 per cent jump in ownership over the past week, thanks to this recent run. He's shaping up to be the real deal, especially in dynasty and keeper leagues.
Cam Fowler – ANA (D)
It's been a nice past couple weeks for Cam Fowler, and the fantasy hockey world sure noticed. The veteran has tallied nine points (one goal, eight assists) in as many games, leading to a seven per cent increase in ownership over the past week. He logs well over 20 minutes per game, as well as quarterbacks the top power play unit for the Anaheim Ducks. Fowler is now up to a respectable 25 points (seven goals, 18 assists) in 45 games, and is showing no signs of slowing down.
Related: Fantasy Fix: Atkinson Back to Form, Saad Looking Lost
Trending Down
Zach Werenski – CBJ (D)
Heading into this season, expectations were high for Zach Werenski. But it's safe to say he's suffering from the dreaded sophomore slump, especially over the last couple weeks. The youngster has tallied just a single assist over his last ten games, and sits with just 22 points (11 goals, 11 assists) in 51 games, well behind his pace from last season.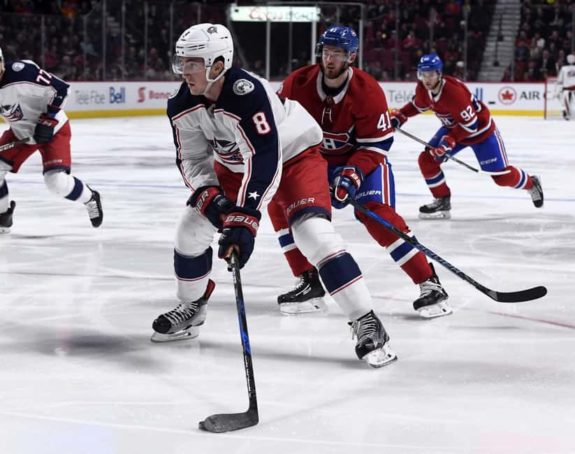 Many of his points last season came on the power play when the Columbus Blue Jackets had one of the best man advantages in the league. It's quite the opposite this season, however, as they now sit dead last in the NHL for power play efficiency, while also struggling to score five-on-five as well. Don't expect a big turnaround from Werenski down the stretch. It's just not in the cards this year.
Milan Lucic – EDM (LW)
Although he's on pace to finish with a similar point total to last season, it's been a rough go of late for Milan Lucic and his fantasy owners. The veteran has gone seven straight games without recording a point, paired with an abysmal minus – 8 rating. Not exactly optimal fantasy hockey numbers. His demotion down to the second power play unit has certainly played a factor in his current slump, and there's no guarantee he even gets moved back to the top unit. His 30 points (9 goals, 21 assists) in 54 games are still respectable, but this recent downward trend is cause for concern for his owners.
Tyler Toffoli – LAK (RW/LW)
After being listed in this section two weeks ago, Tyler Toffoli is back again. He continues to struggle mightily after a fast start to the season, as he now has just a single assist in his last 13 games. He's currently playing on the first line and top power play unit, which makes his lack of production even harder to swallow. He still sits with 31 points (18 goals, 13 assists) in 55 contests, so as long as he maintains his current spots in the lineup, he should bounce back relatively soon.
Waiver Wire Targets
Tomas Hertl – SJS (C/RW – 48% owned)
Tomas Hertl should be owned in more leagues. It's as simple as that. He continues to see increased ice time in Joe Thornton's absence, which includes playing on both the first line and top power play unit of a lethal San Jose Sharks man advantage.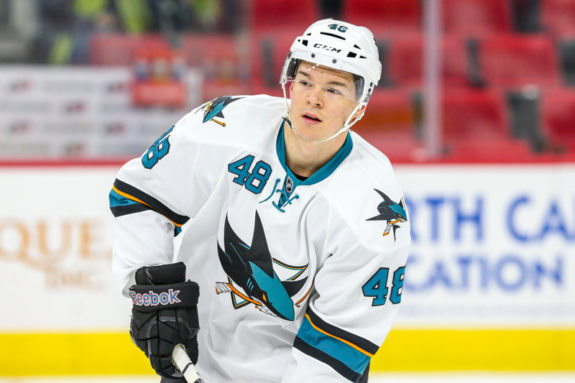 He's now up to a solid 33 points (15 goals, 17 assists) in 56 games this campaign, and is only going to continue producing at a favorable rate. He's giving fantasy owners every reason to add him, but somehow he's still available in over 50 per cent of leagues. Go out and get him.
Jeff Petry – MTL (D – 45% owned)
Fantasy owners are finally starting to catch on to Jeff Petry's fantasy value. And as they should. With Shea Weber still out indefinitely, Petry has taken over his role, and been productive in the process. He currently sits with 26 points (8 goals, 18 assists) in 55 games, while also quarterbacking the top power play unit, which actually ranks as one of the most productive in the NHL right now. As long as Weber remains out, Petry is absolutely a must-own.
Jordan Staal – CAR (C/LW – 41% owned)
Although he may be treading water right now, Jordan Staal is set to break out any week now. He's used in every situation on the ice, from first line even-strength, to the top power play unit, to killing penalties. With the amount of ice time he sees, it's only a matter of time before he really explodes and adds to his current 33 points (14 goals, 19 assists) in 56 games. When it does happen, you don't want to be the owner missing out on him.
Derek Stepan – ARI (C – 39% owned)
Since being listed here last week, Derek Stepan's ownership has actually remained the same, which is extremely odd given his five points in three games this week. The Arizona Coyotes are finally starting to find the back of the net with more regularity, and Stepan is a big reason why. He's now sitting with a solid 35 points (10 goals, 25 assists) in 55 games, and is now firmly back on the top power play unit. Just because he doesn't play for the New York Rangers anymore doesn't mean he forgot how to play hockey. Don't leave him on the waiver wire any longer.
Brendan Gallagher – MTL (RW – 36% owned)
Another piece of the Canadiens that needs to start receiving more fantasy attention. Brendan Gallagher is finally being used more in the Canadiens offense, now playing on the second line and the top power play unit. He's now up to 32 points (20 goals, 12 assists) in 55 games this season, including five points in his last four games. His move to the top power play unit offers a big boost to his fantasy value, and he's now worth a look in the majority of leagues.
Injury Updates
Jeff Carter – LAK (Ankle)
After being cut by a skate in the LA Kings' game on Oct. 18, Carter was originally expected to miss 6-8 weeks, but still hasn't begun practicing. He has been skating on his own, which is at least some progress.
Roberto Luongo – FLA (Lower Body)
Luongo is expected to miss multiple weeks with a lower-body injury suffered Dec. 4. He practiced with the team Saturday and is very close to returning. There's a chance he starts Wednesday.
Shea Weber – MON (Foot)
Weber has been given some time to let his foot injury heal. He's still considered out indefinitely, but has recently gotten rid of his walking boot.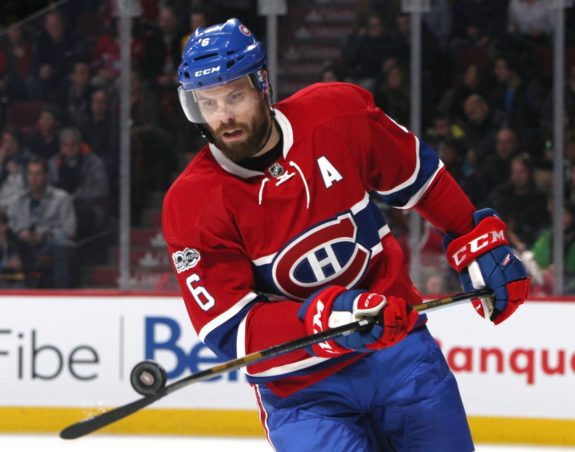 Corey Crawford – CHI (Upper Body)
Crawford was placed on IR Dec. 27 with an upper-body injury. He remains out indefinitely but appears to be closing in on a return as he traveled with the team for their current road trip.
Filip Forsberg – NSH (Hand)
Forsberg returned to the Nashville Predators lineup Feb. 10.
Chris Kreider – NYR (Rib)
Kreider underwent successful surgery Jan. 9 and will be re-evaluated in six weeks. He has recently began skating again.
Mark Scheifele – WPG (Upper Body)
Scheifele returned to the Winnipeg Jets lineup Feb. 9.
Ryan Nugent-Hopkins – EDM (Ribs)
Nugent-Hopkins suffered a bruised sternum and cracked ribs Jan. 13 and is expected to miss five-six weeks.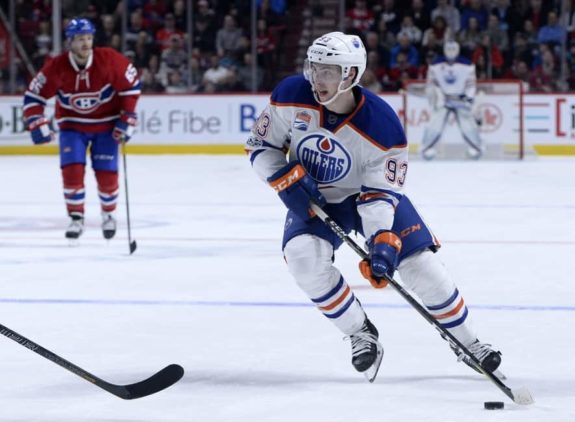 Kevin Shattenkirk – NYR (Knee)
Shattenkirk underwent surgery to repair a meniscus tear and will be out indefinitely. As of Feb. 7, he's no longer using crutches, but there's still no timeline for a return.
Ondrej Palat – TBL (Lower Body)
Palat suffered a lower body injury Jan. 20 and will miss six-eight weeks.
John Gibson – ANA (Lower Body)
Gibson returned to the Anaheim Ducks lineup Feb. 9.
James Reimer – FLA (Groin)
Reimer is ready to return to the Florida Panthers lineup as he's no longer listed on IR.
Marcus Johansson – NJD (Concussion)
Johansson suffered a concussion Jan. 23 and is out indefinitely. As of Feb. 4, he has yet to resume skating.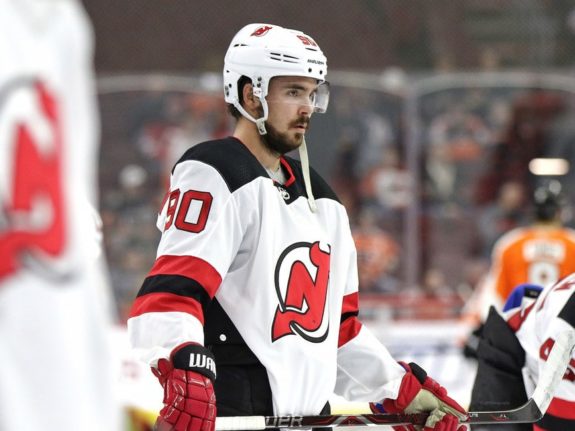 Cory Schneider – NJD (Groin)
Schneider suffered a groin injury Jan. 23 and was forced to leave the game. He's still considered day-to-day, but now hasn't skated in over a week. It doesn't appear a return is close.
Mark Stone – OTT (Knee)
Stone returned to the Ottawa Senators lineup Feb. 10.
Brian Elliott – PHI (Lower Body)
Elliott originally returned to the Philadelphia Flyers lineup Feb. 6, but was injured again Feb. 11 and forced to leave the game. He's considered day-to-day until more is known.
Joe Thornton – SJS (Knee)
Thornton suffered a knee injury Jan. 23 and left the game. He has underwent arthroscopic surgery on his knee and is expected to miss several weeks. He's considered week-to-week for now.
Jacob Trouba – WPG (Ankle)
Trouba suffered an ankle injury Jan. 25 and is expected to miss six-eight weeks.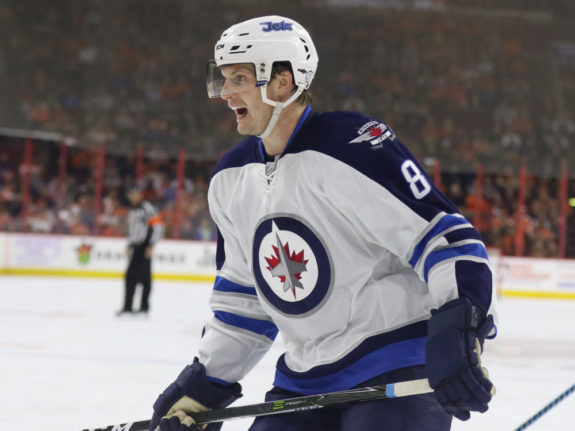 Antti Raanta – ARI (Undisclosed)
Raanta returned to the Arizona Coyotes lineup Feb. 6.
Brad Marchand – BOS (Suspension)
Marchand returned to the Boston Bruins lineup Feb. 7.
Nathan MacKinnon – COL (Upper Body)
MacKinnon suffered an upper body injury Jan. 30 and is expected to miss two-four weeks. He skated before practice Feb. 5.
Cam Talbot – EDM (Illness)
Talbot returned to the Edmonton Oilers lineup Feb. 5.
Pavel Buchnevich – NYR (Concussion)
Buchnevich suffered a concussion Feb. 1 and is considered out indefinitely. He was on the ice Feb. 7, which shows a step in the right direction for a return.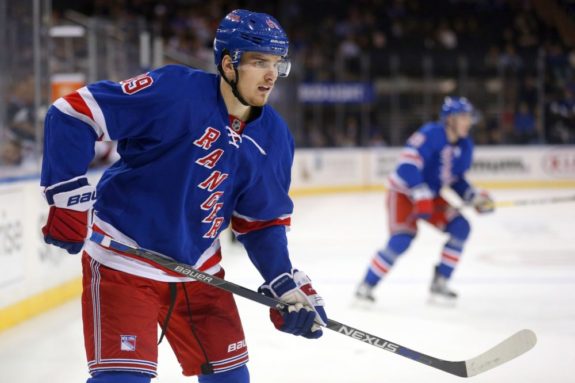 Bobby Ryan – OTT (Finger)
Ryan suffered a finger injury Feb. 1, including ligament damage, and is expected to miss at least three weeks.
Conor Sheary – PIT (Lower Body)
Sheary returned to the Pittsburgh Penguins lineup Feb. 9.
Patric Hornqvist – PIT (Lower Body)
Hornqvist suffered a lower body injury Feb. 2 and is considered week-to-week. He was placed on IR Feb. 8.
Jack Eichel – BUF (Ankle)
Eichel suffered a high ankle sprain Feb. 10 and is expected to miss four-six weeks.
Dustin Brown – LAK (Suspension)
Brown was suspended one game for kneeing on Feb. 10. He's eligible to return Feb. 15.
Ryan McDonagh – NYR (Upper Body)
McDonagh has missed the past two games due to a lingering upper body injury. There's no word on when me may return.
I've been writing for over three years and have work published by the Calgary Herald, National Lacrosse League, Hard Knocks Fighting and The Weal at SAIT. Although I've covered many different topics as a journalist, sports writing remains my main passion and strength.