As the Calgary Flames 2016-17 roster took its final shape following last week's trade deadline, we can now start to look towards the decisions that general manager Brad Treliving will be making come June.
After adding Michael Stone back on Feb. 20 and then making a depth move with Curtis Lazar on March 1, the team's direction has become clearer.
Lazar is a long-term project for the Flames as they aim to recoup the development that he had lost in Ottawa. Meanwhile Stone has fit amazingly into the second-line defense spot and the Flames haven't lost since his arrival.
Vegas' Arrival to the NHL
The NHL will be holding it's first expansion draft since 2000 when the Columbus Blue Jackets and Minnesota Wild entered the league. Fortunately, the Flames have worked diligently (and perhaps with a tinge of luck) to have the team well set up for the draft.
The Flames will undoubtedly use the seven forwards, three defense and one goalie protection option, but there are a few questions remaining on who they'll protect.
Aside from the obvious protecting of Johnny Gaudreau, Sean Monahan, Mikael Backlund, Michael Frolik, Sam Bennett, Mark Giordano, Dougie Hamilton, T.J. Brodie and Brian Elliott, there are two forward spots remaining. Matthew Tkachuk is automatically protected because he is a rookie.
With these two remaining forward spots, the Flames can protect a combination of Micheal Ferland, Troy Brouwer, Curtis Lazar, Lance Bouma or Matt Stajan.
Ferland undoubtedly deserves a spot after his elevated level of play over the last month. This begs the question about who the Flames should choose to protect last?
Protecting Lazar and exposing Brouwer could make a lot of financial sense for the Flames, as either Calgary would be alleviated of Brouwer's $4.5 million cap hit or essentially an eighth forward would be protected if Vegas is scared away by his large contract.
Brouwer's play has also been pretty disappointing so far this season. However, it's unsure what the dressing room ramifications of exposing an alternate captain and team leader could be.
The organization has spoken highly of Lazar since his acquisition, dubbing him as a piece of the future, so it's unlikely he is exposed. It's also important to consider that Vegas will be hungry for young, skilled players.
The Flames have already reached their expansion exposure requirements of two forwards, one defenseman and one goalie with Lance Bouma, Matt Stajan, Matt Bartkowski, and minor-league goalie Tom McCollum. Well done Treliving.
NHL Entry Draft: Winger in the 1st Round?
The Flames are heading into the upcoming entry draft holding only five selections. Calgary must make their first round pick count as they won't pick again until the fourth round or around the 110th pick.
Projected to finish somewhere between 17-22 in the draft order, there is a fair share of options available to the Flames in the first round.
Most notably are a pair of right wingers, which is arguably Calgary's biggest organizational hole left in terms of prospects. Kailer Yamamoto of Spokane (WHL) and Kole Lind of Kelowna (WHL) make prime targets.
Yamamoto has a small stature (something the Flames aren't afraid of) at 5-foot 7-inches and 153 pounds, but it has yet to slow him down as he's put up 85 points in 58 games including 37 goals this season.
Lind, on the other hand, is 6-foot-1 and 175 pounds. He's also had a strong year offensively with 28 goals and 80 points in 65 games and isn't afraid to use his body to make plays.
It should be made clear that any selection made at this time in the draft will be a player that is still at least a couple years away, so don't expect a Tkachuk-like savior next season.
Re-signing the RFA's and UFA's
The Flames have 22 contracts set to expire this offseason including 10 UFA's. Calgary will also have around $25 million to play with if the cap rises to potentially $76 million, as has been reported.
Notable UFA's include Kris Versteeg, Michael Stone, Deryk Engelland, Brian Elliott and Chad Johnson.
Each of these players would be smart choices for the Flames to bring back, and I'm estimating that around $13-15 million split among them is fair if all return. How that money is split and who actually re-signs remains to be seen. Our own Ben Shelley dove into why they should re-sign Kris Versteeg back in February.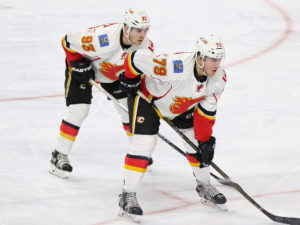 At the NHL level, there are three big-name RFA's for the Flames to re-sign in Micheal Ferland, Sam Bennett and Curtis Lazar.
Ferland's value continues to climb with each passing game and should easily come in above $2 million and maybe close to $3 million. Bennett could also be in the $2-2.5 million window with Lazar between $1.5-2 million.
If the Flames can be smart in their negotiations, they may be able to lock down these high potential players to long-term team-friendly deals as we saw with Mikael Backlund and T.J. Brodie in the past.
Management also has some decisions to make regarding a few key minor-league RFA's with Tyler Wotherspoon, Brett Kulak, Garnet Hathaway, Jon Gillies and David Rittich. I'm guessing they'll be re-signed to short-term cheap deals as is the norm. Oliver Kylington and Rasmus Andersson are also starting to push their way up the depth charts.
Free Agency – Should the Flames Go Big?
If the salary cap rises as projected, the Flames could be left with anywhere from $5-10 million of cap space depending on who is chosen in the expansion draft and what re-signing prices are.
Assuming they choose to stick with their current goaltending tandem, there won't be any deals made there. The defence should also be pretty solidified if Michael Stone and Deryk Engelland are brought back coupled with the prospects in the system that are getting closer.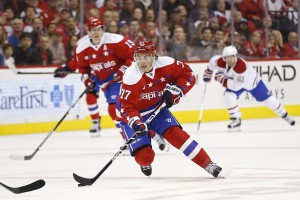 The biggest decisions that will face the franchise will be whether or not Ferland will be a long-term solution as a top line winger. There's still lots of time left in 2016-17 for that to be decided.
Some big name wingers hitting the market this summer will include TJ Oshie, Thomas Vanek and Radim Vrbata.
Calgary will also have to adjust based on who gets selected in the expansion draft. Perhaps if Brouwer is selected they will look for another veteran RW. It would also open a spot for Lazar to slot in with Bennett for the foreseeable future.
With Mark Jankowski looking ready to make the jump to the NHL next season, there may not be a lot of free agent moves necessary for this team. Perhaps some depth signings but that's it.
It would be wise of the Flames to maintain a good amount of cap space going into next year to leave them room to acquire other players through trade, or simply hold onto it for next offseason for Backlund's new contract (which can be signed any day on or after July 1, 2017) and other acquisitions.
Heading into 2017-18
It seems that this year's roster will stick together for the most part into next season. Goaltending will be a big question mark for this summer, but if Elliott and Johnson continue to play the way they have of late, I imagine both will return.
They should also have some cap freedom to make moves as necessary during the 2017-18 season.
The core of the team has been set for a few years now, but the Flames are now assembling the depth pieces around them that will give this team the opportunity to be a serious contender long into the future.