It was pure coincidence that I happened to be at the Saddledome on that chilly February night in 2012. As I walked through the concourse, they were handing out special commemorative pins honouring Al MacInnis, who was apparently the first ever inductee of the brand new Forever a Flame initiative. I was completely unaware the special ceremony was even happening on this particular night, and as the arena went dark and the festivities began, I became rather confused. I asked myself: 
"Are they retiring Al MacInnis' No. 2 tonight?"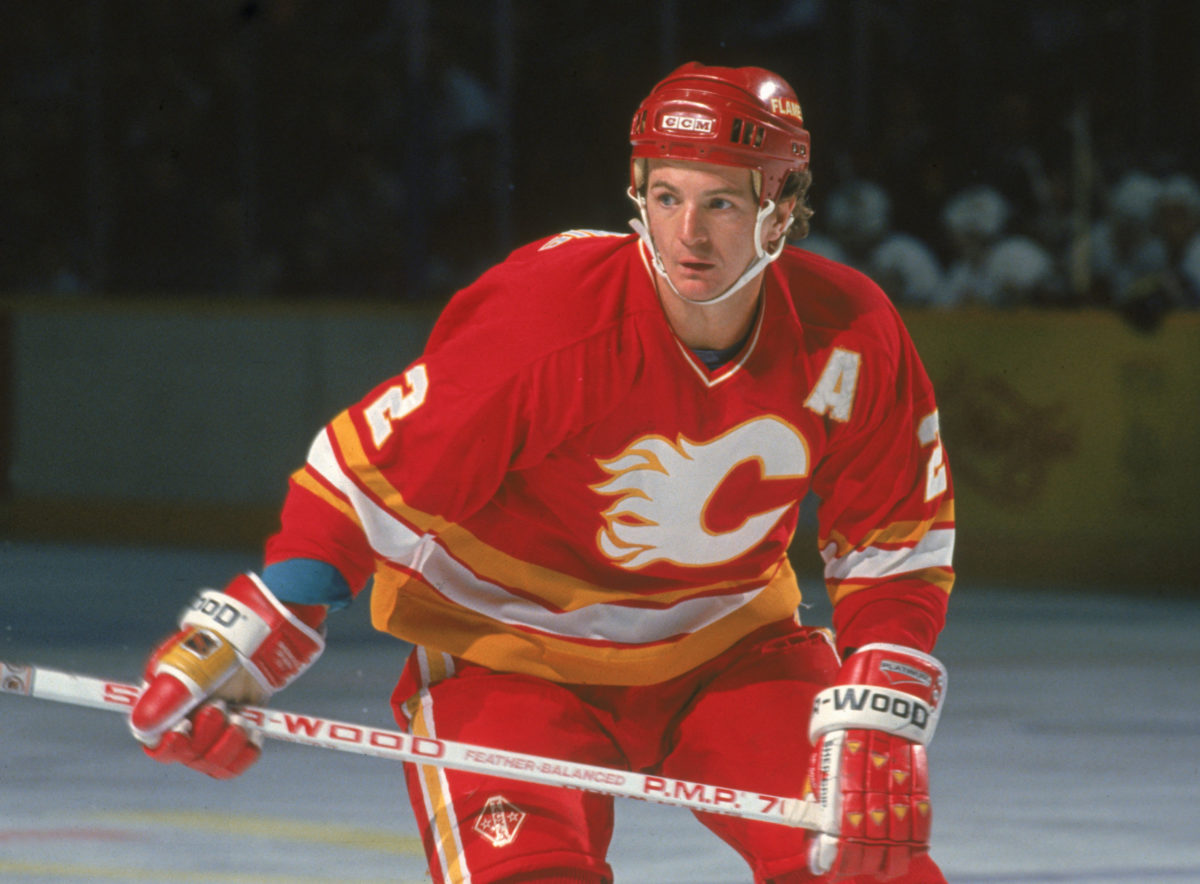 There was a video tribute full of highlight-reel goals, there were a dozen jersey-wearing former Calgary Flames teammates sitting by his side at center ice, there was a lengthy, heartfelt thank you speech from the man of the hour, and then it was finally time to unveil the banner. It sure looked like they were about to retire MacInnis' No. 2, and that's when my jaw hit the floor. 
They unfurled the banner and raised it high above ice level, right next to the retired jerseys of Lanny McDonald's No. 9 and Mike Vernon's No. 30. But wait, this one looked nothing like those other two. Instead, it was a special banner with a small No. 2 at the top and a picture of MacInnis in a Flames jersey. That's when it hit me — the Flames have just created a two-tiered system of how they honour their greats, and that really bothered me. I assumed it would bother everybody! At the time, Flames president Ken King begged to differ, describing the new Forever a Flames program as:
"A high, high honour not second to anything. We will have many more facets than this. It's the beginning of a new tradition, and we need to be bold and brave enough to do it for all of the good reasons we have."
We Don't Need a New Tradition
A franchise permanently retiring the number of a former player is the only "high, high honour that is not second to anything." Period. I understand there are NHL clubs with lengthier histories that have implemented their own two-tiered system. A good example of this is the Vancouver Canucks' ring of honour. But, at the time Calgary started the Forever a Flame program, the Flames had two, count 'em, TWO retired numbers hanging from the rafters. It wasn't like they were running out of room up there! 
Just two years later, the Flames did it again. This time it was Joe Nieuwendyk receiving second-class treatment in March 2014, and by sheer luck (or maybe bad luck) I was once again in attendance at the Saddledome to bear witness. At least now I had two commemorative pins. These days, the only solace I have is that the organization has finally broken free of this embarrassing new tradition and honoured former captain Jarome Iginla the right way by raising his No. 12 to the rafters in March 2019.
The well-received Iginla ceremony has thankfully pushed the ill-conceived Forever a Flame initiative farther into the background.
It's Time to Make Things Right
I can't think of a better time to officially punt this program once and for all. There are several Flames greats who have been snubbed and rightly deserve the highest honour an NHL team can bestow on a former player. 
For starters, the Flames must take the jerseys of MacInnis and Nieuwendyk and raise them to the rafters. All three former greats are members of the 1989 Stanley Cup championship team and the trio has a combined 2,268 points in 2,171 games played in a Flames uniform.
MacInnis has already been inducted into the Hockey Hall of Fame and his number has been retired by the St. Louis Blues, despite him enjoying his best years with the Flames. It was MacInnis who won the Conn Smythe as playoff MVP when they hoisted the Cup in 1989, so why do only McDonald and Vernon have their numbers retired? The former blueliner with the hardest shot in hockey left the Flames after 13 seasons as the franchise scoring leader. Fixing this is such a no-brainer that it actually hurts my head to think about it. 
Nieuwendyk Racked up Big Numbers While Skating for the Flames
Meanwhile, the other unfortunate Forever a Flame inductee spent eight seasons in Calgary during his Hall of Fame career. Nieuwendyk suited up for 577 games, notching an impressive 314 goals and 302 assists. He scored 51 goals in his rookie season, winning the Calder Trophy and then followed that up with another 51-goal season and a Stanley Cup championship. Not too shabby. Yes, retiring his No. 25 will mean recently signed Jacob Markstrom will have to suck it up and change his digits, but I'm sure he'll get over it.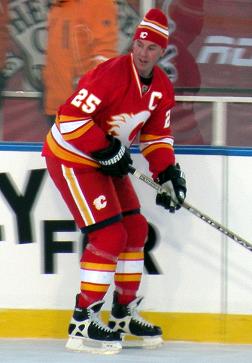 Don't Forget About No. 34
Oh, and while we are talking about recognizing very deserving Flames legends, I've got one more for you. I'll give you a hint — he's only the greatest goaltender to ever suit up for the Flames. Vernon may have his number hanging from the rafters, but Miikka Kiprusoff has easily unseated him as the best of all time, as he holds the franchise records for both wins and shutouts. Kiprusoff was an elite goaltender for a majority of his 10 seasons with the Flames, leading them to the Stanley Cup Final in 2004 and winning the Vezina Trophy in 2006.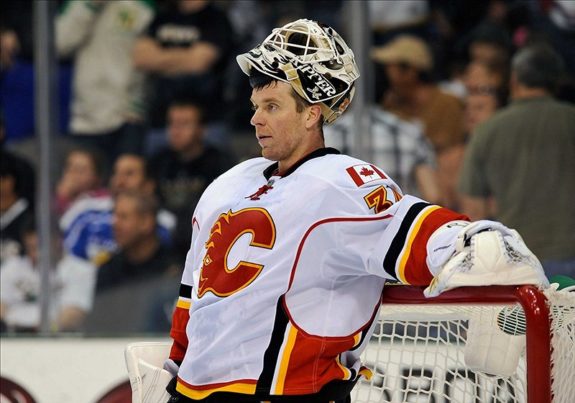 The guy is also still exceedingly popular with fans, as they gave him a hero's welcome and a standing ovation when he paid a rare visit to the Dome just over a year ago. As the years go by since Kiprusoff last played, Flames fans increasingly appreciate just how valuable he was to the team. It's a major understatement to say that since he retired in 2013, the Flames have yet to find a suitable replacement between the pipes.
There's Only One Way to Honour Former Greats
I implore the Flames to take a long, hard look at all of four of these legendary players and make the right call on how to best honour their legacies. The current two-tiered system created an unnecessary new tradition of second-rate recognition, which only triggers anger and confusion — which is exactly what I felt on that chilly February night in 2012 when they handed me my MacInnis Forever a Flame commemorative pin. 
---
---