The 2023 NHL Entry Draft is rapidly approaching, and the Calgary Flames are likely in the later stages of their necessary prep work. New general manager Craig Conroy and his scouting department have the 16th overall selection in the first round, and that pick will undoubtedly have the most consideration. However, the team also has a second (48th), fourth (112th), sixth (176th), and seventh (208th) round pick to utilize.
The later rounds are where scouts get to truly shine, as their hard work finally pays off, and they can recommend players that other teams may not have spent as much time watching. The 2023 Draft is said to be one of the deepest in recent memory, and there is no shortage of talent available after the first round. Here's a look at five players the Flames could choose in the second to seventh rounds of the draft.
Cam Squires, Forward
First up on our list is Charlottetown, Prince Edward Island native Cam Squires. He plays for the Cape Breton Eagles of the Quebec Major Junior Hockey League (QMJHL). Standing six feet tall and weighing just 165 pounds, he may need time to bulk up a bit. Thankfully, Squires is 2005-born, meaning he has two more seasons of junior hockey eligibility. However, he has been showing plenty of signs that he is ready for the next level: in his first QMJHL season as a 16-year-old in 2021-22, he put up a very respectable 16 goals and 34 points in 64 games. Last season, he almost doubled those totals with 30 goals and 64 points in 67 contests. The last QMJHL pick by the Flames was forward Cole Huckins, whose rights have since been renounced.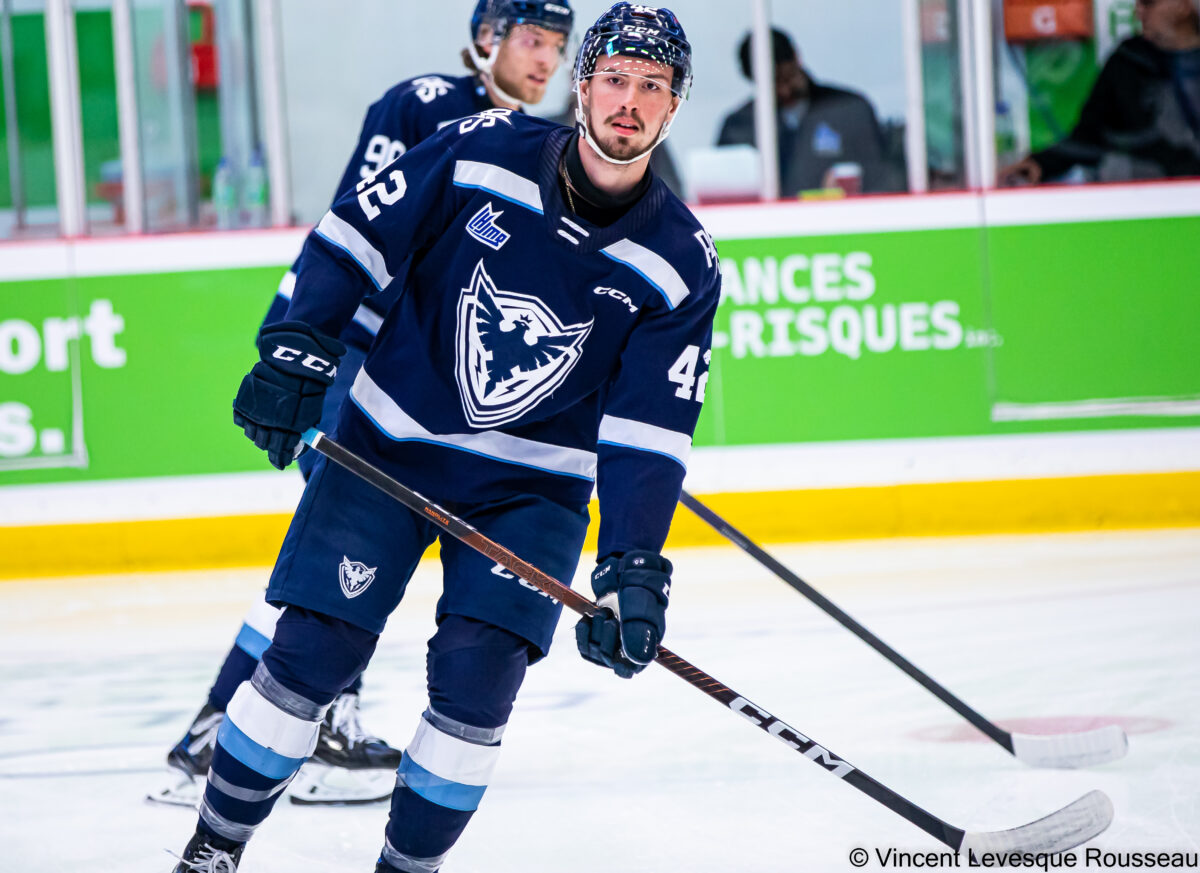 Squires' final ranking by NHL Central Scouting was 56th amongst North American skaters, meaning he would likely be available for the Flames' second selection. If they could grab him with their fourth-rounder or perhaps trade for a third, that would be better.
Squires is certainly progressing positively and would do well developing for another season or two of junior, coupled with some time with the American Hockey League (AHL) Calgary Wranglers. His focus for improvement is his 200-ft game and being more effective at both ends of the ice, though he is known for his non-stop mentality and ability to force his opponents into making mistakes. The Flames could do worse than select Squires at the draft.
Elmeri Laakso, Defenseman
Next is a potential gem. For whatever reason, Finnish defenseman Elmeri Laakso is listed at 118th on the European skaters list by Central Scouting. He is one of just a few draft-eligible international skaters who plays at the highest professional level in his home country, skating for SaiPa in Finland's Liiga, and he does not look one bit out of place as an 18-year-old, with 11 points in 32 games in limited ice time in 2022-23.
Laakos also suited up in 17 games in 2021-22, recording five points. These stats might not jump off the page, but compared to a young player excelling in juniors (which Laakso did), one who already plays professionally and isn't exposed is remarkable, especially as a defenseman. With his ranking, Laakso could be had with the Flames' sixth or seventh-round picks, and to us, this would be an excellent decision.
Jesse Nurmi, Forward
Another Finn, forward Jesse Nurmi, looks very promising. He most recently dominated the Finnish U20 SM-sarja junior league to the tune of 21 goals and 50 points in 41 games to finish sixth in league scoring. Nurmi was named a first-team all-star for his efforts as a member of KooKoo U20, but he was also talented enough to get called up to the professional KooKoo team for nine regular-season games and one playoff match last season when he registered a lone assist. Nurmi is slated to return to KooKoo's big club full-time for 2023-24. The last Finn to play for the Flames was defender Juuso Valimaki, who was lost to the Arizona Coyotes on waivers last year.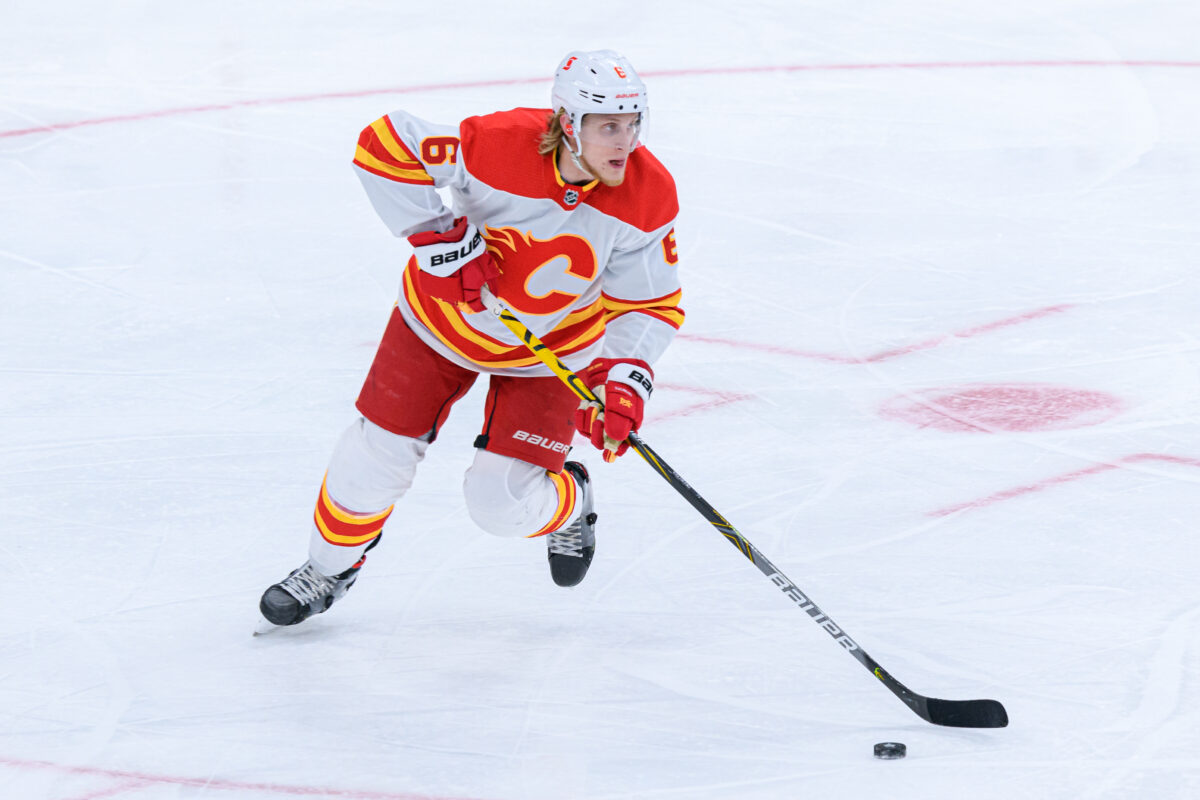 The Flames drafted fellow Finnish forward Topi Ronni in the second round of last year's draft, but he has yet to suit up for the team or their AHL-affiliate Wranglers. Nurmi is ranked 28th amongst European skaters, meaning that others are aware of his immense talent. The Flames could snag him in the second round, but like Squires, he would ideally be a third or fourth-round pick, meaning they could trade down or move a player to get one. Nurmi could play the next season in Finland and then join the Flames or Wranglers for the 2024-25 season should he continue to develop.
Damian Clara, Goaltender
Even though the Flames seem set in net for the foreseeable future, we had to include a goaltender on this list, especially with Damian Clara handy. Clara was born in Brunico, Italy and has played junior hockey in Czechia and Sweden. He has experienced a lot despite just turning 18 in January, such as suiting up for professional games in the AlpsHL of Central Europe and the HockeyAllsvenskan league, Sweden's second-tier pro league.
He has performed admirably anywhere he's played, including with Team Italy in international tournaments. What separates Clara from the rest of the pack is his size: he is a whopping 6-foot-6, meaning there isn't much of his net that isn't covered. He's ranked sixth amongst European goaltenders and could be worth the pick if he's still around later into the draft.
Justin Kipkie, Defenseman
We're headed back to Canada with our last player of interest, defenseman Justin Kipkie. Kipkie skates for the Victoria Royals in the Western Hockey League (WHL) and, conveniently, hails from Calgary, Alberta and would surely welcome the opportunity to be drafted by and play for his hometown team. In his first full season of junior last season, Kipkie played 67 games and registered 33 points from the backend, fifth-most among Royals skaters. This ia all the more impressive given that his team was the third worst in the league, winning only 17 games. For whatever reason, he is ranked 107th among North Americans, with eight WHL defensemen ahead of him.
---
Latest News & Highlights
---
At just 17 years old, Kipkie already stands at a tantalizing 6-foot-3 and weighs 195 pounds. His ability to use his frame to plug up passing and shooting lanes is almost as alluring as his puck movement skills on the counterattack. Like Squires, Kipkie is a 2005 baby, which means he could spend two more years in the 'dub and get even better. Look for his point totals to increase, as he will have a prominent top-pairing role with the Royals next season. The Flames have had success drafted from the WHL and the Royals (see Matthew Phillips), and Kipkie could continue the trend. Should he be available in the fifth, sixth or seventh round, the Flames would be silly not to take him.
Related: Flames Should Draft Ritchie or Dragecevic In 2023 1st Round
Regardless of whether or not the Flames select any of these players, they are in good hands with their scouting department and new front-office staff. Whatever choices they make will have homework and trusted professional opinions backing them. The 2023 NHL Entry Draft starts with the first round on June 28 at the Bridgestone Arena in Nashville, Tennessee. Rounds two to seven will commence the following day on June 29.