The 2023 Trade Deadline looms. Hockey fans will hear countless rumors from reliable and unreliable sources leading up to the final minute before 3 pm Eastern time on March 3. They'll crave the latest updates like they do every year at this time to see how the moving pieces will affect their favorite teams.
The human element of trade deadline chaos doesn't always reach the forefront. Players leave their teammates and their homes without the media or the fans worrying about their uprooted lives. What is it like for an NHL player at the center of trade rumors during this time of year? What do they know about? What don't they know about? How much does the pressure weigh on them and affect their performance?
Three members of the Philadelphia Flyers spoke after the team's Sunday practice coming out of the NHL All-Star Break.
James van Riemsdyk: The Center of the Rumors
James van Riemsdyk is the likeliest member of the Flyers to move within the next month. Reports have already surfaced about conversations between general manager (GM) Chuck Fletcher and Calgary Flames GM Brad Treliving involving a potential deal. Trading an aging player in the final year of his contract makes too much sense for Fletcher to ignore.
How does van Riemsdyk deal with the constant reports and speculation surrounding him and his teammates?
"I think, ultimately, sometimes it's hard to do around this time of year, but I think everyone's got to have that professionalism, a mindset of professionalism. Come in, worry about what you can control. Do your job, things like that," the 14-year veteran said on Sunday. He expanded with insight into the human element of the situation.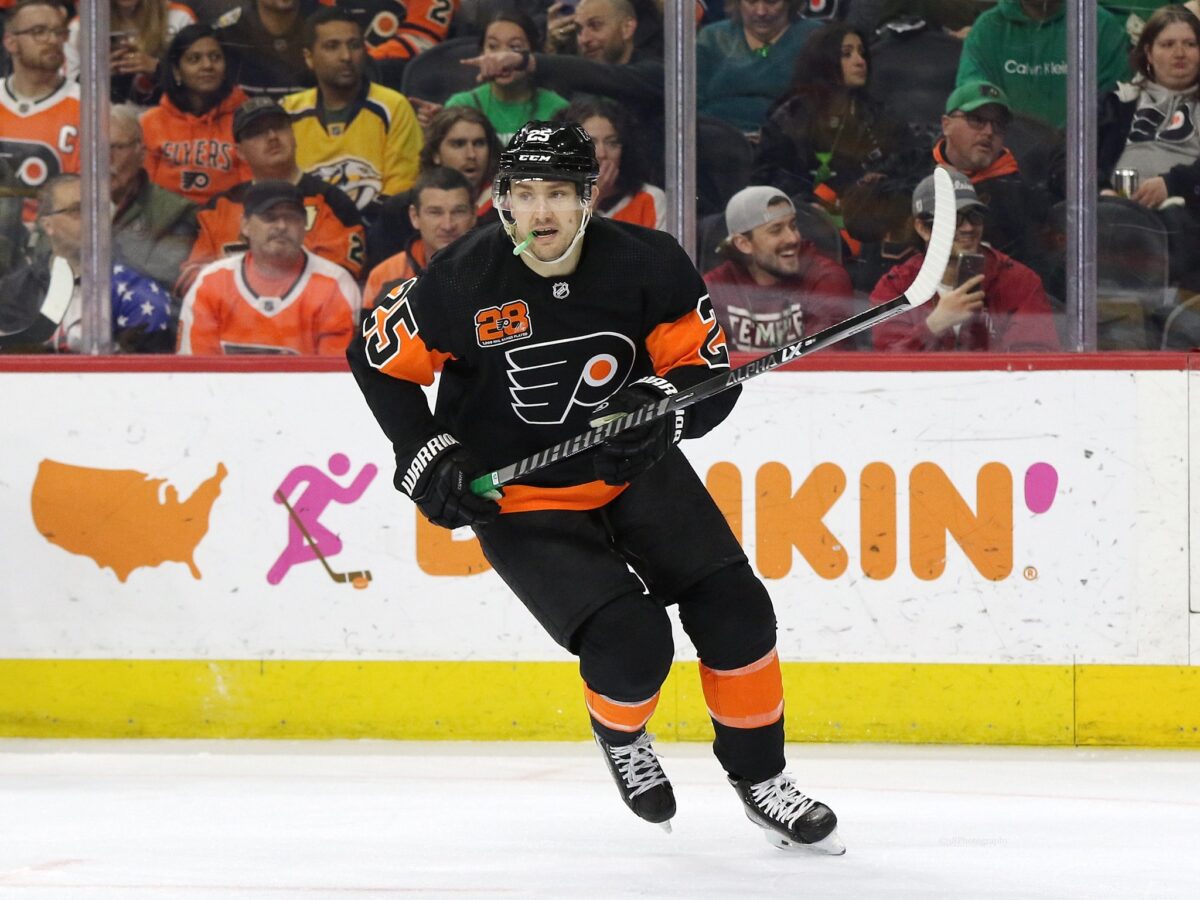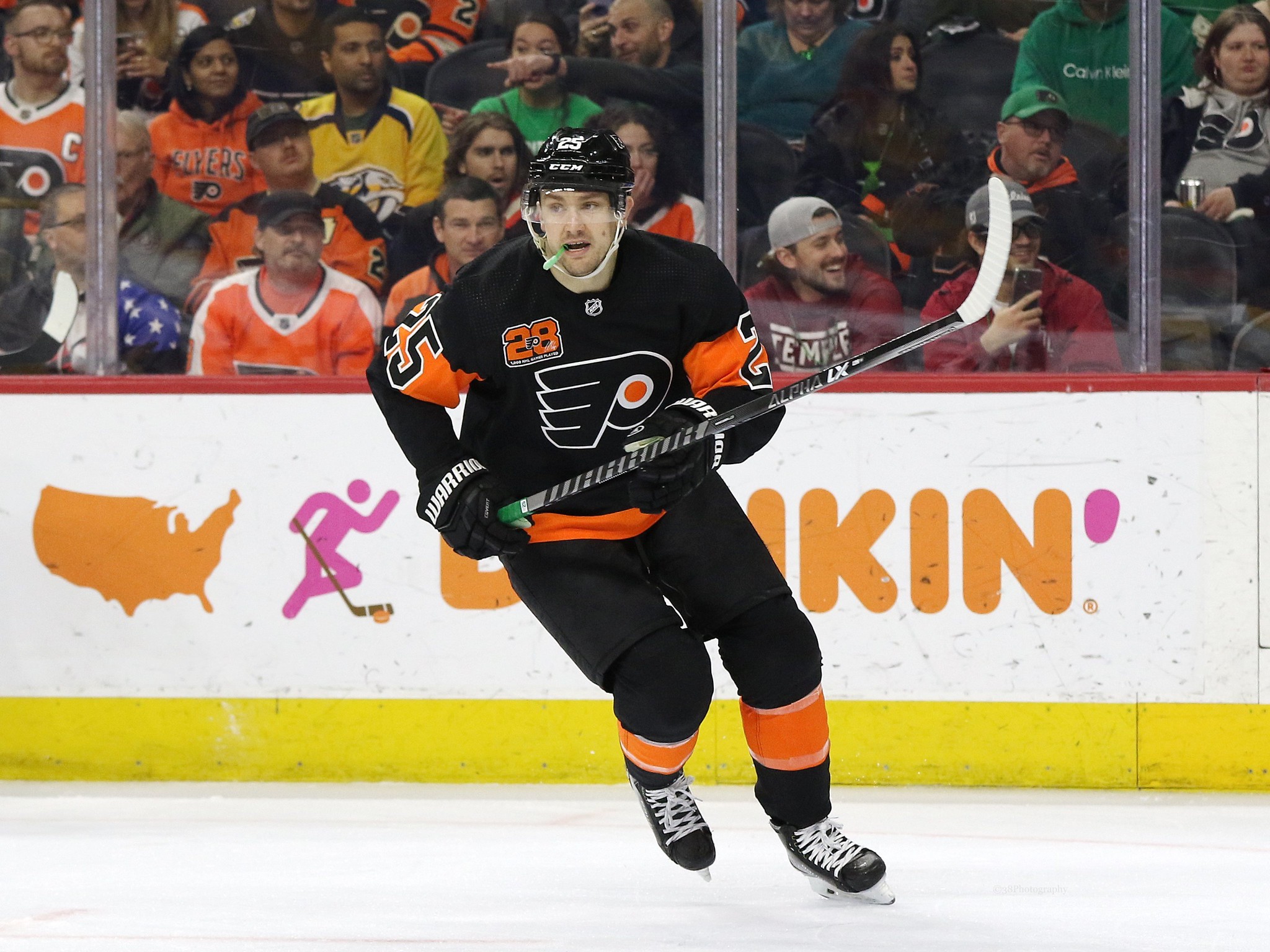 "Obviously, there's a human element of that because you become close with your teammates. You enjoy being around them. It's a tight-knit group and things like that. So, sometimes, that's harder than others," he explained. 
As the former second-overall pick of the Flyers, van Riemsdyk is currently playing in his eighth season in Philadelphia over two different stints. He had enough respect for an organization that traded him in 2012 to return in free agency on a long-term contract in 2018. It's not an insignificant portion of his life coming to an end next month. He will move away from friends in the organization and in the Philadelphia area.
Related: Evaluating 6 Flyers as Potential Trade Deadline Chips
There's another aspect of the situation that most people will forget to consider. Looking at the Philadelphia roster from an outsider's perspective, you won't see a team likely to contend for a playoff spot over the final 30 games. However, NHL players don't think that way. The Flyers sit only six points out of a playoff spot, and players will focus on what they need to do on the ice to close the gap regardless of how unlikely outsiders think a playoff berth is.
"I think, ultimately, especially with where we're at in the standings, we're on that cusp there where if we put together a nice little run here, who knows how that kind of changes things going into that (the 2023 Trade Deadline)? So, ultimately, that's what we're trying to do as one day at a time, good mindset, good attitude about it, and just focus on the things you can control," van Riemsdyk said.
Scott Laughton: The Knowledgeable Veteran
The only player on the Flyers wearing a letter in 2022-23 needs to bring a calming veteran presence in situations when outside noise could potentially affect team chemistry. Scott Laughton also happens to have experienced the uncertainty of trade deadline rumors just two years ago. The versatile veteran forward played most of the 2020-21 season on the final year of his contract, and the Flyers had very little chance of reentering postseason contention by the time the 2021 Trade Deadline came around.
Laughton ultimately signed a five-year extension on deadline day. Fletcher later revealed that it was a decision between trading or re-signing his player. The organization wanted Laughton around long-term, but the uncertainty of the expiring contract made them consider all options. Rumors flew around about how they had passed on an aggressive pursuit by the Toronto Maple Leafs.
---
Latest News & Highlights
---
"I think guys know it's a business, and those things (trades) happen. We have a lot of guys in here that come to work every day, and they're pros, and that's what you have to do and not really worrying about the outside noise, " Laughton said.
Does it affect anyone's play on the ice? Laughton said "maybe two days before," if at all.
"I've been in the situation once where it's (the conversations about potential trades have) kind of been swirling. You think about it maybe a little bit when you're at home but not in the situation now. It's too far away, and like I said, we've still got a lot of games before that and a lot of hockey to play with the group we have in here," he added.
Very few players sustain long careers with one NHL organization. Even the players that are able to achieve the rare feat have to travel through junior hockey programs, minor league levels, or international competition on the way to the NHL. A deadline deal is far from the only thing that can send a player packing. Life in the NHL can change at a moment's notice whether players are succeeding or struggling, whether they are highly paid or playing on cheap contracts, or whether they are experienced veterans or unproven rookies.
Owen Tippett: Replacing a Legend
The Flyers sent franchise legend Claude Giroux to the Florida Panthers at the 2022 Trade Deadline along with Connor Bunnaman, German Rubtsov, and a future fifth-round pick. They received a future first-rounder and Owen Tippett in return. The young winger opened up about his experience hearing the rumors leading up to the deadline last season.
"It's tough to have them not creep in. Going through it last year and seeing it and hearing about it all the time, it's kind of tough to come in and realize where you stand and what's going to happen and try to stay focused on what's happening. At the end of the day, you've just got to play your game and focus as much as you can and try not to let that outside noise bother you," he said.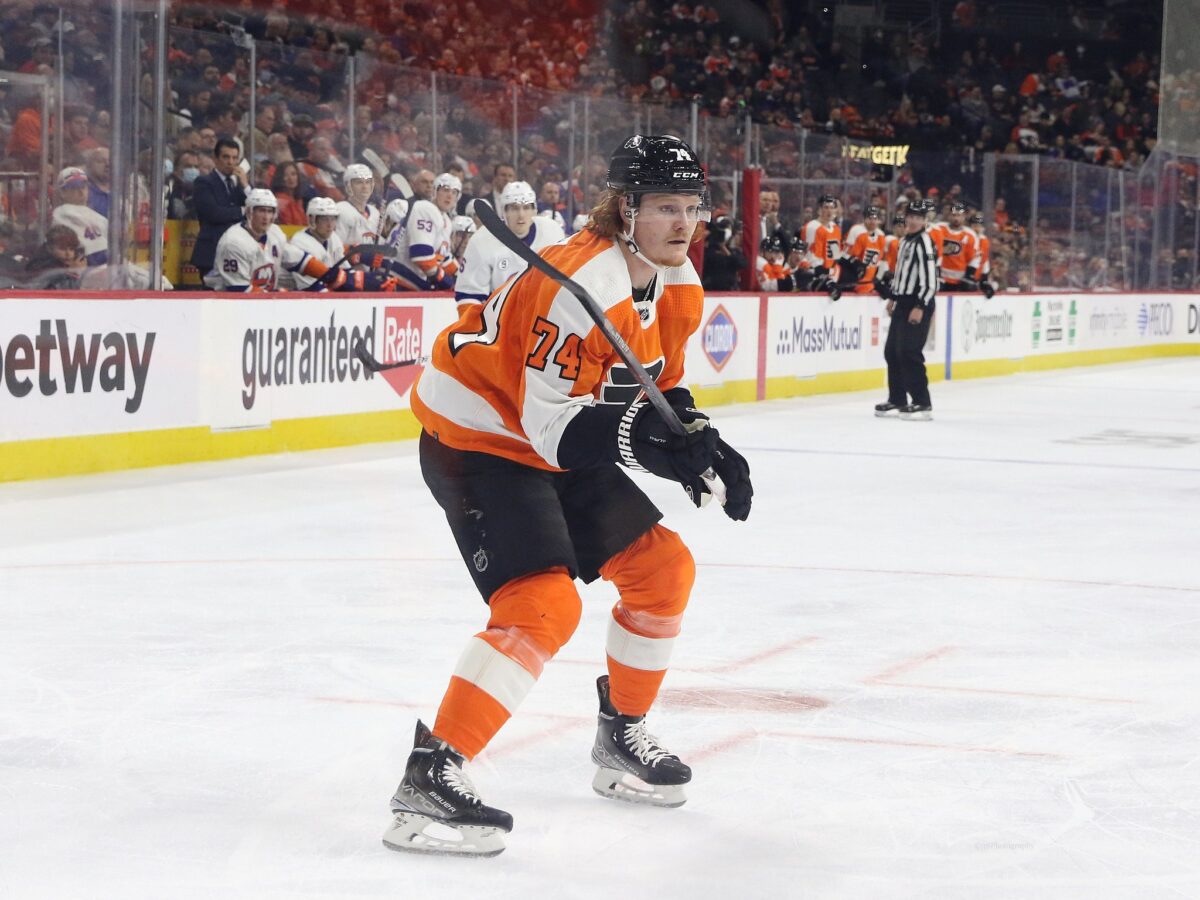 Some players say they don't hear the rumors because they're able to tune out media conversations completely. Others like Tippett admit that it's just practical to hear your own name in the news sometimes. However, it's certainly important to consider the sources of all information.
"The biggest part for me was, like you said, staying off social media and not seeing that. It's also just reliable resources and who's putting it out there, who it's coming from, whether it's someone thinking it might happen or if it's actually going to happen. I think it's a mix of both, but obviously, staying off social media and not having to read or look at it is one way to go about it," Tippett said.
Tippett wasn't blindsided by Florida's decision to move him. He had played the previous month in the American Hockey League (AHL) with the Charlotte Checkers, and he knew a fresh start on a team out of the playoff picture in Philadelphia might help him get back on the ice in the best league in the world.
"I kind of had an idea it was going to happen, so I wasn't so much shocked, but I turned it (in)to excitement. Obviously, with a new opportunity and a new team, a fresh start, it's one of those things you can look forward to and take advantage of. I was excited to come here (Philadelphia) and get settled," Tippett said.
Tortorella and the Flyers
John Tortorella unsurprisingly pointed to his focus on his own responsibilities to handle the team on the ice when asked about the 2023 Trade Deadline looming for a team expected to actively shop some veteran players. 
"I'm coaching the team. I'm sure in the meetings, they're going to ask the coaches some of the needs of the team (and) to evaluate players come near the deadline. All that is done in the management part of it, but as far as my thinking, I'll answer any questions that come my way from management as far as what I feel about players, what they feel about what our needs are," the first-year Flyers head coach said. 
Related: Flyers News & Rumors: Hayes, Tortorella, van Riemsdyk
Although Tortorella rarely pulls back the curtain on organizational practices, his general sentiment matched the attitude of his players. van Riemsdyk in particular spoke matter-of-factly about obvious realities, and his head coach acknowledges the same dynamics of how the business of an NHL franchise will run.
The Flyers hear the noise coming from the outside. They know their team might look a lot different after the 2023 Trade Deadline passes, but they're not going to panic about a reality of the NHL that players usually can't control.