Despite a hard-fought shootout loss to the Boston Bruins on Thursday night, the game held some massive significance for Philadelphia Flyers' veteran forward Jakub Voracek.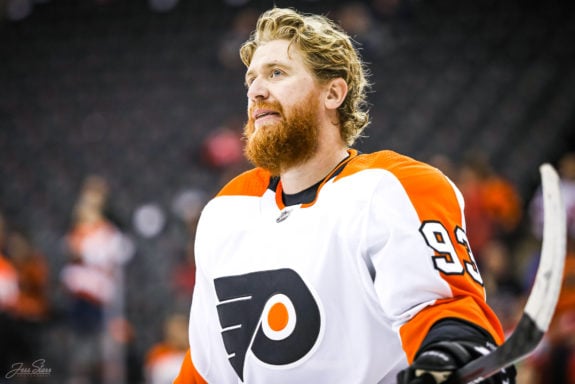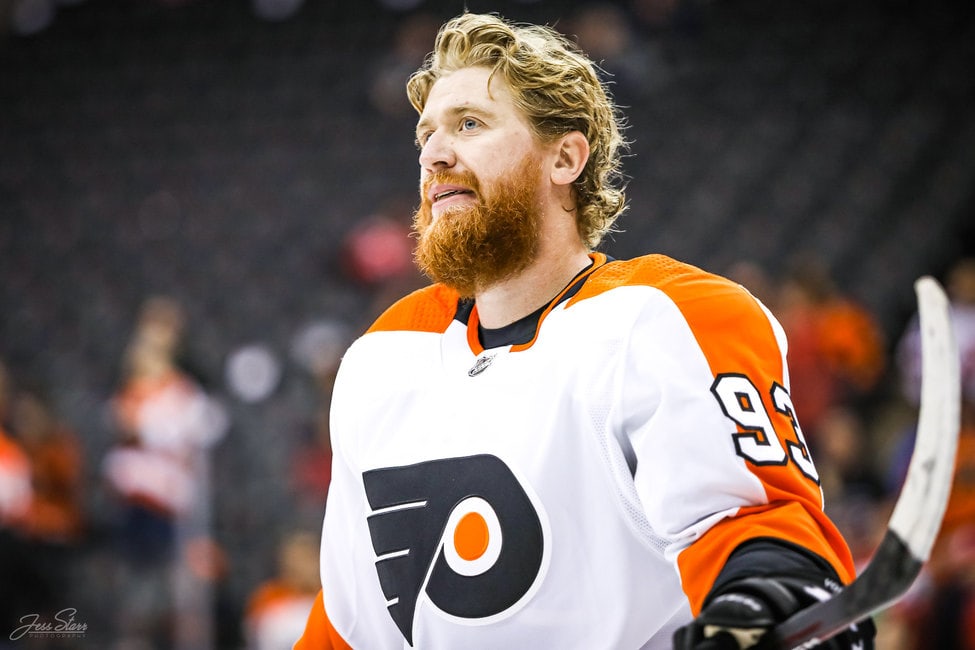 Less than a week after Voracek made headlines for an exchange with a Philadelphia reporter, he'd get his name circulating once again. This time, however, it'd be for some incredible achievements on the ice.
With three points, all assists to linemate James van Riemsdyk and defenseman Travis Sanheim, Voracek not only surpassed an NHL legend for fifth place on the Flyers all-time assists leaderboard, but he also hit an incredible career milestone that situated him among other elite NHLers from his home country.
A Piece of Flyers History
Heading into Thursday night's tilt with the Bruins, Voracek was tied for fifth place in franchise assists with longtime Flyer Mark Recchi at 395.
With just under three minutes left in the second period, the man Flyers fans call "Jake" took sole possession of the fifth-place spot with an assist on James van Riemsdyk's goal. It was a massive stepping stone for Voracek, statistically marking his place in Flyers history, and was a good sign that this new line with JvR and Kevin Hayes could be a consistent source of production.
Moving into fifth place on the all-time assists leaderboard was certainly a massive accomplishment for Voracek, but it wouldn't be the only record he'd surpass that night.
A Massive Career Milestone
Fast forward to the third period, where seven minutes in, a goal from Sanheim helped the Flyers regain the lead. Voracek's assist on the goal not only marked his second point of the night but the 700th of his career.
It was well known that Jake would hit that milestone this year, entering the 2020-21 season with 695 points throughout his illustrious 12-year NHL career.
Only five games into the season, it's likely that Voracek will hit one more career milestone this year. His three assists against the Bruins moved him to 493 in his career. Only seven short of the 500 mark, Voracek could very well hit the milestone in the next couple of weeks.
Aside from that, Voracek's impressive performance Thursday night took care of most of the milestones in reach this year. While there are still some massive ones ahead for the 31-year-old, such as his 1,000th NHL game, we may have to wait until next season to see them.
A Legendary Countryman
Last year, the NHL's Global Series took the Flyers and Chicago Blackhawks to Prague to play in the season opener. Born in Kladno, a city less than 20 miles from Prague, Voracek had all the attention as he introduced his team to the country.
The Flyers and their fans were treated to seeing just how popular Voracek was in the Czech Republic, and just how much he meant to the countries' fans.
Already a renowned Czech legend, Voracek's 700th NHL point brought with it some significance in the history of Czech hockey. Becoming just the 10th Czech player in history to reach the 700-point plateau in the NHL, Voracek sits among elite company that includes legendary names like Jaromir Jagr, Patrik Elias, and Milan Hejduk among others.
Not only did Voracek's second assist on Thursday night earn him some recognition in the NHL and Flyers' history books, but also among those of a proud nation with a rich history in the league. Now just short of Robert Lang's 703 career points, the 717 of Petr Nedved and Martin Straka, and the 721 of Petr Sykora, he'll likely keep clawing away at the all-time points list among Czech NHLers throughout the year.
Voracek could also very well be joined by fellow countryman and opponent on Thursday night, David Krejci, who sits just 11 points short of the 700 mark.
Heading into a rematch with the Bruins on Saturday, Voracek is coming off of what is probably one of the most significant games of his career. His three-point performance not only earned Jake his rightful spot in the history books but proved that through the early stages of his 13th NHL season, the beloved veteran forward hasn't lost a single step.
---
---