We are roughly a month shy of the end of the regular season and the Vegas Golden Knights find themselves in a tight battle for the Pacific Division title, a division they've hovered at or near the top of all year long. Whether they claim the top spot or not (and you could argue they'd be better off not finishing first, but that's another discussion), the club is comfortably in a playoff spot in the late stages of what can be called, barring disaster, a successful regular season campaign.
Amidst a bumpy string of injuries, most notably in net and to captain Mark Stone, the Golden Knights have demonstrated veteran resilience while responding under head coach Bruce Cassidy. After Logan Thompson carried the bulk of the load prior to his own injury, the club's deep blue line corps has flexed some muscle in limiting chances and re-establishing a stingy, punishing brand of hockey.
As a collective unit, the Golden Knights have been excellent. But what about individually? Thompson was certainly the first-half MVP, but the team has been just fine in his absence, going 11-2-2 since he suffered a lower-body injury against the Minnesota Wild on Feb. 9. Whereas most teams have that one clear player that stands out from the pack, it can be difficult to highlight one 'best' player from this balanced Vegas group. Here's who it might be:
Chandler Stephenson
If we're going to rule Thompson out of the 'best Golden Knight' conversation on account of his injury-related absence, then we might as well start with the club's other 2023 All-Star. Chandler Stephenson has been a revelation in Vegas after years spent as an afterthought in the Washington Capitals' organization, jumping from 33 points in 168 career games in the nation's capital to last season's 64-point campaign.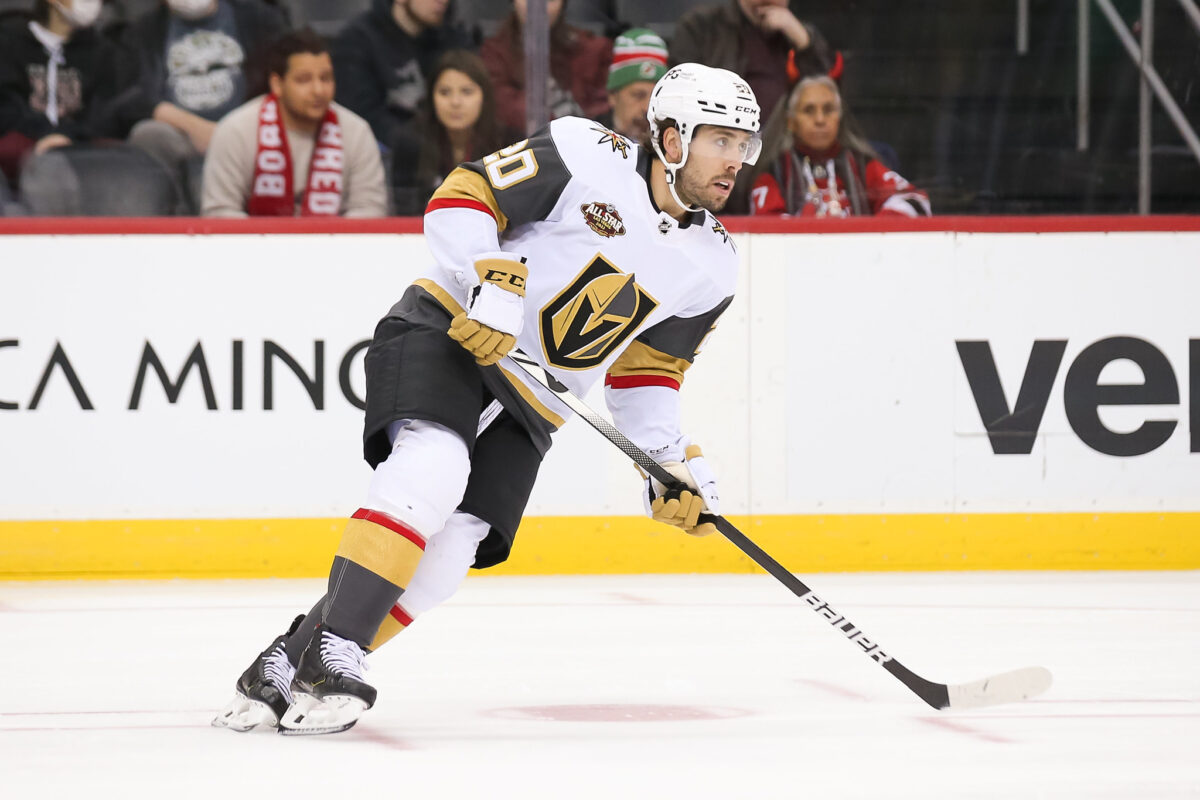 Once again, Stephenson leads a starry Golden Knights roster in scoring, using his speed and penchant for staying in the lineup to anchor the forward corps with some much-needed consistency and reliability. Since the start of the 2020-21 season – Stephenson's first full campaign in Vegas – the 28-year-old has played in 198 of 206 games. In a lineup that has undergone so much injury-related dysfunction in recent years, the former Regina Pat has been its rock.
Related: Golden Knights Need Vintage Quick to Stabilize Goaltending
---
Latest News & Highlights
---
The problem is that it takes more than just showing up to work every day to be considered a team's best player. Stephenson's 53 points are good enough for the team lead, but it's not a total that jumps off the page in a league where the leading scorer already has over 70 more. Of course, he is being compared to those on his own team and not across the NHL. Still, considering that point total would represent the lowest team-leading number of any playoff squad, perhaps it would make more sense to turn to a player who better affects the defensive zone.
Shea Theodore
Perpetually underrated, Shea Theodore is quietly having another excellent season and might be the best of an exceptional blue line. Despite missing 20 games on the year, the 27-year-old leads the team in plus/minus (plus-16) and owns a share of the club's points lead on the back end, with 37 points in 48 games to match Alex Pietrangelo's 40 points in 59 games.
Nothing that Theodore is doing is out of the norm for the Langley, BC native. Under Cassidy, he is still trusted to eat heavy minutes amongst the top-four while also serving as the team's No. 1 power play quarterback. He and defensive partner Brayden McNabb have acted as something of a 1B pairing next to Pietrangelo and Alec Martinez, although it is Theodore who ranks second to Pietrangelo in average ice time on the team.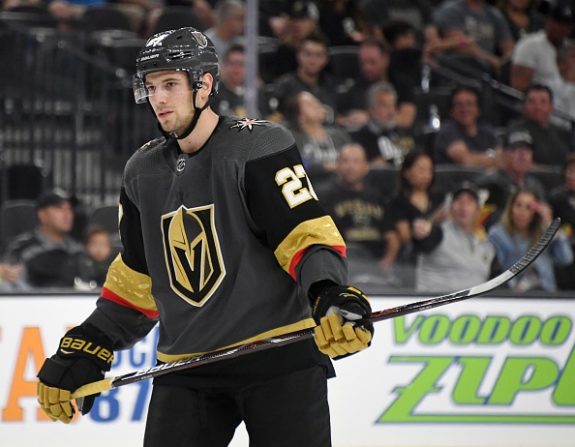 And yet, it's hard to offer a 'best' designation to a player who a) isn't situated atop the defensive pecking order (Pietrangelo might be, but he doesn't have Theodore's offensive efficiency) and b) has missed almost one-third of the team's games. Theodore stands tall as a foundational component of the Golden Knights' biggest strength – the blue line – but calling him their best player this season might be a step too far.
Jack Eichel
With apologies to Stephenson, Jack Eichel has taken his place as the Golden Knights' top forward this season. Although he trails his linemate by two points for the team scoring lead, Eichel has done so while playing in 13 fewer games. Most notably, the 26-year-old missed 11 games in December with a lower-body injury. Conversations about the former Buffalo Sabre's on-ice performance will always inevitably cycle back to his health, but his impact in the lineup has loomed large to offset much of his absence.
When he has been around, Eichel has brought stability to a top line that has featured a revolving door of wingers. Although he probably won't make Cassidy forget Patrice Bergeron from a defensive standpoint, he's handled himself well as a three-zone player, not to mention as a dynamic facilitator.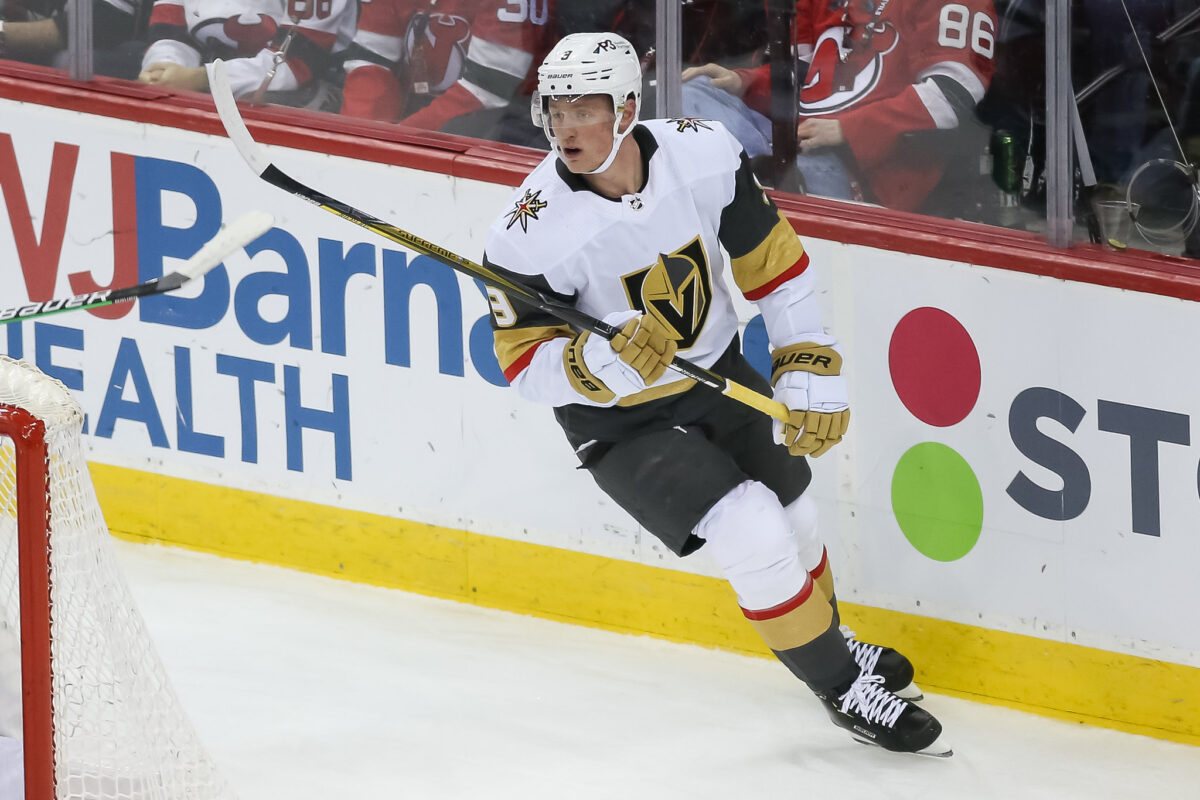 After starting slow upon his initial return from injury, Eichel is back producing at roughly a point-per-game rate. Dating back to Feb. 9, coincidentally the same game that Thompson went down, he has produced seven goals and eight assists in 15 games. A strong finish to the season could set him apart from the rest of the team.
You Might Also Like
Logan Thompson
Where would the Golden Knights be this season without Thompson? At the dawn of what was an uncertain campaign in the aftermath of the club's 2021-22 disaster and Robin Lehner's surgery, the 26-year-old brought stability to what was thought to be their least stable position. Not only did the Calgary, Alberta native secure the No. 1 job over Adin Hill and Laurent Brossoit, but he stood out enough to be nominated as the club's All-Star representative (Stephenson was later named as an injury replacement).
For Thompson, a 4-2 October with a sparkling .942 save percentage (SV%) and 1.69 goals against average (GAA) paved the way for an 8-2 November, thus allowing Vegas to put 2021-22 firmly behind them. More impressively, he has served up a near-identical match to his strong 2021-22 numbers (albeit in a small, 19-game sample size). Last year, he went 10-5-3 with a .914 SV% and a 2.68 GAA. Through 36 pre-injury games this year, he's sporting the same .914 SV% and a 2.66 GAA.
For as great a story as Thompson has been, he simply hasn't been healthy or productive enough to be anywhere near the Vezina Trophy race. Heck, even some early Calder buzz has faded. While a lack of awards contention shouldn't take anything away from his year, uncertainty surrounding his return to the lineup looms. Even if the netminder can get healthy before the end of the regular season, where does he now rank on the goaltending depth chart?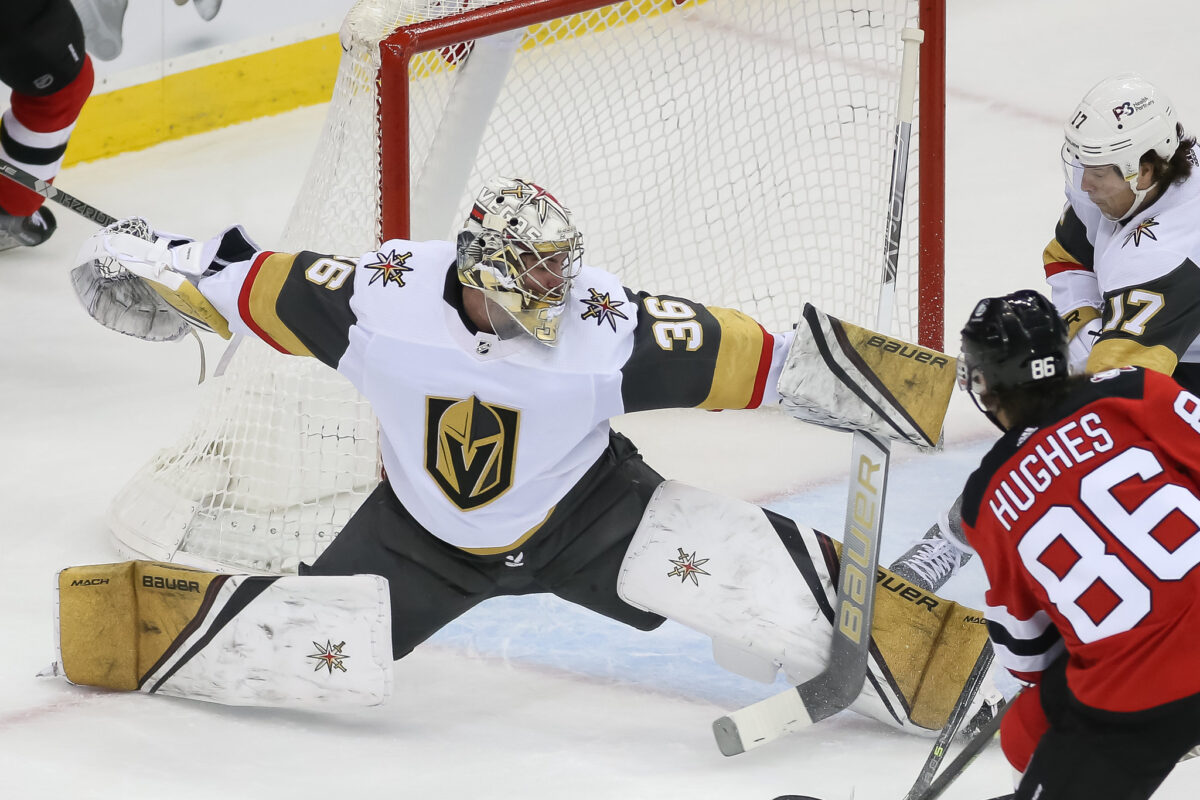 Hill has been sensational in place of Thompson (.929 SV% and 2.04 GAA since the start of February). It would be difficult to switch so abruptly from the hot hand of Hill to a fairly rusty Thompson amidst such a critical stretch of games. Then you have the recently added Jonathan Quick, whose decorated playoff resume looks a little more impressive than Thompson's non-existent one. Can your best player really wind up a non-factor down the stretch?
This whole exercise isn't meant to critique any individual Golden Knight, but rather highlight how remarkably collective their success has been. For all the big names that dot the Vegas roster, it really is a team effort, as cheesy as that might sound.