What is a Hockey Flow?
Flow is the correct term for the hair of professional and amateur hockey players. It is typically some variation of a mullet with a little extra grease, that typically appears beginning in junior hockey.
Urban Dictionary explains it as "long, untamed hair usually capped with a hat with wings of hair flowing and curling up from under it. This hair flows easily out of hockey helmets and is becoming popular with hockey players everywhere."
Hockey flow, complete with a grizzly beard and muzzy is normally reserved for playoffs and Movember but slightly less extreme versions of the combo can be seen throughout the entire hockey season and beyond.
The most important aspect of flow is that it spills out of the back of a hockey helmet. Flow has been a part of hockey culture for decades and the tradition is still widely practiced in the hockey community today, embedding itself deeply in hockey and Canadian culture.
The Hanson Brothers from Slapshot and the kids from the Mighty Ducks represented the best hockey hair as did Emilio Estevez. Both films are very culturally accurate.
Gongshow lifestyle hockey appeal offers tips for achieving the ideal hockey hair, which they describe as "a right of passage to stay in favour with the hockey Gods."
Check out Gongshow's tips on how to go from starter flow to a complete hockey salad here
Jaromir Jagr and Patrick Kane are prime examples of Gongshow's finished product. See the graphic below.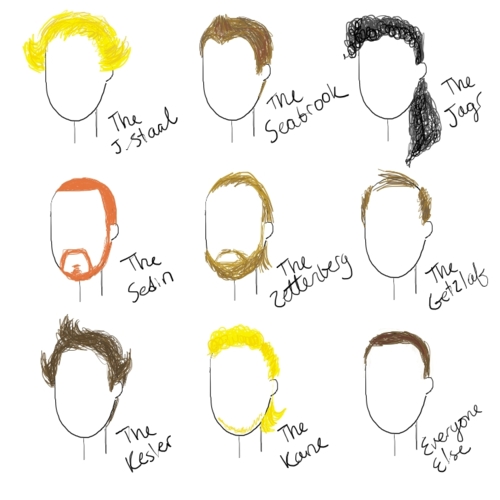 The Minnesota State High School Hockey Tournament of 2012, had an All-Star hair team, which featured some of the best hockey hair around.
NHLers who best rep the flow include Patrick Kane, who can be credited with "bringing the mullet back," Ryan Smyth, and Bobby Ryan.
The Hockey Writers, Joseph Wakeford provides a complete list of The Top 10 Sweetest Flows in the NHL.